Last Updated on November 15, 2022
Do you know the differences between hitch bike racks and trunk bike racks? If you do, this article is not for you. If you are looking for information that helps you to compare these two options, you are on the right boat.
As we all know, there are three categories of bike carriers on the market, and they have different mounting methods and designs. As a result, you should focus on their features and compatibility and choose the most suitable option for your bike journeys. If you are new to bike racks, you can refer to an article to learn the basic theory of these three types of bike racks.
We mainly discuss hitch bike carriers and trunk bike carriers and show you our opinions on their differences. You can follow this guide to compare and find the best solution to carry your bikes on your vehicles.
---
How to use it?
Hitch Bike Racks
Can you find a hitch receiver at the rear of your vehicle? A hitch receiver is a device you can use to haul car accessories like a trailer, a hitch cargo carrier, or a hitch bike rack. We have 5 classes of hitch receivers on the markets, and they have different loading limitations from small to big. Most sedans or SUVs are compatible with Class 1 to Class 3 hitch receivers. We create a table below to make you understand hitch receiver classes and their limitations: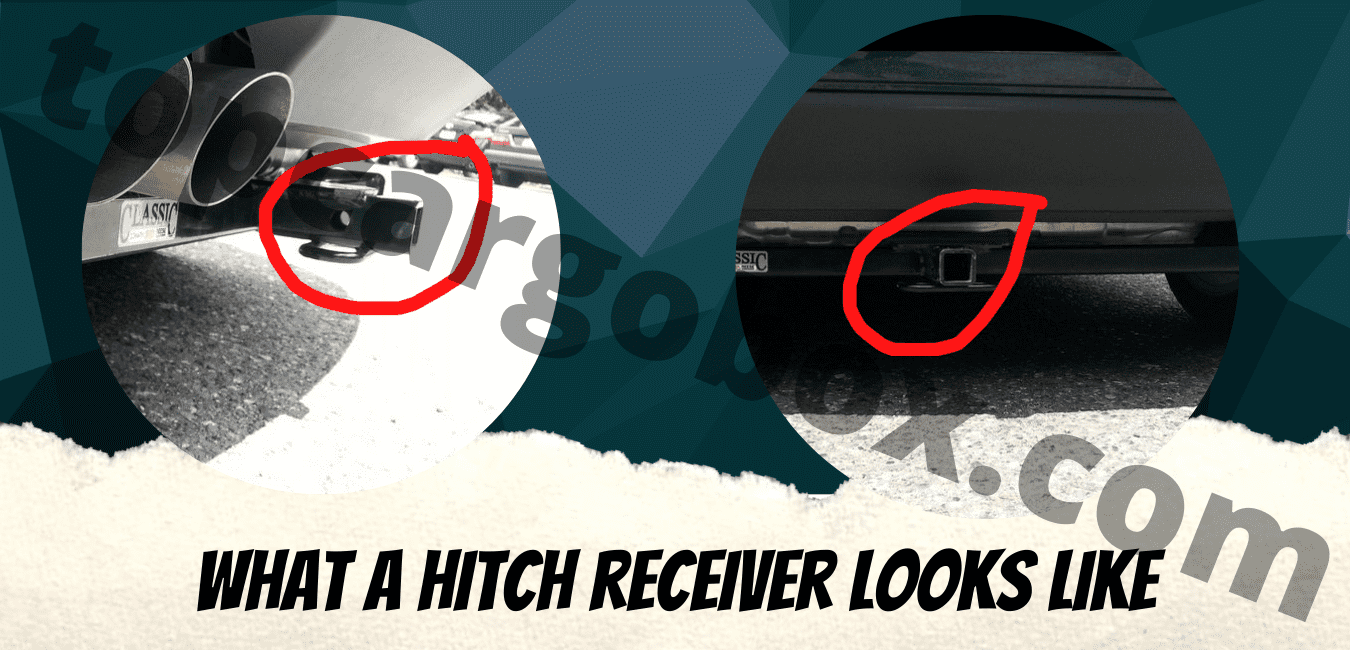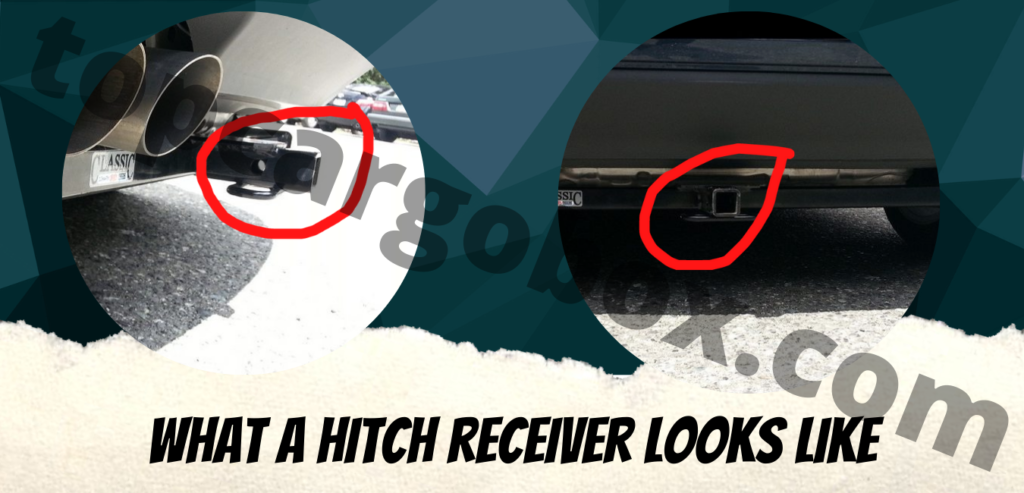 | Hitch Class | Head Sizes | Suitable For |
| --- | --- | --- |
| Class 1 | 1.25 inches/ 1.1/4 inches | Sedans or Crossover SUVs |
| Class 2 | 1.25 inches/ 1.1/4 inches | Sedans, Crossover SUVs, Minivans |
| Class 3 | 2 inches | Cars, SUVs, Trucks, and Crossover SUVs |
If your car has a hitch receiver, you can find bike racks that can connect to it and carry bikes behind the hatchback. The installation of a hitch bike rack is easy to operate, and you can do the job alone without tools and assistance from others. However, for better results, you should invite someone to join the work for better security and accuracy.
If you find that your car doesn't have a hitch receiver, you cannot use hitch-mounted bike carriers; however, you can order a hitch receiver from the local dealer or find one on online markets like Amazon and Ebay. We recommend you consider using CURT products because of their trustable quality and responsive customer services.
Hitch-mounted bike racks have two models: platform/tray style and hanging style. We will further explain these two styles below.
About platform/tray style: Tray-style hitch bike rack holds the bike wheels with straps and advanced locking systems, and bikes don't sway that much compared to other bike carriers during transportation. Consequently, platform-style hitch bike racks are expensive because of their mechanism and premium designs. 3 to 4 bikes are the maximum loading capacity for this type of bike rack.
About Hanging bike racks: Hanging-style bike carriers have arms to hold onto bike frames with straps. These bike carriers have the largest loading capacity of up to 5 bikes, and you may need to prepare more straps to make the bikes more secure and stable during a road trip. The swaying problem is real trouble for this type of bike carrier, so you can follow this guide to find methods to deal with the swinging issue.
Trunk bike racks
Trunk bike carriers stand on the car's hatchback, and it uses six straps with hooks to keep balance and lock itself there for carrying multiple bikes.
Trunk-mounted bike racks are the cheapest options when it comes to carrying bikes. They are also the most easy-to-store bike carriers, so you can easily keep them in the trunk when they are not in use.
When installing a trunk bike carrier to a car, you don't require to use any tools or ask for help from anyone else. It is a straightforward process that anyone can do after minutes of reading the manuals.
If you want more security on the trunk bike racks, you can use more straps or ropes to stabilize the bikes.
When buying a trunk bike carrier, you should measure the dimensions of the hatchback and communicate with the manufacturer to check compatibility. It is always a good idea to check before actions. If you get a trunk bike rack that is not for your car, the bike carrier may damage your car or fall off during transportation.
You can use extra straps or ropes to add security to bikes, and it is always a good idea to prepare some straps in your car.
When driving with trunk bike racks, you must control the speed and prepare to use long brakes. Sharp turns are prohibited when driving with trunk bike carriers. These driving habits also fit on hitch-mounted bike carriers.
Differences between Hitch and Trunk bike racks
Loading Capacity
How many bikes do you want to carry by using a bike rack? Different bike racks have various loading capacities, so you can find one that meets your outdoor needs.
Hitch-mounted Bike Carriers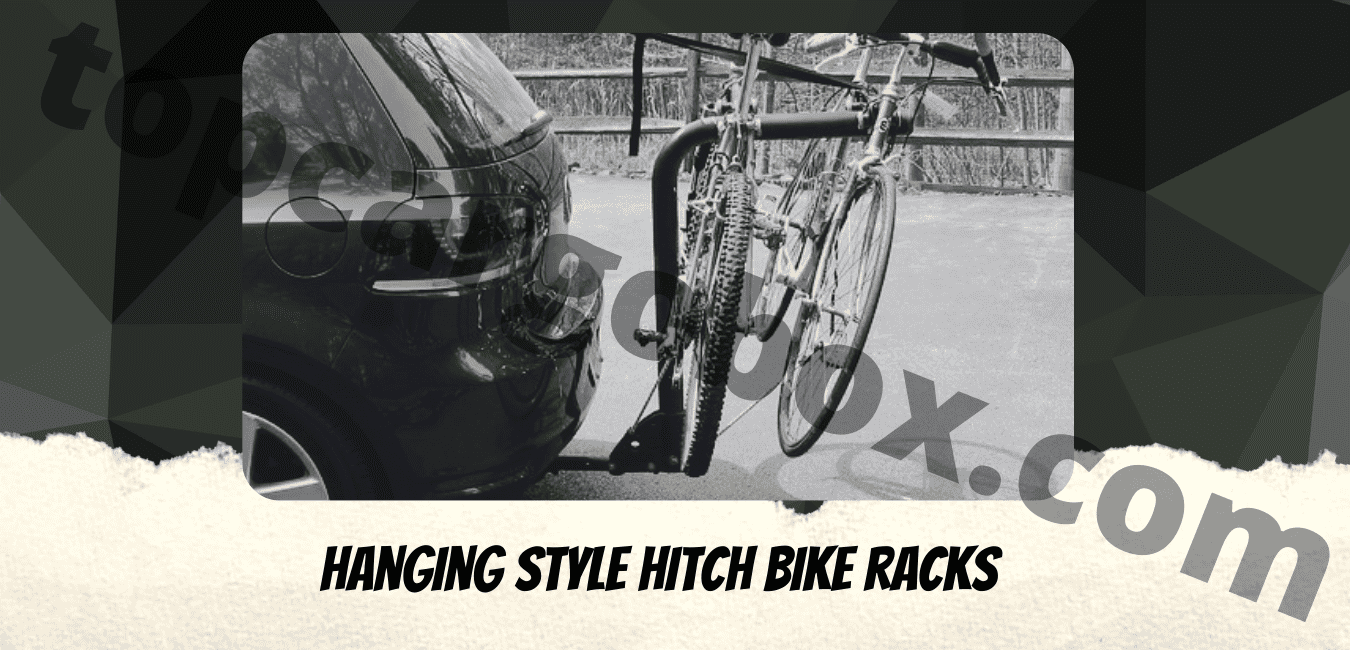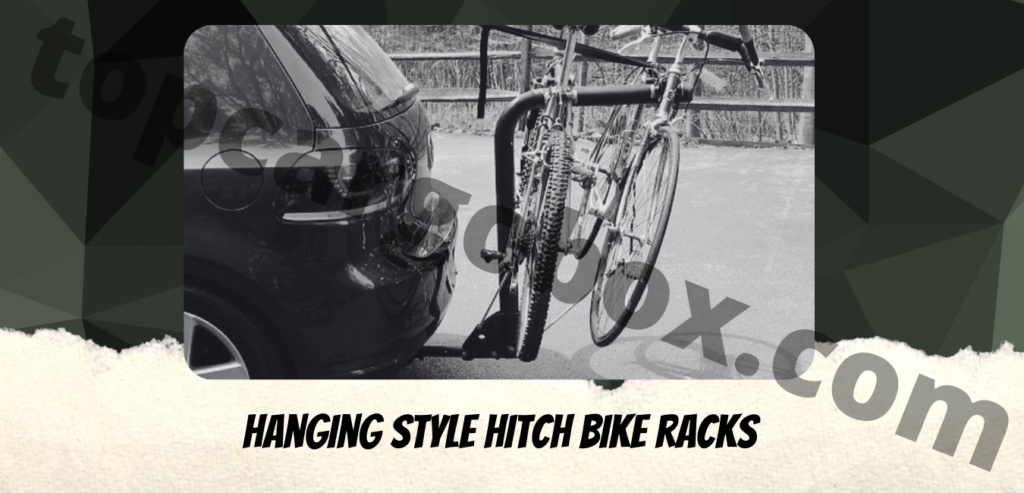 As we have mentioned above, there are two styles of hitch bike racks: flat tray style and hanging style. These hitch bike racks can load up to 5 bikes; consequently, they are perfect options for large families with many bicycles.
Most hitch bike racks can carry up to 100 to 120 lbs of weight, and some have a higher loading capacity of 200 lbs. If each bike is 40bls, it is possible to find a hitch bike carrier to transport up to 5 bikes at once. If you have heavy bikes, the situation will be different. When shopping for a bike carrier, you should check the loading capacity and do the math to see if the chosen one fits your outdoor life.
Trunk Bike Rack
Trunk bike racks have less loading capacity than hitch bike carriers. Most trunk bike carriers are light and easy to store, so they are not for heavy-duty jobs. Due to their materials and designs, trunk bike racks can carry up to 3 bikes. It is not safe to transport more than three bikes by using trunk bike racks.
Trunk bike carriers produce much swinging noise when the car is in motion, so you should follow these tips to minimize the effect.
If you don't use bike racks at a high frequency, trunk bike carriers are a good choice; otherwise, hitch-mounted models are better for durability.
Vehicle Compatibility
It is a frequently asked question about if you can use a specific bike carrier on a car or not. You can find some advice here.
About Hitch Bike Racks:
Hitch-mounted bike carriers need to connect and lock on hitch receivers. You can use the information table above to find which class number belongs to your receiver model.
When choosing hitch-mounted bike racks, you need to know which class of hitch receiver the bike rack connects. If you already have a receiver head, you can utilize adapters to make it compatible with different sizes of hitch connectors. (For example, you can use adapters to change 2.5 inches hitch receiver to 2 inches, etc. You can find any size adapters on the market like Amazon or Ebay.)
When mounting a hitch bike carrier to your car, you can use hitch clamps to emphasize the connection to prevent swaying problems.
About Trunk Bike Racks:
Most cars can use trunk-mounted bike racks because these racks use many straps to hook on the edges of the hatchback.
They are perfect options for people who want to transport bikes without hitch receivers. If you find a spoiler at the rear of your sedan, it may interfere with a trunk bike rack.
When mounting a trunk bike carrier, you don't bend the hooks because a curved hook can make the connection looser and unstable. You can apply extra straps on a trunk bike carrier to prevent swaying problems and gain more security.
Price
Hitch Bike Racks
If you choose a hitch bike rack to carry bikes on the roads, you will spend more money, especially on the platform models. Those hanging models are cheaper than tray models, but hanging racks are likely to produce more swaying noise.
Some platform models have advanced mechanisms and features. For example, Thule hitch bike racks can fold up and tilt down for easy accessibility.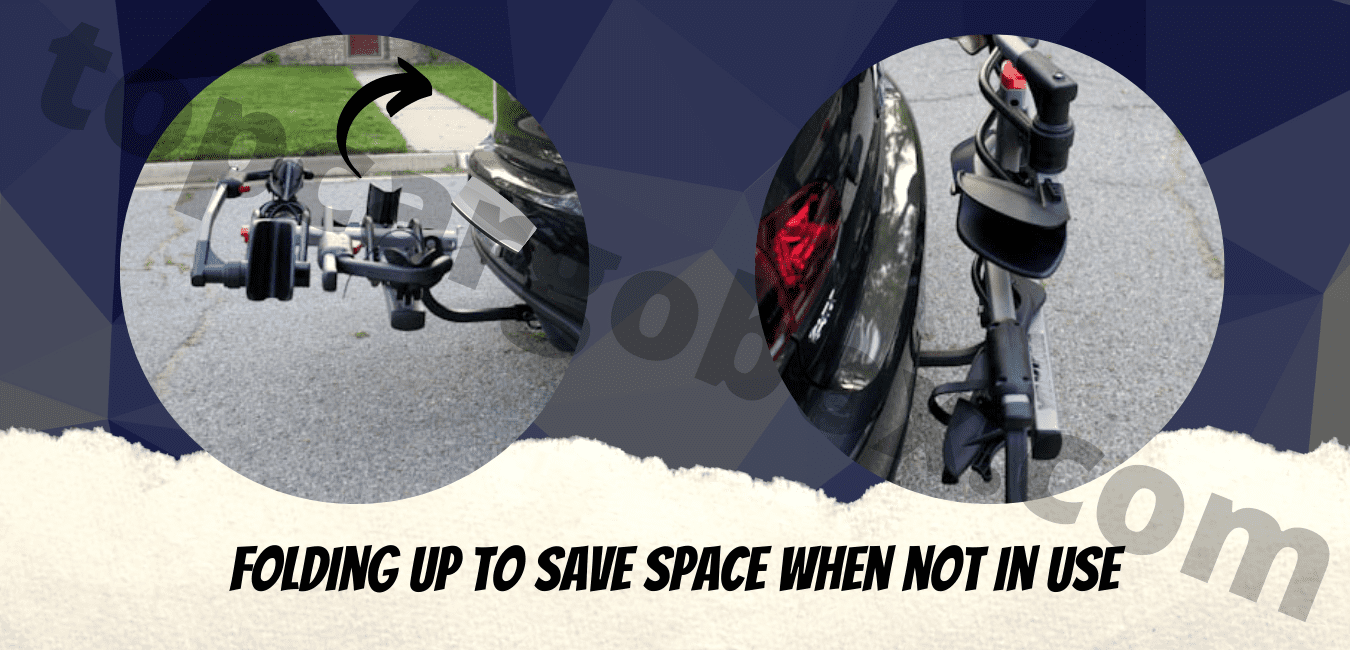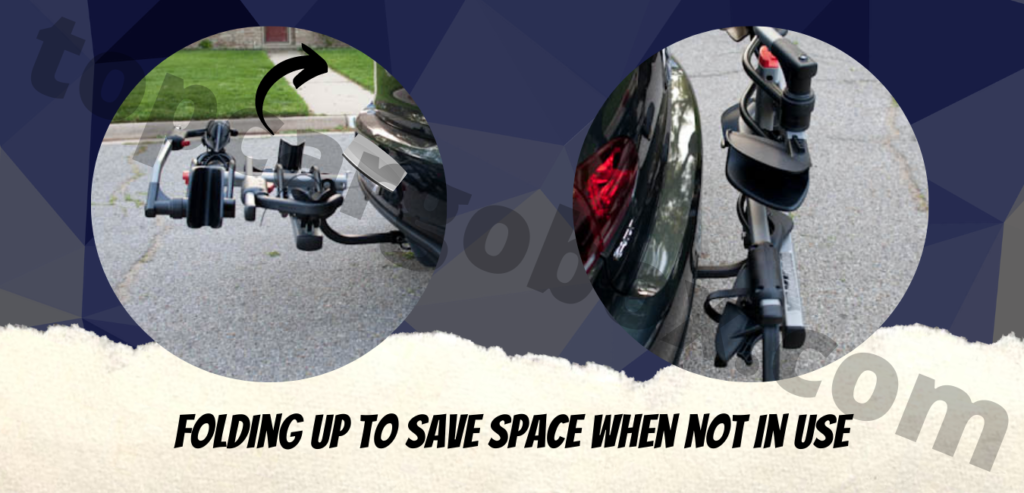 On the other hand, if your car doesn't have a hitch receiver or the receiver head is not compatible with the wanted racks, you have to purchase a trailer hitch head or get an adapter for installing hitch bike carriers on your vehicle.
Trunk Bike Carriers
Most trunk-mounted bike holders are cheaper than hitch racks. Trunk racks are easy to store when not in use because of their foldable designs. If you want to drive on unpaved roads with bike racks, the trunk bike carriers are not an appropriate choice.
Accessibility
Hitch Models
Hitch bike racks have better accessibility than trunk bike carriers. Some premium hitch models offer swing-away or fold-up features that allow people to access the hatchback when the bike racks are in use. When you don't use the hitch racks, you can fold them up to save space at the rear of your car. It is a convenient feature that gives people more enjoyment during their bike hiking adventures.
However, platform/tray models may block the license plate, so you should check and figure out a way to ensure the license plate is visible to other drivers or police officers.
Trunk-mounted Models
Trunk bike racks are simple to use, but they don't let you open the hatchback while they are in use. Before opening the trunk, you need to take the rack off. It is not convenient for most outdoor enthusiasts. It is why most trunk-mounted models are easy to install.
Final Words
You can find the differences, pros, and cons between hitch-mounted bike racks and trunk-mounted models. If you are wondering which models are the best suitable options for your bike hiking events, you can follow this content to find solutions or conclude with your ideas.
After getting a car bike carrier for your vehicle, you should know how to clean and maintain it for better durability and enjoyment. We also have some tips for people to use these car racks more securely. Thanks for your time and patience. If you have more ideas about this topic, please leave your comments below to share with us.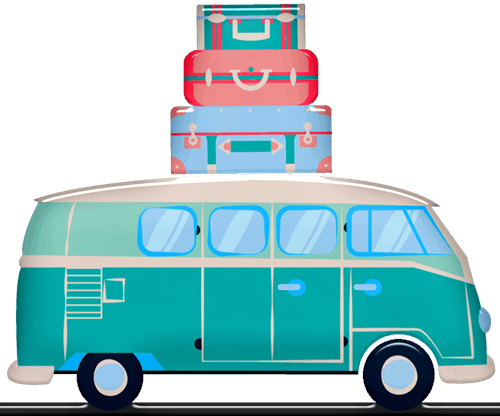 Our team is creating outdoor-gear relevant articles with passion. If our articles can help you to find the correct solutions for your questions, we will be happy about that. In the content creation process, we usually collect accurate and useful information online or offline to compile our content in an organized way. Consequently, we can guarantee that you can discover some expected answers to your questions. We appreciate your time on our site.
We are reader-supported. We get commissions for purchases made through links in this post, As an Amazon Associate we earn from qualifying purchases.