Last Updated on November 23, 2022
Do you need roof-mounted or hitch-mounted bike racks to carry your bicycles (mountain, road, electronic, fat bikes) on top or at the back of your sedan, SUV, truck, or van? If you want to find a solution to your demands, you can follow this guide to discover some high-quality bike racks designed for carrying all types of bikes on top or at the rear of vehicles on the roads.
After the editor-pick list, you can find some frequently asked questions and answers to help you build knowledge about accurately operating bike racks when they are in use.
Quck-Pick List Of Best Bike Racks For Cycling
Images
Brand
Links
Allen Sports
Dimensions: 23.03 x 13.58 x 3.94 inches
Check Price
Allen Sports
Dimensions: 16.14 x 7.28 x 3.54 inches
Check Price
Allen Sports
Dimensions: 13.25 x 26.75 x 25.25 inches
Check Price
Allen Sports
Weight: 14.5 Pounds
Check Price
Allen Sports
Weight: 35 Pounds
Check Price
Allen Sports
Dimensions: 4.33 x 28.74 x 13.39 inches
Check Price
Swagman
Dimensions: 3 x 8 x 34 inches
Check Price
Delta Cycle & Home
Dimensions: 4 x 1.5 x 1.75 inches
Check Price
Thule
Dimensions: 54 x 43 x 15 inches
Check Price
Saris
Dimensions: 36.62 x 12.63 x 19.13 inches
Check Price
Thule
Dimensions: 28.3 x 11 x 35.6 inches
Check Price
YAKIMA
Dimensions: 38.62 x 16.5 x 8 inches
Check Price
---
Detail of 12 Best Bike Racks For Cyclists
Deluxe Trunk-Mounted Bike Rack 2 Bikes
The Allen Sports 102DN Deluxe Two Bike Carrier is the perfect way to transport your bikes. This rack can be installed at the back of your vehicle and fits most cars, but you have to consult the manufacturer before buying. The rack also features adjustable tie-down straps to keep your bikes from swaying while you drive. It has anti-sway cradles that hold your bikes firmly in place, keeping them from moving around while you are driving. It also comes with 12 inches arms to keep the bikes away from the car trunk.
If a bike rack is too wide, cyclists will often find themselves struggling to squeeze their bikes in between the rack's arms. In these cases, it's impossible to load or unload the bike without the risk of damaging either the bike or the bike rack. That's why you need a narrow-set design. A narrow-set design will allow riders to easily load and unload their bikes with minimal fuss. The trade-off here is that a narrow-set design may not be able to carry as many bicycles as a regular bike rack, but it is ignorable. The Allen Sports 102DN Deluxe bike carrier has a narrow design as desired.
Some about the Allen Sport:
Allen Sport has been a family-owned business for over 50 years. They specialize in high-end sporting goods and are now the largest distributor of bike racks in the United States. Allen Sport markets their product as "high-performance sports equipment for every player, every team, and every budget." Their products are designed for teams and players of any skill level, from youth leagues to professional athletes. They have distributors that cover 46 states and Puerto Rico, with a focus on sporting gears like bike racks and more.
Allen Sport has been marketing sports equipment since 1973. They are a leading manufacturer of high-performance golf and tennis gear, as well as camping, boating, cycling, and fishing items. Allen Sports has such a wide variety of products that they have a different target audience for each product. For example, their bike rack products are marketed towards people who love cycling. The company is continually expanding to include more sports and activities to better appeal to its customer base.
---
Ultra-Compact Trunk Mounted Bike Rack
A few minutes of searching online will show you that there are a variety of bike racks available for purchase. But, did you know that there are different types of bike racks? There are two main categories: trunk-mounted and roof-mounted bike racks. Trunk-mounted bike racks can be placed on the ground or hung on a wall, and provide a simple way to store bikes. Roof-mounted bike racks can hold up to 4 bikes each, and provide a more secure parking solution.
A common problem with bike racks is that they can be difficult to install and use. More importantly, many people don't want to use their precious cargo space to transport a bike. A trunk mount bike rack solves both of these problems by using the most underutilized storage compartment in a vehicle. This type of bike rack has been installed on average 3 times as much as a standard trunk rack, and about 10 times more than a hitch-mounted rack. This is because it takes up less space, can be installed easily, and doesn't often require expensive accessories to install.
It is another product from the Allen Sport. It is foldable, so you can put it in a backpack for storage.
---
Allen Sports 3-Bike Hitch Racks
The Allen Sports 3-Bike Hitch Rack is designed for easy loading and style. It's a solid choice for any bike enthusiast. It's the perfect choice to transport your bikes because it's easy to load, tows smoothly, and features a sleek design that looks great on any vehicle. The Allen Sports 3-Bike Hitch Rack offers a unique design that makes it easy to load and tow. It features a single or dual-arm design with an adjustable pivot point, making it easy to load both two or three bikes at once. The pivoting arms can be adjusted to accommodate most bike frames.
A bike rack is an essential accessory for any vehicle with a trailer hitch. You need to make sure that the rack you purchase will fit on your vehicle. Luckily, there are two sizes of racks that will work for your needs: 1.25-inch and 2-inch racks. This is one of the more popular options, which can fit three bikes.
Many people have no idea when it comes to selecting the right bike rack for their vehicle. There are so many different types of racks that it can be difficult to determine what the best choice is. One of the most common questions asked is whether or not a hitch-mounted bike rack will work with a 1.25 inch or 2-inch trailer hitch receiver. Most bike racks require either a 1.25 inch or 2-inch trailer hitch receiver, but some can work with either size. It all depends on what type of bike rack you're looking for and what your needs are.
You can use this Allen Sports hitch bike rack to carry up to 3 bikes at once, and it holds three bicycles on its 16 inches steel arms. You can use straps to tight down bikes in position and prevent swinging during travel.
The tilt-away feature allows tilting down the rack when you want to open the hatchback gate. Consequently, it is an unbeatable option for SUV drivers compared to other products in the same price range. When the bike rack is not in use, you can fold down those 16 inches arms for more space at the back of your vehicle when driving with the bike racks.
---
Deluxe Trunk Mounted Bike Rack For 4 Bikes
We were looking for a bike rack to replace the one we had. We wanted something sturdy and reliable, but not too expensive. We wanted it to be able to hold my mountain bikes securely while driving around, so we also needed to find a rack with straps that would do that. The Allen Sport trunk mount bike rack is perfect for me. It can carry four bikes on its steel arms and has straps on arms where we can strap each of my bikes. We can attach this bike rack onto the trunk of my car and put it right in the trunk so that we have more space in the cab for people.
The Allen Bike Rack is the best bike rack for most people, who want a full-time solution that's easy to install and use. The company offers many variations of their rack, but the most popular one is the 4-bikes Sport Rack. It's designed to carry 4 bikes on the back of a sedan, SUV, or truck. The steel construction is tough enough to withstand anything you throw at it.
If you plan to carry 4 bikes, it is the best affordable option for your outdoor needs. When it is not in use, you can leave it in the trunk to save space at the back of your vehicle. Allen Sport offers a lifetime warranty on this product.
---
BV 2-Bike Bicycle Hitch Mount Rack Carrier For Sedan trucks SUVs
The Bike Bicycle Hitch Mount Rack Carrier is an excellent choice for those looking for a convenient way to transport their bikes by car. This rack carries two bikes and secures them to the vehicle from the hitch of your car. This rack has a durable steel design that is built to last and is resistant to rust and other natural elements. It also comes with a cable lock so you can secure it when not in use. With this design, this rack is easy to install and will only take a few minutes before you are on your way. This bike rack fits 1.25 or 2 inches hitch receivers, and it has a safety reflector to increase visibility in the dark environment.
This rack is a practical and sturdy bike carrier that mounts to the hitch receivers of your vehicle. It is a one-of-a-kind rack that has the ability to hold two mountain bikes with ease. This is perfect for people who have more than one bike and need to transport them in one trip. This rack is easy to install, it can be done in about ten minutes, and it can carry up to two bikes at a time. It does not matter what type of bike you have, this is a universal design that will accommodate all types of bikes from kids bikes to adult bikes.
BV 2 Bike bicycle hitch-mount rack carrier for car truck SUV is a good bike carrier that will greatly reduce the chances of your bike getting stolen and make it easier to transport. Many people want to find ways of transporting their bikes in their cars or trucks without having to use a roof rack. One way of doing this is by using a hitch mount rack. They are easy to install and can be used with both bikes and skis equipment.
BV 2 bike carrier offers an anti-wobble system that prevents swinging when bikes are in motion. When opening the hatchback gate, you can tilt down the bike rack to gain more space for easy accessibility. When the bike carrier is not in use, you can fold those arms up to have more space at the rear of your vehicle for hassle-free driving.
---
Allen Sports Deluxe 2-Bike Spare Tire Rack
Does your vehicle hang a spare tire on its hatchback gate? If it does, you can use Allen Sport Spare Tire 2-bike carrier to transport bicycles on the roads.
The Allen Sports spare tire bike rack is a great addition to the back of your vehicle. It's specially designed to carry two bikes and use the spare tire as a supporter. The rack is made from durable Allen steel and built to last long. It's also easy to install and remove when not needed. Installation couldn't be easier – just attach the carrier to the spare tire and use two straps to increase the stability of the bike rack by hooking the straps to the bottom of the vehicle, and then you can use integrated straps to lock two bikes on the rack arms.
It works on most spare tires, even those wide tires. Thanks to Allen Sport for creating a convenient item that helps outdoor enthusiasts to enjoy their cycling holidays.
---
Swagman Upright Roof Mount Bike Rack
Do you have roof racks or crossbars on top of your car? If you do, you can consider using this roof-mounted bike rack.
You need to pay attention to its mounting hardware only works with up to 3 inches bars; consequently, you must check your existing roof bars dimensions before buying this bicycle carrier.
The bike rack allows a maximum of 35 lbs of weight per bike, and you cannot overload the bike rack because of potential risks. Overloading may cause damages to all your properties, including your vehicle.
It is affordable with an attractive price. You can use the button below to find the latest price on Amazon. It is made of Aluminum, so it is ultra-light 5 lbs in weight.
One of the most popular types of bike racks is an upright roof mount that uses straps or clips to keep bikes in place. The straps or clamps are threaded through the frame of the bike and then tightened, preventing the bike from being knocked over by other cars. The upright roof mount bike rack is great for those who live in small spaces and have outdoor storage access.
Racks that are mounted on the roof of your car aren't easy to install. You'll need a few basic tools, and it's best if you have someone to help you out. First, loosen the bolts that hold the bike rack in place on your car. Then, remove the bracket from the bike rack and line up the holes on both pieces. Put the bolt through the hole and tighten it until it can't be tightened anymore.
If you require a pair of crossbars, you can find one on a guide that has a list of some universal roof racks for all types of vehicles.
---
Delta Cycle Home Hitch Truck Bed Bike Mount
Having a versatile truck bed fork mount for your bike is a must-have for any cyclist. The first thing you might notice about these mounts is that they have a hole at the top that allows you to attach the bar to an eye bolt in your truck bed, or a metal or wood loop on your trunk. Second, they have an adapter that you screw onto the end of the bike's front fork. They are sturdy and allow you to quickly secure and release your bike. These mounts are easy to install and detach. You can lock the device when it is needed.
Road bikes are one of the most versatile types of bicycles there are. They can take you from coast to coast, over mountains, and through sprawling metropolises. They're not just for the road either! Road bikes are a great way to explore off-road trails and get in a dirt bike workout at the same time. The Delta Cycle bike fork mount is not only for a road bike but a mountain bike or a hybrid bicycle.
You can use this fork mount to lock your bike to any surface on the truck bed or in the garage. You have to take the front wheel off when screwing the front fork to the bike mount and lock the bike in position. You can use the bike mount on any surface at home or on your vehicles. You have to know that the bike mount works with any standard 9 x 100 mm bike forks with its patented designs. Most people think it is easy to use and super affordable, so they can use several bike mounts to transport more than one bike at once.
---
Thule T2 Pro XT/XTR Hitch Bike Rack
A hitch bike rack is a type of rack that attaches to the back of a vehicle and carries bicycles using a hitch. They are designed for use on vehicles with a hitch receiver, such as a car, SUV, or pickup truck. The rack usually has two arms or bars that hold one or more bikes by the wheels, or by the frame (not the wheel). A bike can be laid flat on the top of the rack while it is being transported. A hitch bike rack can either be installed permanently on a vehicle or temporarily on a vehicle's hitch until needed.
The Thule hitch bike rack is a well-known and popular choice for those who are looking for an easy way to transport their bikes on the back of their vehicle. The Thule hitch bike rack is composed of three components: the hitch bar, the arm, and the bike rack. The hitch bar has two arms on it that can be adjusted to accommodate any type of bike frame size. The arm has two hooks on it that hold onto the bike frame and wheels and then slide onto the hitch bar. Finally, the bike rack fits on top of the arm and has two safety straps that go around each tire of the bike and hold them in position when the vehicle is in motion.
When the Thule T2 Pro XTR bike rack is not in use, you can fold it up to save space at the back of your vehicle. You can tilt it down when you need to open the hatchback for loading belongings into the trunk. The product weighs 52.04 lb, and you can install it alone, but two people are recommended for accurate installation.
The bike rack fits 20 to 29 inches wheels (no more than 5 inches wide), so you have to check the width of your bike's wheel before putting the product in the shopping cart. The Thule T2 bike rack works with the 2-inch receiver, and it is an ideal car accessory for transporting carbon frames, mountain, downhill, and fat bikes.
We like Thule T2 Pro XTR because it is easy to use, easy to install, easy to assemble, well-made constructions, easy to load, and we get what we have paid.
---
Saris MTR Hitch Bike Rack
We just studied the Saris MTR Hitch Bike Rack and it is awesome. It was easy to assemble, and once we got the bike on the rack it was stable. We only need a few minutes to get our bikes on and off the rack. With this rack, we can take my bike anywhere. The Saris MTR Hitch Bike Rack is easy to use, sturdy and creates a very secure attachment for your bike. The rack is also compatible with most hitch sizes and works with both 1" and 2" receivers.
The Saris MTR Hitch Bike Rack is a sturdy, high-quality hitch rack that is easy to assemble and install. The MTR rack securely straps up to 4 bikes via their tray frames. It comes with a built-in lock and the Saris security cable to deter thieves from stealing your bikes. This rack is a good option for people who want to take their bike on vacation or use it often without having to invest in a pricey roof rack or garage storage system. It's a great investment for any cyclist, as it will save you time, money, and hassle when you need to transport your bike between places.
---
Thule Camber Hitch Bike Rack
The Thule Camber Hitch Bike Rack is a top-quality bike rack that is easy to use. The bike rack is designed with a tilting mechanism for the bike that makes it easier to get your bike in and out of the car. This hitch rack features an integrated cable lock system, as well as a locking knob and cable to secure the rack to your vehicle. This rack can hold 2 bikes securely and make removing them much easier than most models. The Thule Camber Hitch Bike Rack also has a wide range of compatibility options, is easy to assemble, and will not damage your car or bike during travel.
Thule is a company that makes racks and carriers for bicycles. They have a hitch-mounted rack that can carry up to two bikes of any type. The Thule Camber hitch rack is perfect for people who want to transport their bikes on a towbar but don't want the hassle of removing and re-mounting the wheels. You can tilt the bike rack down when using the trunk, and you can fold the supporting arms down when the rack is not in use. The bike rack works with 1.25 or 2 inches hitch receivers.
---
Yakima SingleSpeed Bike Rack
It weighs 20.83 lbs, and it can lock on 1.25 or 2 inches receivers on any vehicle type. You can use Yakima SingleSpeed to carry most types of bikes: sport bikes, mountain bikes, electronic bikes, and fat bikes. (20 to 29 inches wheel no more than 2.9 inches wide) SingleSpeed bike rack has tool-free installation, and it has a lock system that ensures your bikes are safe when you are not close to the vehicle.
You can transport one bike on the Yakima SingleSpeed bike rack, and there are three more Yakima options for your consideration.
LiteRider2 can carry 2 bikes at the back of any vehicle with a 1-1/4 or 2 inches hitch receiver.
HighRoad can hold 1 bike on the roof of any vehicle with roof racks.
HighSpeed can carry 1 bike on roof racks.
It is a simple design that can be mounted on the back of your car or truck's hitch. The bike rack can hold two bikes and it has enough clearance to not interfere with the view out the back window. The Yakima SingleSpeed bike rack has many benefits: it is durable, adjustable, and compact. The arms are padded and can be adjusted to different lengths. One arm also has an integrated cable lock, which you must purchase separately. This bike rack is easy to install and includes all the hardware you need.
The Yakima SingleSpeed Bike Rack is an excellent addition to any bike enthusiast's garage. The rack's simple, sleek design makes it easy to store bikes of any size and shape. It also securely holds bikes in place with a patented security arm. Available in both black and stainless steel, the SingleSpeed Rack is perfect for everyday or occasional use.
---
Frequently Asked Questions
Why Do You Need A Bike Rack?
It's important to have a bike rack for your car because you'll be able to take your bike with you, and not just around the block. You'll also be able to store your bike, and not just while you're cycling. A bicycle rack will allow you to travel on your bike more conveniently. A bike rack will provide storage for up to three bikes, so you can go riding with friends. Bike racks are available for cars of all types and in various styles, for those who don't have a hitch attached to their car.
Bikes are a popular form of transportation for people who live in cities. In addition to being environmentally friendly, biking is also good for your health. There are many other reasons why bikes are so popular with city residents. Purchasing a bike rack for your car is one way to make sure you always have the space you need to transport your bike. There are many different types of bike racks, which offer various levels of security, and there are also plenty of ways to find a bike rack that fits your vehicle.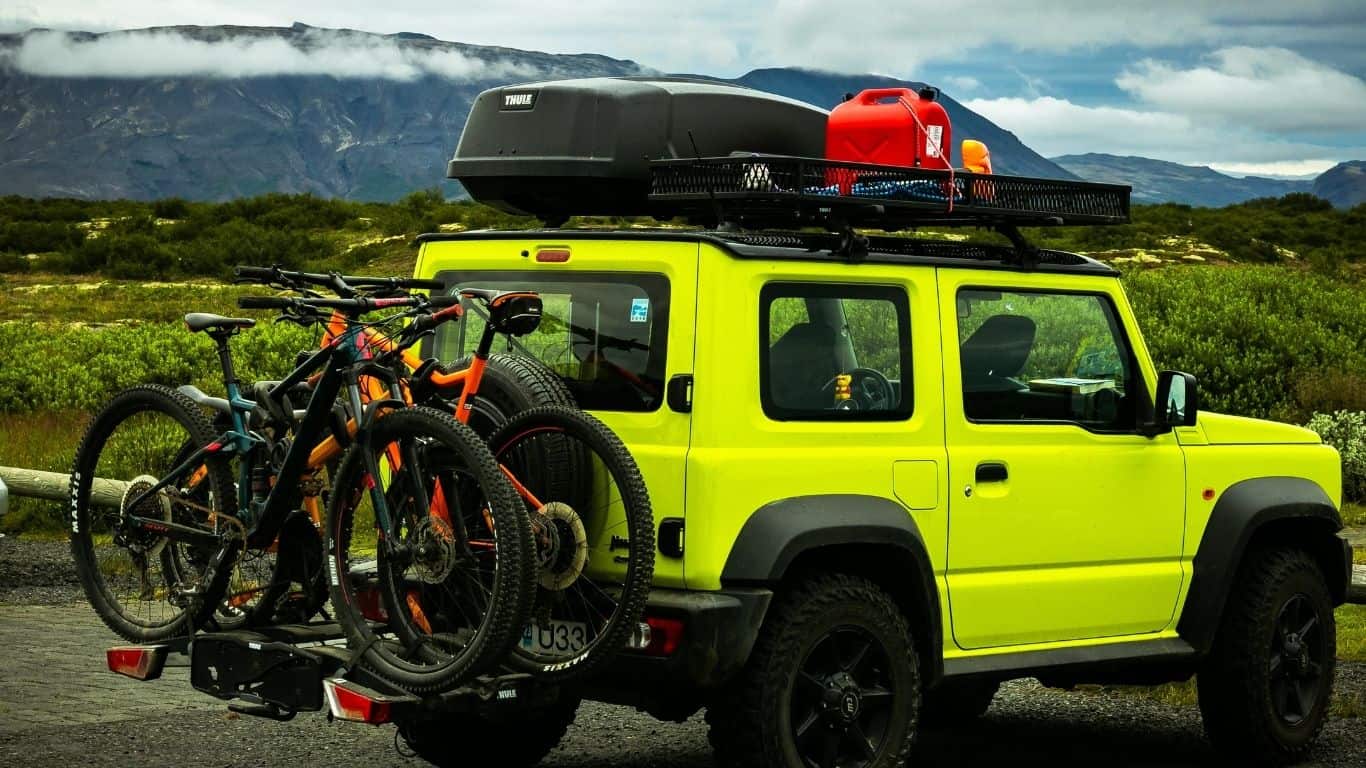 The car is a great place to store your bike and when it's raining outside, there's no better way to get around. A bicycle rack for cars can be used on the back of your car or trunk, depending on the size of your vehicle. When you're not using it, we recommend storing it in the garage so you don't forget about it and end up leaving it outside.
Bike racks are a convenient way of storing bikes on the roof of your car, or in the back trunk. They're also a great way to provide access to bicycles for children who have grown out of their bike seats. There are lots of reasons why someone may want a bike rack for their car. Some people use them to transport their bikes on vacations and day trips, while others use them to commute between home and work. Bike racks can accommodate any type of bike, from BMX bikes and mountain bikes to cruisers and children's bikes.
How to install a roof bike rack?
The first step is to make sure that you have a roof rack. The next step is to measure the distance from the top of your bicycle's seat tube to the ground. Once you have done those basic steps, you should be able to install your roof rack. Refer to the following illustrations for more specific instructions on how to install your roof bike rack.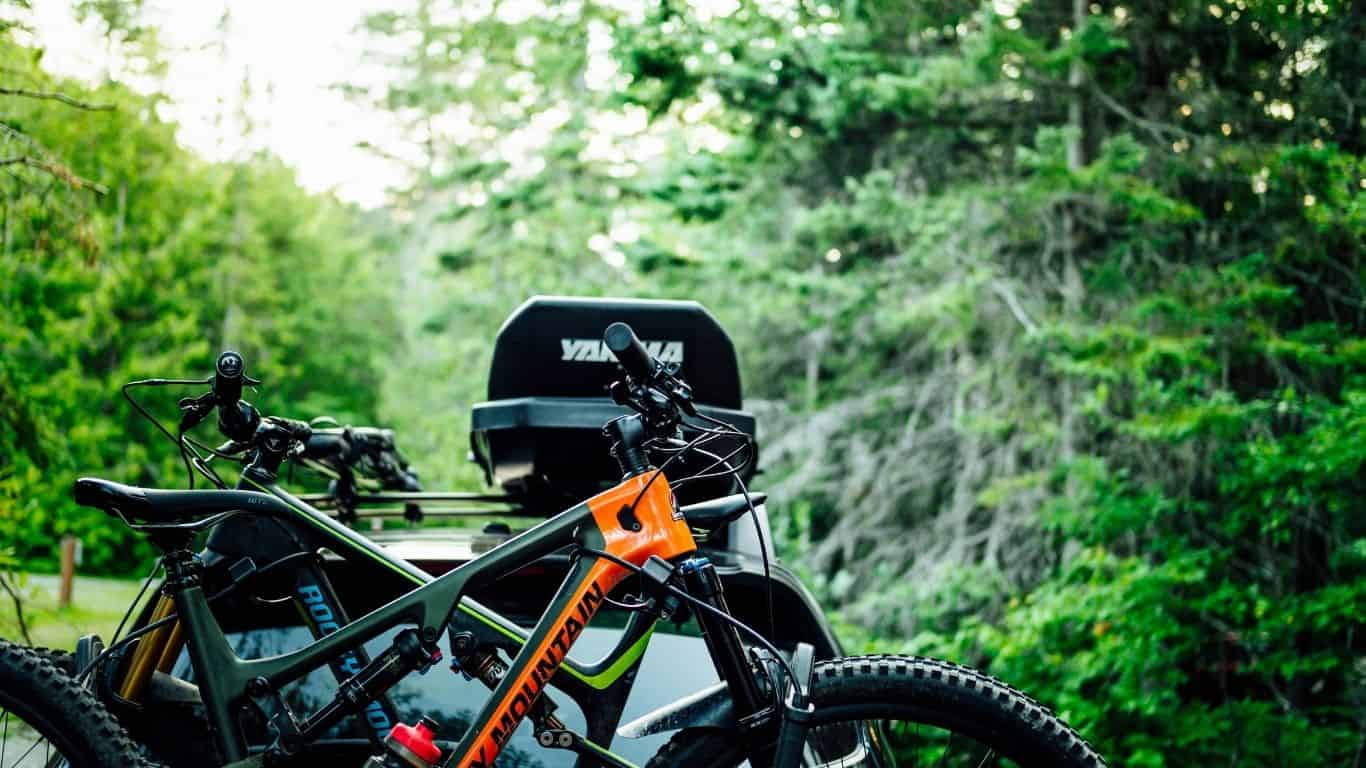 The first thing to check is that your bike rack will fit on the roof of your car. In many cases, roof-mounted bike racks fit most crossbars.
Clean the bike rack and bars.
Attach the back wheel straps to the wheel of the bike.
Attach the front wheel straps to the front wheel of the bike.
Slide the bike rack onto the car roof and tighten it with the provided straps or clips.
Use two bungees to hold down any excess strap on top of the roof racks. Finished.
Do bike racks damage your car?
It is a common misconception that bike racks can damage your car. This is not true. Bike racks, when installed correctly, are designed not to damage your car and are secured to the frame of the car by rubberized straps and seat belts. Bike racks usually have a mechanism to prevent the bike from touching the vehicle, so there's no chance of any scratches or dents. If a bike rack doesn't have this mechanism, it should be easy to find a different one that does or invest in a good quality rack.
Related Topic: Do roof racks damage your car?
Many people are scared of bike racks because they are worried that they will damage their car, but if you know how to install a rack properly, you can have peace of mind in knowing that you're not going to affect your car's paint job. To prevent any scratches on your car when installing a bike rack, first, read and understand the installation guide about a day before installation. Then you can invite someone else to help to assemble the bike rack for accuracy and security.
Are bike racks safe to use?
Bike racks are a convenient way of storing bikes, however, they can be dangerous if not properly installed. To ensure that the bike rack is on the car and stable, there needs to be a successful installation.
Car bike racks are a great way to transport your bike on a drive, but they can be unsafe. For the most part, they provide a safe and secure way to transport your bicycle while mounted on the back bumper of the car. Many people use them without any problems, but there are some instances where they can be unsafe. Car bike racks can be unsafe when they aren't mounted correctly or aren't made for the type of car. They are also unsafe if the weight exceeds the capacity of the rack. When in doubt, contact the manufacturer to double-check that you are using it correctly and safely.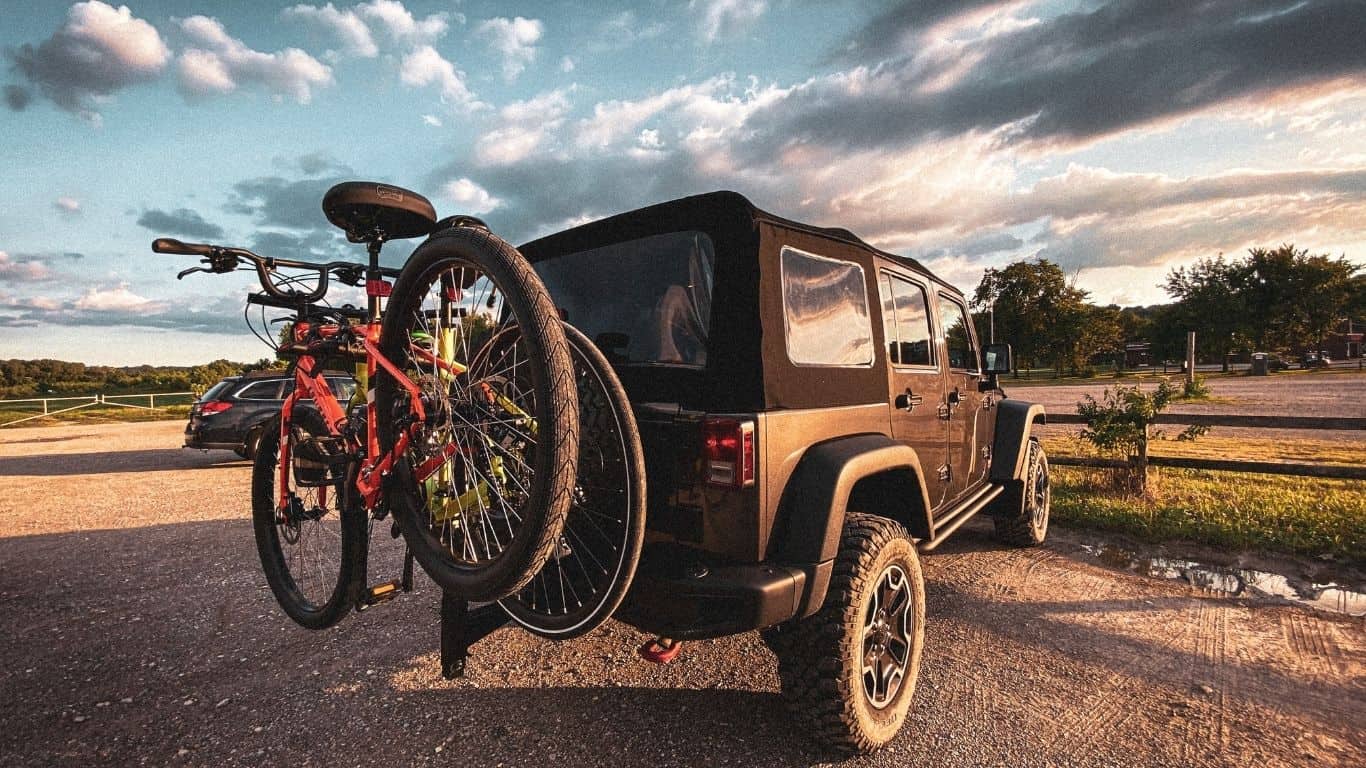 Car bike racks are a convenient way to transport bikes without adding to the clutter in most cars. They allow people to take their bikes with them on the road, enabling them to easily travel by both car and bike. However, they have been known to cause damage to vehicles, and many people have concerns about the safety of using car bike racks when driving. The truth is that there is no one right answer to this question. Car bike racks can be safe if they are properly installed.
Do car bike racks rust?
Car bike racks can rust, but there are a few things you can do to prevent this. First, make sure to clean your bike rack once a year with soap and water. This will remove any dirt or corrosion that has built up over the year, and protect the bike rack from rusting. Secondly, it is critical that you keep your bikes off the ground by using a bike stand or hanging them on hooks instead. If they are left on the ground, they'll be subjected to moisture and dirt which can cause them to rust quickly.
Related Topic: how to clean and maintain bike racks
Bike racks will rust when not cared for properly. The surface of the metal is vulnerable to rusting, which will give the bike rack a dingy appearance. The metal is also more prone to denting and scratching. Here are a few ways to protect your bike rack from rusting: -Spray with a clear coat every few months. This creates a barrier on the surface of the metal that prevents rust. -Invest in a car cover that's made specifically for bikes. These covers are waterproof and will save you from having to spray your bike rack with a clear coat.
Can You Drive With an Empty Bike Rack?
A bike rack is a vital part of any car. It helps to carry the bikes in the trunk and make them secure so that they don't fall out when the vehicle is in motion. Without a bike rack, you can't carry bikes in your car. Yes, you can drive with an empty bike rack. However, this isn't recommended because it can cause damage to your vehicle.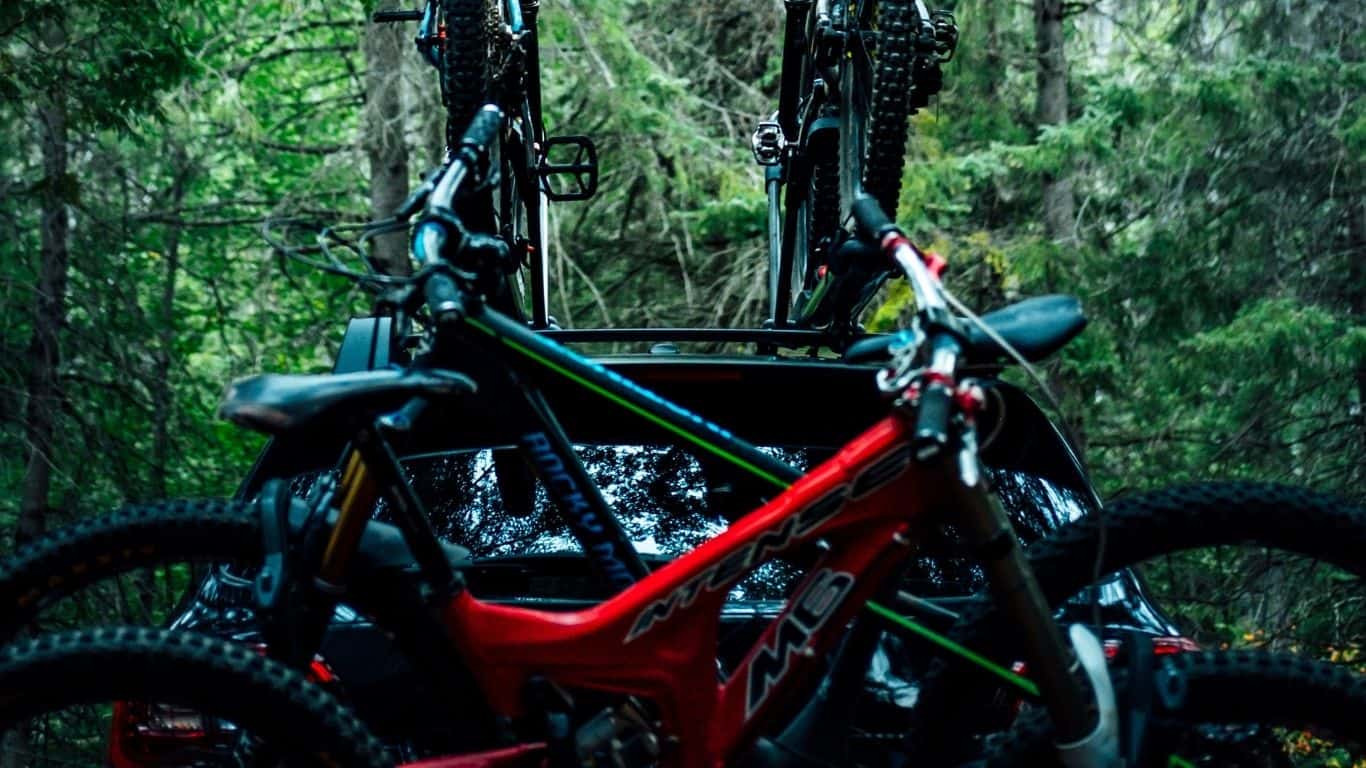 No, driving with an empty bike rack is unsafe and illegal. Most states require that racks carry a certain number of bikes to be considered safe. It is illegal to drive with an empty bike rack in many states because it poses a safety hazard. In most states, you are required to have a certain number of bikes in your rack to drive legally.
How fast you can drive with bike racks?
Bike racks can be used to transport two bikes or up to four bikes. The larger the rack, the more expensive it will be, but many people think the investment is well worth the price for a few reasons. The first reason is that bike racks are easy to use. They typically come with a locking mechanism that will keep your bike from coming loose from the rack and bumping against other vehicles on the road. The second reason is that bike racks don't have as much impact on fuel consumption as some might think. For example, a Honda Civic can drive about 3 miles per gallon when running with a fully loaded 4-bike hitch rack.
Bike racks can vary in size and design. For example, some racks are made with a quick-release feature that allows you to remove and store the rack once you reach your destination. Other racks have straps to secure your bike and help avoid damage from contact with the bike frame or exhaust system. A good rule of thumb is that you should not exceed 55 MPH (89 km/h) if you're driving with loaded bike racks, whatever roof-mounted or hitch-mounted.
Racks are available in a wide range of configurations, making it possible to carry just about anything. Some racks are designed for use on the rear of a bicycle and allow for a full-size bicycle to be transported. This type of rack is best for riders who are carrying a lot of equipment or have an electric bike that needs charging during their ride. Other racks are designed for use on the front of the bike and can be used to securely transport a child's bicycle. You can also mount a narrow roof box beside a roof-mounted bike rack to create more loading space above your car roof.
How to choose a bike rack?
A car bike rack is an easy way to transport your bike on your car. There are many different car bike racks on the market for every budget, so it should not be hard to find one that suits your needs. For example, if you have a roof rack on your car already, you can purchase a roof-mounted bike rack that will attach to the roof rack. Car bike racks are generally rated by weight capacity; the heavier the car and bike, the higher capacity required. If you are looking for a budget-friendly option, consider a rack with a lower weight capacity that might cost you less than those heavy-duty options.
A bike rack is a device that holds one or more bicycles to the rear of a vehicle. When choosing a bike rack, there are many options to consider. First, choose whether you want a hitch-mounted rack or an on-vehicle rack. Hitch mounted racks are typically less expensive than on-vehicle racks but require you to remove your rear bumper. On-vehicle racks allow for easy installation and removal, but may not be as stable or secure. Secondly, decide how many bikes you want to carry at one time. On-vehicle racks will only hold one bike or two, while a hitch-mounted bike rack can load up to 4 bikes at once.
Related Topic: types of bike racks
Conclusion
In this article, you find a list of our chosen bike racks for vehicles: sedans, vans, SUVs, trucks. You can pick one that fits your outdoor needs, and most of them are top-rated bike carriers on the market with much positive feedback on their qualities, aftersale services, features, and designs.
After checking these options, you can read on some frequently asked questions and answers to prepare for using a bike rack for your outdoor adventures.
If you are an outdoor enthusiast, you may need more space in your car to carry even more items on the roads for different vacations. We are here to help you to build an advanced cargo management system to maximize the loading capacity of your car: a sedan, an SUV, a Van, or a truck. The above bike racks work with most car brands: Subaru, Audi, Nissan, Mini, Acura, LandRover, Mercedes, Volkswagen, Jeep, and more.
When thinking about creating a cargo management system for a vehicle, you have many different options: roof-mounted or hitch-mounted.
Roof-mounted: cargo bags, baskets, boxes, other car racks.
Hitch-mounted: cargo boxes, baskets, and other car carriers.
You can use the link above to check the information about specific cargo carriers in detail.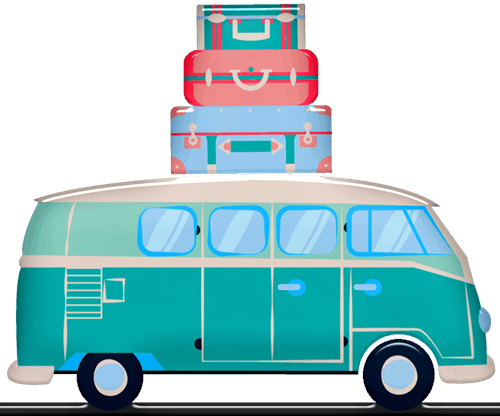 Our team is creating outdoor-gear relevant articles with passion. If our articles can help you to find the correct solutions for your questions, we will be happy about that. In the content creation process, we usually collect accurate and useful information online or offline to compile our content in an organized way. Consequently, we can guarantee that you can discover some expected answers to your questions. We appreciate your time on our site.
We are reader-supported. We get commissions for purchases made through links in this post, As an Amazon Associate we earn from qualifying purchases.