Last Updated on November 23, 2022
A cargo carrier like a cargo box is a useful attachment for adding extra storage space for your vehicle, but it may negatively affect your gas mileage. Your fuel bills will indicate the changes in a tiny amount of money spent because of a roof box. Many people say that they notified a difference in gas mileage after installing a cargo box to their car.
Why does the change happen?
Although most cargo boxes are light in weight when they are empty, they drag the wind when they are in motion. Consequently, they can cause extra fuel consumption on your road trips. However, most cargo boxes have an aerodynamic design to reduce wind noise and decrease gas consumption on roads. Many people admit that there is little effect on gas consumption, but it is ignorable.
Do cargo boxes cause extra gas mileage? Yes, they do.
What can you do with a cargo carrier?
Different people will use cargo boxes for varying purposes like transporting gears, carrying luggage for road trips, moving homes, and more. As a result, you can find many different cargo carriers on the market for people to choose from for their demands. In general, hard-shell cargo boxes and soft cargo bags are two popular options for customers who want to have an added storage space on the roof of their vehicle.
People can use these cargo carriers to transport golf clubs, snowboards, luggage, fishing rods, and other gears.
We have published an article about the purposes of using a cargo box, and you can know more there.
After reading articles on our site, you will also discover many different topics around cargo boxes from different perspectives.
Fuel Consumption is Always There
When you have a cargo carrier on top of your car, it is always affecting your gas mileage while it is in motion. Consequently, you can ignore the little effects and use the roof box with ease.
When you use a cargo carrier, you put your stuff in it; thus, its weight increases dramatically. Your vehicle's gravity center rises because of the cargo carrier. When you use a cargo box, you should pay attention to your driving with longer brakings, slower turnings.
On the market, cargo carriers have different shape designs, so they have varying gas mileage effects. Fortunately, aerodynamic cargo carriers can seriously eliminate wind dragging and decrease the costs of gas mileage.
If you wonder that if there is a method that can solve the above trouble, you can read an article on our site to discover more info there.
Size and Design
Cargo carriers have different sizes and shape designs, so people may choose a suitable one to fit their personal needs as camping, sports, or other outdoor adventures.
According to many experts' experiences, a cargo box can reduce almost 5 miles per gallon on your gas mileage. It means that your car will lose 5 miles per gallon gas consumption with an empty cargo box. If your cargo box is heavy-loaded, the effect may be more serious.
Thus, when you consider buying a cargo box, you should put this in mind. Although cargo carriers affect gas mileage in a tiny amount, having a cargo carrier is always the right choice for outdoor enthusiasts.
What to do for reducing the effects?
In general, using aerodynamic cargo carriers or aerodynamic roof racks can dramatically reduce the wind effects, but they are more expensive than regular cargo carriers. Is there any other method to reduce the wind effects for cargo carriers? Yes, here are some tips.
By reading an article on our site, you can find useful info to solve the problem in minutes.
Choosing an aerodynamic cargo carrier
If you are interested in investing in an aerodynamic cargo carrier, below, a list of products is here for you.
Yakima SkyBox Aerodynamic Rooftop Cargo Box
It is the first option for you. It has an ultra-sleek aerodynamic lid that cuts the wind on the roads and minimizes the wind effect as much as possible. As a result, you won't feel the difference in gas mileage after using it. There is still a tiny ignorable amount of gas that you must pay for having it on top of your car. We highly recommend it to people who would like to camp with family on a high frequency because of its quality and advanced features.
Yakima SkyBox Car Rooftop Cargo Carriers Buyer Guide
---
Goplus Cargo Box
It is the second option for your family. We have a post about it on our site, and if you are interested in reading an article about it, you can follow the link to find more info here. It is a suitable option for road journeys, and it has 14 cubics of interior space for carrying stuff during your vacation time.
Goplus Car Rooftop Cargo Carriers Buying Guide
It also provides an aerodynamic design that reduces the wind dragging on the road to minimize the wind effects as much as possible. Consequently, you won't hear too much wind noise or too much waste on your gas consumption by having it on top of your roof rack.
---
Thule Pulse Cargo Box
It is the third option for you. It comes from a big-brand which is the Thule. If you want to know more about the Thule company, you can visit a page on our site to require further useful info about the Thule company in detail. We also have a post on this product, so you can
gain more by reading the article.
Thule Pulse Cargo Boxes Information Guide
In general, it has three size options for people: 14 cubic feet, 16 cubic feet, and 11 cubic feet.
It offers an aerodynamic design to help you minimize the wind effects on the roads as much as it can do.
If you want to use a cargo carrier to transport gears like snowboard, fishing rods, and more, you can consider the Thule pulse because it has many different size options.
---
SportRack Vista Rear Opening Cargo Box
It is the fourth option for you. It comes at an affordable price and with many advanced features like rear-opening. Rear-opening cargo boxes are rare and hard to find on the market, and it is the best choice for people who look for a rear-opening cargo carrier. It provides you 18 cubic feet of interior space for stowing luggage for your family, and its dimensions are 19 x 63 x 38 inches. It holds up to 100 pounds on top of your car, so it must have an aerodynamic shape to reduce wind-dragging as other options do.
SportRack Vista Car Rooftop Cargo Carriers Buying Guide
We have a post for visitors about the SportRack cargo box on our site.
Conclusion
When you have decided to have a cargo box, you must understand that it will cost you extra money on fuel bills between 20% to 35%. Empty cargo boxes and fully-loaded roof boxes affect your gas consumption differently, so you have to be ready for the everyday-payment for using a cargo box.
If you want to spend less money on using a roof box, you can follow several simple tips on choosing a suitable cargo box.
lightweight – choose a smaller and lighter one
aerodynamic design – must have
height – not too high
roof racks – aerodynamic roof racks are best
drive slow – watch your speed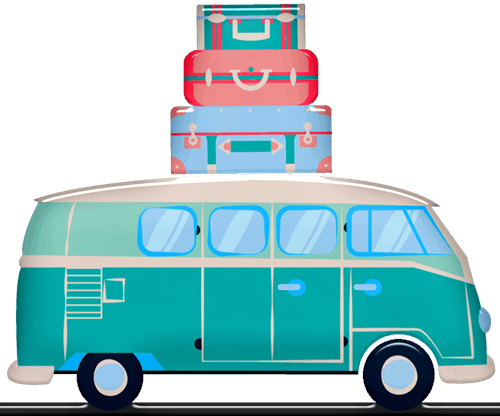 Our team is creating outdoor-gear relevant articles with passion. If our articles can help you to find the correct solutions for your questions, we will be happy about that. In the content creation process, we usually collect accurate and useful information online or offline to compile our content in an organized way. Consequently, we can guarantee that you can discover some expected answers to your questions. We appreciate your time on our site.
We are reader-supported. We get commissions for purchases made through links in this post, As an Amazon Associate we earn from qualifying purchases.