Last Updated on November 22, 2022
You have already heard about the Goplus car roof box, and you want to know more about the product. In this article, you will discover information about the Goplus car roof box in detail. Goplus is a company that has a variety of products in stock in different categories like outdoor gear, home & garden, furniture, hardware tools, automotive tools, and more. Goplus company has two marketing channels on Ebay and Amazon. So if you want to buy its merchandise, you can either purchase on Ebay or buy from Amazon.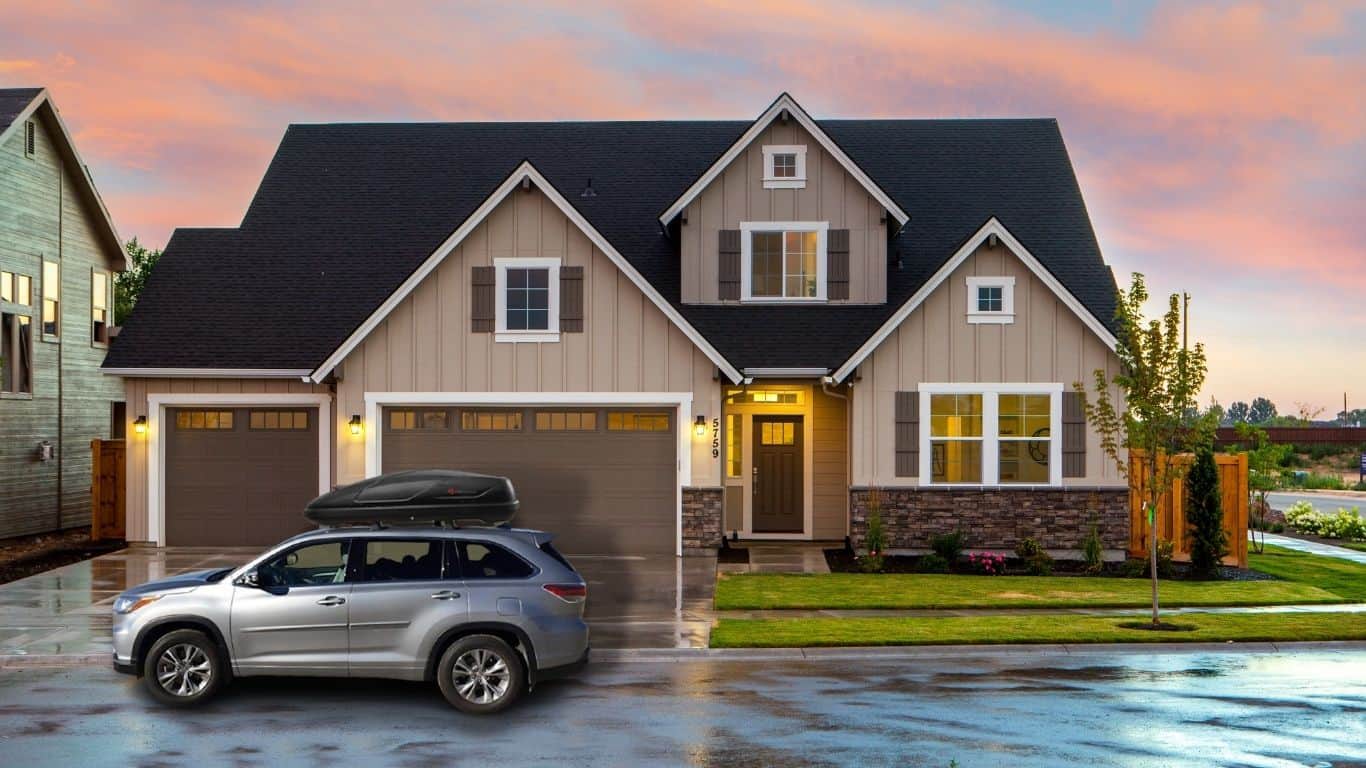 According to the manufacturer's description, The Goplus car roof box is universally fitting to all kinds of rack bars. What does this mean? For example, If you already had a pair of rack bars on the roof of your vehicle, you can use the Goplus cargo box without concerns about compatibility. Besides, SUVs, trucks, sedans, minivans, and coupes can use the Goplus car roof box as a cargo carrier. Consequently, you can stop wondering if your car can use the Goplus car roof box or not, and you must have a pair of rack bars on top of your vehicle.
Goplus released its new rooftop cargo box on May 14th, 2022. The small model has 8.83 cubic feet of space for loading things, and its dimensions are 52" x 30.5" x 12".
A list of universal roof racks for all vehicles – For compatibility reasons, you should consider using OEM roof racks; however, there are also some good-quality aerodynamic crossbars out there.
Related Topics: Can you use roof racks without roof rails on a bare car roof? Learn more…
Info of Goplus Car roof box
On the market, such as Amazon, there are three color options for the Goplus cargo box: Black, White, and Titanium Gray. Thus, you can choose a color to match the style and color of your vehicle. On the Amazon store, if you have Amazon Store Card, you can pay for this product in 6 months period with 0% interest. Besides, the Goplus cargo box's price on Amazon is around $460 and is subject to change in days.
What can you do with this Goplus cargo box?
A car roof box is a car attachment for outdoor adventures such as camping, seasonal sports, road journeys, and other outdoor activities. In general, it is a container that can carry belongings for you on your car roof rack. When you have securely and fully attached a cargo box to your rack bars, you can stow luggage, gear, and other stuff in it for your vacations.
What size do you need?
Unfortunately, the Goplus car roof box only has one size on the market, but if you are looking for other-sized cargo boxes, you can also find their information on our site. An ample 14 cubic feet provides you enough space to carry essentials for a family of 2 to 4 people. The dimension of the Goplus car roof box is 63.00L x 31.00W x 15.00H inches/160.02L x 78.74W x 38.1H cm. Although it fits all types of vehicles, you still need to ensure that the Goplus cargo box is not longer or wider than the roof of your car. (You have to make sure that the adjustable distance of your rack system is between 16.1 inches and 24.8 inches, and the width of your crossbar is less than 3.1 inches.) If you want other sizes of cargo boxes, you can read our size guide to know more.
What is the structure of the Goplus car roof box?
The construction of the Goplus car roof box is a combination of sturdy ABS and PC plastic materials, and it is light enough for carrying up by one person. However, we recommend you call someone else to help you with the installation of a car roof box because roof boxes are big. ABS materials are durable, waterproof, and long-lasting; consequently, you don't need to worry about using the Goplus roof box in extreme weather, using it in wild fields, and using it in unexpected accidents. The sturdy ABS material will perfectly protect your belongings from all kinds of real-life conditions.
What is the load capacity of the Goplus car roof box?
The load capacity of the Goplus roof box is up to 165 lbs (74.8427kg).
How to install the Goplus Car roof box?
There are four anchors to connect the roof box to the crossbars, and it doesn't matter what kind of rack bars you have. The Goplus car roof box can attach to all rack systems: round, square, aerodynamic, or factory-designed roof bars. When you want to install a roof box to the roof of your car, you need to call someone to help you with carrying it up. When the position is confirmed, it is time to use those anchors to securely and accurately connect the roof box to the crossbars. While you are adjusting the roof box's position, you have to ensure that it has no interference between the roof box and the hatchback or the front view.
Other highlighted Features of the Goplus Car Roof Box
Dual-Opening
A dual-opening feature allows you to open the roof box from both sides. When you drive on the highways, you should avoid using the roadside to use the roof box because of the potential risks from coming traffic. In the woods, you can use both sides to pack or unpack your roof box for convenience.
Double Locks System
There are two locks on the box to ensure that your luggage stays safe and clean inside the Goplus car roof box. Although the roof box is sturdy and durable, we recommend you not stow expensive devices in it.
Metal Stiffeners
The Goplus car roof box has added rigidity and durability, for there is a pair of stiffeners at the bottom of it.
On the other hand, there is a pair of lid-stiffeners for holding the lid during its opening time.
What do users say about the Goplus car roof box?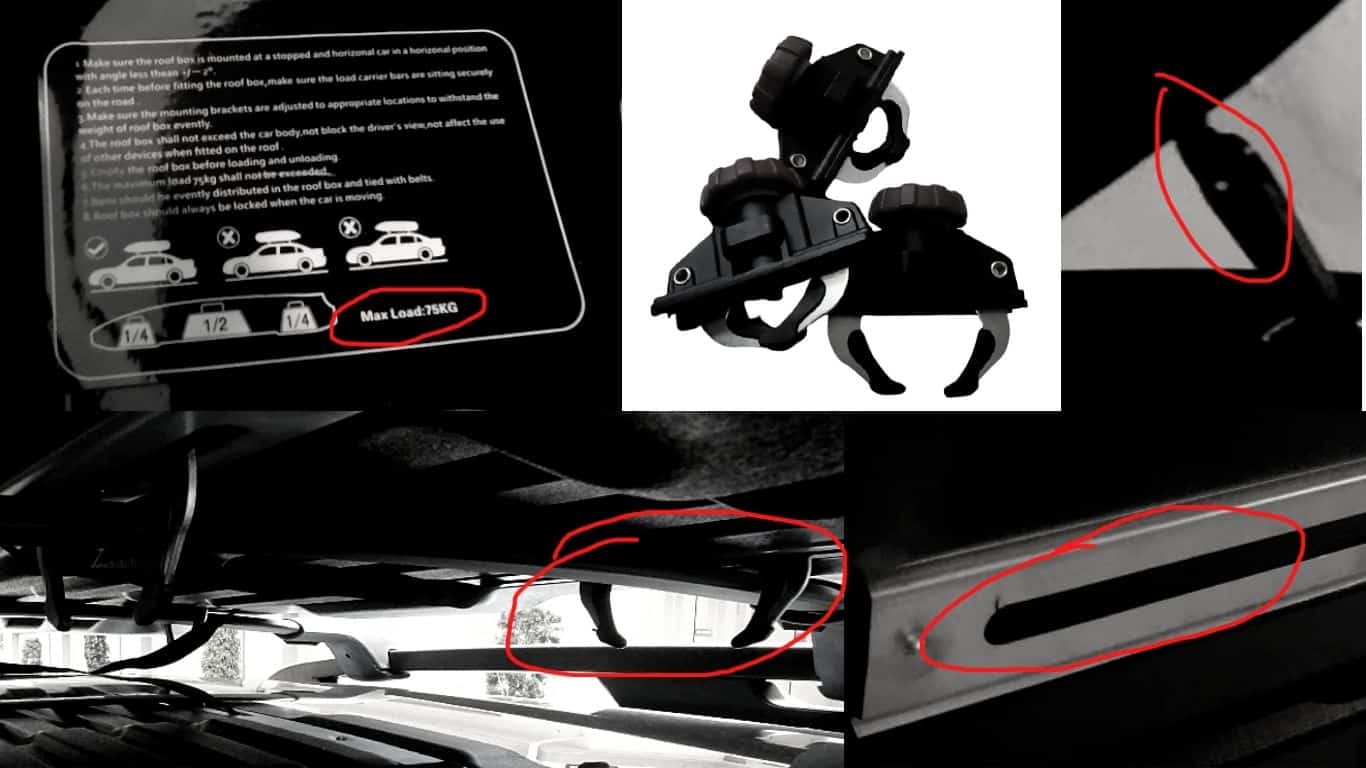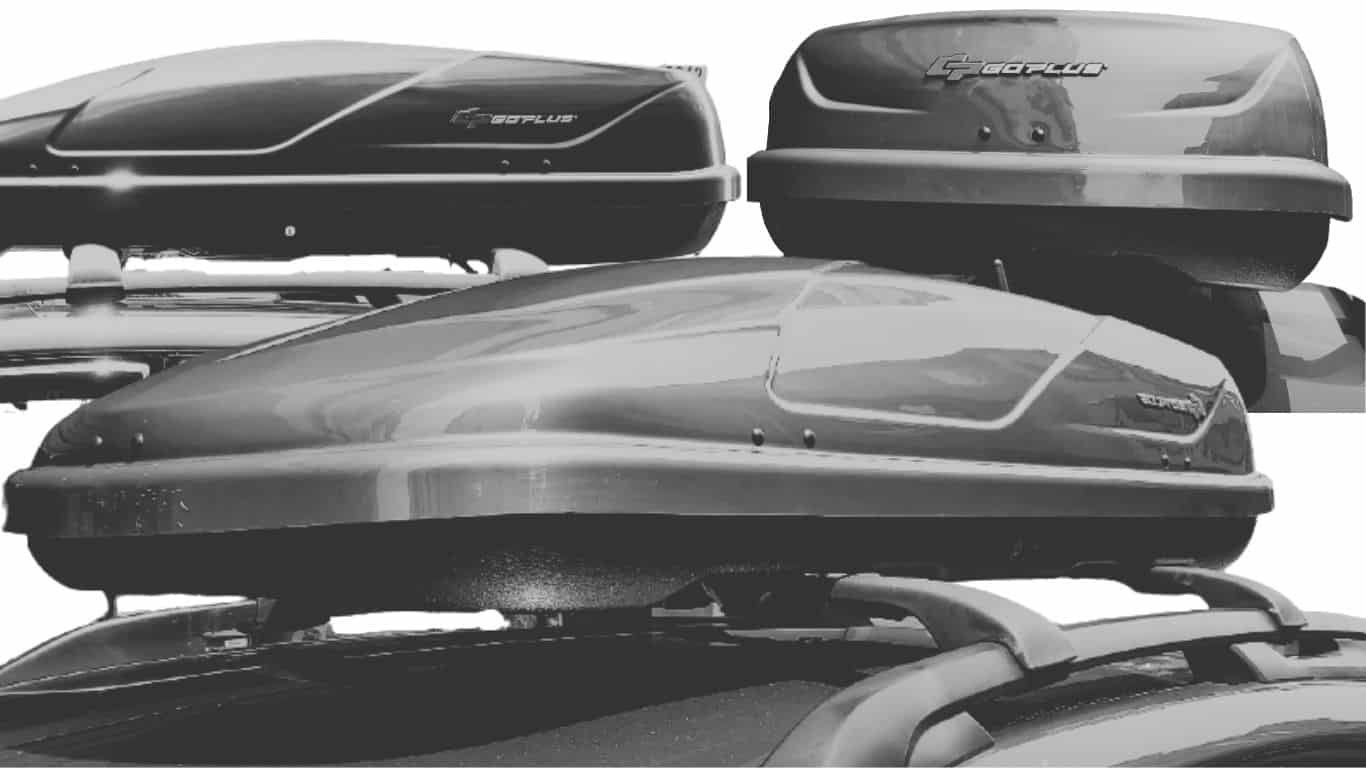 Other Alternatives of Goplus Car Roof Box
A list of best cargo boxes for all SUVs, Sedans, Trucks, and Vans – this is a list of the best cargo boxes for outdoor needs, and you can compare them and find out which one is the one that fits your taste and needs.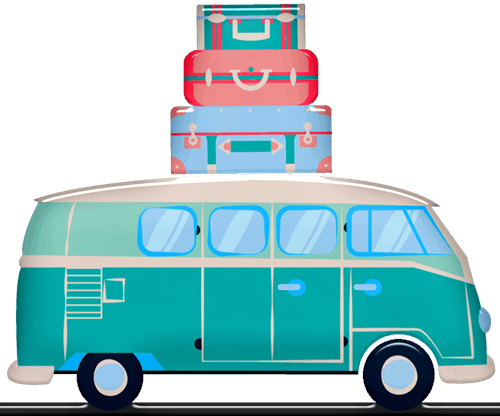 Our team is creating outdoor-gear relevant articles with passion. If our articles can help you to find the correct solutions for your questions, we will be happy about that. In the content creation process, we usually collect accurate and useful information online or offline to compile our content in an organized way. Consequently, we can guarantee that you can discover some expected answers to your questions. We appreciate your time on our site.
We are reader-supported. We get commissions for purchases made through links in this post, As an Amazon Associate we earn from qualifying purchases.