Last Updated on November 22, 2022
Menabo is a brand that focuses on meeting customers' demands, experience, performance, and safety. Its products are well-known in the world and are perfect in quality and features. In the growth of half a century, Menabo has developed its products to the top of the market globally. Also, it has been chasing innovation, safety, and quality with a passion for five decades. The Menabo cargo box is a combination of Menabo's creativity, safety, and quality. 
---
Info about Menabo Diamond Cargo Box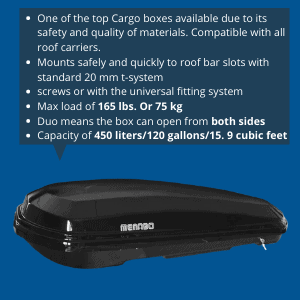 There are seven options of Menabo diamond cargo boxes on the market. From 450 L to 580 L, you can choose one that fits your needs. Besides, there is only one black color option for the roof box, so the universal-fitting black color is your only choice. However, if you want to print a cargo box to match your vehicle's style, you can use an auto-grade spray printer for that purpose.
---
7 Options of Menabo Diamond Cargo Boxes
---
User Videos
Intro and Installation Video From the Manufacturer
---
Fitting Instructions
---
Video From Customer
---
Why do you need a cargo box?
Do you love outdoor activities? If you do, a roof box can do much for you. For example, when you want to go out on a camping holiday, you can bring all the necessary stuff with you. You could put your clothes, tents, gear, luggage boxes, equipment, sleeping bags, and other things in a roof box to ensure that you can have an enjoyable camping event in the woods. Furthermore, you can use a cargo box to carry your sporting gear like skis, snowboards, or fishing rods to have fun with your friends on a seasonal sporting holiday. Finally, you can read a specific article about the reasons for having a cargo box on our site.
---
What can cargo boxes do for you?
You can use roof boxes for camping, golfing, fishing, skiing, hunting, and road journeys. However, choosing a cargo box is not as easy as buying something else; thus, you must learn before your buying actions. If you want to know more about What Can Cargo Boxes Do For You, you can read more on our site.
---
Details about Menabo Diamond Cargo Box
Menabo Diamond cargo boxes are made with sturdy, durable, and waterproof plastic, so they are light in weight. You can assemble the roof box alone, but we recommend you call your friend or family to help you with the installation because the roof box is big. The easy-to-mount hardware is easy to operate, so you can mount the cargo box in minutes. A dual opening feature allows opening the roof box from both sides to create many conveniences for loading or unloading items in or out of it.
---
What do other people say about it?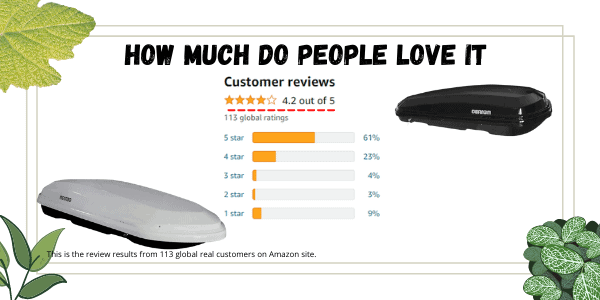 ---
What to consider when buying a Menabo Diamond cargo box?
Know more on Menabo's official site.
Menabo Quasar Roof Box
Quasar roof box does not like the Menabo Diamond series, and it only has one size option – 320 liters. People can use it as added storage on their sedans, trucks, and vans, and it fits most of the roof racks that are no thicker than 8cm. You have to make sure that the crossbars have a distance between 36cm and 74cm because Quasar cargo boxes don't mount on roof racks out of range.
Menabo Quasar roof boxes' dimensions are 128Lx90Wx38H cm (50Lx35Wx15H inches), and it is a perfect option for 2 campers. They can transport up to 50 kg/ 110 lbs of items but no longer than 128cm, so you better not use a Quasar roof box to carry your skis, snowboards, fishing rods, and other long gear.
More you need to know about Menabo Cargo Boxes
Cargo boxes are a great way to store and transport items when you're on the go. There are a variety of different cargo box brands and models available on the market, but Menabo is one of the most popular brands.
Menabo cargo boxes are made from high-quality materials (ABS materials) and are designed to be easy to use. They come in a variety of sizes (we find the biggest cargo boxes), so you can find the perfect one for your needs. Plus, they're affordable and have a variety of features that make them a great choice for anyone who needs to store or transport items.
There are a lot of reasons to consider using Menabo cargo boxes. They make it easy to transport large items, and they're also very sturdy and durable. That means you can count on them to keep your belongings safe and secure.
Another great thing about Menabo cargo boxes is that they're easy to use. You don't need any special tools or equipment to set them up, and they're adjustable to fit a variety of different vehicles. Plus, they come in a variety of different sizes to suit your needs. Additionally, they are very affordable, which makes them a great option for anyone on a budget.
There are a number of different types of cargo boxes available on the market (large, small, aerodynamic, skinny, or low-profile), each with its own set of advantages and disadvantages. It is important to choose the right box for your needs, as this will ensure that your items are transported safely and securely. (You can learn how to protect your cargo boxes from thefts)
The most common type of cargo box is the roof-mounted box. This type is attached to the roof of your car and can be opened from either side. It is a good choice for transporting large items, as it has a lot of storage space. However, it can be difficult to access your items if they are stored at the back of the box. (You can find some accessories that help you to operate the rooftop cargo box like a pro)
Another type of cargo box is the hitch-mounted box. This box is attached to the hitch on your car and can be opened from either the inside or outside. It is a good choice for transporting small items, as it doesn't have a lot of storage space. However, it is easy to access your items, and it can be removed from your car when not in use. When these cargo carriers are not in use, you can store them in the garage with proper solutions.
Cargo baskets are also a good choice for carrying extra luggage on your vehicle, but they are less secure than cargo boxes. If you want to leave the cargo carrier on top of your car for a year-long, cargo baskets are good options without extra waste on gas and much unbearable wind noise. You better not leave empty cargo boxes on the car roof when it is not in use.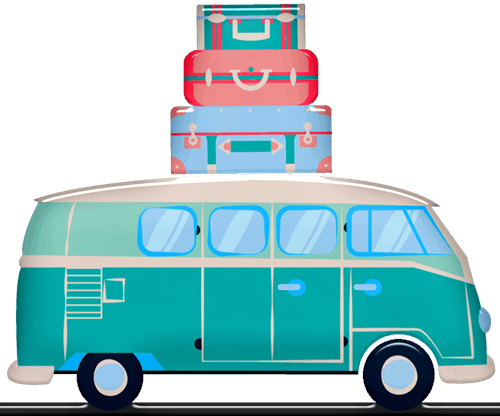 Our team is creating outdoor-gear relevant articles with passion. If our articles can help you to find the correct solutions for your questions, we will be happy about that. In the content creation process, we usually collect accurate and useful information online or offline to compile our content in an organized way. Consequently, we can guarantee that you can discover some expected answers to your questions. We appreciate your time on our site.
We are reader-supported. We get commissions for purchases made through links in this post, As an Amazon Associate we earn from qualifying purchases.