Last Updated on November 22, 2022
You love fishing. Fishing is your favorite outdoor event. Do you know that a car roof box can help you carry your fishing rods on top of your vehicle?
If you don't have a fishing rod holder or a roof box, you may need to stow your fishing rods in your car which is dangerous and risky to do. A fishing rod is long, so it is hard to make it stay input in your vehicle. While you are braking or turning on the highways, your fishing rods will slide down from the seats' head-supporter of your car to accidentally hit some electronic buttons or damage the windshield. Sometimes, a sliding-down fishing rod can be stuck at the side of the driver's seat, and the head of it will stand on the braking pedal or accelerating pedal to create a danger to you and your passengers.
Consequently, you have to read some info to learn how to use some tools to attach your fishing rods to the roof of your car for both safety and convenience.
In this article, you are about to find the solutions to transport your fishing rods smartly and safely. If you are new to the cargo box, you can read other articles to build foundational knowledge of car roof boxes.
Rushing on Time
If you don't have enough time to read our articles, we will build a list for you below for a quick pick.
---
Quick-Pick list of Car Roof Boxes For Fishing Rods
| Image | Product | Volume | Opening | Size | Amazon Link |
| --- | --- | --- | --- | --- | --- |
| | YAKIMA – ShowCase, Aerodynamic Rooftop Cargo Box | 20 Cubic Feet | Dual-side | 11.81 x 11.81 x 47.24 inches | View On amazon |
| | Yakima Skybox Carbonite Cargo Box | 21 cubic ft | Dual-side | L: 92″ x W: 36″ x H: 18″ | View On Amazon |
| | Thule Force Cargo Box | 17 cubic ft | Dual-Side | L: 85″ x W: 35″ x H: 20″ | View on amazon |
| | Goplus cargo box for your fishing rods | 14 cubic feet | Dual-Sides | 63 x 31 x 15 inches | View On Amazon |
---
A list of 10 cargo baskets for all SUVs, Sedans, Vans, and Trucks – You can use cargo baskets to carry your fishing rods between places.
Use of a Car Roof Carrier
The Rhino-Rack Carrier is easy to use. If you have a rack system on the roof of your car, you can use the Rhino-Rack carrier because it is universally fit for all rack bars. There are 3 size options of Rhino-Rack carrier that are 10 inches, 13 inches, and 20 inches.
If you have many different-size fishing rods, you can choose the 20 inches carrier for your needs. The 10 inches carrier can hold 8 – 10 fishing rods for you.
The Rhino-Rack carrier is mainly working for carrying snowboards or skis, so you also can use it to transport other long gear like your fishing rods. You can mount it on your rack bars in minutes without any tools, and when you don't need it, you can disassemble it.
For smaller vehicles, the length of your car is not enough to put some fishing rods inside the car carriage, so the only way to hold a fishing rod is to attach it on top of your vehicle by using some tools.
A car roof carrier requires rack bars to work, so if you don't have a rack system on top of your auto, you can contact your car dealer to get one or use other methods to transport your fishing rods.
Related Topics: roof racks for bare roofs (can you use rooftop cargo carriers without roof rails)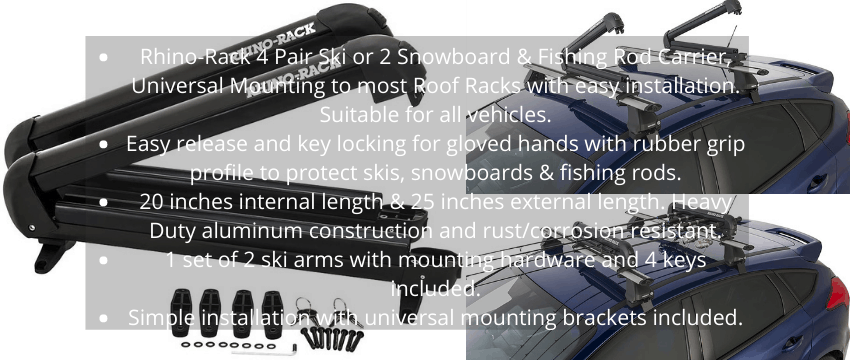 A user video of Rhino-Rack Carrier
---
Use of a Magnetic Holder
What is another method of transporting your fishing rods without a rack system? If you don't have a pair of roof bars, you can consider investing in a magnetic holder to carry your fishing rods. How do they work? It is easy to understand.
The magnetic holders use magnets to attach to the ferrous metal area on the roof of your vehicle, so they won't loosen until you want to take them off.
When the holders are correctly attached, you can tighten your fishing rods on top of the holders. According to our research, someone has tested the holders in high-speed conditions (80 miles/hour) on the highways. The magnetic holders were working fine without a flaw.
---
Simple to Use
If you have a pair of roof bars, you can consider using another method to transport your fishing rods. A Rhino-Rack multi-purpose holder is here to help you with that purpose. A universal fitting multi-purpose holder can install on any roof bar, and the installation process is simple without any tools. You can take several minutes to finish the mounting steps.
This car roof holder can also transport your ski poles, kayak paddles, spades, shovels, sailboard mast, and many more.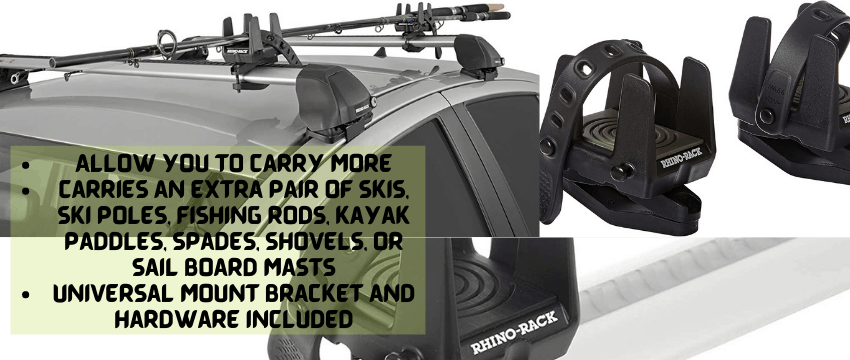 ---
Cover your Fishing Rods
Many people are using expensive fishing rods to maximize the enjoyment of their seasonal fishing events. They will bring not only their fishing rods but also other equipment and tools for fishing. Besides, they may also take much other stuff like clothes, food, and many more.
A cargo box is right for people who have the situations as above mentioned. They need a large roof box to carry everything they need, so we recommend the Yakima Skybox cargo box for them.
A 21 cubic feet of interior space allows you to take everything you need on your fishing journey, and your gears and stuff are under the protection of a waterproof, sturdy, and durable hard-shell car roof box.
If you decide to use a cargo box to carry your fishing rods, you may also need to know how to store it, the methods to clean it, the reasons to buy it, and other must-know tips for using a car roof box.
---
More Secure to Transport
If you think of using a roof box to carry your fishing rods, security may become the most significant factor in your consideration. Your fishing rods are expensive, and they are not allowed to be touched by someone else except yourself. You want to put them in a box that is securely locked.
The Thule is here for help. The Thule products are expensive, but they are built with advanced materials and supported by fantastic customer service.
We don't need to discuss the Thule Force roof boxes too much because this cargo box is popular on the market with much real positive customer feedback.
Your fishing rods will be safe and clean when you open the cargo box in front of your favorite fishing spots. Enjoy freedom and happiness.
---
Open it on Two Sides
Except for the two options we have discussed above, we recommend you another Yakima car roof box for some reasons.
Large enough to carry fishing rods
Waterproof, sturdy, and durable materials are building up the construction of this roof box.
An easy-to-use mounting system makes the roof box popular on the market.
Universal fitting mount hardware is user-friendly.
The dual-side opening brings many conveniences to people.
A pair of lid-holder ensures that you can access your roof box without any risks of being hit on the hands or arms by a sudden falling lid.
---
What is Your Final Decision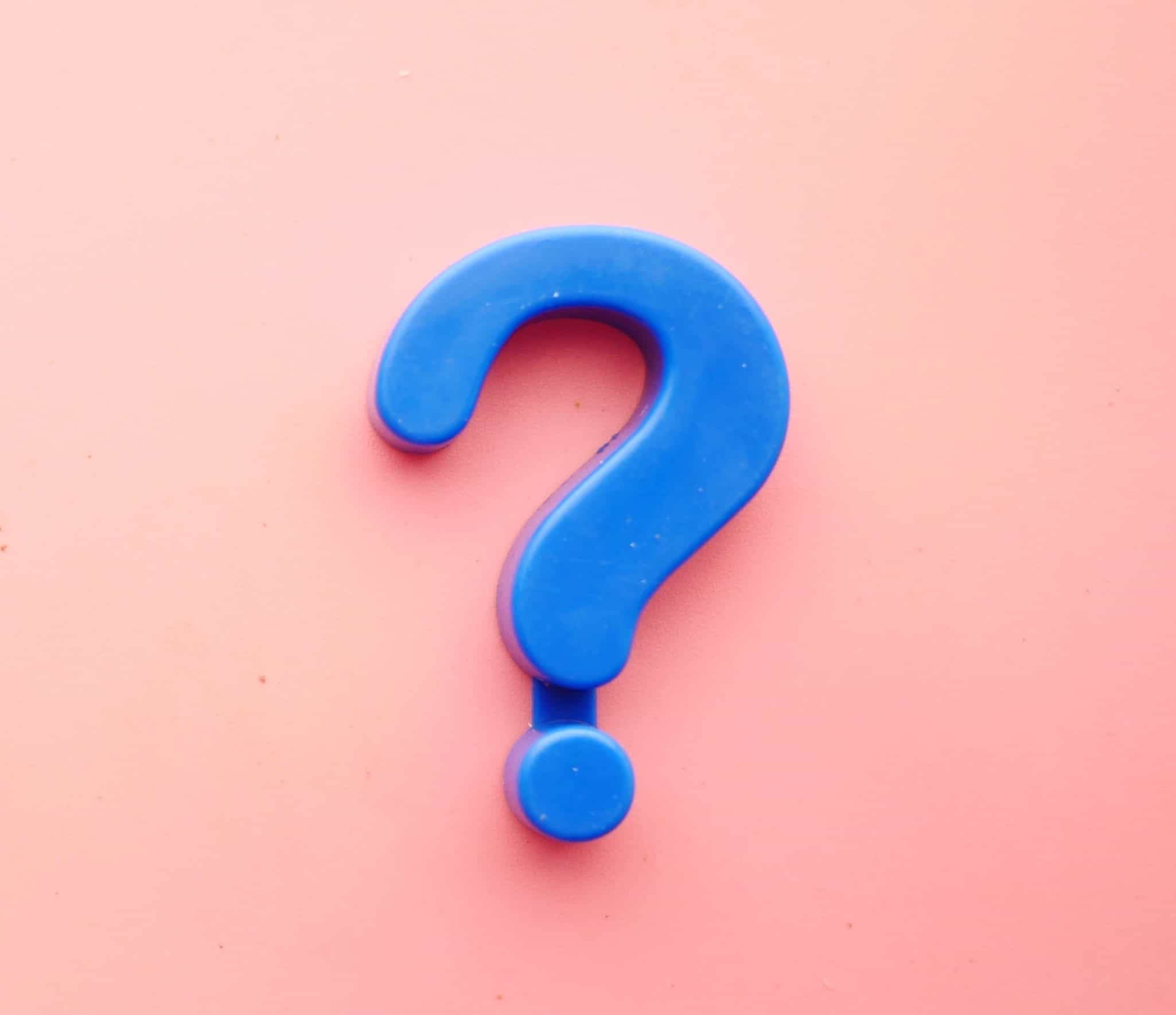 In conclusion, you can know how to transport your fishing rods by using your car. We have listed some options for you.
You can choose to use a car roof box for the job, or you can use a car roof carrier, a multi-purpose holder, or a pair of magnetic holders to transport your fishing rods without worries.
There are even more options, and you can DIY your methods to carry your fishing rods by using ropes or other things. However, we do not recommend you do the job with your cheap ideas. The main reason is not money but the safety of you and your families.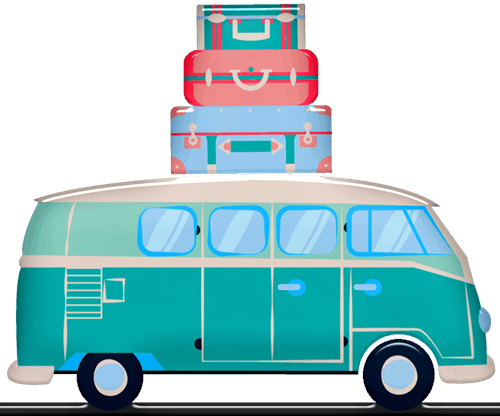 Our team is creating outdoor-gear relevant articles with passion. If our articles can help you to find the correct solutions for your questions, we will be happy about that. In the content creation process, we usually collect accurate and useful information online or offline to compile our content in an organized way. Consequently, we can guarantee that you can discover some expected answers to your questions. We appreciate your time on our site.
We are reader-supported. We get commissions for purchases made through links in this post, As an Amazon Associate we earn from qualifying purchases.