Last Updated on November 22, 2022
Are you trying to extend the storage space for your Audi A6? You have trouble loading enough gear, luggage, equipment, and other belongings for your outdoor adventures. You may have tried to use a trailer, but it is too large and hard to operate. Your Audi A6's hauling power is limited, and you need to pay attention to the number of towing limitations.
Have you thought about if there is another way to extend the storage room for your Audi A6? A cargo box may be the solution for your needs.
What is a roof box? If you are new to car roof boxes, you can read the articles about foundational knowledge of cargo boxes on our site. You can generate enough info for choosing a roof box for your Audi A6 after you read those articles.
If you are rushing on time, you still need some basic knowledge about roof boxes to make your selections. In general, what are the features of cargo boxes?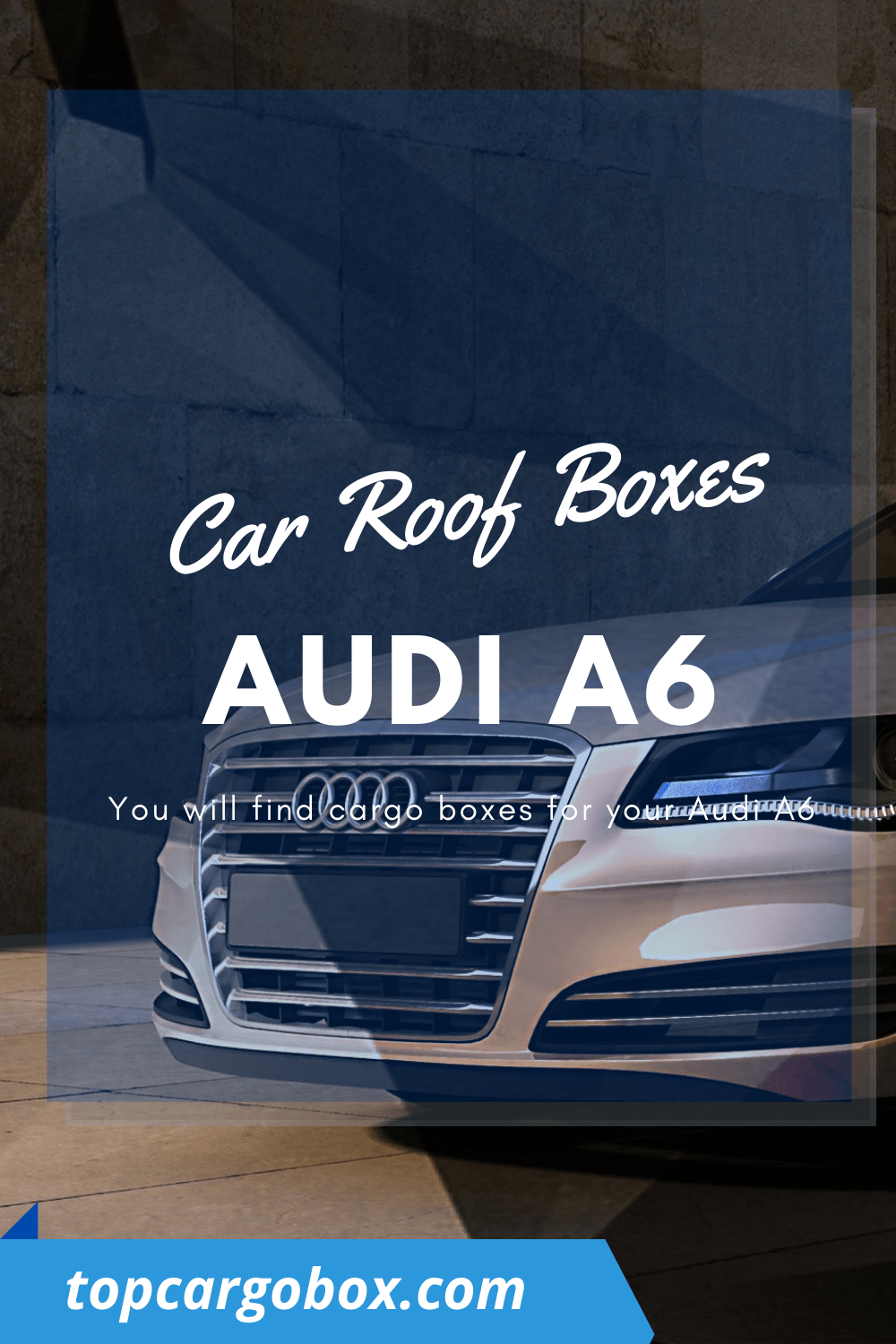 "Loading Capacity": Capacity indicates how much interior storing space the car roof box has.
"Sizes": External sizes and interior sizes show you the measurement of the roof box. You can use the numbers to check if the roof box fits your car roof's size or your items' length.
"Aerodynamic design": We recommend you choose an aerodynamic cargo box because it will decrease the volume of wind noise and have a close-to-zero effect on gas mileage.
"Opening": Which side of the car rooftop carrier can be open? There are two different options for you: opening from one side and dual sides. You can take benefits from both options based on your actual needs of the cargo box.
"Universal-Mount": Does your car have a rack system? If your vehicle does not have a pair of rack bars, you can contact your car dealer to buy one. If you have already invested in a rack system, you need to choose a car roof box that has a universal mounting system.
"Lid holder": If your roof box has lid holders? Lid holders will help you to support the lid until you manually pull it to a close position.
"Color": In general, there are not many different color options for car roof boxes; if you require a custom color to match the style of your vehicle, you can print it by using spray-printers.
---
A list of "universal" roof racks for all vehicles – you can use any of these racks to satisfy the gear loading demands. (compatibility check required)(A list of roof racks for all vehicles with bare roofs )
Quick-Pick of Car Roof Boxes For Audi A6

| IMAGE | LOAD CAPACITY | OPENING | Weight Capacity | Size (External) | Check Price |
| --- | --- | --- | --- | --- | --- |
| | 18 cubic ft | Rear side | 100 lbs | 62.5" x 19" x 39" | View it on Amazon |
| | 18 cubic ft | Dual side | 165 lbs | 84.5" x 36" x 17" | View it on Amazon |
| | 18 cubic ft | Dual side | 165 lbs | 80.32" x 38.98" x 18.31" | View it on Amazon |
| | 18 cubic ft | Dual side | 165 lbs | 74.75" x 24.75" x 16.75" | View it on Amazon |
---
5 Cargo Bags For Audi A6
If you don't want to have a cargo box, you can consider using a roof bag to transport your belongings on the roads. When you want to ask about the difference between cargo boxes and cargo bags, we have the answer for you in another post. We also created a list of 5 top-rated cargo bags for your Audi A6.
A list of 10 cargo baskets for all SUVs, Sedans, Vans, Trucks
---
Details of Cargo Boxes for Audi A6
SportRack Vista XL Rear Opening Car Roof Box
It is a universal-fitting car roof hard-shell carrier for your Audi A6. SportRack is a big brand in the outdoor products industry, and it has a variety of equipment and accessories for outdoor enthusiasts. Car roof boxes are a part of SportRack's business.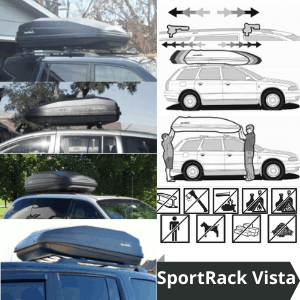 The Vista XL roof box can fit most factory rack systems: square, round, or factory rack system. 18 cubic feet of inner space allows you to load up to 130 lbs or 59 kg items when you go for camping holidays or other outdoor adventures.
A pretty simple-to-use mounting system ensures that you can assemble a SportRack cargo box on top of your car without any tools. You can carry it up to the roof of your vehicle alone because of its lightweight.
SportRack Horizon Car Rooftop Cargo Carriers Buyer Guide
ABS(Acrylonitrile butadiene styrene) construction supports the roof box, and it provides durable, waterproof, UV-resistant, and sturdy characteristics to the roof box.
There is much positive feedback on SportRack Vista car roof boxes on the Internet, and many people have tested them under different real-life conditions. You don't need to worry about the quality of it. 
Using a car roof box needs knowledge and experience; consequently, if you are new to cargo boxes, you have to read some articles to generate tips about how to use a car roof box correctly.
---
Thule Motion XT Car Roof Box
Thule is another super popular brand of outdoor products, and it has been developing for decades in the outdoor gear industry. Motion XT car roof box is another great car roof carrier for your Audi A6 for reasons. It has 18 cubic feet of inner space for storing your stuff, gear, luggage, and equipment. 
Thule Motion XT Car Rooftop Cargo Boxes Information Guide
Its fashion-aerodynamic design not only reduces wind noise but also does not affect your gas mileage. If you want to know more about reducing the wind noise of a car roof box or a rack system, we have an article on that topic.
The universal mounting system ensures that you can use the Motion XT cargo box on most factory rack systems. However, if you do not have a pair of rack bars, you can consider investing in a square, round, or aerodynamic rack system.
A Dual-opening feature is being functioned on the Thule Motion XT car roof box, so you can easily access the roof box at any time and anywhere. 
When you install your car roof box, you have to ensure that you can fully open the door of your vehicle's hatchback. If you cannot, you have to adjust the position of your car roof box forward.
---
INNO BRM466WH PHANTOM 466 Car Roof Box
Are you looking for a white color car roof box? Here you go. INNO has the answer for you, and you can also order custom colors from INNO.
Many people are trying to use the INNO cargo box to extend their storage space for their vehicles when they plan to enjoy the woods in the holidays.
In comparison, the INNO car roof box has a memorial mounting system that will save you time, after the first successful installation, in the future. 
If you are going to use the car roof box for storing your skis or snowboards, the longest straight line in the roof box is 191cm. You have to use some straps to tighten your skis or snowboards in position for safety reasons.
You have to use a car roof box by following the instruction guide and the safety brochure. You cannot overload your car roof box in any situation.
---
Thule Force XT Rooftop Car Roof Box
It is another baby from the Thule company. If you require more info about this option, you can either read some real customer feedback on the Internet or click the link here to read an article about Thule's products on our site.
The Thule Force XT cargo boxes are water-resistant, rugged, and long-lasting, and they are perfect for people who love fashion and luxury looking because of the Force XT roof boxes' fancy finish.
You can use the Info Box below to find specifications, features, and dimensions of the Thule Force cargo boxes in minutes.
Thule Force Car Rooftop Cargo Boxes Buying Guide
---
Other car rooftop or rear cargo carriers for bikes, kayaks, luggage, and more.
Conclusion
In this article, you can find some high-quality cargo boxes for your Audi A6. You can use a rooftop cargo carrier to transport items on the car roof, so you can free up the cabin space for passengers or road-needed essentials. You should read the information in the car manual to find the car roof loading limit and follow the number to pack a rooftop cargo carrier. Overloading items on the car roof is dangerous, you can find some DONT in the beginner guide.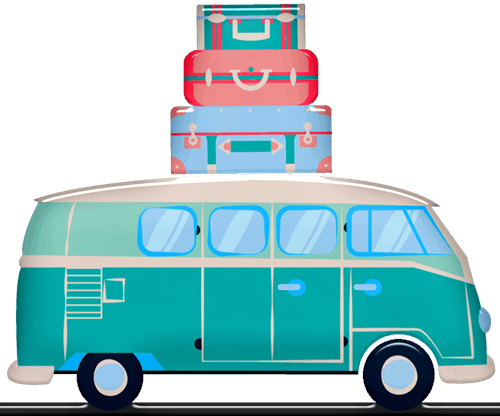 Our team is creating outdoor-gear relevant articles with passion. If our articles can help you to find the correct solutions for your questions, we will be happy about that. In the content creation process, we usually collect accurate and useful information online or offline to compile our content in an organized way. Consequently, we can guarantee that you can discover some expected answers to your questions. We appreciate your time on our site.
We are reader-supported. We get commissions for purchases made through links in this post, As an Amazon Associate we earn from qualifying purchases.