Last Updated on November 23, 2022
You may want to find a cargo box to boost the loading capacity for your Tesla Model 3, S, X, and Model Y. What do you need to know before starting to choose a compatible cargo carrier for your outdoor needs? We will give you a complete guide for selecting suitable cargo carriers for your Tesla Model 3, S, X, and Y through several sections that cover almost all you require to learn and think before and after using cargo carriers for your Tesla.
You can grab a cup of coffee and start to discover how to add additional storage space to your Tesla and maximize the fun of your outdoor adventures.
Before choosing a cargo carrier for your Tesla Model, you have to learn and understand how cargo carriers work and the method to install one to your vehicle.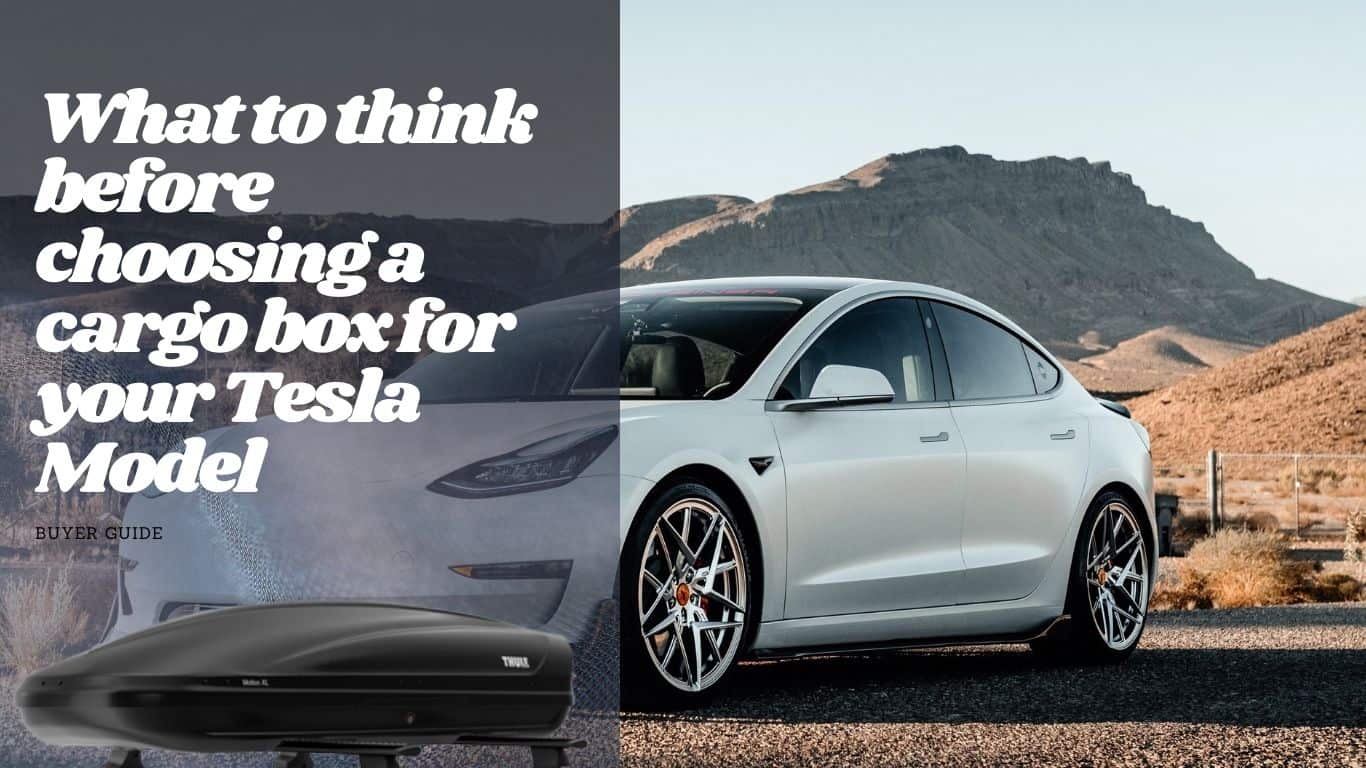 Quick-Pick List of Cargo Boxes For Tesla Model 3 S X Y
| Image | Options | Links |
| --- | --- | --- |
| | Thule Pulse Medium Roof Cargo Carrier 14 cubic feet, ABS materials, Thule product, 110 lbs loading capacity, aerodynamic | Check Price |
| | DNA MOTORING rooftop cargo carrier, 17 cubic feet, black glossy finish, lockable, waterproof aerodynamic design, 78″ L X 31″ W X 15″ H | Check Price |
| | Goplus cargo hardshell luggage carrier, 63 x 31 x 15 inches, ABS and PC material | Check Price |
| | CAM Diamond rooftop cargo box, smart locking system, environmental resistance, lightweight enough for one person to carry | Check Price |
| | Thule Force XT cargo box XXL, 90.5 x 35.5 x 18.5 in, PowerClick Quick-Mount System, LockKnob System | Check Price |
| | Sportrack Vista cargo carrier, 62.5 x 19 x 39 inches, Easy installation, Rear lid opening for easy and safe access to cargo, away from traffic | Check Price |
---
Why do you need a cargo box?
Most people use cargo carriers to transport their belongings between places. We have different kinds of cargo carriers on the market: roof-mounted and hitch-mounted. We use hardshell boxes as examples here. If you use a roof box on top of your Tesla, you can load carry-on bags, sleeping bags, devices, clothes, food, gear, equipment, and other stuff in the container.
Most roof box owners use their cargo boxes for camping, hiking, skiing, golfing, fishing, hunting, traveling, moving home, and other outdoor events. They can load what they need out there in the woods, along the beach, or in the mountain zone; besides, they can put sporting equipment in the roof box and free up the vehicle's cabin room.
Cargo carriers are not only for the summer seasons but also for other seasons throughout the years, so it is necessary to get one to make your family's outdoor living more enjoyable.
After using a cargo carrier, you can go somewhere that you have never reached with many daily essentials; therefore, you can open your mind to the natural and discover what you have never experienced in the past.
---
Most popular brands of cargo boxes
When you search roof boxes on the Internet, you will find two brands that lead the industry with many different models. When comparing roof boxes from Thule and Yakima, you can follow a guide to know their differences.
Related Topic: Thule brand – what you need to know
Thule Motion XT Car Rooftop Cargo Boxes – What you need to know about the Thule Motion XT roof boxes are all in one place. You can find dimensions, features, specifications, galleries, videos, and more.
---
Does your Tesla Model S, 3, X, Y have roof racks?
If your Tesla Model has roof racks (crossbars) on its roof, you can choose a cargo box and mount it on the roof racks for transporting items. However, you have to check if your existing bars are compatible with the roof box on your consideration list; moreover, you can communicate with the manufacturer to find the answer.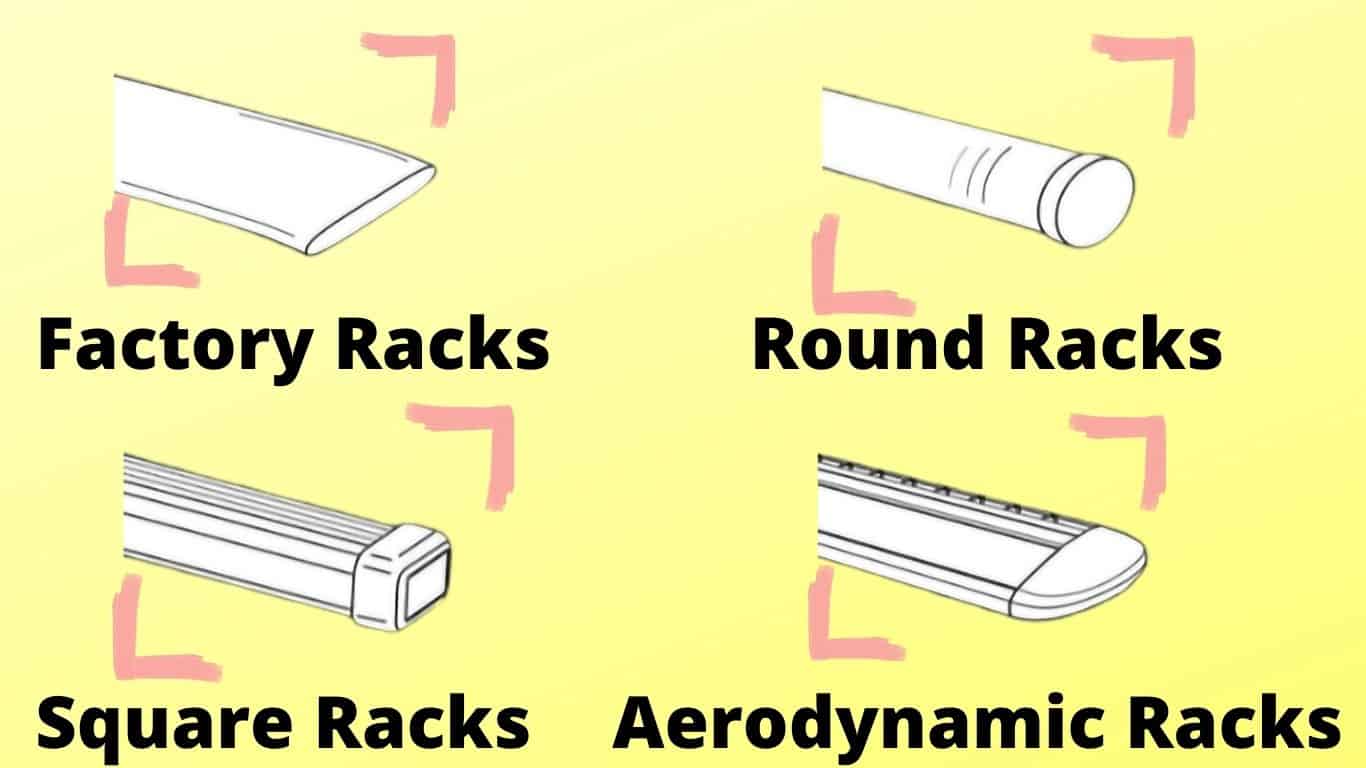 If your Tesla Model has a bare roof without roof racks on it, you need to order a pair of crossbars before buying a roof box. When selecting roof racks for your Tesla Model, you can contact the local dealer to get an OEM one. Otherwise, if you are confident enough, you can purchase one on Amazon or Ebay and install it yourself.
Most cargo boxes universally fit factory, round, square, and aerodynamic roof racks, so you don't worry too much.
---
What are cargo bags? Can you use one on your Tesla Model?
If your Tesla Model S, 3, X, or Y has a naked roof, you can use a soft roof bag as an alternative to a hardshell cargo box. Soft cargo bags are less secure, and they may not be 100% waterproof. You can use several straps to tighten down a roof bag to the car's roof frame above four doors.
Most roof bag manufacturers provide a mat to protect your car's roof; however, if your Tesla has a panoramic sunroof, you don't use roof-mounted carriers without a pair of high-quality crossbars. You can refer to a guide to know more about using cargo carriers on a panoramic sunroof.
We have a list of the best-quality roof bags for your consideration, and you can choose one to build a temporary cargo management system on top of your Tesla Model.
Cargo Bags are easy to store because most of them are foldable. You can put a soft cargo box in the car trunk, and you can use it when it is needed.
---
What is a cargo basket? Can you use one on your Tesla Model?
A roof-mounted cargo basket is a big platform where you can load many items on it; however, cargo baskets don't have a cover or a lid to protect your items from potential risks on the roads. You can use a set of cargo nets to stabilize what you load on a cargo basket.
Most outdoor enthusiasts use cargo baskets to transport their spare tires, gasoline buckets, waterproof sporting gear, and more. You can mount a narrow cargo box on a cargo basket, and you can put a soft roof bag on another side to create a multi-function cargo management system.
We have a list of the best cargo baskets for your consideration. You can compare and pick one for your Tesla Model S, 3, X, and Y.
---
What is a hitch cargo box? Can you use it on your Tesla Model S, 3, X, and Y?
Yes, you can use a hitch cargo box at the back of your Tesla Model. You have to make sure your vehicle has a hitch receiver and measure out the receiver's dimensions for compatibility check when choosing a hitch-mounted cargo carrier.
We have a guide that shows some best hitch cargo boxes that can create additional loading space at the rear of your Tesla car. You must check the car manual to ensure you don't exceed the towing weight limit when using hitch-mounted carriers.
---
Roof-mounted cargo boxes are the best waterproof secure cargo carrier
When choosing a suitable roof box, you have to consider many factors like dimensions, features, opening, mounting hardware, security, waterproofing, and designs. 
Cargo boxes have different price ranges from cheap to expensive, so you have to know what makes the difference. 
Below, we introduce some top-rated cargo boxes for your Tesla Model S, 3, X, and Y.
---
Detail of Cargo Boxes For Tesla Model 3, S, X, and Y
Thule Pulse Rooftop Cargo Box Medium Size
It is the first option for your Tesla Model 3, S, X, and Y. Its dimensions are 67″ L x 35″ W x 16″ H, and you can use these numbers to estimate if you can load your stuff in the box or not. Besides, if you have long equipment like skis (up to 155 cm) that you want to put in a cargo box, you must ensure that the roof box is long enough to hold the specific items.
Thule Pulse Medium roof box has 14 cubic feet of interior loading space for your luggage, and you can stow up to 110 pounds of stuff in it for outdoor needs. You can open the cargo box on the passenger side for packing or unloading.
After installation, the Thule Pulse Medium roof box has 16 inches of height over the roof racks; consequently, your Tesla model will have an extra 32 inches of height above its roof. You cannot drive through places that have height limits like underground parking.
Thule Pulse Medium is 47 pounds in weight, so you should invite someone else to help you with the installation. You can use 4 fast-grip mounting hardware to lock the roof box on top of the crossbars. After installation, you have to test its stabilization by pushing or pulling the roof box in different directions for security.
You can use internal straps to immobilize items when packing the roof box. You can use ropes to tighten the cargo box to the roof rails for added security if wanted, but it is not necessary.
Thule Pulse Medium cargo box is compatible with most factory, round, square, and aerodynamic racks, and you don't worry about compatibility problems. If you select a cargo box that cannot work on your existing bars, you can drill new holes at the bottom of the roof box and make it fit the bar spread. It is not a big issue.
When mounting a roof box, you should ensure no interference between the cargo box and the open hatchback or the antenna. You can use a guide to find the best position of a cargo box for your situation.
---
DNA MOTORING Extra Long Cargo Carrier
It is the second option for your Tesla Model 3, S, X, and Y. It is a large one with 17 cubic feet of inner space for hauling things on top of your car. It universally fits most vehicles with crossbars, and it works on factory, round, square, and aerodynamic racks.
You can dump up to 110 lbs of items in the carrier for outdoor adventures, and the sturdy hardshell can protect your belongings on the roads in extreme weather. DNA MOTORING company uses recyclable ABS materials to build the carrier for heavy-duty jobs, and a central lock ensures the security of your luggage all the time when it is locked.
However, you may need to lubricate the lock core after using the roof box for a while. When the lock system doesn't work anymore, you can find your local locksmith for repair.
The extra-large DNA MOTORING cargo box has a black glossy finish that matches most vehicles' styles, and its dimensions are 78″ L x 31″ W x 15″ H. It is 37 pounds in weight, and you better lift it with someone else for installation.
---
Goplus Waterproof Cargo Box
It is the third choice for your Tesla Model 3, S, X, and Y. It is another high-quality roof box that you can use to transport luggage on top of your Tesla car.
Goplus cargo box is popular out there on the streets. It has three color options: gray, black, and white. You can choose one to match your car style.
The Goplus roof box is made of high-density ABS plastic materials, and it is rugged, waterproof, and long-lasting. Goplus roof boxes have aerodynamic designs that reduce wind noise and minimize the effect on gas mileage. Most cargo boxes are aerodynamic.
If you have a pair of crossbars on top of your Tesla Model, you have to check and ensure the bar spread is between 16.1 inches and 24.8 inches; otherwise, you may need to drill holes at the bottom of the newly purchased roof box.
Like other options in this article, the Goplus roof box has 4 easy-to-use mounting anchors to lock the roof box on top of the roof racks. The mounting hardware can work with most factory, round, square, and aerodynamic racks. Double-checking with the manufacturer is necessary when making decisions.
The white color Goplus roof box is rare on the market.
---
CAM Diamond Vehicle Hardshell Cargo Box
It is the fourth option for your Tesla Model 3, X, S, and Y. It opens from the passenger side to ensure that you can stay away from the coming traffic when packing or unloading the roof box on the highways.
The cargo box works with most roof racks, and it creates 11 cubic feet of storage space on top of your vehicle.
CAM cargo box has two locks to protect your belongings on the roads and make sure the box stay closed when it is in motion. It is made of high-quality polypropylene materials that are weather-resistant, waterproof, durable, and sturdy.
CAM cargo boxes have two size options: 11 cubic feet and 15 cubic feet. You can choose one for meeting your actual needs.
---
In Conclusion
In this article, you can find cargo bags, baskets, and cargo boxes for your Tesla Model 3, Model S, Model X, and Model Y.
Cargo boxes are the best options, and roof-mounted baskets and bags are less secure options that you can use as added space for your cars. 
We highly recommend the beginner guide that will help you learn cargo carriers from zero to nearly an expert.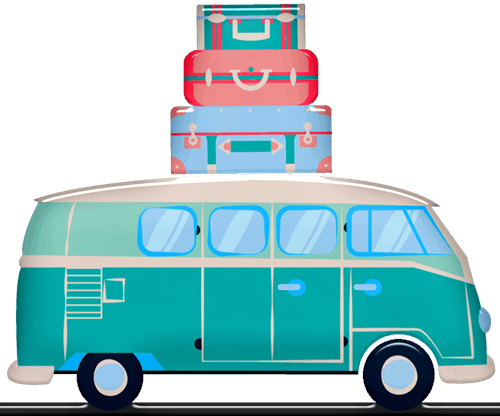 Our team is creating outdoor-gear relevant articles with passion. If our articles can help you to find the correct solutions for your questions, we will be happy about that. In the content creation process, we usually collect accurate and useful information online or offline to compile our content in an organized way. Consequently, we can guarantee that you can discover some expected answers to your questions. We appreciate your time on our site.
We are reader-supported. We get commissions for purchases made through links in this post, As an Amazon Associate we earn from qualifying purchases.