Last Updated on November 23, 2022
When choosing a cargo box for your vehicle, you have many different options to select from various brands like Thule, Yakima, and more. After learning and comparing many cargo boxes, you narrow your focus to two brands: Thule and Yakima.
Thule and Yakima have a commanding influence on the cargo boxes industry, and you can find any sized roof boxes for your specific outdoor demands from these two brands. They are just like Walmart in the supermarket industry.
Thule is a Swedish global outdoor company that produces a variety of outdoor gear and equipment with high-quality materials and aesthetical designs.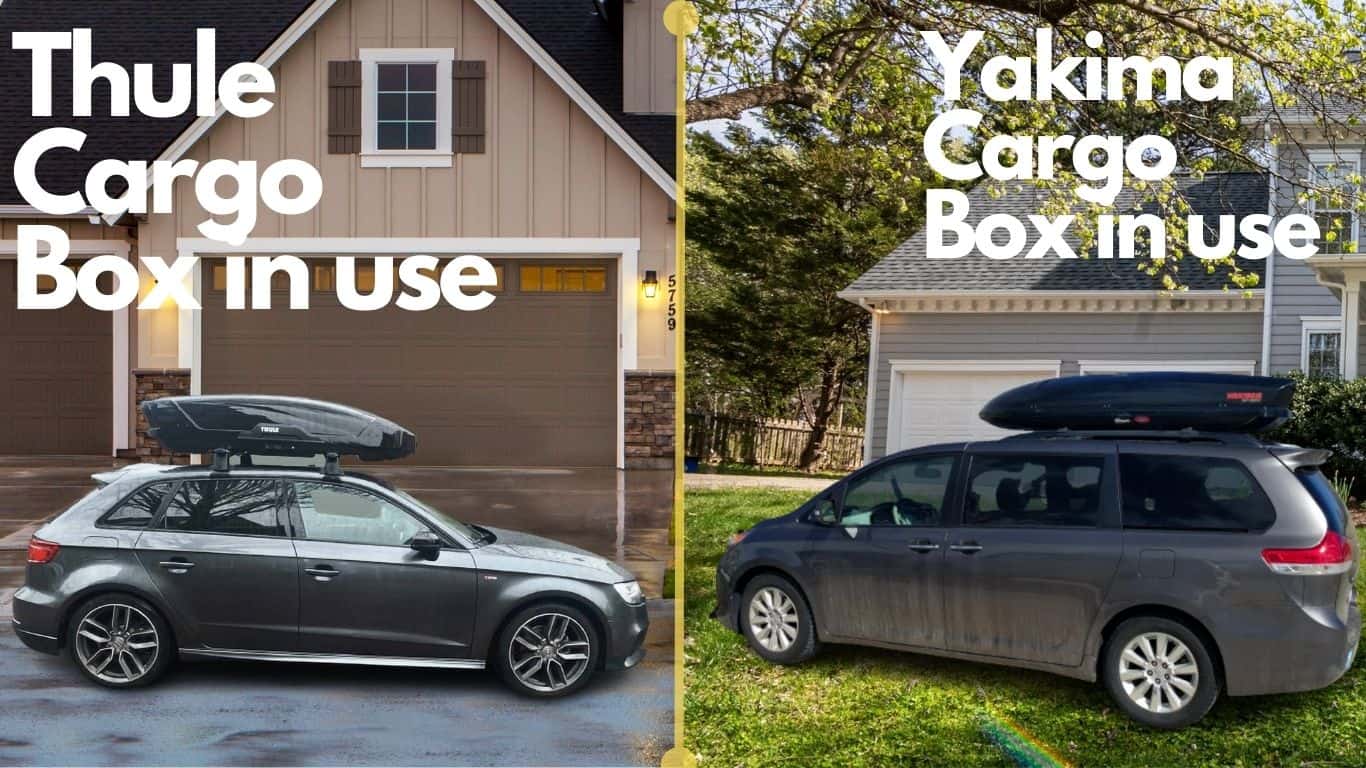 Some of Thule's products are for car owners to improve their car's capabilities. For example, you can use Thule's car racks to carry sporting gear on top or at the rear of your vehicle. Thule uses advanced materials ahead of industrial development to build these car accessories for helping outdoor enthusiasts to carry more and bring more friends on the roads. Consequently, Thule's products are expensive compared to other products in the same industry.
Yakima brand is a well-known company that manufactures car hauling recreational accessories, and the company is in the United States. However, Yakima designs its products and makes the most significant components in the US, and the company produces other parts of its products in Taiwan or Mainland China.
Quick-Pick List Of 4 Thule and Yakima Roof Boxes
| Image | Brand | Loading Capacity | Volume | Dimensions | Links |
| --- | --- | --- | --- | --- | --- |
| | Thule Motion XT | 165 Pounds | 16 and 22 cubic feet | vary in sizes | Check Price |
| | Thule Force XT | 165 Pounds | 11 – 22 Cubic Feet | vary in sizes | Check Price |
| | Yakima Skybox | 160 Pounds | 12 – 21 Cubic Feet | vary in sizes | Check Price |
| | Yakima RocketBox Pro | 160 Pounds | 12 Cubic Feet | 58 x 36 x 16 inches | Check Price |
Yakima's cargo boxes are less expensive because they are different in aesthetical designs and premium features to Thule's.
We will pick up four cargo boxes from Thule and Yakima to compare and find differences for you.
Thule Brand Movie
If you are interested in knowing more about the Thule brand, you can visit a post to find a complete guide to the Thule brand.
Yakima Brand Movie
Reliability and Durability
Yakima rooftop luggage boxes and Thule cargo boxes are very similar in many circumstances. However, they have differences in detail like lid supporters and other advanced features. Especially the hinge hardware of these roof boxes, Yakima and Thule use various materials and designs for these components of their hard-shell cargo boxes.
Hundreds of customers on Amazon take measures to check the quality of these cargo boxes, and none of them has water leaking problems. Most users give positive feedback to these rooftop boxes and praise their stability in extreme weather conditions.
However, you have to bear with the "Wear and Tear" after using a cargo box on your car because the attaching and removal process can cause the possibility of damaging the printing of your car roof. Consequently, you must be careful and gentle when installing or removing the roof box.
If you don't know the process of mounting a cargo box, you can use one of our guides to learn background information about the installation steps.
After learning about most users' feedback on these cargo boxes, we notice that most complaints are about the lid hinges, especially Yakima's hinges are flimsy and weak. Yakima cargo boxes' lids wobble from side to side and cause noise while opening or closing, especially after prolonged use. As a result, you have to close or open the Yakima's box twice from each side, left and right. It is a big flaw of the Yakima boxes.
Thule's roof boxes seem to be better on their hinges and lid supporters because of the materials the Thule used for building these components. You can feel more smooth when operating the lids of any Thule cargo box model, and it is not our subjective opinion but from hundreds of users on Amazon.
Sizes and Options
When choosing a cargo box, the measurement is a must-consider factor for judging which suits your specific outdoor needs. What car do you drive? How much roof weight loading limit of your vehicle? You have to find all targeted information before deciding on getting a car rooftop box.
Most cargo box companies provide four size options for each model of their rooftop boxes: Alpine, Medium, Large, and Extra Large. In loading capacity, these roof boxes are ranged from 8 to 22 cubic feet, but not for every specific number. We know the smallest, the largest, and the thinnest (most skinny) roof boxes, and you can use find them for consideration.
Whatever size of roof boxes you want to use on your vehicle, it doesn't mean you can fulfill the box without following your car's roof loading limit. Consequently, you should check your car's manual to find how much weight you can load in the cargo box.
Thule and Yakima cargo boxes have enough size options for your loading requests, and you can follow a size guide to know more.
Appearance and Looking
Thule and Yakima cargo boxes are stylish, aesthetic, fancy, and elegant in design and printing. Whatever car you drive, these rooftop carriers can perfectly match and fit the color and style of your vehicle, especially luxury car models.
Black color is the most popular option in the dictionary of most cargo box manufacturers, and you can find white cargo boxes on the market for matching white sedans, SUVs, or Trucks. On the other hand, you can hire some professional mechanic to print a cargo box to some custom color for your unique taste.
If you want to give unique texture to your cargo box, you should follow the expert's instructions, and DIY is not a good idea.
Thule gives its cargo boxes a sleek finish to make their boxes like a luxury upgrade but not an accessory to your vehicle. After reading through many customers' opinions on Thule cargo boxes, they say that the sleeky printing is easy to get dirty than Yakima roof boxes' carbon fiber finish.
If you go offroading often, it is better to use a less flashy cargo box to make dirt and scratches less clear. Yakima's carbon printing lets it be confirmed.
Opening
Thule and Yakima's roof boxes implement advanced mechanics and materials to build the hinges, lid supporters, and lock systems. You don't have trouble opening and closing these cargo boxes compared to those old roof boxes before 2021.
Thule and Yakima give their cargo boxes a dual-opening feature that allows you to pack and unload the roof boxes from both sides. When the lid is opening, it has a maximum degree; moreover, when the lid supporters stand straight up to about 90 degrees, you get the biggest opening of the lid.
Thule and Yakima's roof boxes have an internal strap that hangs at the middle of the box's top, and you can reach the rope after packing or unloading when you want to close the box without standing on a car doorstep for grabbing the lid. It is convenient for users, and we should thank Thule and Yakima.
Aerodynamic Designs
It is a must-consider fact when selecting a cargo box because aerodynamic construction affects the volume of wind noise and the number of mileage.
Thule and Yakima use the most aerodynamic layout to manufacture their cargo boxes, and they are the most aero ones on the market. When driving with a cargo box, you must follow a speed limit to avoid potential safety risks from a raised gravity center.
After interviewing most experts and users, you don't drive with an empty roof box. You can find more info about that in another article.
Mounting Hardware
Thule and Yakima use simplified technology to innovate the most easy-to-use mounting components that are friendly to almost everyone; therefore, you don't require professional knowledge to assemble or attach a cargo box to the roof racks.
It is vital to choose sturdy, durable, and trustable roof racks for your roof box because all your cargo stands on the crossbars. You better use the same brand cargo carriers to avoid compatibility problems and maximize the enjoyment of the cargo management system you build.
Thule and Yakima have roof racks and cargo boxes for us, and you can use a set of the same-brand cargo carriers to ensure that you get the best result after purchasing. (Thule + Thule or Yakima + Yakima)
If you are new to cargo boxes, you can use a guide to get familiar with the installation of a cargo box.
In Conclusion
In this article, you find the differences and similarities between Thule and Yakima's roof boxes. After comparing, you can decide to get a cargo box for your family's outdoor adventures.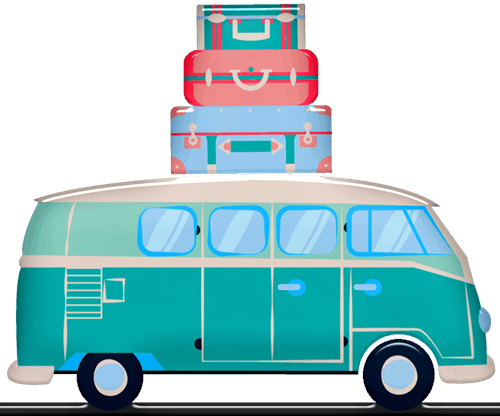 Our team is creating outdoor-gear relevant articles with passion. If our articles can help you to find the correct solutions for your questions, we will be happy about that. In the content creation process, we usually collect accurate and useful information online or offline to compile our content in an organized way. Consequently, we can guarantee that you can discover some expected answers to your questions. We appreciate your time on our site.
We are reader-supported. We get commissions for purchases made through links in this post, As an Amazon Associate we earn from qualifying purchases.