Last Updated on November 22, 2022
While you are enjoying the fun of driving your Toyota RAV 4, you are probably thinking about how to generate extra storage room for your car without a large investment. You may think about taking your family or friends to the woods for a vacation camping trip or taking yourself to the mountain for skiing. 
However, if you want to realize all your dreams of outdoor adventures, you first need to add storage space to your Toyota RAV 4. How to do that? We are going to list three cargo carriers for Toyota RAV 4 in this article. Thus, you can read our information to learn and decide if you need one for your family or not.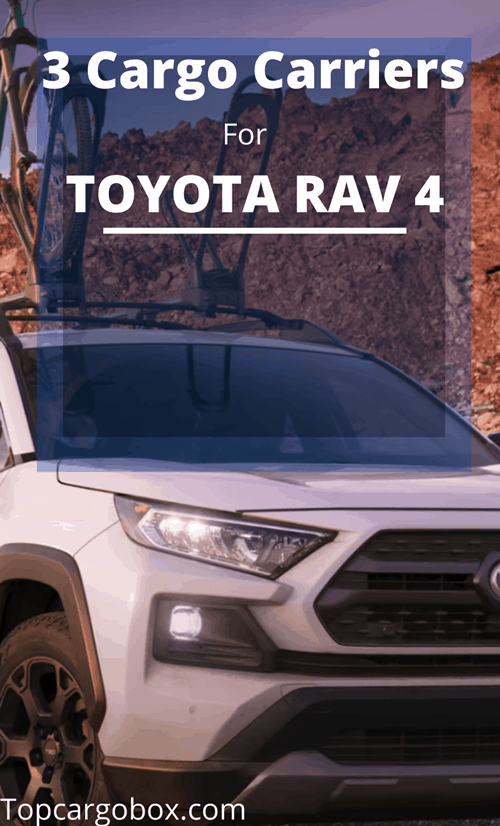 Additionally, If you have never heard about cargo carriers, on our site, some articles will build up some basic knowledge about what cargo carriers are and why you need them.
Roof Rack for Toyota RAV 4
If you are looking for a pair of roof bars for a Toyota RAV4, you can contact your local dealers or get one online from Amazon or Ebay. We have a list of 8 universal roof racks and roof rails for all vehicles, you can give them a check for consideration.
A list of universal roof racks for all vehicles – you can use any of these racks to make your car possibly use a cargo box.
---
Quick-Pick list of 3 Cargo Carriers For Toyota RAV 4
---
---
---
Cargo Bags For Toyota RAV 4
After checking out the above cargo boxes, you may lose interest in using a roof box as the extra space on your car. What about cargo bags? They are foldable for keeping, and they are cheaper for the budget. We have a list of 5 best-selling cargo bags for your Toyota RAV 4.
A list of best-selling soft cargo bags for all SUVs, Sedans, Trucks, and Vans – roof bags are less secure than roof boxes.
A list of cargo baskets for all SUVs, Sedans, Vans, and Trucks – cargo baskets are platforms that can be used as roof racks for mounting other rooftop cargo carriers.
Details about 3 Cargo Carriers for Toyota RAV 4
---
Thule Sidekick Cargo Box
In Thule's cargo boxes family, the Sidekick rooftop carrier is the smallest. It will not occupy the entire roof rack of your Toyota RAV 4, so you can also assemble other gears on your rack system. The Sidekick rooftop cargo box makes of ABS plastic materials that offer waterproof, sturdy, and durable characteristics.
If you want a light and small cargo box, this is the perfect option for you. For example, a family size of 2 or 3 people is just right to have it for road trips, camping vacations, or other outdoor adventures.
Thule SideKick Car Rooftop Cargo Boxes Buyer Guide
It provides 8 cubic feet of inner space that allows you to carry up to 110 lbs of items. You can assemble it on most factory rack systems, and the rooftop carrier's U-bolt/knob mounting hardware ensures that you can install it on crossbars in minutes without a tool.
If you are a fan of winter sports such as skiing, you can load your skis or snowboards into it; however, its dimension is 54 L x 25 W x 15.5″ H inches, so you have to make sure that your gears are shorter than 54 inches. We recommend you consider using longer cargo boxes for winter sporting gear because the Thule Sidekick is the smallest roof box in the Thule cargo boxes' family.
The Sidekick Thule rooftop cargo carrier can open only from the passenger side, so when you assemble it on top of your car, you have to set its position close to the passenger side to conveniently pack it.
There are two locks on the side of it that provides added security to your belongings. Its construction is UV-resistant, so its color will not fade away after a long time of use under the sun.
---
Thule Force XT Rooftop Cargo Box
It is another cool option that comes from the Thule family. The Thule Force rooftop cargo box is a large one that has 22 cubic feet of interior space for stowing your luggage. Its dimensions are 90.5 L x 35.5 W x 18.5 H(inches), so you can load most of the snowboards, skis, or other long equipment into it.
In Thule Force XT's family, there are four options. The XXL car rooftop box is the largest one, and its weight is 52 lbs.
Thule Force Car Rooftop Cargo Boxes Specs Guide
You can load up to 165 lbs of stuff in it on the go. For skis and snowboards, you can load 5 to 7 pairs of skis or 3 to 5 snowboards in the cargo box. According to the manufacturer's info, the maximum length of skis that can be loaded into it is 215cm. By doing some research online, we found that the latch component of the lock system is plastic! We do not like it at all.
---
INNO BRM624BK Wedge Cargo Box
Next, we will introduce the INNO Wedge cargo box to you. It has a beautiful aerodynamic design that closely resembles the new shape of modern car design. The INNO has innovated a new aluminum structure to replace the traditional structural support on the inside with strong structural integrity.
The dual-side opening allows you to use it conveniently. The memorial mount hardware can set the distance between 4 clips to fit the measurement of your roof rack, and you can install it on the top of your Toyota RAV in minutes without a tool.
Its original color is black, and you can print it to match the color of your car. Moreover, its aerodynamic design reduces wind noise and has no impact on your gas mileage. For example, a real customer said that she only lost 1 Mile Per Gallon at highway speed.
---
Thule Vector Rooftop Cargo Box
It is the most expensive cargo box on the market because of its luxurious appearance and advanced features. It is a premium product from the Thule brand, and it has two size options: Alpine and Medium.
If you want to use the cargo box to carry gear like skis or snowboards, you can use the Alpine model to transport long items or equipment.

If you want to use the roof box to carry luggage for road trips or camping vacations, you can choose the Medium model.
We pick the Thule Vector Medium option for your Toyota RAV 4 because of its ample interior space.
Its dimensions are 83.5 x 34.5 x 14 inches, and you can use the measurement to check if you can load your luggage into the rooftop carrier or not. Otherwise, when having a cargo box above your RAV 4's roof, you have to ensure that the added height allows you to drive into the garage without scratches between the garage gate and the top of the roof box.
It is the only cargo box that comes with motion-activated LED lights, and you can pack or unload it in the dark.
The Vector cargo boxes open from both sides for bringing convenience to users, and the lid holders support the lid until users close it manually.
You can load 3 to 5 pairs of skis or snowboards into the cargo box for winter sporting seasons. Furthermore, you can use the cargo box to stow fishing poles and golf clubs when fishing or golfing on holidays.
---
Cargo Boxes On Toyota RAV 4 Gallery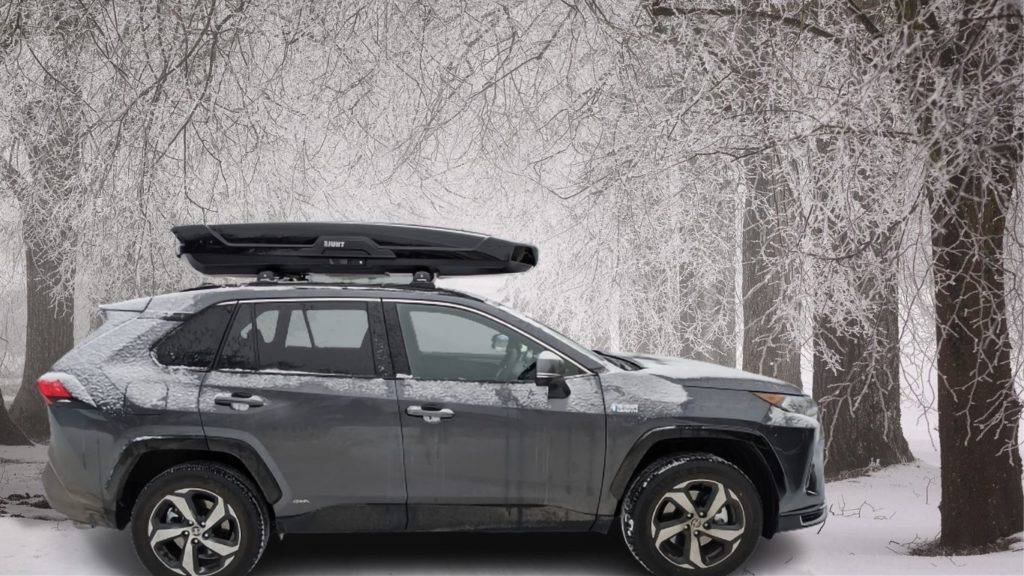 Conclusion
In this article, we have discussed three cargo boxes for Toyota RAV 4 with their detailed information. After reading this article, have you decided which one of them will be your option? If you haven't decided yet, you may still consider what you can do with a cargo box and why you need it. For your Toyota RAV 4, there are other fitted cargo boxes on the market, and you can search again for better results on Amazon.
Other car rooftop or rear cargo carriers for bikes, kayaks, luggage, and more.
Finally, If we have helped you, please share our content on your social networks. We will appreciate that so much, and we will do better in the future.
On our site, we have articles about choosing cargo boxes for different brands of cars and purposes. You can check them out by clicking the link here. There are some accessories that you may need to maximize the enjoyment of a rooftop cargo box.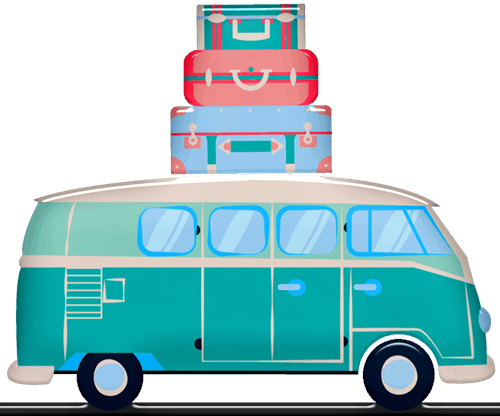 Our team is creating outdoor-gear relevant articles with passion. If our articles can help you to find the correct solutions for your questions, we will be happy about that. In the content creation process, we usually collect accurate and useful information online or offline to compile our content in an organized way. Consequently, we can guarantee that you can discover some expected answers to your questions. We appreciate your time on our site.
We are reader-supported. We get commissions for purchases made through links in this post, As an Amazon Associate we earn from qualifying purchases.