Last Updated on November 23, 2022
Do you need roof racks for your Subaru Outback? Do you know your Subaru Outback comes with hidden OEM roof racks on its roof? If you don't know that, you can check the video below to learn how to use the hidden roof racks on top of your Outback.
You can use your Outback to carry many things to maximize the enjoyment of your outdoor holidays, and you have to build a cargo management system on top of the roof racks to hold and transport what you may need out there.
You can find many car rooftop carriers on the market for mounting different gear or items like kayaks, fishing rods, golf clubs, hunting equipment, luggage, hiking equipment, and other outdoor accessories. Consequently, these rooftop cargo carriers have different functions, designs, shapes, price tags, and dimensions to satisfy demands for outdoor enthusiasts.
You can find some high-quality and top-rated car rooftop carriers for Subaru Outback.
Quick-Pick list Of Roof Carriers For Subaru Outback
---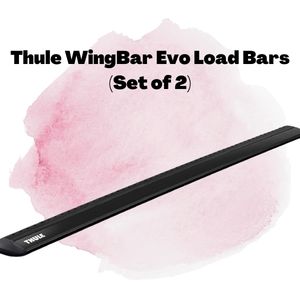 ---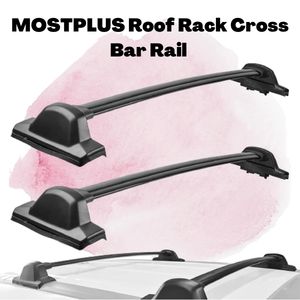 ---
---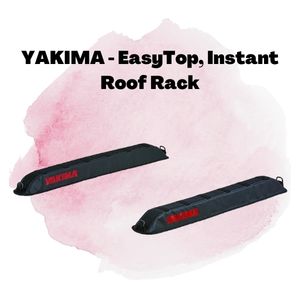 ---
Detail of Roof Racks & Carriers For Subaru Outback
Subaru Aero Crossbar Roof Rack
If you want to get a pair of roof racks for your Subaru Outback, the Subaru Aero Roof Rack is the best option for you because it works perfectly on all Subaru Models.
Its most outstanding benefit is the aerodynamic design that eliminates the wind noise and effectively minimizes the effects on gas mileage; therefore, you don't need to get wind faring or other accessories to deal with the wind whistling on the roads.
The Subaru Aero Crossbar roof rack has a beautiful design that matches all Subaru models in the outlook. It is made of high-density materials that can hold up to 165 lbs of items on the roof of your Subaru Outback.
Except for using the Subaru Aero Crossbar rack, you can also use other crossbars to carry items on the roof of your Outback. When choosing a pair of compatible crossbars, you must select high-quality and light ones for heavy-duty jobs.
If your car roof is bare, you can use the roof racks with hooks to lock on the car frame without a pair of roof rails. If your Subaru has roof rails, you can use roof racks that clip on roof rails instead.
Related: the best cargo boxes for Subaru Outback
---
MOSTPLUS Roof Rack
It is another good pick for your Subaru Outback. The MOSTPLUS roof racks come with a rubber pad that prevents the slip when using it or installing it. The manufacturer uses premium materials to build this roof rack and make it super sturdy and durable. It also has an aerodynamic design that helps reduce wind noise and minimize the waste on gas consumption.
The MOSTPULS roof racks have a hassle-free installation process, so you don't need to use any tools for the assembly. You only need to operate on the rubber pad and several nuts to ensure the roof racks properly stand on the roof rails. It is super easy for you and us.
The MOSTPULS roof racks are adjustable, so you can accordingly cut the rubber pad to fit the actual length of your crossbars before tightening the nuts to make the roof racks securely stand on roof rails.
You can use the MOSTPLUS roof racks to carry up to 150 lbs of stuff, and you should never overload the limit because it is risky. You can refer to an article about the roof loading limit of Subaru Outback to find the consequences of overloading roof racks.
Before buying the roof racks, you must double-check the compatibility with the manufacturer or the local car dealers. You don't want to return it after waiting days on delivery.
---
CargoLoc Roof Rack
It is a product of high-density aluminum, and it can transport up to 150 lbs of items on the roof of Subaru Outback. You have to combine three short parts to become an entire bar, and you can store the roof racks conveniently in a small space.
You can use an advanced locking system to lock the bars on the roof rails for security, so you can use the roof racks to mount other cargo carriers without a safety concern.
The CragoLoc roof racks fit on car roof rails between 44 inches and 55 inches, and you can use the numbers to check the compatibility with your Subaru Outback.
When checking compatibility, you have to pay attention to the width and thickness of the roof rails because the crossbars only work with roof rails that have less or equal to 2.21 inches in width or 1.38 inches in thickness.
---
Yakima EasyTop Instant Roof Rack
It works on almost all vehicles, and you don't need roof rails to make it work for carrying gear like kayaks, snowboards, skis, letters, fishing rods, golf clubs, and more.
It comes with straps that tighten the Yakima EasyTop Instant roof racks on the car roof without any complicated mechanisms. You use ropes, bungee, or straps to fasten gear or items on top of the roof racks for delivery.
It can load up to 80 lbs of items, and its dimensions are 38″ x 5″ x 3.5″. The roof racks have padding, and the extra protection increases the durability of the roof racks.
It is super easy to store, and you can put it in the trunk. The product is waterproof, and you can use it in extreme weather conditions.
It is perfect for people who have a short budget, and it is an option for outdoor enthusiasts who like skiing, kayaking, golfing, fishing, and hunting.
---
Thule Roof Racks – Subaru's Choices
We recommend the Thule WingBar Evo for your Subaru Outback. It is a set of 2 black aluminum and aerodynamic bars with 5 different dimensions for most car models: sedans, SUVs, trucks, and Vans.
Its integrated T-track hardware ensures smooth installation and removal, and you probably need half an hour (first-time) to finish the process without a tool.
Although it is only 3 kilograms in weight, it can hold up to 220 lbs of luggage. However, you cannot stow up to 220 pounds of items on the roof racks because your Subaru Outback's roof loading limit is about 165 lbs.
---
Subaru Outback Roof Racks Carriers For Kayaks, Canoes, Snowboards, Skis, Surf Boards
You can use kayak carriers to transport kayaks on top of your roof racks, and these carriers won't damage the surface of your boats. Most kayak carriers have rubber pads to protect the printing of canoes, so you don't worry about this point. When using kayak carriers, you better use some straps or ropes to tighten the kayaks to the rooftop carrier to prevent dropping or swinging.
---
Can you add a roof rack to a Subaru?
Yes, you can. When expanding the roof loading storage, you must use roof racks as a base to hold and lock the cargo on top of your Subaru vehicle to transport the items between A and B.
How much weight can you load on top of the Subaru cars?
According to the official statistic, you can carry up to 165 lbs of items on top of the Subaru Outback. You can check information about the roof loading limit for Subaru Outback on another post.
Is it worth getting a roof rack for Subaru Outback?
If you want to use the car roof to load things, car rooftop racks are must-have car accessories for your situation. Using roof racks to transport items or gear is the most secure and convenient way. It will be worth it when hauling or stowing things on the roof of your Subaru.
Who makes Subaru Roof Rack?
Many different manufacturers produce car rooftop racks for Subaru models, but Thule is the best brand because Subaru designated Thule to make OEM roof racks for their Subaru models. Besides, Thule bars are made of high-quality materials, and they are super sturdy and light to ensure you can make the best use of your Subaru's roof loading capacity.