Last Updated on January 6, 2023
You can find Volkswagen models: VW Touareg, Tiguan, Taos, Passat, Jetta, ID.4, Golf Alltrack, Golf, Atlas, and Arteon roof weight loading limit in this article. Why do you need this information? People, who want to carry gear or items on their car roof, need to know the loading limit of their cars' roofs for safety concerns.
The roof weight limit is different from the car's hauling limit, so don't get confused about these two numbers.
Volkswagen roof weight limit tells you how much weight you can load on the roof racks of the Volkswagen Models; the towing limit or hauling limit tells you how much weight the car can tow at the rear by using the hitch receiver and hitch carriers like hitch boxes or trailers.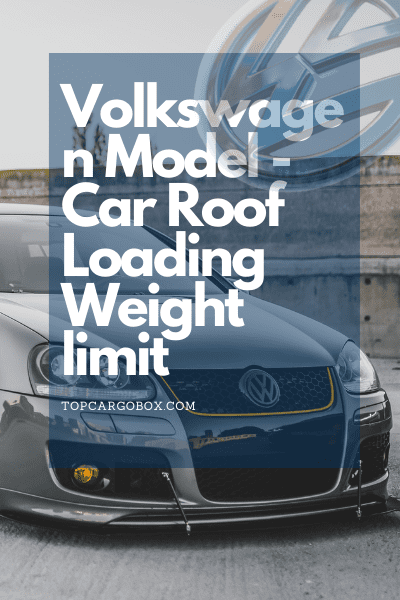 We build this list for people who plan to buy roof racks for their Volkswagen models, and we collect these numbers from official manuals. If you don't trust us, you can use the official manual to check again for accuracy.
Volkswagen Model Roof Racks Loading Weight Limit
VW Touareg
Your Volkswagen Touareg is a mid-size SUV that offers a large trunk for hauling things, but some people want more space to stow gear or essentials on their Touareg.
You can use two ways to expand the storage space for your Touareg: rear-mounted cargo carriers or roof-mounted storage containers. Every car has a roof loading limit that tells you how much weight you can put on top of your vehicle without security risks.
Your Volkswagen Touareg can hold up to 165 lbs (75 kg) of belongings on its roof, and it is the weight limit of everything there on the car roof, not only your luggage or gear.
If you plan to use roof-mounted cargo carriers, you must know the roof loading limit of your VW Touareg; besides, you should follow the limit and never overload.
If you don't like the way those car rooftop carriers mount, you can think about using those hitch cargo carriers. Hitch carriers mount on the hitch receivers, and they have easy access.
VW Tiguan
Volkswagen Tiguan is another model from Volkswagen, but Audi participates in the design and marketing of the VW Tiguan model. It is also a compact SUV that provides an ample trunk for outdoor enthusiasts, but people are ambitious about carrying things on their cars. Loading capacity likes money that is never enough for people like us.
When you decide to use roof racks to add additional stowing space on your VW Tiguan, you must follow its roof loading weight limit – 165 lbs or 75 kg.
What do people usually mount on top of their Tiguan's roof?
When buying your Volkswagen Tiguan, the manufacturer can arrange the installation of a pair of roof rails after your allowance. After having the roof rails, you can get crossbars (roof racks) for using other cargo carriers like cargo boxes, bags, baskets, or roof tents.
The Tiguan's roof weight loading limit includes everything mentioned above, not separated, and when measuring the total weight, you have to add all car accessories together.
We recommend an article about packing the rooftop cargo boxes, and you can learn the correct tips for loading your roof-mounted cargo carriers.
Volkswagen Taos
VW Taos has the same Roof Loading limit as the above VW models that is 165 lbs or 75 kg. You don't overload its roof for any reason, and overloading is risky and may cause injury or damage to people or the car.
When choosing a car rooftop storage carrier, the manufacturer may communicate with you about the compatibility and the loading limit. Except for overloading the car roof carriers, overspeeding is not allowed when using a cargo carrier, whatever it is roof-mounted or rear-mounted. The extra weight on your car can change your vehicle's gravity center and make driving harder with long-braking and large turning angles.
Volkswagen Passat
You can use your Passat to carry up to 165 lbs or 75 kg of stuff. If you want to find roof racks or cargo boxes for your VW Passat, you can use our guides for that purpose.
After using a rooftop carrier, you may require a storage system in your garage because a cargo box has a big body, almost your car's roof size; thus, proper storage can increase the positive feeling of using it.
Volkswagen Jetta
Jetta is a sedan that can transport up to 165 lbs or 75 kg of luggage on its roof. Most people say that Jetta cannot support roof loading systems, but it is not true; besides, you can add roof racks on top of your Jetta if you wish to.
When checking information on the Internet, you are the judge who decides if a piece of content is right or wrong; therefore, after learning other's knowledge about something, it is recommended to recheck some professional's paper works.
You can use the official manual to double-check the information.
Volkswagen ID.4
Volkswagen ID.4 is an electronic SUV that comes with a large trunk, and it allows people to add weight on its roof up to 165 lbs or 75 kg.
When using a car rooftop carrier on ID.4, the extra weight may cost more power resources; besides, you should prepare for more frequently changing jobs.
VW Golf Alltrack
The Volkswagen Golf Alltrack can stow up to 165 lbs or 75 kg of items on its roof.
When you consider using a cargo carrier for your Golf Alltrack, you have to make sure that it has a pair of roof rails on its roof. If you don't see any, you can contact your local dealer to get the OEM rails. You can use third-party rails on your Golf Alltrack, but it is a challenging attempt with compatibility problems.
If you insist on using third-party roof rails or roof racks, you can use our guide to check these high-quality racks for consideration. Using cheap and poor-quality crossbars is dangerous, so you don't try to save that little money by putting your life at risk.
VW Golf
VW Golf is a small sedan that has the durability to hold up to 165 lbs or 75 kg on its roof.
You have many options to go when building a roof-mounted cargo system for your VW Golf. Whatever plan you have out there, you should ensure that your Golf has roof rails and roof racks installed on its roof. After having the framework, you can use different cargo carriers for various scenarios.
Cargo boxes are the best choices on the market because they are 100% waterproof, durable, and sturdy, but they require hassle-free installations. Cargo bags are cheap picks, and they can fold for storage; however, they have flaws like leaking water, flimsy, damaging car roofs. Cargo baskets are more like a framework that can support other carriers, so most outdoor enthusiasts set multiple cargo carriers on a cargo basket to create a functional car roof management system.
VW Atlas
Volkswagen Atlas is a compact SUV that allows users to put no more than 165 lbs or 75 kg of stuff on its roof.
You can use a cargo box on your VW Atlas's roof, but choosing a suitable cargo box is challenging; therefore, we have a buyer guide to help Atlas drivers to find a compatible roof box in minutes. You also can refer to another post to find ways to protect a cargo box or other cargo carriers from thefts because security is always our first concern.
Whatever plan you have on building a roof-mounted cargo system on top of your Atlas, you should avoid doing these to the cargo carriers:
Overloading is prohibited.
Overspeeding is prohibited.
Don't load liquid in the cargo box.
Don't transport large pieces of wood, steel.
Don't carry people or animals.
Don't do the installation alone.
Don't turn at a sharp angle.
Don't put heavy things at the front or back of the carrier.
Don't stow chemical or explosive materials.
Don't forget to use straps or bungee to tighten your items.
Don't go somewhere with a height limit like underground parking.
VW Arteon
Volkswagen Arteon possibly carries up to 220 lbs or 100 kg of items on its roof without a problem.
Arteon has the largest loading capacity in the VW family, and it has large and ample interior space for both people and things. It is a good choice for people who have a large family with many unachieved outdoor plans.
When thinking about adding extra storage on top of the Arteon, you can use cargo boxes to satisfy all your needs at once.
If you are interested in knowing more about cargo boxes, you can use a beginner guide to learn everything you should know about choosing and using a cargo box.
Conclusion
You can find roof loading weight limits for Volkswagen Models: Arteon, Golf, Atlas, Golf Alltrack, ID.4, Jetta, Passat, Taos, Tiguan, and Touareg. You can take further steps to build your roof cargo management system with the knowledge of the limit and carefully follow our tips to train yourself to become an expert in using cargo carriers.
Thanks for your time. Could you please share this content on your social media? We appreciate that a lot.
If you have questions or ideas about cargo management systems, you can leave your comments below. We will respond to your message as soon as possible.
---
Update (2022 May 9th): Is the weight limit for the Passat static weight or moving weight? Could I put a roof-mounted tent on a 2014 Passat and sleep my dog and me in it?
Static weight limit > dynamic weight limit x 5 – 8 (If your vehicle is a large SUV, the static roof loading limit can be 10 times the dynamic limit rate) You can read this post about roof loading limit and find what you need to know…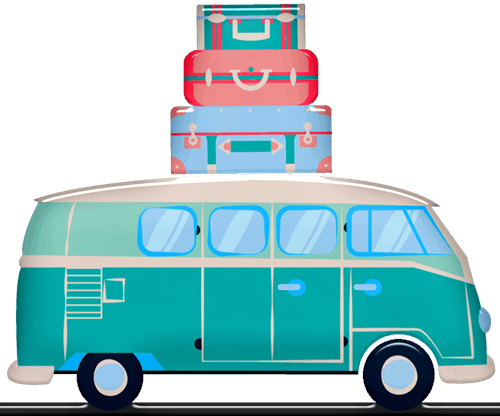 Our team is creating outdoor-gear relevant articles with passion. If our articles can help you to find the correct solutions for your questions, we will be happy about that. In the content creation process, we usually collect accurate and useful information online or offline to compile our content in an organized way. Consequently, we can guarantee that you can discover some expected answers to your questions. We appreciate your time on our site.
We are reader-supported. We get commissions for purchases made through links in this post, As an Amazon Associate we earn from qualifying purchases.