Last Updated on March 16, 2023
You are here to find a cargo box for your Ford F150 and boost your truck's loading capacity to carry even more gear or luggage for future outdoor activities. We list some options for your consideration, and they are compatible with the Ford F150 and other F-series; as a result, you don't need to recheck the compatibility before getting one.
Ford F150 has three trunk bed options: 5.5, 6.5, and 8 feet, and these three options have different cargo volumes: 52.8, 62.3, and 77.4 cubic feet; therefore, for most outdoor enthusiasts, the Ford F150 series is the perfect truck to carry all they need in the woods or along the beach for most outdoor journeys.
However, more and more people wish to have more storage space on their Ford F150 trucks to make their vacations more enjoyable with enough gear or luggage to handle everything that will happen out there. On the other hand, cargo carriers, including cargo boxes, can make luggage or equipment better organized; thus, people are chasing the demands of having a cargo box for their vehicles, not only for Ford F150 trucks. As you see on your site, we develop this site to help car owners to get compatible cargo ideas for their specific car models.
Although your Ford F150 is a giant truck, you can utilize added cargo carriers to create organized storage space on the top or at the rear of your Ford truck.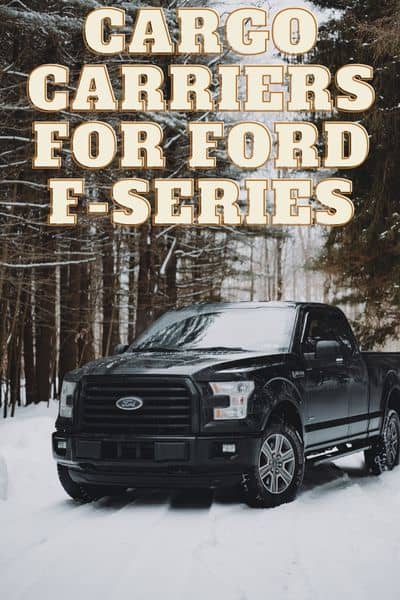 We want to show you some compatible cargo carriers and some working cargo ideas for drivers who desire to load more in their Ford F150.
Quick-Pick List Of 5 Cargo Carriers For Ford F150
---
Roof Racks For Ford F150
What are roof racks? Can you find a pair on your Ford F150?
If you want to install a roof-mounted cargo box on the Ford F150 series, you must confirm that your Ford F150 has a pair of crossbars (two bars run from left to right) and roof rails (horizontal bars run from the front to the back) on its roof. If your Ford F150 has a bare car roof without roof rails, you should consult with the local Ford dealer to require more specific compatibility issues before buying roof rails or a pair of crossbars. We have an article about the relationship between roof racks, crossbars, and roof rails; thus, you can refer to that content to get more ideas about what you can do with roof racks.
Roof Rack Systems compatible with Ford F150 series
If your Ford F150 has a naked roof without roof rails, you can use the options below:
Rhino Rack Pioneer Platform Rooftop Cargo System 60″ x 56″
When finding that your Ford F150 has a bare roof without roof rails or crossbars, you can consider using this platform as a roof rack system for mounting most roof-mounted cargo carriers like roof boxes, baskets, bags, and ski carriers.
Pioneer Platform Rooftop Cargo System is a revolutionary rooftop cargo system that can work independently as a cargo basket to carry waterproof items like spare tires, gas tanks, or watercraft.
Pioneer Platform Cargo System is made with lightweight, durable, and sturdy aluminum materials; additionally, the manufacturer utilizes fiberglass-reinforced nylon fabrics to build the corners to maximize the sturdiness of the entire system to work with the most heavy-duty conditions.
Rhino-Rack Set of 4 Legs
You can use the Rhino-Rack Fitting Legs to support the Pioneer Platform and hold cargo weight on your Ford F150. These plastic standing legs are rugged, ultralight, and east-to-operate, so you won't have trouble when assembling these legs with the Pioneer Platform cargo system.
Rhino-Rack 2500 Fitting Kit – DK427
You must get a Fitting Kit to make the mounting legs work on naked car roofs, not only for Ford F150 but also for other vehicles; consequently, after successfully combining all three items together, you get a Pioneer Platform cargo system that can mount on top of your F150 and is compatible with most cargo carriers. When using mounting legs on naked car roofs, you use 4 clamps to grip the door jamb; thus, you better apply 4 pieces of soft pads underneath the clamps to reduce the "wear and tear" effect and provide protection for your luxury Ford F150.
---
5 Cargo Carriers For Ford F150
Yakima SkyBox Aerodynamic Rooftop Cargo Box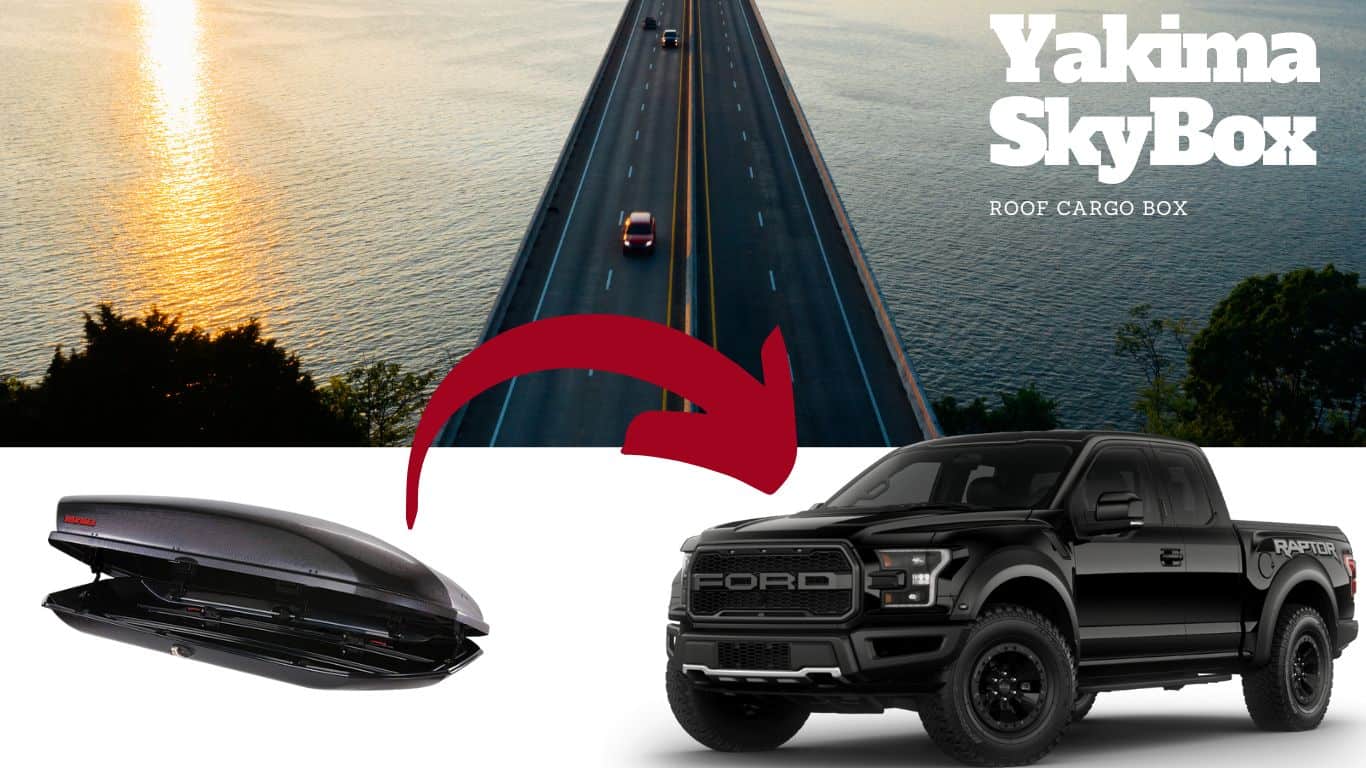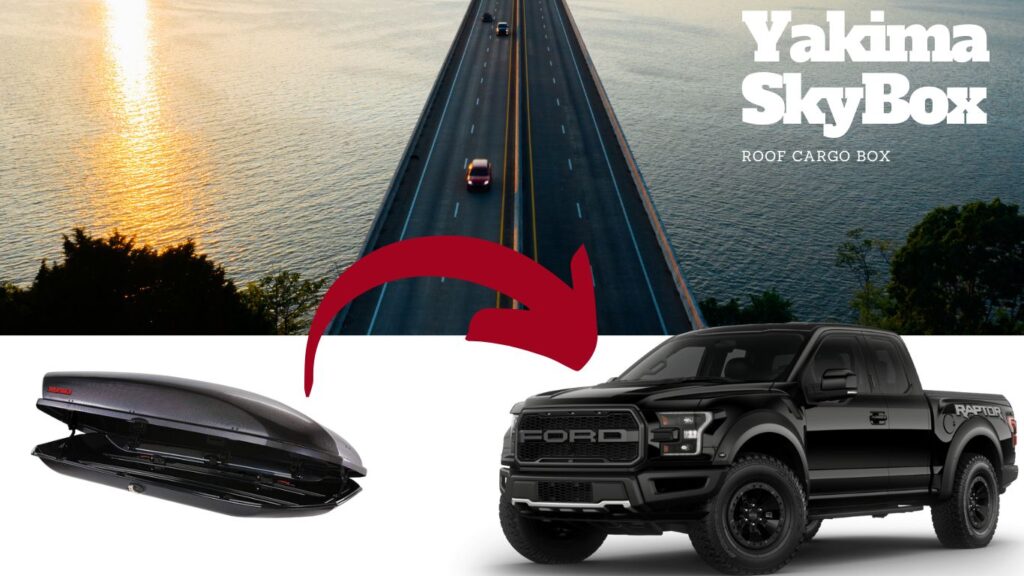 When shopping for a Yakima Skybox roof box, you have two size options: 16 cubic feet and 21 cubic feet. These two options have the same features but different dimensions and loading capacities.
We recommend the 21 cubic feet model as the additional storage room for your Ford F150 because large pick-up trucks should use larger cargo boxes.
After installing a roof rack system on your truck, you can mount a Yakima Skybox rooftop cargo carrier to transport enough outdoor needs between different camping locations. However, cargo boxes are not only for camping but also for road trips, hiking events, fishing, golfing, outdoor training, skiing, and more. Although your Ford F150 is large enough, sometimes, you may require a lockable and waterproof storage space to carry clothes, gear, skis, luggage bags, shoes, helmets, mats, tents, and other outdoor equipment.
When choosing a cargo box, you better focus on its dimensions and check if it suits specific items or gear. For instance, the Yakima SkyBox 21 cubic feet option is 74 x 38 x 20 inches or 187.96 x 96.52 x 50.8 cm (L x W x H) in length, width, and height, but you should measure up your items and figure out the suitability before purchasing. According to the manufacturer, you can load skis or snowboards up to 215 cm in the Yakima Skybox 21.
Yakima Skybox roof boxes work with most roof racks: factory, round, square, and aerodynamic rack systems. Therefore, the compatibility issue is not a worry at all. If you still have concerns about the fitment, the local auto dealer can provide further information.
You don't require much DIY knowledge to handle the installation of any Yakima Skybox carriers because the process is tool-free and costs less than 5 minutes.
If you want to know more about the Yakima Skybox models, we have another article for people who need to compare these three Yakima Skybox models for decision-making.
---
AlltoAuto Truck Bed Cargo Bag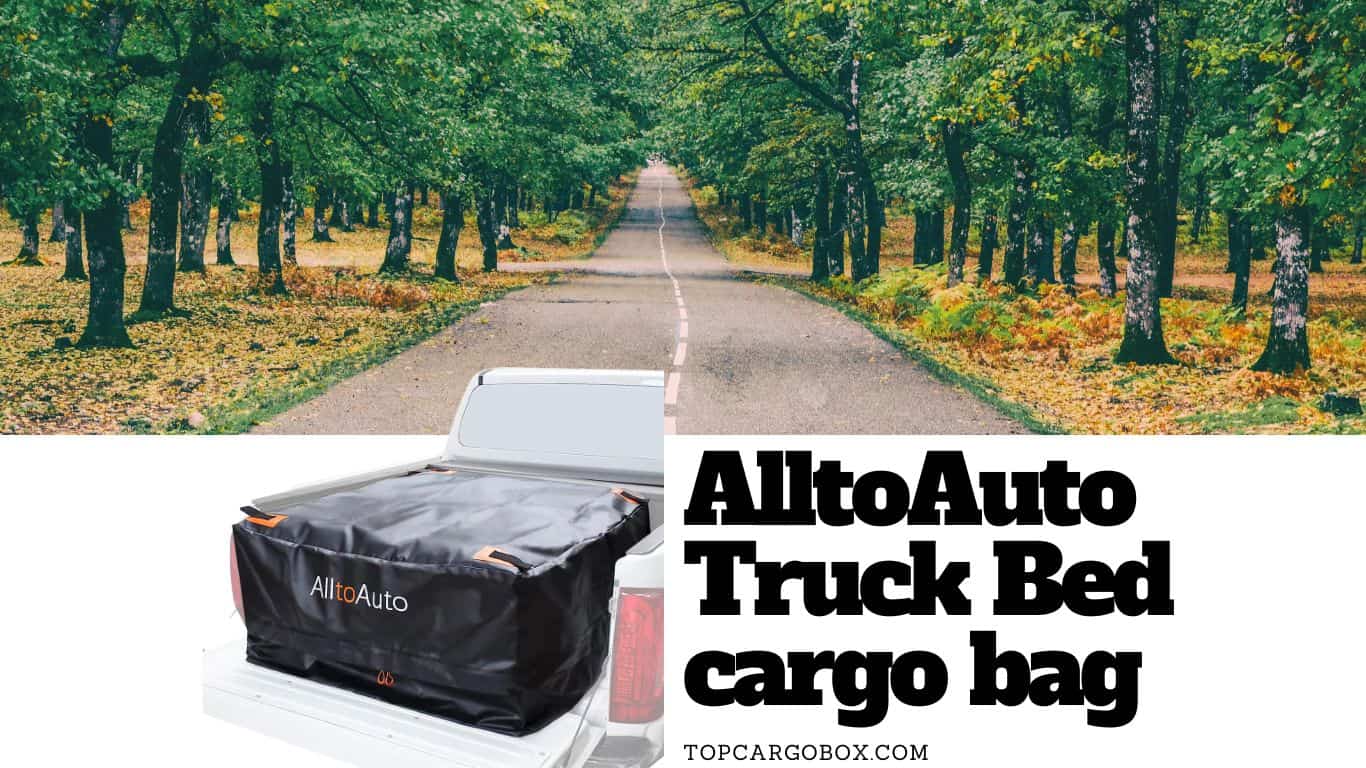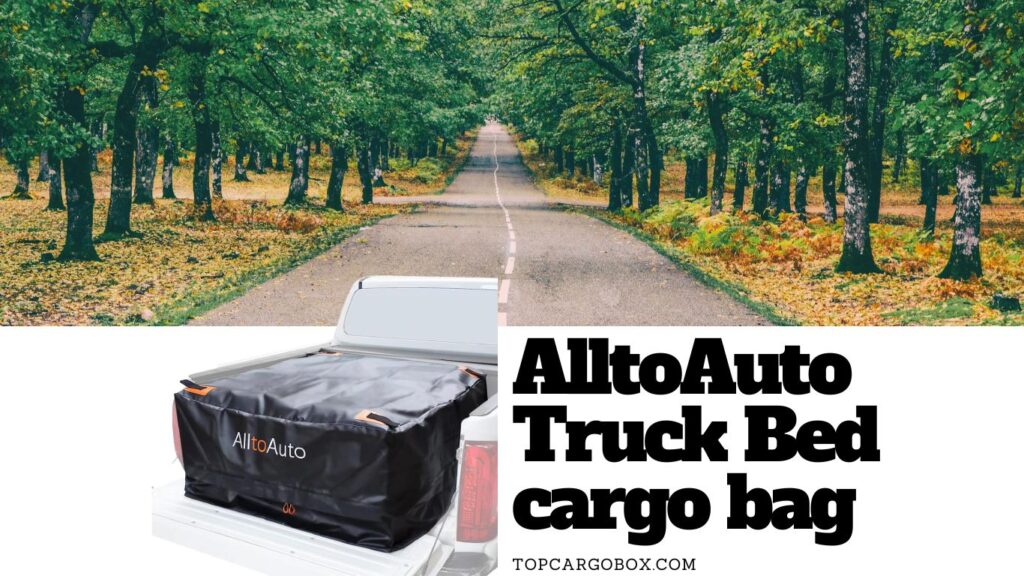 If you don't want to build a complicated roof rack system, you can save time and investment with this truck bad cargo bag without installing roof racks or a hitch receiver head, which hitch-mounted cargo carriers need; however, this soft cargo bag can do the jobs as other cargo carriers do.
This soft truck bed cargo bag is made with heavy-duty PVC materials, so it is waterproof, durable, sturdy, and easy to store. However, it uses a double flap to cover the zipper system to prevent water leaks into the bag in extreme weather conditions like storms.
AlltoAuto truck cargo bag offers 26 cubic feet of interior space for people to load things into the bag and transport their luggage on the roads. When the bag is fully open, its dimensions are 51 x 40 x 22 inches or 129.54 x 101.6 x 55.88 cm; thus, you can use these numbers to estimate if you can put your stuff in the bag.
Otherwise, if you have a Rhino-Rack Pioneer Platform installed, you can put the cargo bag on the roof rack system and use the bag as a roof-mounted cargo carrier. AlltoAuto provides a solid
5mm bungee webbing cargo net for securing the steadiness of the cargo bag when it is in motion. Otherwise, you can use 4 adjustable straps to tightly hold the cargo bag in a truck bed or on the car roof.
When you don't need the bag, you can fold it and store it in your truck. Soft cargo bags are different than hardshell cargo boxes, so you need to know the differences between them and know which ones are better for your situation.
---
Thule Roof-mounted Cargo Boxes
The Thule brand is a famous outdoor company that produces different categories of outdoor gear and car accessories to help outdoor enthusiasts to explore nature with enough tools and equipment. Thule roof cargo boxes are famous, and you may see one every day on the streets, especially the Thule Motion XT series.
Thule Motion XT models have 4 different models with different measurements, but we suggest you choose the largest model, the 22 cubic feet model, as the additional storage space on your Ford F150.
After successfully attaching a pair of crossbars to your F150, you can mount a Thule Motion XT cargo box on your F150 and conveniently and safely carry items between locations.
Thule Motion XT cargo boxes are compatible with most roof racks: factory, square, round, and aero roof bars. The Motion XT XXL model is 91.5 x 37.5 x 18 inches or 232.41 x 95.25 x 45.72 cm in length, width, and height. Thule utilizes ABS plastic to build its cargo boxes, including the Motion XT series, so the Motion XT cargo boxes are sturdy enough to handle heavy-duty jobs; however, you should learn how to fix ABS plastic and prepare for DIY the fix after unexpected incidents.
Thule Motion XT roof boxes are open from dual sides, so you can conveniently load or unload things into the box; otherwise, lid-lifters help people to hold the lids when the cargo box is open. The Thule Motion XT XXL allows people to load up to 165 lbs of weight and carry 5 to 7 pairs of skis or 3 to 5 snowboards.
The advanced slide-lock system keeps your luggage safe and dry in extreme weather conditions, but you can use some tactics to increase the security of your cargo box any time you want.
You can use another post to discover more about the differences between the Thule Motion XT models.
---
11 small roof cargo boxes for Ford F150
If you think the Thule Motion XT XXL is too large for your needs, you can use the link below to see a list of 11 smaller cargo boxes for suitability checking.
These small cargo boxes come from different brands with different features, so you better compare them in detail and dimensions before getting one.
On the other hand, if you think the Thule Motion XT XXL model is not large enough for your outdoor demands, you can use an article to find some big cargo carriers of different kinds.
Additionally, more people wish to use low-profile cargo carriers on their cars, which do not add too much height above the car roof; thus, if you are one of these people, you can refer to an article to check a list of skinny and low-profile cargo boxes for consideration.
---
StowAway Max Hitch Cargo Box
Does your Ford F150 have a 2-inch hitch receiver? If it does, you can consider using a hitch-mounted cargo box without building complicated roof racks for rooftop cargo carriers.
Most trucks have hitch receivers, so we believe you may be interested in knowing the type of cargo carriers that you can mount at the rear of your Ford F150.
The StowAway Max hitch-mounted cargo box provides 16 cubic feet of inner space, and its dimensions are 26 x 23 x 51 inches or 66.04 x 58.42 x 129.54 cm. The cargo box has tail lights, a license plate holder, a lock system, and a hitch tightener, so you can safely use it without breaking the law. According to the manufacturers, you can put up to 200 lbs of items in the StowAway cargo box and transport these stuff in safe and dry conditions between favorite camping spots.
Most people concern about the accessibility issue when using a hitch-mounted cargo carrier because it blocks the opening of the trunk gate. The StowAway Max hitch cargo carrier has a swing-away feature that allows users to sway the cargo box to about 180 degrees and create space at the back of their vehicle when using the trunk.
This cargo box is made with high-density plastic and steel frames, so it has long durability; additionally, it is tough enough to handle jobs in extreme weather conditions. On the other hand, a hitch-mounted cargo box can protect your F150 from unexpected accidents.
Except for using the StowAway Max hitch cargo box, you have many other hitch-mounted cargo carriers to compare and choose from; therefore, we have a list with some high-quality options you can use on your Ford F150.
---
Thule Xsporter Pro Truck Bed Rack System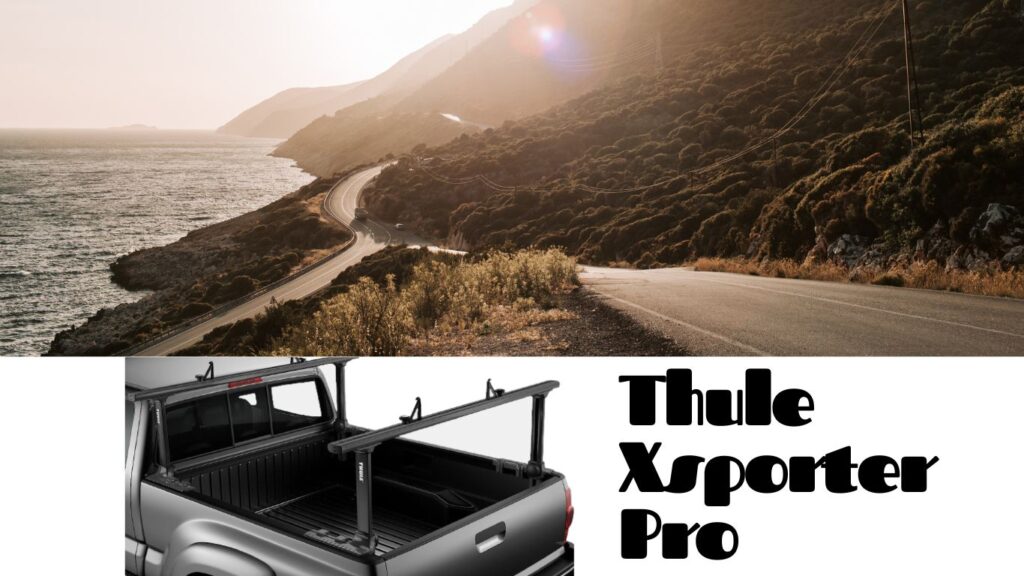 Do you know that you can add a truck bed rack system to your Ford F150? What are truck bed rack systems?
A truck bed system stands on the edge of the truck bed and holds two horizontal bars for mounting cargo carriers like bike racks, kayak carriers, ski carriers, or cargo boxes, baskets, and bags. Consequently, a truck bed rack system is an alternative to a roof rack system for carrying mountable cargo carriers.
We choose the Thule Xsporter Pro truck bed rack system for your Ford F150. The Thule Xsporter Pro is an aluminum-made rack system that you can install above the truck bed without drilling. It can hold up to 450 pounds of weight without a hassle. The Thule Xsporter Pro rack system has 4 models: Low, Mid, Shift, and Pro. You can choose one that fits your situation. In general, these models are different in height above the truck bed.
We are talking about the Pro model here. Every car has a roof loading limit, which regulates the weight you can load above the car roof, so you should follow the limit and avoid overloading. If you are new to this topic, you must be interested in knowing the differences between static roof loading rate and dynamic roof loading limit.
The Thule Xsporter Pro is easy to install with no drilling required, but you should modify the bed liner if you have one on your F150.
PDF that may help: User Manual From Thule
---
Final Words
There are some compatible cargo carriers for your Ford F150 in this content. After installing a roof-mounted cargo box, you can haul more items on the car roof; however, rooftop cargo carriers add height to your truck and change the car's gravity center to make your vehicle harder to operate, especially when braking and turning.
Most cargo carriers are not for off-road activities, except roof cargo baskets; thus, if you often drive on unpaved territories, you can use this article to find a roof cargo basket for your Ford F150.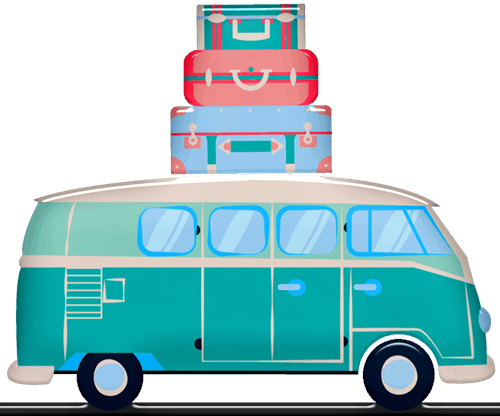 Our team is creating outdoor-gear relevant articles with passion. If our articles can help you to find the correct solutions for your questions, we will be happy about that. In the content creation process, we usually collect accurate and useful information online or offline to compile our content in an organized way. Consequently, we can guarantee that you can discover some expected answers to your questions. We appreciate your time on our site.
We are reader-supported. We get commissions for purchases made through links in this post, As an Amazon Associate we earn from qualifying purchases.