Last Updated on November 2, 2022
Do you need a roof cargo box for your Nissan Xterra? If your answer is Yes, you are reading the right article about finding compatible rooftop cargo carriers for your Xterra (not only cargo boxes). If you are new to rooftop cargo boxes, you may have many questions before adding one to your Nissan Xterra. It is OK. After learning this content, you can gain enough knowledge to choose and install a cargo box on your Xterra.
Before discussing 5 cargo boxes you can use on top of your Xterra, we better start with something else. You must ensure that your Xterra has crossbars for holding rooftop cargo carriers before considering using a cargo box for outdoor needs. What are crossbars for cars? People often call them roof racks, rack systems, or roof bars. These bars can work with roof rails or without them. When you see two horizontal bars, starting from the front and ending at the back, on the roof of your Xterra, you can call them roof rails where you can install a pair of transverse crossbars on and carry your cargo.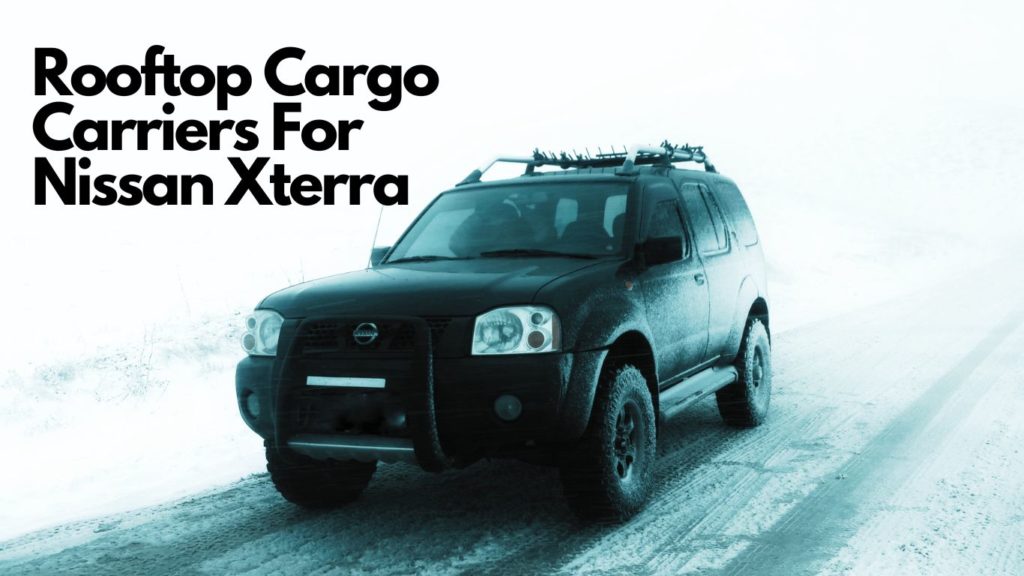 If your Nissan Xterra has a bare roof without roof rails, you have two options: roof rails + rooftop racks or crossbars that work for empty car roofs without roof rails. You can contact the local Nissan dealer to order OEM roof racks without compatibility issues or find one on markets like Amazon or Ebay. We highly recommend using high-quality roof racks or crossbars to hold cargo on the roads, and you should avoid using cheap roof racks because of potential safety problems.
Your Nissan Xterra is a compact 5-seat SUV with ample trunk space between 36.3 cubic feet and 65.7 cubic feet (with folded seats). For most people, the spacious trunk space is enough to use for most outdoor demands. However, if you decide to bring up to 4 people on a road trip, there is not enough interior space for all your luggage and gear. You can use a rooftop cargo carrier or a hitch-mounted carrier to load more on the roads to maximize enjoyment in the woods, along the beach, or in the mountains.
You must follow the roof loading limit to load cargo on the roof of your Nissan Xterra. After comparing and searching on the Internet, we found that people suggested roof loading limit is around 100lbs, 150lbs, up to 200lbs. We cannot find the exact number on the car manual, but you can try it yourself. We believe the best safe loading limit is between 100lbs to 150 lbs. You are on your own at this part.
When packing a rooftop cargo carrier, you cannot overload it for any reason. If you do, your Xterra can be hard to drive and lose control, especially at high speed. There is much to learn about using a cargo box, and we recommend you visit a page to find answers to questions you may have.
Now, we can start to check out these 5 compatible cargo boxes for your Nissan Xterra. At the end of this post, you can find other options to carry luggage with your Xterra.
---
Quick-Pick list of Cargo Boxes For Nissan Xterra
| Image | Name | Weight | Capacity | Opening | Dimensions | Link |
| --- | --- | --- | --- | --- | --- | --- |
| | Goplus 2022 Model | 25 Pounds | 121 lbs | passenger-side opening | 52 x 30.5 x 12 (L x W x H) inches | Check Price on Amazon |
| | JEGS Cargo Carrier | 35 Pounds | 110 POUNDS | Both Sides | 61.25 x 39 x 12 inches | Check Price on Amazon |
| | Thule Motion XT | 55 pounds | 165 lbs | Dual Side Opening | 91.5 x 37.5 x 18 inches | Check Price on Amazon |
| | SportRack Vista Cargo Box | 28 Pounds | 100 lbs | Rear opening | 62.5 x 19 x 39 inches | Check Price on Amazon |
| | DNA Motoring Roof Boxes | 57.9 lbs | 110 pounds | Both Sides | 78 L X 31 W X 15 H inches | Check Price on Amazon |
---
Detail of 5 Cargo Boxes For Nissan Xterra
Goplus Rooftop Cargo Box 2022 Model
It is the first pick for your Nissan Xterra. We assume that you have rack systems on top of your Xterra. You are ready to use a cargo box on the roads. If you decide to use the Goplus 2022 model, you have to check that the distance between two crossbars is between 18.5 and 36.61 inches which means the Goplus boxes' mounting hardware won't work outside the range. However, some people drill new holes at the bottom of their cargo boxes to make them work on already-have crossbars (not recommended). We don't believe that is the best solution, and you should avoid it by choosing the right ones to fit each other.
The Goplus 2022 model is a small cargo box with only 8.83 cubic feet of interior space for luggage. You can use this roof box to carry up to 121 lbs of items. The Goplus 2022 model has a lock system that protects your items from theft. Can you open a locked cargo box without a key? Yes, you can. We recommend you leave backup keys in the car. Most manufacturers provide several keys to their customers, so you do not worry.
Goplus uses high-density plastic materials to build the roof box, so it is waterproof, durable, and sturdy. You can use it for heavy-duty jobs. However, there are things that you cannot load into a cargo box. The Goplus roof boxes' dimensions are 52L x 30.5W x 12H inches, and you can use this measurement to find out if it fits your gear or not. When entering places like underground parking or the garage, the added cargo box can cause problems. Consequently, you can use a cargo box's dimensions to know how high (with the distance between crossbars and the car roof) your car will be and if you can safely drive into the garage or not.
Goplus also has a bigger model with 14 cubic feet of inner space for storing what you need on the roads.
---
JEGS Rooftop Cargo Box
It is the second option for your Nissan Xterra. It is much bigger than Goplus 2022 model. If you want to load more luggage, you can go with it. Its dimensions are 61.25L x 39W x 12H inches, and you can check if it fits your situation.
You can install it alone, but you should ask someone to help for better results. The manufacturer uses HDPE plastic to construct this box with an aerodynamic design and four lock systems. The mounting hardware is super easy to operate, and you don't need tools for the installation.
Most rooftop cargo boxes create wind noise and affect gas mileage, but you can use some tactics to minimize the effects.
JEGS roof boxes require assembly, and you should follow the instructions to accurately assemble parts together to get a ready-to-use cargo box for your Nissan Xterra. When driving with a rooftop cargo box, you should follow the instruction and control the speed under a specific limit for safety concerns, especially on freeways.
If you require more detail about the JEGS rooftop cargo box, a post may help. Most people feel that the locks of JEGS roof boxes are flimsy, so you may need to maintain the lock cores with lubrication powder. You can contact the seller to purchase a replacement for a broken lock core.
---
Thule Motion XT Cargo Box
It is the third option for your Nissan Xterra. We believe it is the best cargo box for your Xterra because of its reputation and brand power. We cannot find much negative feedback about Thule Motion XT cargo boxes.
There are three size models for people who decide to drive out with Thule Motion XT roof boxes. The 16 cubic feet, 18 cubic feet, and 22 cubic feet are three size options that you can choose around for your Xterra. We use the 22 cubic feet model as an example to discuss in detail for your consideration.
Thule is a global outdoor company that has been manufacturing rooftop cargo carriers for more than two decades. The current Thule roof boxes are the best results of Thule people's time and hard work. You can check a post to learn more about the history of Thule.
The 22 cubic feet model is the biggest in the Thule Motion XT series. You can carry up to 165 pounds of luggage in the cargo box. It is enough for a big family. You can get 36.3 (trunk space) + 22 = 59.3 cubic feet of storing space with the Thule Motion XT cargo box.
Motion XT 22 cubic feet model's dimensions are 91.5L x 37.5W x 18H inches, and you can use these numbers to decide if it is a suitable option for your outdoor needs.
If you are a fan of winter sporting, you may need a storage system for carrying skis or snowboards. The Motion XT 22 cubic feet roof box allows you to transport gear up to 215 cm in length. Unless transporting skis, you can carry other long gear like fishing rods, hiking sticks, hunting equipment, golf clubs, and more in a cargo box.
You can open the Motion XT cargo box from both sides for convenience. When successfully mounting the cargo box, you should ensure the open hatchback won't interfere with the cargo box. You don't need to worry about the tool-free installation because you can complete the process in under 10 minutes. You insert four PowerClick mounting hardware through the four holes at the bottom of the cargo box and rotate the knobs to lock the box on top of the crossbars. That is it. Enjoy!
---
SportRack Vista Cargo Box
We choose the SportRack Vista roof box as the fourth option for your Nissan Xterra. Its most markable advantage is the price, and it is one of the cheapest hardshell roof boxes on the market. If you have a limited budget, you can consider using it because SportRack Vista has the best quality compared to other cheap boxes.
If you require more info about it, you can refer to a post to discover more detail about the SportRack Vista. You can find dimensions, features, images, videos, instructions, manuals, and more.
---
DNA Motoring Extra Long XXL Cargo Box
It is the fifth choice for people who want to use a cargo box on the roof of their Nissan Xterra. DNA Motoring uses ABS materials to build its hardshell cargo boxes for vehicles. There are four size options for people to choose around to meet different outdoor needs: 11 cubic feet, 12.7 cubic feet, 15 cubic feet, and 17 cubic feet. You can choose one that meets your situation.
DNA roof boxes work on most roof racks: round, square, aero, and OEM rooftop crossbars. You can contact the local auto dealer for a compatibility check before adding one to the shopping cart. DNA cargo boxes are waterproof, durable, and sturdy, and a central lock can protect your essentials from elements and extreme weather.
We use the 17 cubic feet option as an example to discuss its features and designs. Its dimensions are 78L x 21W x 15H inches, and it weighs 37 pounds when it is empty. You can use it to carry up to 110 lbs of items. It opens from both sides, so it is easy to load and unload. When packing or finding things on the highways, you should use the passenger side to avoid the risks from coming traffic.
The DNA cargo boxes have two strong arms that hold the lid when the cargo box is open. It is better to lubricate the joints on the two arms for smoothness.
DNA Motoring is a China-based company, so customer service is a problem for people on the other side of the earth. You should be ready to have that much patience to deal with a company overseas. Most people complain that DNA Motoring doesn't answer the phone call after they purchase cargo boxes from the company. The returning and replacement requests can delay for months, and the seller wants the invoice before doing anything else. We believe DNA Motoring can level up its business with better responsive customer service in the future, but not now.
---
In Conclusion
In this article, we discussed 5 cargo boxes for Nissan Xterra with our opinions on each. You can compare and find the most suitable option for your future outdoor adventures.
Otherwise, cargo boxes are not the only options you can use to transport items above your car roof. Cargo bags and baskets are available on the market, but they are less secure than hardshell roof boxes.
If you are interested in knowing more about the differences between these cargo carriers:
These two article shows the differences between these rooftop cargo carriers.
Moreover, except for using rooftop cargo carriers, you can consider mounting hitch-mounted carriers at the back of your Nissan Xterra. We have a list of the best hitch-mounted cargo boxes for your consideration. Furthermore, you can carry bikes on the top or at the back of your vehicle when driving out for a road trip or a camping event. If you want to know more about the bike racks for cars, you can visit the category page and scroll down to find interesting topics to read on. We have a list of the best bike racks for people who decide to carry their bikes outside the car.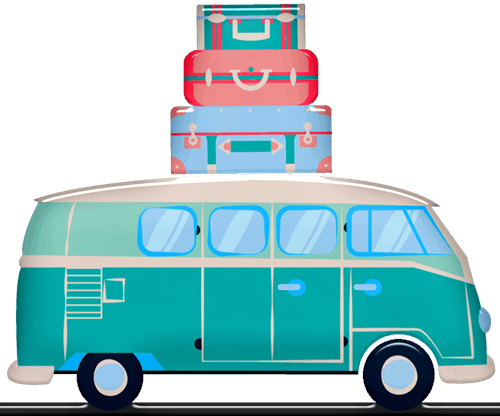 Our team is creating outdoor-gear relevant articles with passion. If our articles can help you to find the correct solutions for your questions, we will be happy about that. In the content creation process, we usually collect accurate and useful information online or offline to compile our content in an organized way. Consequently, we can guarantee that you can discover some expected answers to your questions. We appreciate your time on our site.
We are reader-supported. We get commissions for purchases made through links in this post, As an Amazon Associate we earn from qualifying purchases.