Last Updated on September 19, 2023
Car bike racks are a popular way to transport bikes on the roads, either rear-mounted or roof-mounted. Before getting deeper to know what caused the bike to sway, we better start with the definition of three types of car bike racks. Bike swaying is a problem that may damage your car and cause unpredictable accidents when the vehicle is in motion. We can find devices that we can use to prevent bikes from swinging on the bike racks, and you can read on and learn more!
Most cyclists believe car bike racks are a convenient way to carry their bikes when they want to bike hiking with their friends. However, they don't understand why preventing bike swinging is significant and unavoidable when using car bike racks. This article can lead you to the right ways to solve swaying problems for different types of car bike racks: rooftop-mounted, hitch-mounted, and trunk-mounted.
Why are bikes swinging?
While driving, your car faces the wind force; thus, the bike racks can produce irritating noise and slightly shake, especially on those joints. Consequently, whatever types of bike racks you have, the swinging problem is always on the roads. Is there a better way to deal with the swaying issue for car bike racks? We will show you some popular solutions that you can apply to decrease or eliminate the swinging troubles for the bike racks you have.
---
Method for Hitch-mounted Bike Carriers
If you use hitch-mounted bike racks, you must connect and lock the hitch receiver and the rack hitch connector to ensure the bike rack stays where it should be and carries bikes the way you want. Furthermore, the connection parts and joints are the major contributors to the swaying problem. You can hold the connection parts and manually shake the entire rack to see how bad it can be; furthermore, you can get a deep understanding of where is the source of the swinging problem.
As we all know, hitch-mounted bike racks connect to the car hitch receivers. The hitch receiver connection itself is not a 100% tight connector, so it produces some waggling, especially on bumpy roads. Additionally, hitch-mounted bike racks have two main styles: tray-style and frame-style. Frame-style hitch bike racks carry and hang bikes with supporting arms which may produce more swaying or movement than tray-style racks. Tray-style hitch bike racks firmly hold and lock the bike wheels to the tray frame, so these racks are more stable than hanging-style racks. Are there any solutions to deal with the swaying when using hitch-mounted bike carriers?
Yes, you will find some methods to minimize the swinging and make your bike racks more secure for future outdoor adventures.
---
Hitch Clamps
Have you heard about the hitch clamps? You can use these U-shape tools to make the hitch connection parts more stable and quiet when they are in motion. It is easy to use and install. The clamp stands and firmly locks the rack connector on the hitch receiver to minimize and eliminate the swaying problem. These clamps are must-have accessories for people who often haul cargo behind the car hitch. They are the best solutions to solve the swinging problem for hitch-mounted bike carriers.
The Rhino USA Hitch Tightener is an easy way to keep your hitch tight and rattle-free. This simple device quickly and easily attaches to your hitch connector, and it's adjustable so you can get a perfect fit. It's also made of durable materials that will stand up to the elements, and it's backed by a lifetime warranty. So if you're looking for an easy way to keep your hitch bike rack tight and rattle-free, the Rhino USA Hitch Tightener is the perfect solution. You can use it for most hitch-mounted cargo carriers, not only bike racks.
---
More hitch clamps for your consideration:
Find Hitch Clamps On Ebay
---
Anti-Rattle Kits
If you've ever been on a long road trip, you know how important it is to have a comfortable and quiet ride. That's why you need hitch anti-rattle kits for most outdoor needs. These kits help to reduce the noise and vibration caused by your trailer hitch, not only for bike carriers, and you can enjoy a peaceful journey with these affordable little things.
We have many hitch anti-rattle kits available on the market, and you can find the perfect one for your needs based on your car model and the dimensions of the hitch receiver. And because they're easy to install, you can be on your way to a quieter ride in no time. So if you're looking for a way to enjoy a more comfortable journey, it is time to pick up a hitch anti-rattle kit.
Hitch companies usually produce anti-rattle kits to stop your bike rack from wobbling. You bolt the anti-rattle kit to the inside of the hitch receiver, and you have a bushing that tightens around the shank of the hitch pin to stabilize the connection. This component prevents any rattling between the two parts while you're driving. You can utilize both of these devices on a single trailer hitch to offer double insurance for stopping the car racks from swaying.
Looking for a way to keep your trailer hitch cover from rattling? Look no further than the eVerHITCH Trailer Hitch Cover Anti-Rattle Pin! This simple device attaches to your trailer hitch cover and prevents it from rattling around, ensuring a quiet and peaceful ride.
---
If you're looking for a hitch pin that won't make a lot of noise, the Softride Quiet Ride Locking Tightening Hitch Pin is a great option. This hitch pin is made with a soft rubber coating that helps to absorb sound and prevent rattling. It also features a locking mechanism that keeps it securely in place, so you don't have to worry about it coming loose on your next road trip.
---
This simple device is designed to reduce rattling and chattering between your trailer hitch and your trailer coupler. It's easy to install and it's an affordable way to enjoy a quieter ride. This hitch pin is designed to fit 1-1/4″ and 2″ trailer hitches and features a spring-loaded locking mechanism that helps to reduce rattling and vibration. The CURT 22321 is easy to install and remove, so you can hit the road without worry.
---
Anti-Sway Cradles
Most hitch-mounted bike carriers have supporting arms that hold on to the bike frames and keep bikes standing vertically; however, the original straps may not be tight enough to stop the swinging when the car is in motion. Thus, you can use extra anti-sway cradles to increase the force that pulls the bikes towards the supporter as strongly as possible against the swaying on the roads. It is like a person always grasps the bike frame on a road trip. Anti-sway cradles are accessories you can use to decrease the oscillating force on the bike rack itself, near the supporting arms.
We find these cradles that may work for your situation:
---
Anti-Sway Straps
It is another add-on device that you can use to provide extra gripping force to bike carriers and tightly hold bikes in position without leaving the swinging possibility to bikes. You can use as many straps as possible to terminate the bike swaying problem. Anti-sway straps have the same working theory as those cradles, and you can use them together with hitch-clamps and anti-rattle kits.
For hitch-mounted bike rack owners, the above methods are working solutions that can reduce the rattling sound and may decrease or eliminate the swinging of most hitch bike carriers.
We have picked three strap kits from the Thule brand to work for your bike racks. You don't need to check the compatibility because these straps are universally fitting to most life situations.
---
Roof-mounted bike racks Swinging-what to do with it?
Some outdoor enthusiasts prefer roof-mounted bike carriers because they also have car roof boxes above their cars. They can mount a bike carrier beside a rooftop cargo box or a cargo basket.
Roof-mounted bike racks are relatively more stable than hitch-mounted bike racks, so you don't need to do much for the swinging issue.
The only way you can do to eliminate the swaying is to use more straps to grip the bike down to the rack frame.
---
Trunk-Mounted Bike Carriers
Trunk-mounted bike racks are the cheapest bike carriers compared to other types, and they are super easy to use with straps and hooks. If you have no idea what are trunk-mounted bike racks, you can find explanations here.
Using more straps is the only way to make trunk bike racks more stable.
---
In conclusion
In this article, you find methods to deal with the swaying of bike racks. You can use these tips to make your bike hiking journey safer and more enjoyable. Don't forget to clean and maintain your bike racks after a road trip. If you have more questions about bike racks, you can use the FAQ page for knowledge building.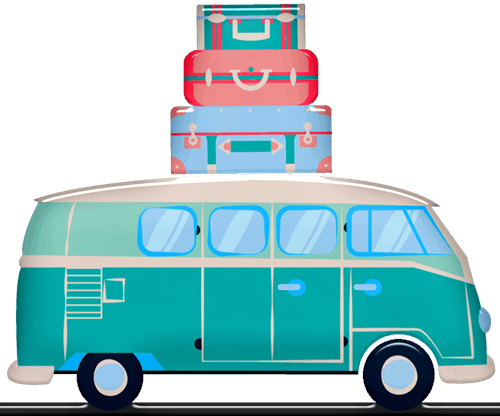 Our team is creating outdoor-gear relevant articles with passion. If our articles can help you to find the correct solutions for your questions, we will be happy about that. In the content creation process, we usually collect accurate and useful information online or offline to compile our content in an organized way. Consequently, we can guarantee that you can discover some expected answers to your questions. We appreciate your time on our site.
We are reader-supported. We get commissions for purchases made through links in this post, As an Amazon Associate we earn from qualifying purchases.