Last Updated on November 23, 2022
A cargo carrier helps you create added storage on top or at the rear of your Nissan Altima for loading more gear or items on the roads. People, who like skiing, kayaking, golfing, fishing, camping, road trips, hiking, training, need a cargo carrier to carry belongings between places because their car may not have enough trunk space to fulfill their outdoor dreams. (Nissan Altima Official Brochure)
When choosing a cargo carrier, people have many choices like cargo boxes, cargo bags, cargo baskets, hitch cargo boxes, and other cargo carriers. You may need to learn before buying actions. What are you going to carry with your cargo carrier? It is time to think about that, and you can measure your long gear before continuing reading. When you have the measurement of your long items, you can take a cup of coffee and start to check the rest of this content.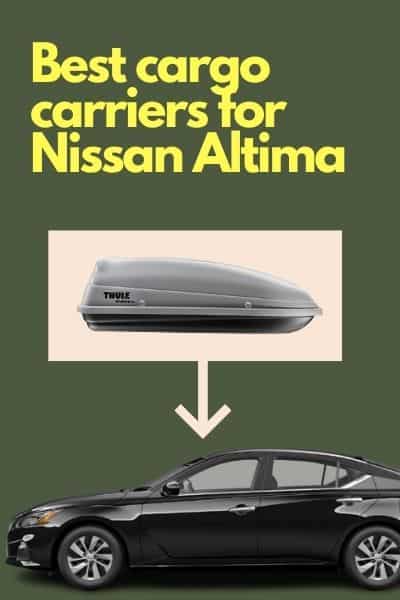 Most of the cargo carriers require to work with a pair of crossbars – roof racks. You have to ensure that your Nissan Altima has one on top. If your Nissan Altima doesn't have one, you can order one from your local Nissan dealer without compatibility concerns. You can also get one from an online market like Amazon or Ebay.
A list of universal roof racks for all vehicles – compatibility check required
However, you can use a soft cargo bag to transport items on top of your Nissan Altima without roof racks. If you want to know more about cargo bags, you can refer to a page for more information. You can use straps to tie down a cargo bag to make it set on the roof of a car, and it is super easy to use and install.
Cargo boxes are the best among these cargo carriers because they are super-sturdy, waterproof, long-lasting, weather-resistant, and high-quality. Thus, we recommend some advanced cargo boxes for your Nissan Altima. If you don't like cargo boxes, you can use a combination of a cargo bag + a cargo basket to create something that you can use as an alternative to a cargo box.
---
Quick-Pick List Of Cargo Carriers For Nissan Altima
---
Detail of Cargo Carriers For Nissan Altima
Thule Motion XT Cargo Box
It is the first cargo box that we recommend to your Nissan Altima, and it is the best here. If you are new to cargo boxes, you have a lot to learn. For example, some tips for choosing and using a cargo box are what you must study before purchasing one.
The Thule Motion XT roof box has the most secure lock system compared to other cargo boxes on the market, and it has premium features that make it super easy to use and assemble.
Thule Motion XT Car Rooftop Cargo Boxes Buyer Guide
The Thule Motion XT series has three size options: XXL, L, and XL. You can use any of them to be a choice for your Nissan Altima. These size options have different dimensions, and you can choose one that fits your long gear's length.
If you require further information on Thule Motion XT cargo boxes, you can refer to a post for specifications and feedbacks.
---
Thule Pulse Rooftop Cargo Box
The Thule Pulse roof boxes also have three size options: Alpine, Medium, and Large. According to the comparison of the dimensions, they are smaller than the Thule Motion XT boxes; besides, they are perfect for small cars. It is not a mistake to mount a big cargo box on top of a compact sedan like your Nissan Altima; furthermore, smaller cargo boxes are perfect for compact vehicles for safety concerns. If you want to use a big cargo box like the Thule Motion XT XXL, you must drive carefully and watch the speed.
Thule Pulse Cargo Boxes Buying Guide
We have a post that introduces the Thule Pulse series in detail with specifications, dimensions, features, feedbacks, photos, customer videos; thus, you can have a deep look at each size option to compare them for a final buying decision.
---
Thule Sidekick Cargo box
It is the third option for your Nissan Altima, and it is the smallest car rooftop box on the market. The Thule Sidekick roof box doesn't occupy the entire space on a pair of crossbars, and you can mount other cargo carriers like bike carriers beside it.
The Thule Sidekick roof boxes have two color options for customers: black and gray. If you want to print your cargo box to another color, you can follow a repair guide for that purpose. We recommend hiring a professional auto mechanic for the printing job when you don't want an irreversible unwanted result.
Thule SideKick Car Rooftop Cargo Boxes Buyer Guide
If you like the Thule Pulse cargo boxes, you can use the link below to check their measurement, features, photos, and more.
---
SportRack Horizon Cargo Box
It is the fourth choice for your Nissan Altima. The SportRack Horizon cargo boxes are affordable compared to the above options. Two size options are available when choosing a SportRack Horizon roof box, and the Horizon boxes are perfect for carrying long gear like snowboards or skis.
SportRack Horizon Car Rooftop Cargo Carriers Buyer Guide
If you are interested in using a SportRack Horizon roof box, you can jump to another post to learn what you need to know about the SportRack Horizon boxes.
---
RightLine Gear Car Top Duffle Bag
It is the fifth option for your Nissan Altima. The RightLine Gear duffle bag is a soft cargo bag for people who don't need a cargo carrier in a high frequency. These duffle bags are waterproof, and they are made of high-density materials to ensure their waterproof attribute. The duffle bags have a urethane-coated zipper system to prevent water get in through the zipper on the roads.
They are super easy to install with straps and clips, and you can do the installation in minutes without a tool. You can tie down multiple bags on top of your Nissan Altima for delivering more luggage or items.
These cargo bags usually attach to the car door frames, and you have to drive slow when there are some fully loaded bags on the car roof. These car roof bags are not aerodynamic, and they often affect the gas mileage seriously and make much wind noise when they are in motion.
Moreover, the Rightline Gear Duffle bags are perfect for temporary situations like moving home, special outdoor events, and more. However, we don't recommend these cargo bags to people who want to perform cross-country road trips or other high-frequency outdoor events. You can take find more differences between roof boxes and cargo bags on another post.
It is 100% sure that you can use a soft roof bag without car roof racks.
---
Other 5 Cargo Bags That You Can Put In Your Consideration
We have a post that compares and introduces some cargo bags for your Nissan Altima. You can use the list to find if one of those roof bags meets your tastes and needs.
Nowadays, some affordable cargo bags also have an aerodynamic design and some other premium features. Some Manufacturers even make their cargo bags as sturdy as hard-shell cargo boxes are with advanced high-density materials.
A list of best selling soft cargo bags for all SUVs, Sedans, Trucks, Vans
It is not a mistake to have both a cargo box and a soft roof bag, and you can use one of them when the time calls.
---
10 Car Rooftop Cargo Baskets
Do we have other options if we want to transport our stuff between locations? Yes, we do. Cargo baskets are also a good choice for the job. We have many different cargo baskets with different dimensions, features, designs, and price tags. It is a headache when choosing one without knowledge.
It is ok, and we are here to save your time. There are 10 best-rated cargo baskets that you can use to carry items in your outdoor adventures.
Cargo baskets require working on roof racks, so you have to make sure that you have one.
A list of 10 cargo baskets for all SUVs, Sedans, Vans, Trucks
Some people set a soft cargo bag on top of a cargo basket to create a waterproof, rugged, long-lasting cargo carrier for multiple events like hiking, climbing, skiing, hunting, and more. You can mount a cargo box on a cargo basket, so car roof baskets have multiple uses with many creative ideas.
---
In conclusion
In this article, you can find many different cargo carriers for your Nissan Altima. After reading the article, you generate ideas about choosing and using a cargo carrier with creative thoughts.
It is a personal decision when selecting a cargo carrier, and your decision depends on the style of your outdoor life and the gear and items you will transport.
We give you this advice to help you make a brain-storm about cargo carriers. You have to make your own decision based on your situation.
If you are still confused about making a decision, you can use the header section to discover more relevant topics for generating more background knowledge.
Other car rooftop or rear cargo carriers for bikes, kayaks, luggage, and more.
If you like this article, please share it. When you have questions, please use the form below to contact us.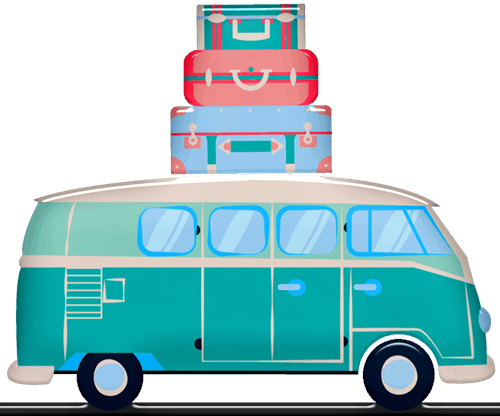 Our team is creating outdoor-gear relevant articles with passion. If our articles can help you to find the correct solutions for your questions, we will be happy about that. In the content creation process, we usually collect accurate and useful information online or offline to compile our content in an organized way. Consequently, we can guarantee that you can discover some expected answers to your questions. We appreciate your time on our site.
We are reader-supported. We get commissions for purchases made through links in this post, As an Amazon Associate we earn from qualifying purchases.