Last Updated on November 23, 2022
It is time to use a cargo box to expand the storage space for your Nissan Leaf. Although you have plenty of options on the market for adding additional loading space for a car, a cargo box is the most secure choice.
Your Nissan Leaf does not give you enough trunk space for hauling items on your road trips or outdoor journeys. That is why you require extra room for carrying your gear or essentials.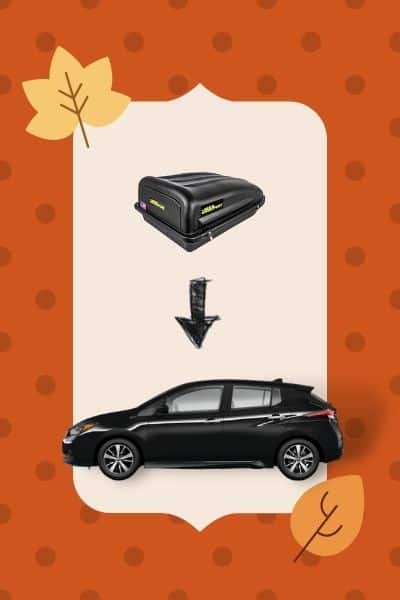 Your Nissan Leaf (official manual brochure) offers you 23.6 cubic feet of trunk space to use as a loading space for items, and if you fold those rear seats down, you can get a total of 30 cubic feet of space for hauling things between locations. It sounds like the 30 cubic feet of room is enough for use, but where do people sit? Do you want your travel companions to squeeze together with stuff and have no room to stretch their legs or arms? It is not a situation you would like to have, and, except for changing to a bigger car, you can use a cargo box to make your friends or families more comfortable during a road trip.
Although your Nissan Leaf is an electronic car, it has enough hauling power to drag a fully loaded cargo box between places. Thus, you don't worry about if your vehicle can use a cargo box or not.
There are hundreds of cargo boxes on the market with different specifications like dimensions, features, designs, volume, loading capacity, and other attributes; consequently, choosing a compatible cargo box becomes even more challenging these days. We are here to help, no worries.
We have picked out 5 cargo boxes from the market for your Nissan Leaf, and you can pick one that becomes a part of your active life.
Roof Racks For Nissan Leaf
A list of universal roof racks for all vehicles
Before using a cargo box, you have to make sure if your Nissan Leaf's roof has roof racks or not because cargo boxes require to work on top of the crossbars – roof racks. You can get OEM roof racks from the local Nissan dealer or order one on Amazon or Ebay. We have a list of universal fitting roof racks that work on all vehicles, and you can check the list to pick one for your Nissan Leaf without compatibility problems.
Quick-Pick List of 5 Cargo Boxes For Nissan Leaf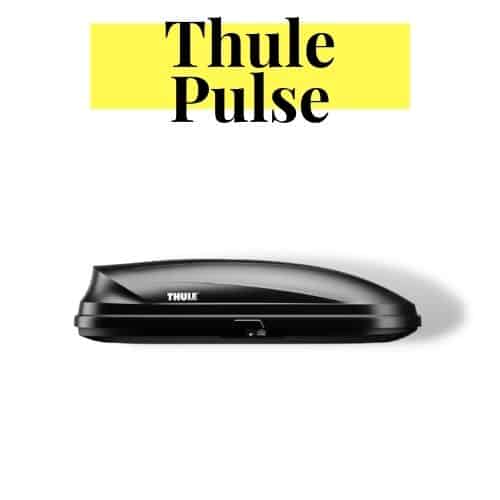 ---
---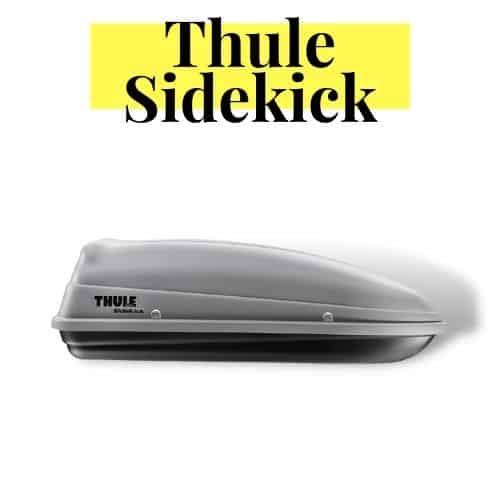 ---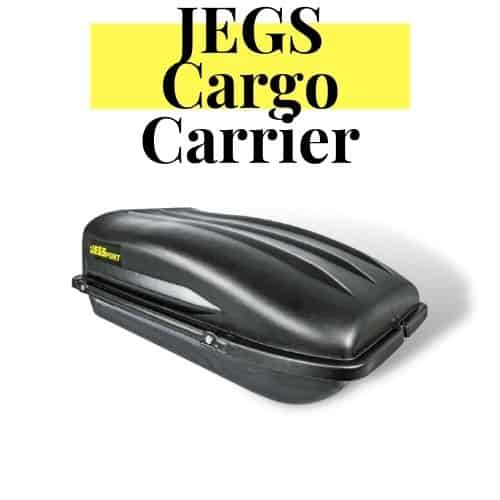 ---
---
Detail of 5 Cargo Boxes For Nissan Leaf
Thule Pulse Medium Cargo Box
It is the first option for your Nissan Leaf. The Thule cargo boxes are the best in the industry, and there is no doubt about that. The Thule brand has a long history of nearly 30+ years, and the Thule people spent all their time developing outdoor relevant gear with passion and technology until now. It is why we put the Thule Pulse roof box at the first position on this list.
The Thule Pulse Medium has 14 cubic feet of interior space for transporting items on top of your Nissan Leaf when you go for a road trip. The 14 cubic feet is nearly half of the Nissan Leaf's trunk space, so we think it is approximately enough for regular use. The Nissan Leaf is a small compact SUV, so we don't believe that it can use large roof boxes like the Thule Motion XT series. However, when you want to try, it may not be a mistake.
The Thule Pulse can hold up to 110 lbs of items in it, and you cannot overload a cargo box in any situation because of safety concerns. When you use a roof box, you have to follow some DONTs to avoid serious errors.
The Thule Pulse roof boxes work on most factory (OEM), round, square, and aerodynamic racks, so you don't need to put too much energy into checking about the compatibility issues because the Thule has done that for you. When setting a cargo box on top of the roof racks, you have to follow the user manual to do it right with patience and accuracy. You can refer to a post to get a general idea about installing a cargo box on the crossbars.
You can only open the Thule Pulse roof box from the passenger side, and the feature ensures that you are not at risk of coming traffic when operating a cargo box on the highways. You can use a central lock to secure the roof box from thefts, but you may require to apply lubrication to the lock core after using it for some time. When you want to make your roof box more secure, you can use the methods in a post to provide added security to it.
We have an article that has more detail about the Thule Pulse roof boxes, and you can find more info and customer feedbacks.
Thule Pulse Cargo Boxes Buyer Guide
---
INNO BRA240BK Ridge Cargo Box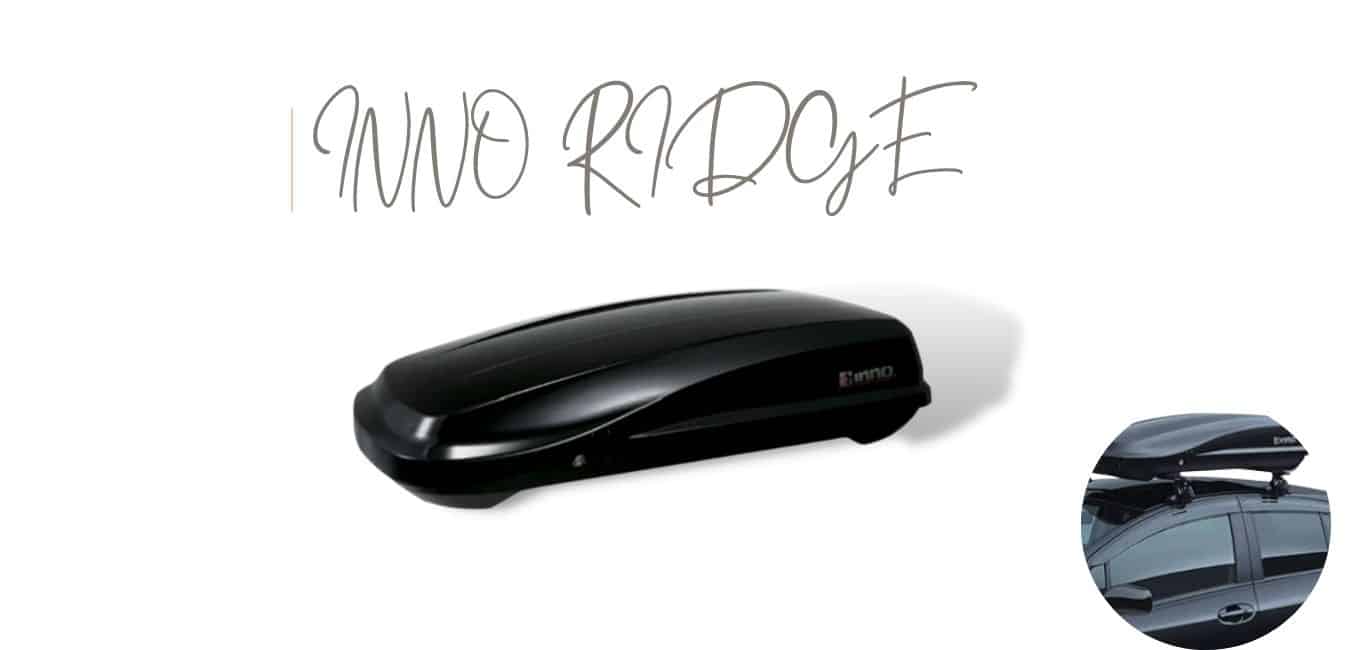 It is the second option for your Nissan Leaf. INNO is also a big brand name in the outdoor industry, and the INNO ridge cargo box is a popular choice among outdoor enthusiasts because of its friendly price tag.
It fits most roof racks; factory, round, square, aero; therefore, you are free from compatibility problems. You can use a pair of universal crossbars to create a base for the INNO Ridge roof box.
INNO provides a lifetime warranty to the Ridge roof boxes, so it is a trouble-free product. However, the insurance is limited, and you have to read the documents to know what conditions are in the policy agreement. For example, INNO is not responsible for the problem caused by your intentional behaviors as using a hammer to damage the roof box or using a knife to cut the box open.
The INNO Ridge cargo box weighs 20 pounds, and it is a combination of blend plastic materials. Although it is light, you don't lift it alone because of the potential possibility of a fall. If it falls during the lifting, the large cargo box can damage your Nissan Leaf's printing. Consequently, you can ask someone else to help you heft the roof box up to the top of your vehicle for installation.
The INNO Ridge has 8 cubic feet of inner space for loading things, and it is smaller than the Thule Pulse's interior room. It is a good choice for hiking, camping, road trips, climbing, traveling, training, but it is not an option for carrying long gear like skis, golf clubs, fishing rods, and hunting equipment.
---
Thule Sidekick Cargo Box
It is the third choice for your Nissan Leaf. It is the smallest cargo box on the market, and the Thule Sidekick has only one size and two color options: black and gray.
It is also a product of the Thule Group that makes it more reliable. If you are interested in finding more Thule products, you can use an article for that purpose.
The Thule Sidekick cargo box has universal compatibility with factory, round, square, aero roof racks, and you even can mount it on a cargo basket. You can put up to 75 lbs of things into the Thule Sidekick roof box, and the items should not be longer than 48 inches. Therefore, the Sidekick cargo box is a perfect choice for road trips or camping events but not a pick for skiing or surfing.
We have more info that requires your attention about the Thule Sidekick, so you can use the INFO box below to learn more.
Thule SideKick Car Rooftop Cargo Boxes Buyer Guide
---
JEGS Cargo Rooftop Carrier
It is the fourth pick for your Nissan Leaf. JEGS cargo boxes are super affordable, and they are good picks for people who want to use cargo boxes for heavy-duty jobs. JEGS cargo carriers have two size options: 10 cubic feet and 18 cubic feet. You can use either of them to be the additional storage on top of your Nissan Leaf.
The JEGS cargo box is made of high-density plastic with aerodynamic designs, so it is rugged, waterproof, durable. The aerodynamic design eliminates the wind noise when you use the roof box on the highways; however, if you still have a wind noise issue, you can refer to a post to find some methods to reduce the whistling sound.
The JEGS roof box opens from both sides, and it is convenient because you can use both sides to reach every corner of the box for packing. Furthermore, the JESG cargo box has 4 corner locks and 1 front latch that provides added security to your belongings.
It is not an option for long gear because its dimensions are 47.5 x 28 x 12.5 inches. If you require a cargo box for your skis, snowboards, or other long gear, you can consider using a Thule Motion XT cargo box.
You can use the INFO-BOX below to find more detail about the JEGS cargo boxes.
JEGS Car Rooftop Cargo Carriers Buyer Guide
---
DNA Motoring Cargo Box
It is the fifth choice for your Nissan Leaf. The DNA Motoring uses ABS plastic to construct the cargo boxes, so they are sturdy, waterproof, and long-lasting.
It gives you 10 cubic feet of space to load what you probably need on a road trip or other outdoor adventures. Its interior dimensions are 53 x 34 x 15 inches, so you can use these numbers to estimate whether you can put your items into the box or not. Otherwise, you also can use these numbers to check out whether your car can go through the garage gate or not. When you have a cargo box on top of your vehicle, you must pay attention to height limits everywhere you go and park. If unexpected incidents happen when you use a cargo box, you can follow a repair guide to fix scratches or holes on it.
The DNA Motoring company delivers the cargo box with a pair of crossbars, so you don't need to get roof racks for using a DNA cargo box.
Moreover, the DNA Motoring cargo boxes have another model that is in glossy smooth black; thus, you can pick it for your black Nissan Leaf.
The glossy model offers 11 cubic feet of space for loading stuff, and it can hold up to 150 lbs of items without a problem.
DNA cargo boxes have lid holders that keep the roof box open until you close it. We believe you can finish the installation in minutes without a tool because it is easy enough for everyone. Like other cargo boxes, there are four mounting components that you can use to lock the DNA roof box on top of the crossbars.
---
Best Cargo Baskets For Your Nissan Leaf
A list of 10 cargo baskets for all SUVs, Sedans, Vans, Trucks
Except for using a cargo box, you can use a cargo basket to carry items on top of your Nissan Leaf. You can use a list to find 10 best-selling cargo baskets for comparison. Cargo baskets can use as roof racks for mounting multiple cargo carriers together like a cargo bag+ two bike carriers, a cargo box + a cargo basket, a cargo box + two bike carriers, a cargo box + a kayak carrier, and other possible combinations.
Best Cargo Bags For Nissan Leaf
A list of best-selling soft cargo bags for all SUVs, Sedans, Trucks, Van
You can use cargo bags without having roof racks on top of your Nissan Leaf, so most people use cargo bags as a temporary car roof carrier. However, nowadays, cargo bags are more sturdy and durable with a non-leaking zipper system; as a result, you can use a cargo bag to do what you want to do with a cargo box. It is not a mistake to have all of them: a cargo box + a foldable cargo bag. We have a list of best selling cargo bags for your consideration.
Conclusion
In this article, you can find 5 compatible cargo boxes for Nissan Leaf. You can compare them in dimensions, features, prices, appearances, designs, and more for making a final buying decision. If you are new to cargo boxes, you can start by learning a complete beginner guide. After building some background knowledge about roof boxes, you will have the ability to make better selections.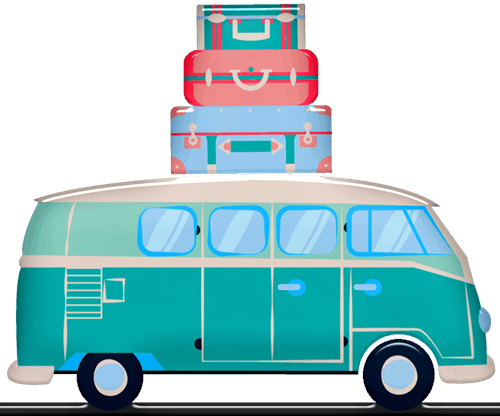 Our team is creating outdoor-gear relevant articles with passion. If our articles can help you to find the correct solutions for your questions, we will be happy about that. In the content creation process, we usually collect accurate and useful information online or offline to compile our content in an organized way. Consequently, we can guarantee that you can discover some expected answers to your questions. We appreciate your time on our site.
We are reader-supported. We get commissions for purchases made through links in this post, As an Amazon Associate we earn from qualifying purchases.