Last Updated on November 2, 2022
Your Ford Ranger is a compact pickup truck with 5 or 6 feet (different between various models) of trunk space for loading luggage or large equipment. However, car loading space is like fortune, which is never enough for most of us. Thus, you want to discover some ideas that can add extra storage space for your Ford Ranger. It is possible with these options below.
First, you need a knowledge base for adding cargo carriers to your Ford Ranger. You can follow this article or find some topics on our site to prepare information for the next steps. You can find several types of cargo carriers that you can use on your Ford Ranger: roof-mounted cargo boxes, hitch cargo carriers, soft cargo bags, and truck storage boxes.
If you want to find car roof boxes for your Ford Ranger, you can find one below.
Quick-Pick List Of Roof Cargo Boxes For Ford Ranger
---
---
---
---
---
Roof Racks (crossbars) For Ford Escape
We recommend you contact the local Ford dealer to order OEM factory crossbars that run from the right to the left above the car roof. You can also find choices on Amazon or Ebay. We have solutions for Ford Ranger with a bare roof, you can scroll down to discover the options. Find Ford Ranger Manuals: here.
Details of Roof Cargo Boxes For Ford Ranger
Thule Force Roof Cargo Box
Thule Force roof box is the first option for Ford Ranger. You can find 4 size options: Large, X-large, XX-large, and Sport, and these models have various dimensions and loading capacities. XX-Large is the biggest model for people who need a roof box to transport enough luggage for family road trips. The sport model has a narrow design that is perfect for loading gear like skis, snowboards, hiking sticks, golf clubs, hunting equipment, and other long gear.
Thule uses recyclable ABS plastic materials to construct its roof boxes. Thule Force series has two color options available for customers: shiny black and matte black, and we like Shiny Black better because of its fancy feeling and rust-resistant ability.
ABS materials are the most popular choice for manufacturers in the outdoor industry because Acrylonitrile Butadiene Styrene is waterproof, impact-resistant, sturdy, durable, electrical-insulated, and easy to print. In the case of fixing a damaged roof box, you can follow these steps to refurbish a used cargo box with tools at home.
The Ford Ranger has an incredible hauling capacity and large roof loading limit, so we pick the XXL model for you. You have two ways to mount a cargo box on your Ford Ranger: above the roof or above the trunk bed. We will explain these two options further later.
The Thule Force XXL model has 22 cubic feet of inner space for packing things for most outdoor activities, and the maximum length allowed in the XXL model is 215 centimeters. Its dimensions are 90.5 x 35.5 x 18.5 inches, and you can use these measurements to estimate if the XXL model is suitable for your items; otherwise, you also can know how high your Ranger can be after mounting a Thule Force XXL on it. With these estimations, you can avoid or prevent some potential mistakes. Before entering a height-limited place like underground parking, you better check the accessibility with your truck's actual height (with a mounted roof box).
Thule Force roof boxes are compatible with most round, square, aero, and factory crossbars. We also recommend compatible roof racks for your Ford Ranger to make the entire choosing process hassle-free on your end.
When installing a Thule Force XXL cargo box on the roof racks, you can use 4 quick-mount hardware to connect and lock on the horizontal roof bars; moreover, the mounting hardware is audible when it securely and accurately clamps on those crossbars.
You can open the Thule Force cargo boxes from both sides, and this function brings easy accessibility when loading or unloading items. During the installation, you should pay attention to the position of the roof box and avoid any interference with the open hatchback and the roof antenna. You can follow a guide to find the best location for a car roof box on a car roof.
Thule Force roof boxes have a unique Lockknob system compared to other options on the market, and the knob head protects the lock system from damage. We recommend you lubricate the lock core with lubrication powder monthly to prevent rust and corruption. If you are a well-prepared person who wants to get ready for all situations, you can order a set of Thule One Key Systems to use as a backup lock system for a Thule roof box.
Here are some tips for using Thule Force roof cargo boxes:
Thule Force XT Car Rooftop Cargo Boxes info for potential buyers
When buying a car roof box, you better ask the seller to give you two keys and leave one in the car for an emergency situation (when you lose the key).
The Thule Force roof boxes can load up to 165 pounds of items, and you need to focus the weight balance by following a rule like half weight at the center and a quarter of weight at both the front and the back.
Don't load explosive and chemical materials in a roof box. There is a list of things that you cannot pack in a car roof box.
When driving with a car roof box, you should control the speed under 80 MPH and avoid sharp turns and rush brakes. You can follow a guide to find other tips about driving with roof-mounted cargo carriers.
What do you need to pay attention to when cleaning your Ford Ranger in a carwash station? You can follow this guide to accurately use the automatic carwash service after having cargo carriers on your Ford Truck.
When you want to use the roof boxes on highways, you must use the passenger side to load or unload items for safety reasons.
Thule Force XXL roof box weighs 51.6 pounds, and you can lift it alone for installation (most experts say it is a two-man job). Car roof boxes are large and wide, so it is hard to control when you lift one over your shoulders. If it falls accidentally, it probably damages your car's printing and crushes the box.
After using a car roof box for a while, you better store it in the garage with proper protections for durability. Don't forget to lubricate the key core and other components for smooth future enjoyment.
---
Yakima Skybox 16 Carbonite Cargo box
It is the second option that we choose for your Ford Ranger. You may be curious about the differences between Thule and Yakima roof boxes, so we have an article that talks about the topic with comparisons from various perspectives.
Yakima is another popular outdoor brand that produces many top-rated cargo boxes, and Skybox 16 is one of them. Its dimensions are 81 x 36 x 15 inches/205 x 91 x 38 cm (L x W x H). You can use these measurements to decide if the Yakima Skybox 16 fits your needs.
It gives you an additional 16 cubic feet (453.07 Liter) of space to carry what you need on a road trip or other outdoor adventures. We don't recommend using a cargo box for off-road journeys, but it is not a big problem. 
Yakima SkyBox Car Rooftop Cargo Carriers info for potential buyers
Like other roof boxes, Yakima Skybox 16 works with most factory (OEM), square, round, and aerodynamic roof bars. It is always a good idea to use Yakima crossbars for Yakima roof boxes.
Yakima Skybox opens from both sides for better accessibility, but you should always use the passenger side on the highways. You can find more information about the Yakima Skybox 16: here.
---
Other 3 Roof Cargo Boxes For Ford Ranger
We pick other 3 suitable roof boxes that you can use on Ford Ranger. You can follow the guides below to find their dimensions, features, designs, materials, photos, pros, and cons. Then you can compare these 5 roof boxes to make your final decision with the correct knowledge.
---
Recommended Roof Racks For Your Ford Ranger
Before adding a roof box or other roof-mounted cargo carriers to Ford Ranger, you need to install a set of roof racks. We are here to guide you through the process of choosing compatible roof racks for your Ford pickup truck. No worries.
You can use two options to carry a roof box on your Ford Ranger: above the car roof or above the trunk bed. We discuss these options one by one.
Above the car roof:
Yakima HD Heavy-Duty Bars
It is the first thing you need to build a roof rack system on your Ford Ranger. Yakima HD heavy-duty bars are strong, lightweight, and durable to hold the weight of your cargo on the roads.
You need to get two 55 inches Yakima HD bars, and you don't choose other size options because they won't work on your truck. After choosing the bars, it is time to get 4 feet for the bars. We pick the Yakima Baseline adjustable towers to be the feet of the Yakima HD bars. Finally, you require to find vehicle attachment parts that connect your truck to the towers. We use the Yakima BaseClip for the job, but you need to contact the seller to consult about which option works for Ford Ranger.
Above the trunk bed:
If you want to choose this option to use a roof box, you need to install a roof rack system above the trunk bed. We choose to use the Thule TracRac TracOne Truck Rack as the rack system to hold the cargo box.
This truck rack holds up to 800 lbs of weight, so a fully loaded roof box is a piece of cake for its loading capacity.
This truck rack is a drill-free system, and you can use 4 clips to mount the system on the trunk side walls. It is super easy to install. We recommend it to truck drivers not only for Ford Ranger.
---
What about hitch cargo carriers?
After reading through the above information, have you decided to equip your Ford Ranger with which ideas? If you haven't found your favorite, you can continue to discover some new ideas to haul things with your truck.
As we know, Ford Ranger has a fantastic towing capacity which is about 7500 pounds; consequently, the weight of a hitch cargo carrier is nothing to your Ford Ranger. However, you need to check if your truck has a hitch receiver at the back or not. When you don't see one, you can contact the local Ford dealer to order one with a compatibility check. After having a trailer hitch receiver, you can consider mounting hitch-mounted cargo carriers to your Ford Ranger and loading more items on the roads.
When choosing hitch cargo carriers, you should pay attention and make sure that the hitch cargo carrier can connect to the hitch receiver you have on your truck.
You can refer to an article to find some top-rated hitch cargo carriers that you can use at the rear of your Ford Ranger to haul things.
---
What about a roof-mounted cargo basket?
You have checked some high-quality roof boxes above, how do you feel about those hardshell cargo boxes? Have you heard about the roof cargo baskets? They are baskets that you can mount on the car roof and deliver waterproof equipment or items, but they are open to air without a lid or a cover. They are less secure than hardshell roof boxes. Most outdoor enthusiasts use cargo baskets for off-road journeys, and they put spare tires, extra gas tanks, and other water-resistant items in a cargo basket.
---
What about a soft roof bag?
Most hardshell roof boxes are expensive with premium features, but you have alternatives on the market for temporary use. We introduce soft roof bags to you. They are soft cargo bags that you can mount on top of your Ford Ranger or directly put in the trunk to organize and prevent items from getting wet. You don't need a rack system for using soft roof bags because they usually hook on door frames.
Roof bags have zipper systems that may not 100% stop the water from getting inside; therefore, most manufacturers give a flap cover around the zipper system to solve potential leaking problems. You must purchase mat protection when using roof bags on a car roof, and the mat must be placed between the car roof and the roof bag. Otherwise, a fully loaded soft roof bag can damage your car roof. It is a good idea to mount a cargo bag in a cargo basket.
---
Final Words
You can find some great ideas about hauling more things on your Ford Ranger. By following this guide, you find compatible roof-mounted cargo boxes, bags, and baskets; moreover, you find a way to tow things by using hitch-mounted cargo carriers. You can use the links in this guide to check on more information for knowledge building before setting up a cargo management system for your Ford Ranger.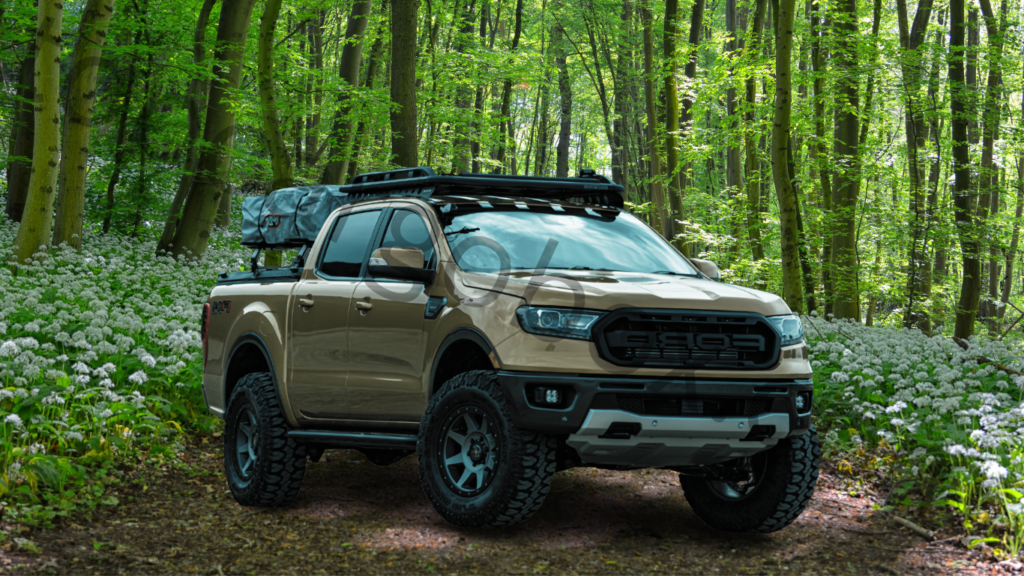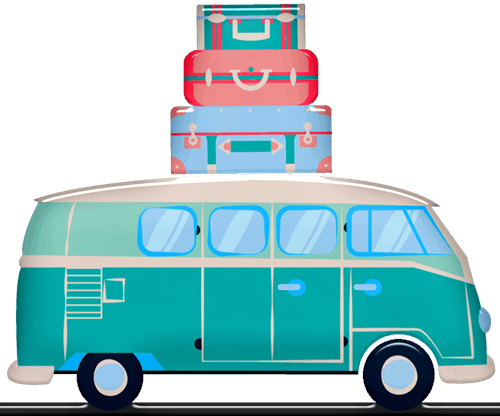 Our team is creating outdoor-gear relevant articles with passion. If our articles can help you to find the correct solutions for your questions, we will be happy about that. In the content creation process, we usually collect accurate and useful information online or offline to compile our content in an organized way. Consequently, we can guarantee that you can discover some expected answers to your questions. We appreciate your time on our site.
We are reader-supported. We get commissions for purchases made through links in this post, As an Amazon Associate we earn from qualifying purchases.