Last Updated on October 16, 2023
You are searching for a SportRack Vista XL cargo box, and you can find what you need to know here. We have done tons of research online for you to find out if the SportRack Vista cargo box is excellent or poor. In this article, first, you will find some general info about the SportRack Vista cargo box; furthermore, you will also discover some user feedback and alternatives.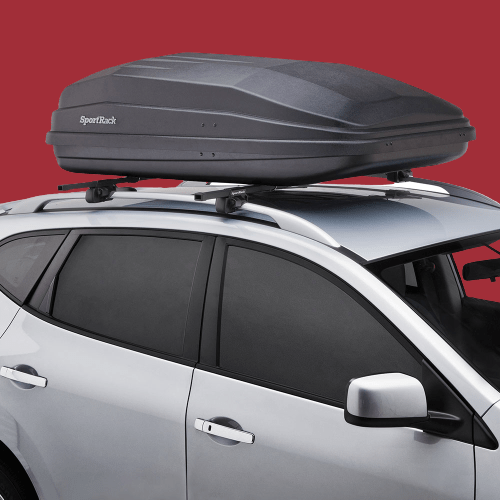 Quick-Pick Actions
General Info
Capacity
SportRack Vista cargo box is a large storage space for your vehicle, and the loading capacity is 18 cubic feet. You can quickly assemble it on top of your car within minutes without a problem because the roof box fits on most of the factory crossbars.
Material
The SportRack Vista cargo box is a combination of high-quality ABS materials, and it is waterproof, sturdy, durable, and UV-resistant. You can use it in extreme weather conditions without a problem.
Installation
When it comes to the installation, it is super easy to operate with bare hands. However, when you carry the roof box up to the top of your vehicle, we recommend you call someone else to help you with that because the SportRack Vista roof box is large. Four U-bolts can securely and accurately connect the roof box to the crossbars, so you won't need to worry about losing it when your car is in motion. If your car has a bare roof, you can consider using these roof racks without roof rails.
Rear-Opening
SportRack Vista has a rear-opening feature that allows you to open the roof box from the back of it. On the market, the rear-opening function is rare and unique, and there are a few roof boxes that have that feature; consequently, if you prefer to open a cargo box from the back of it, SportRack Vista is the right pick.
When you are ready to install the SportRack Vista roof box on the crossbars, you have to ensure that two bars are between min-23 5/8″ – max-29 3/4″ (60.0075cm – 75.565cm).
The SportRack company offers a limited lifetime warranty to its customer, so you can enjoy effective customer service for life after buying the SportRack Vista cargo box.
What is in the package box?
When you receive your SportRack Vista XL cargo box, there were a roof box and many other accessories.
4 U-bolts
8 Threaded Knobs
4 U-bolt Plates
4 Reinforcing plates
1 Vinyl Hole Cover
2 Keys
How to clean your SportRack Vista XL cargo box?
According to the manufacturer's advice, you need to clean the roof box with mild soap and water. However, we have published an article about "how to clean a car roof box" that will help you fully clean your roof box in steps.
What to do if I lost my key?
If you lost or broke the key of SportRack Vista XL, you have to contact customer service to ask for assistance at 800-238-2388 or through the official site at www.sportrack.com.
PDFs that help
User Videos of SportRack Vista Cargo Box
How to install a SportRack roof box
SportRack Cargo Box Intro Video
What do people say about the SportRack Vista XL cargo box?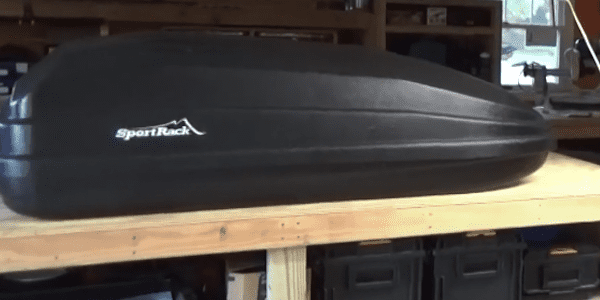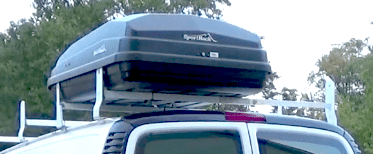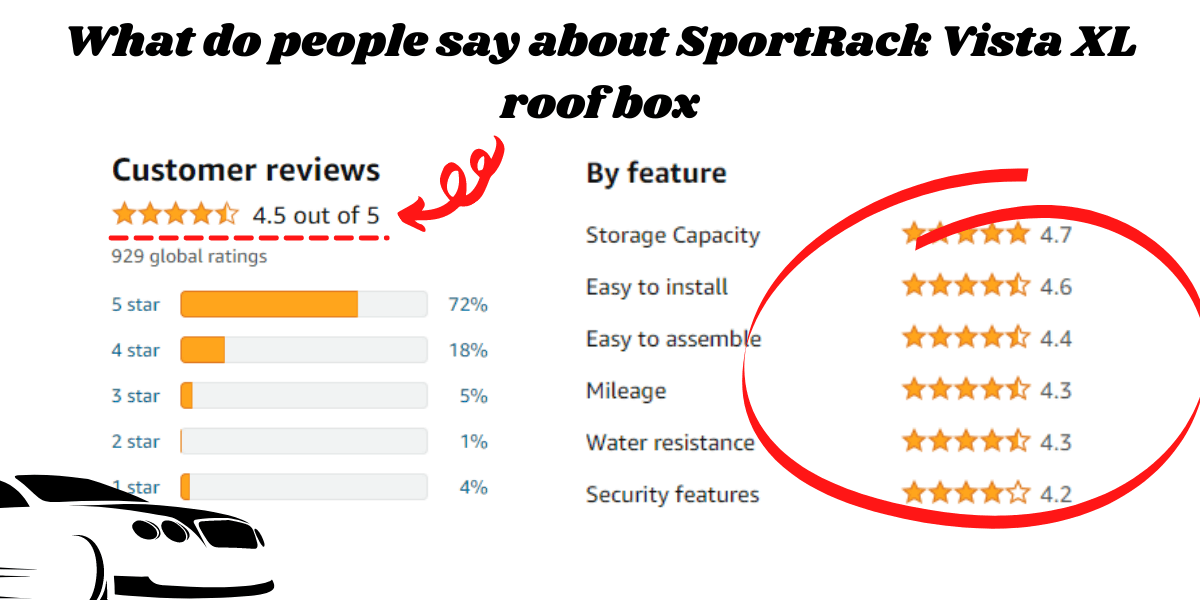 More You May Need To Know About SportRack Vista Cargo Boxes
Installing a Sportrack cargo box on your car is a great way to increase your storage capacity. The Sportrack is easy to install and can be attached to most cars in just a few minutes. It's also very sturdy, so you can be sure your belongings will be safe and secure while you're driving. These Boxes fit most cars and crossbars, so you don't need to worry too much about compatibility issues. However, you have to check the bar spread (the distance between two rack bars) before getting a SportRack Vista roof box. If the bar spread is out of the range, you may need to drill new holes at the bottom of the box to make it fit the roof racks.
The Sportrack cargo box is perfect for road trips or long drives. It gives you plenty of extra storage space, which can come in handy for packing snacks, drinks, and other items. Plus, it's a great way to keep your car clean and organized. You can watch the above video to learn the steps of installing one on top of your vehicle.
It is easy to install and can be used to store a variety of items, including sporting equipment, luggage, and holiday decorations.
The Sportrack cargo box is made from high-quality materials (ABS Plastic) and features durable construction. It is also aerodynamic, which helps to reduce wind noise and drag.
The cargo box is a great way to transport items from one place to another. It is also a great way to keep those items safe. The cargo box can be put on the roof of a car. This will allow the car to transport the cargo box and the items that are in it. There are a lot of different ways to get your stuff from one place to another. You can put it in the car, you can put it on a bike, you can carry it, or you can use a cargo box. Cargo boxes have been growing in popularity in recent years, and there are a few reasons for that.
The first reason is that they're incredibly versatile. They can be used for transporting anything from furniture to tools to groceries. They're also a great way to keep your stuff safe (rooftop cargo boxes are the most secure options on the market). The second reason is that they're easy to use. You just put them on your car's roof and attach them with the included clamps or straps, and you're good to go. Finally, cargo boxes are a great way to save money on gas. By carrying your stuff instead of driving with it, you can save fuel and reduce your carbon footprint.
If you're looking for a cargo box, there are a few things you need to keep in mind. The first is size. Make sure you get a cargo box that's the right size for your needs (we find the biggest cargo boxes). The second is weight capacity. Make sure the cargo box you choose can hold the weight of what you plan to put in it (you also need to follow the car roof loading limit to load the roof box). The third is material. There are a few different materials to choose from, but ABS plastic is typically the lightest and most durable option. (Sportrack Horizon is also available for consideration)
Once you've chosen a cargo box, there are a few things you need to know before using it. First, make sure you read the instructions carefully and follow them closely. Second, make sure the car's roof is strong enough (car roof loading limit) to support the weight of the cargo box. And finally, always use the included straps to secure the cargo box to the car. (some accessories for cargo boxes)
Most cargo boxes have a number of different locking mechanisms to keep the contents safe while the car is in transit. They can also be equipped with a number of different features, such as a built-in light (SportRack Vista doesn't have internal lights) or a weatherproof seal.
There are a few different ways to adjust the crossbars on a car roof. The first way is to remove the crossbars from the roof rack and re-install them in the desired position. The second way is to loosen the bolt or clamps that hold the crossbar in place, adjust the position of the crossbar, and then tighten the bolt again. The third way is to use the adjustment screws on the side of the roof rack to change the position of the crossbars. You can refer to another post to check the best position of cargo boxes on a car roof.
You cannot use the SportRack Vista roof box without crossbars, and you don't try to DIY a car roof holder for roof boxes because cargo boxes need crossbars to safely stay on top of your car, especially when it is in motion. There are more questions and answers that you may need to check before action. A well-organized beginner guide can help a lot, and you can find more cargo options there.
SportRack Vista XL Roof Cargo Boxes Gallery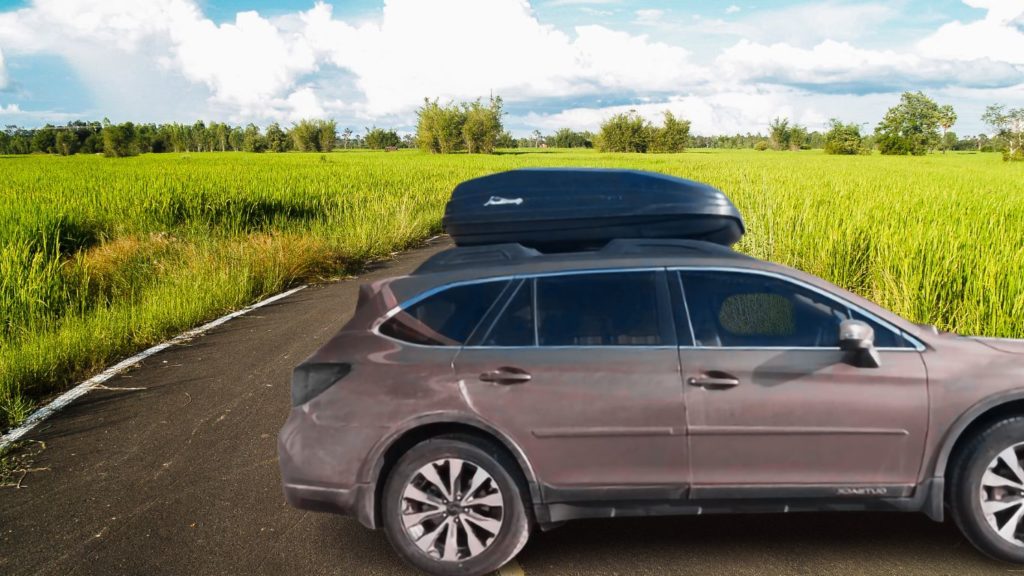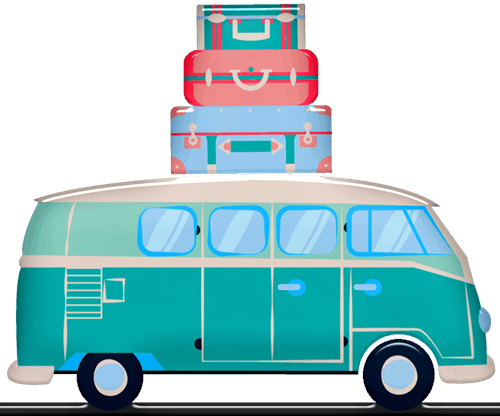 Our team is creating outdoor-gear relevant articles with passion. If our articles can help you to find the correct solutions for your questions, we will be happy about that. In the content creation process, we usually collect accurate and useful information online or offline to compile our content in an organized way. Consequently, we can guarantee that you can discover some expected answers to your questions. We appreciate your time on our site.
We are reader-supported. We get commissions for purchases made through links in this post, As an Amazon Associate we earn from qualifying purchases.