Last Updated on February 1, 2023
As we all know, on the markets, we can find many different brands and models of hardshell cargo boxes available for outdoorsy people. When you type "Yakima GrandTour Cargo box" on search engine sites, you must come with knowledge and confidence. You have prepared some information about using rooftop cargo carriers on your car for loading more luggage or gear. However, you still want to dig for extra practical tips and tricks about the Yakima GrandTour roof box before putting one in your shopping cart. We stand in your shoes to develop this article and provide even more to help your final decisions.
We start from zero because beginners may see this article.
Yakima GrandTour Premium Rooftop Cargo box Specifications:
| Image | Product | Weight | Capacity | Opening | Dimensions | Link |
| --- | --- | --- | --- | --- | --- | --- |
| | Yakima GrandTour 18 | 58lbs | 18 Cubic Feet | Dual Sides | 91 x 37 x 17 inches/231.14 x 93.98 x 43.18 cm | Check it Out on Amazon |
| | Yakima GrandTour 16 | 51lbs | 16 Cubic Feet | Dual Sides | 79 x 35 x 18 inches/200.66 x 88.99 x 45.72 cm | Check it Out on Amazon |
| | Yakima GrandTour Lo | 60lbs | 15 Cubic Feet | Dual Sides | 91 x 37 x 10 inches/231.14 x 93.98 x 25.4 cm | Check it Out On Amazon |
Detail of Three Models:
Yakima GrandTour 18
GrandTour 18 is the amplest option here. It provides 18 cubic feet of interior space for your outdoor equipment, and it is also the longest one which is perfect for skis or snowboards less than 215cm. However, its length may cause problems when opening the hatchback, especially on smaller vehicles. Consequently, you should adjust a car roof box's position when attaching it to the roof racks for zero interference with the opening tailgate and the antenna.
Yakima people give modern aerodynamic design and beautiful coating to GrandTour cargo boxes. Your car becomes eye-catching on the roads, and we believe the feeling is fantastic. The anti-UV finish makes the box easy to clean with these steps. If you want to use the automatic carwash service after installing a cargo box, you better read this article before doing it.
Yakima GrandTour 18 has a dual-side opening feature that allows people to load or unload items from both sides of the box. This feature offers convenience to outdoor people when they use the box to prepare for camping events or road trips. TIP: you should use the passenger side when using the box on the highways because of risks from coming traffic. The GrandTour cargo boxes have internal lid stiffeners that hold the lid when the cargo box is open, so your two hands are free for other jobs. After using the rooftop cargo box for a while, you better lubricate all the small components for future enjoyment (lid stiffeners, lock core). When you don't need the car roof box, you should offer it a better home in the garage for the best durability.
Yakima GrandTour cargo carriers come with SKS lock systems and inner straps for better protection and stability of your essentials. If you decide to make a cargo box safer, you can follow this guide to find extra strategies to secure a cargo box or other mountable cargo carriers. Do we have your attention here? We suggest you read an article about opening a locked car roof box without keys because you may lose the key someday.
GrandTour 18 works with most roof racks: round, square, aero, and factory crossbars. Of course, Yakima roof racks will bring better results, and we will talk about it soon. If you are new to the cargo management system, you need a clear understanding of the relationship between roof rails, crossbars, and roof racks.
For installation, it is an easy-to-follow process, and you can finish the job without a tool; however, you better invite someone to lift the box because of its body size. If you raise the cargo box alone, you may drop it and cause unwanted damage.
GrandTour 18 cargo box's dimensions are 91 x 37 x 17 inches (231.14 x 93.98 x 43.18 cm), and you can use the measurement to check its suitability for your situation. For example, if you want to load your golf clubs in a cargo box, you must ensure the length of the golf club is less than 231.14 cm or 91 inches.
GroundTour 18 can carry up to 165 pounds of items, and an empty box weighs 58 lbs. Yakima offers a lifetime limited warranty on its products, and you can contact customer service for requests on issues.
Yakima GrandTour 16
GrandTour 16 cargo boxes are shorter than GrandTour 18 boxes. GrandTour 16 is the most popular choice in its class.
Its dimensions are 79 x 35 x 18 inches (200.66 x 88.99 x 45.72 cm), and you can use these numbers to check if GrandTour fits your items. We don't recommend GrandTour 18 to smaller vehicles because of potential safety concerns, and smaller cars have less roof loading limit. Whatever how much luggage a cargo box is allowed to carry, you should always follow your vehicle's roof loading limit. Overloading a rooftop cargo box is strictly prohibited by most manufacturers.
GrandTour 16 provides 16 cubic feet of inner space for stowing luggage or gear, and you can utilize the interior space to load up to 165 pounds of belongings. If you want to use GrandTour 16 to carry long gear like skis or snowboards, you should ensure the equipment is not longer than 185 cm.
GrandTour 16 cargo boxes have the same features as GrandTour 18 boxes.
GrandTour Low-Profile
GrandTour Lo is the thinnest option in its class. We have a list of the thinnest cargo boxes for people who don't want to add too much height to their vehicles.
GrandTour Low-Profile cargo boxes' dimensions are 91 x 37 x 10 inches or 231.14 x 93.98 x 25.4 cm, and these numbers tell if the GrandTour is right for you.
GrandTour Low Profile roof box weighs 60 lbs, so you better lift it for installation with someone else. It allows a maximum length of 210 cm in it for transportation. A 165 pounds loading limit is also working on GrandTour Lo boxes. You can use the info table above to find a link and go to the Yakima official site to get one.
Yakima GrandTour Videos:
Yakima GrandTour Rooftop Cargo Boxes Gallery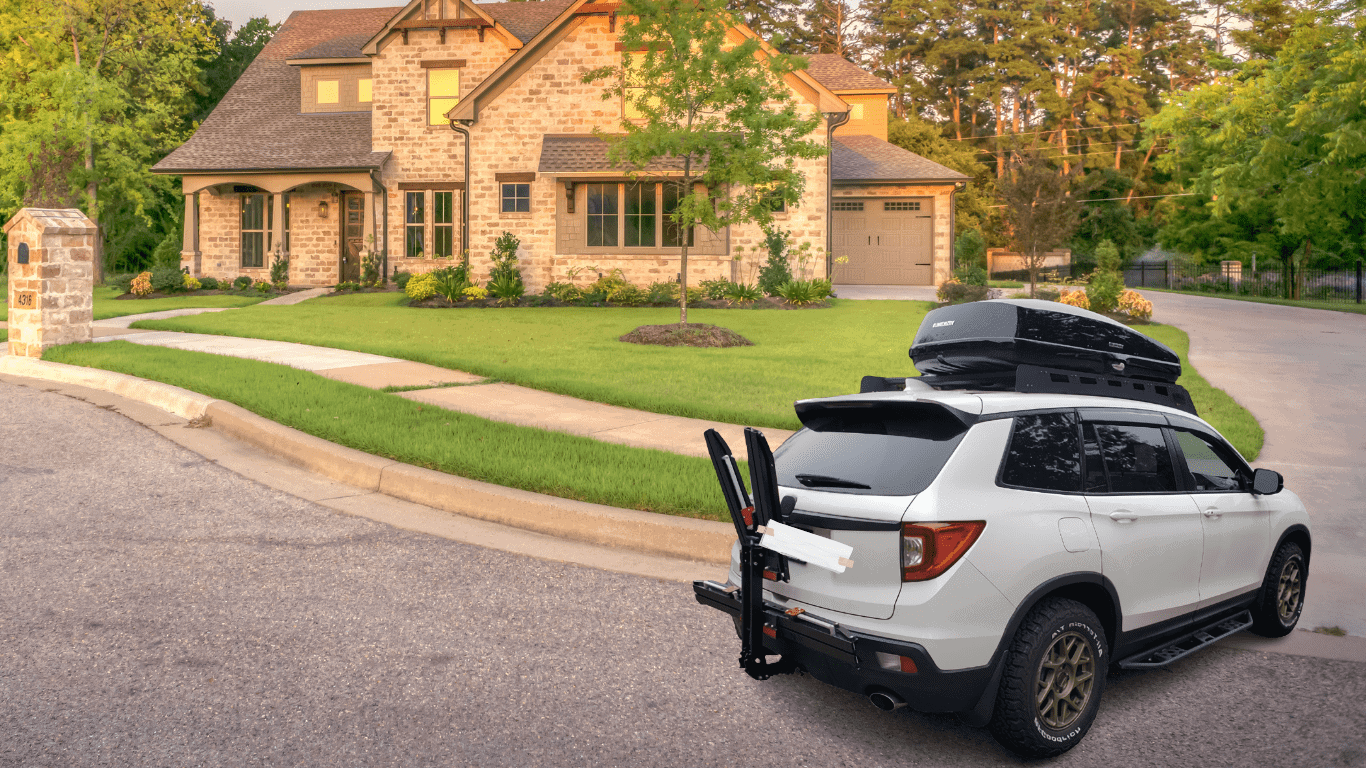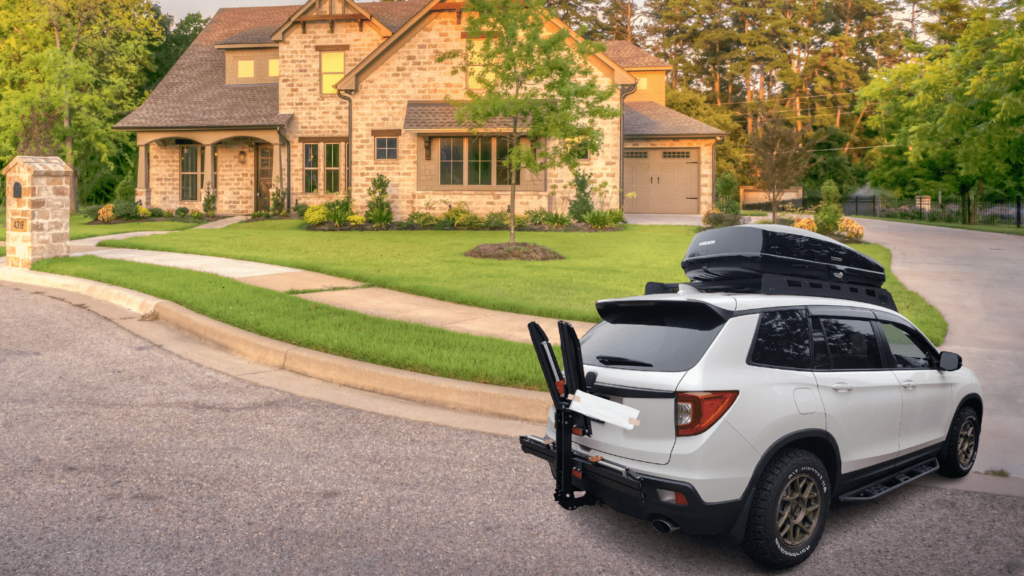 What we like:
Yakima GrandTour cargo boxes Offer straightforward installation for everyone. You can use four clamps to connect the cargo box with crossbars and rotate four nobs until the torque is enough for a successful installation. We don't know what you will do with a cargo box, but we know GrandTour 18 gives ample loading space for a family of four. We rate Yakima's customer service with five stars because Yakima offers a lifetime limited warranty on its products.
What we don't like:
An installed cargo box can make your vehicle higher than usual, so you must pay attention to the additional height when entering places like underground parking. You may have problems with the accessibility of your cargo box if your vehicle is high; however, we find a small device that can solve the issue without an unaffordable investment.
Conclusion
This article is for people who require extra information about the Yakima GrandTour cargo boxes. First, you see a general info table with the specifications of three models of GrandTour boxes. You can easily compare their dimensions and loading capacity to hunt for the most compatible option for your outdoor needs. Second, you may want to know more about the targeted model before putting it in the shopping cart. You can use section two to discover more knowledge and teach yourself the most accurate ways of using a cargo box. Finally, you can find some videos and photos which show you more detail about what a Yakima GrandTour cargo box looks like after installation.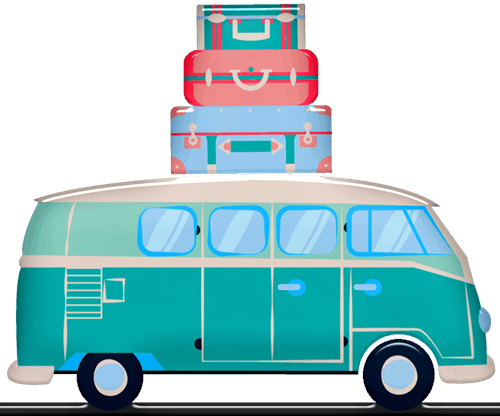 Our team is creating outdoor-gear relevant articles with passion. If our articles can help you to find the correct solutions for your questions, we will be happy about that. In the content creation process, we usually collect accurate and useful information online or offline to compile our content in an organized way. Consequently, we can guarantee that you can discover some expected answers to your questions. We appreciate your time on our site.
We are reader-supported. We get commissions for purchases made through links in this post, As an Amazon Associate we earn from qualifying purchases.