Last Updated on November 22, 2022
Are you looking for Cargo Boxes for Golf Clubs? You will find it in this article. If you are reading this article, you might have a car and have a habit of golfing on your holidays.
Playing golf on a sunshine morning is a fantastic way to relax your body and spirit, and playing golf with friends is an effective way to enhance your relationships. However, are you still loading your golf gear into your trunk or on the back-site of your car? When you have companions or a full trunk of items, how to put your golf clubs in the car?
Is there a better way to carry your golf clubs without occupying the trunk or passenger seats? The answer is yes, and you are about to find it in this article.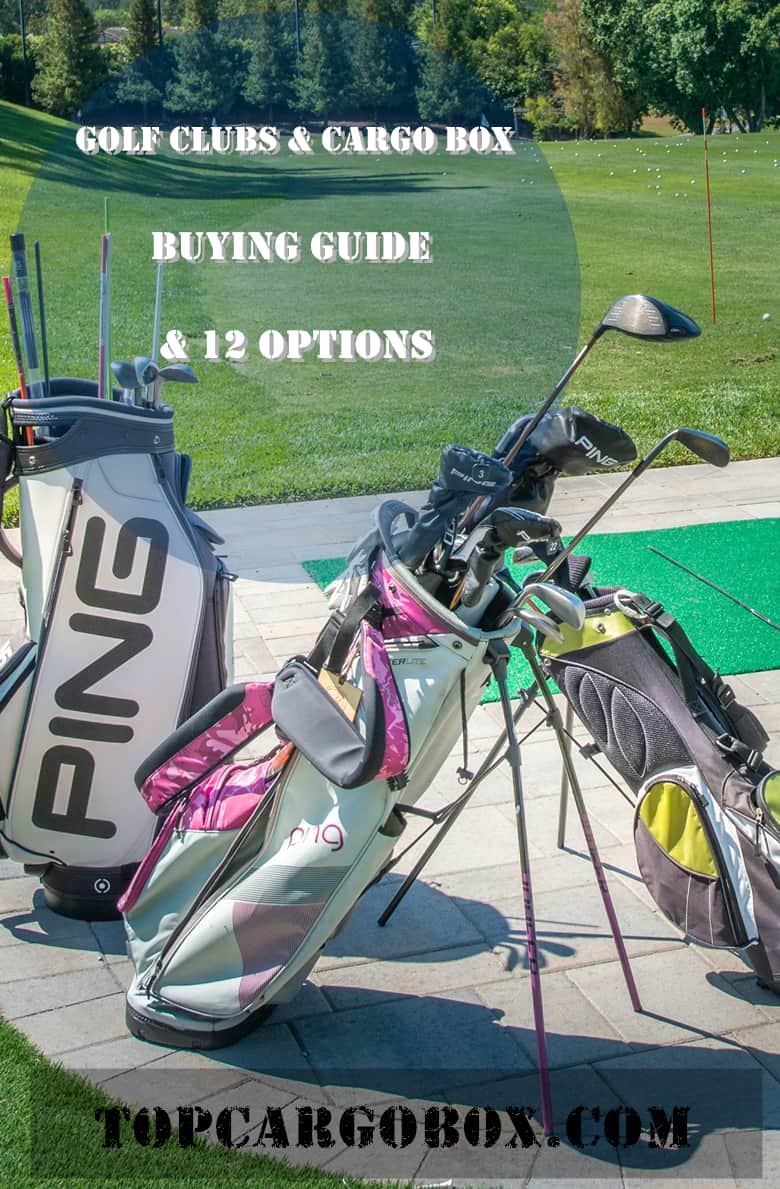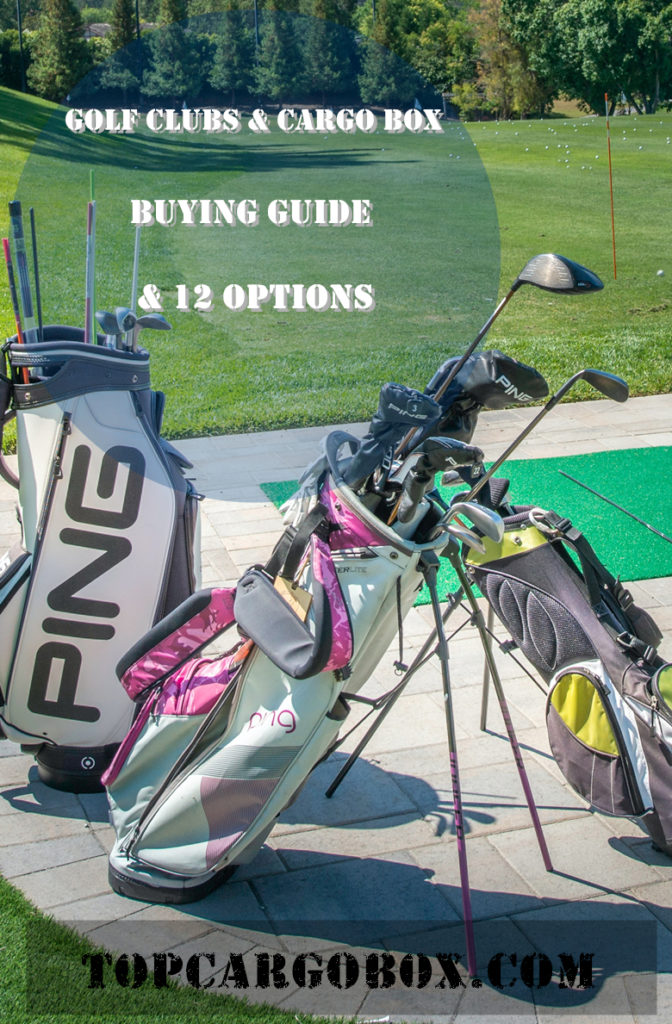 A cargo box has the features to help you get rid of the above problems. You can assemble a cargo box on the top of your car, and you can load your golf clubs into the box when you want to enjoy the happiness of golfing without a mass hatchback of your vehicle.
A cargo box will not only provides you with extra space but also create many conveniences in your life. According to what we have discussed in other articles, modern high-tech materials and aerodynamic designs offer many advanced features to current cargo carriers on the market.
Below, we will create a list that contains the most suitable cargo boxes for golf gear for you to choose from and compare around to figure out your final decisions.
A list of universal roof racks for all vehicles: You may need a roof rack system (a set of crossbars) to mount a cargo box or other rooftop carriers.
Related Topics: A list of roof racks (crossbars) for cars with bare roofs to use rooftop cargo carriers without roof rails.
Quick-Pick list of Cargo Boxes for Golf Players
---
---
---
---
---
---
---
---
---
---
---
---
---
Related Topic: A list of skinny, thin, and low profile roof boxes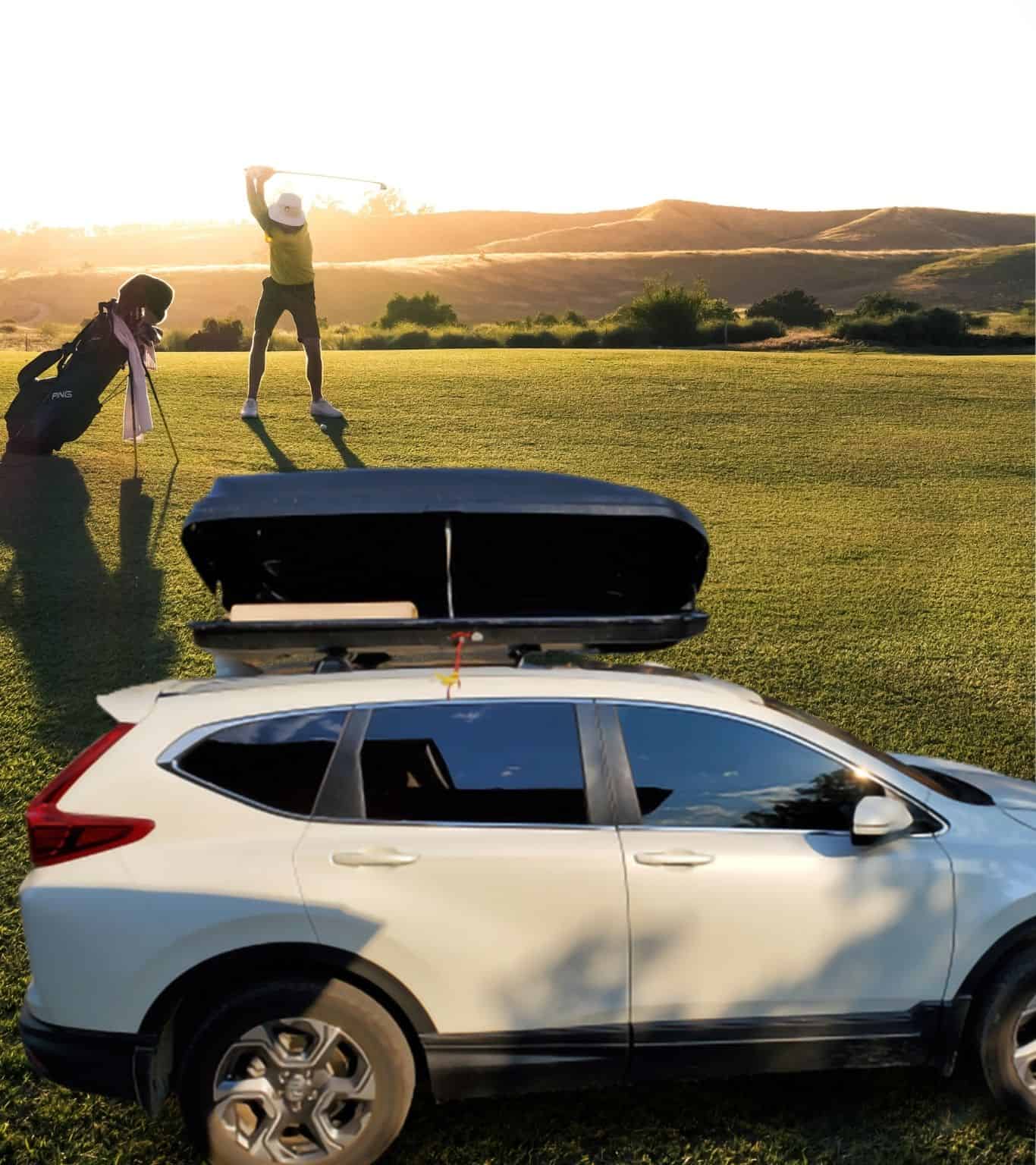 Details about Roof Boxes for your Golf Clubs
INNO Wedge Plus Cargo Box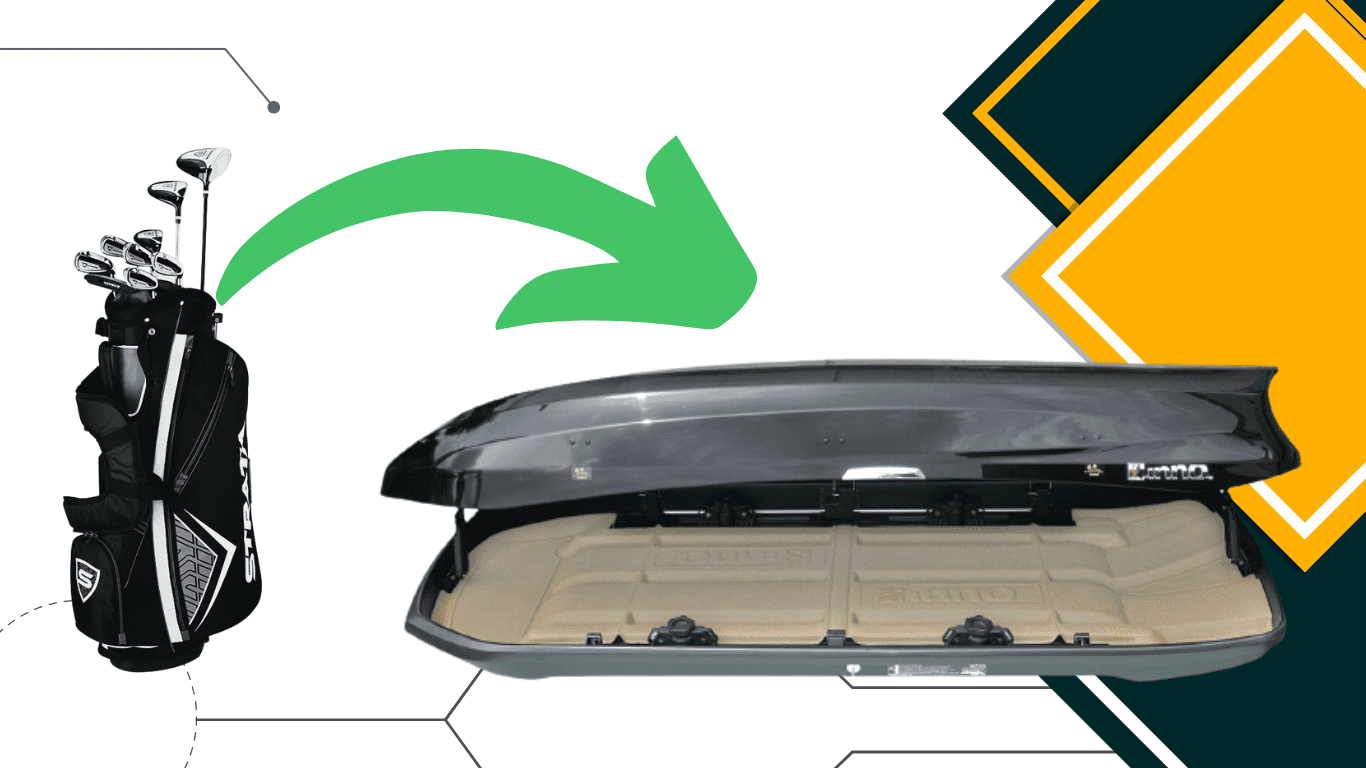 INNO wedge plus cargo box is the first recommendation in this article for your golf clubs. It has a rugged, high-gloss black surface to offer extra security to your gears, and it also has an internal mat to further protect your items from bumping when the roof box is in motion.
INNO Wedge Plus Cargo Box is designed for winter sports such as skiing, so it can easily carry four to six pairs of skis or five snowboards in its ample internal space without a problem.
Its aesthetic and aerodynamic design improve the reduction of wind noise on the highways; it also has no impact on gas mileage. Thus, you will not hear too much noise while you drive at high-speed on the roads, and you will not spend extra money on gas to carry a cargo box in your daily life.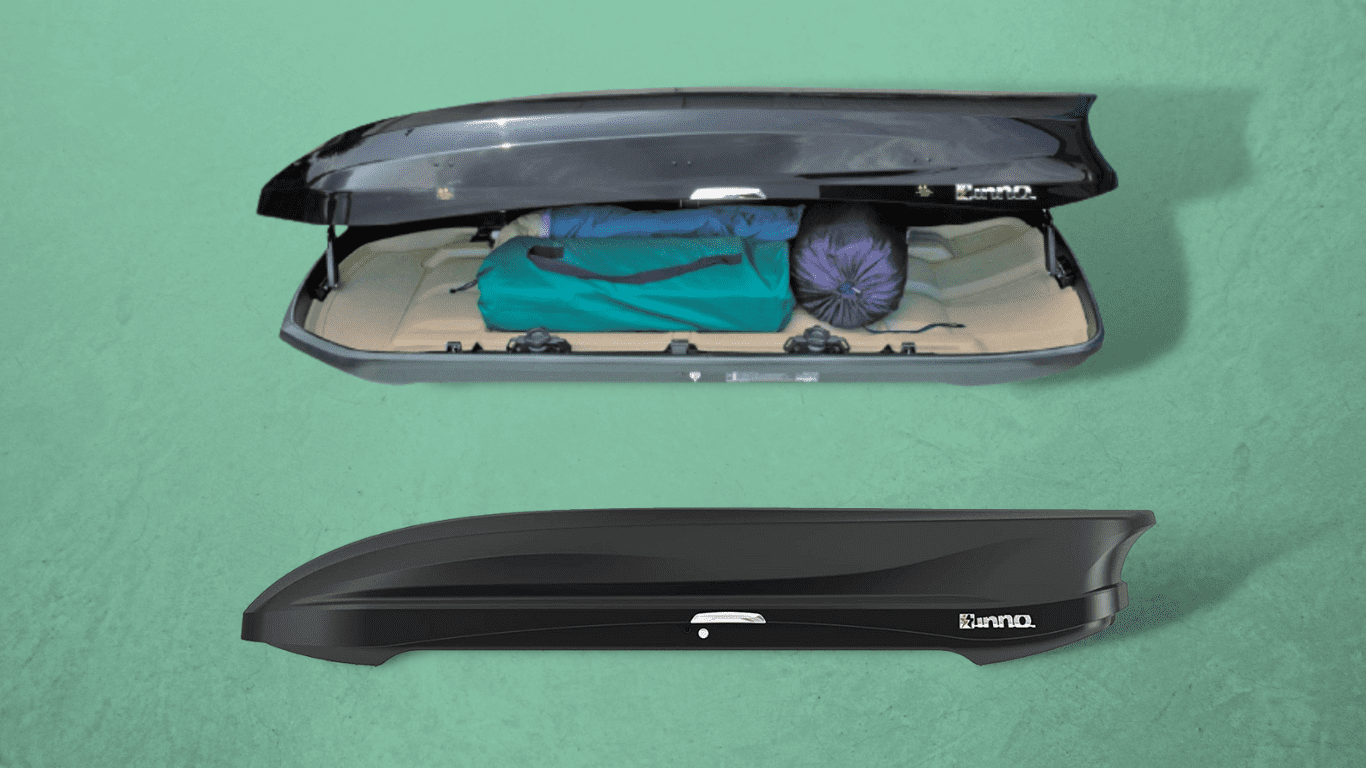 Are you wondering how hard the installation is? Its installation method is simple, and we are sure that you won't have trouble with it. The memorial mounting system creates more convenience for the assembling process.
It can open from both sides, and you can use the passenger side when you take something out on the highways. When you are at home or in a parking square, using two sides for loading can be comfortable and easy.
There is no interference between it and your car's hatchback, so you won't have a problem opening your hatchback when you have a cargo box installed.
Aerodynamic design
Easy installation
Memorial Mounting system
Internal mat
---
Pro-Series Bullet Cargo Box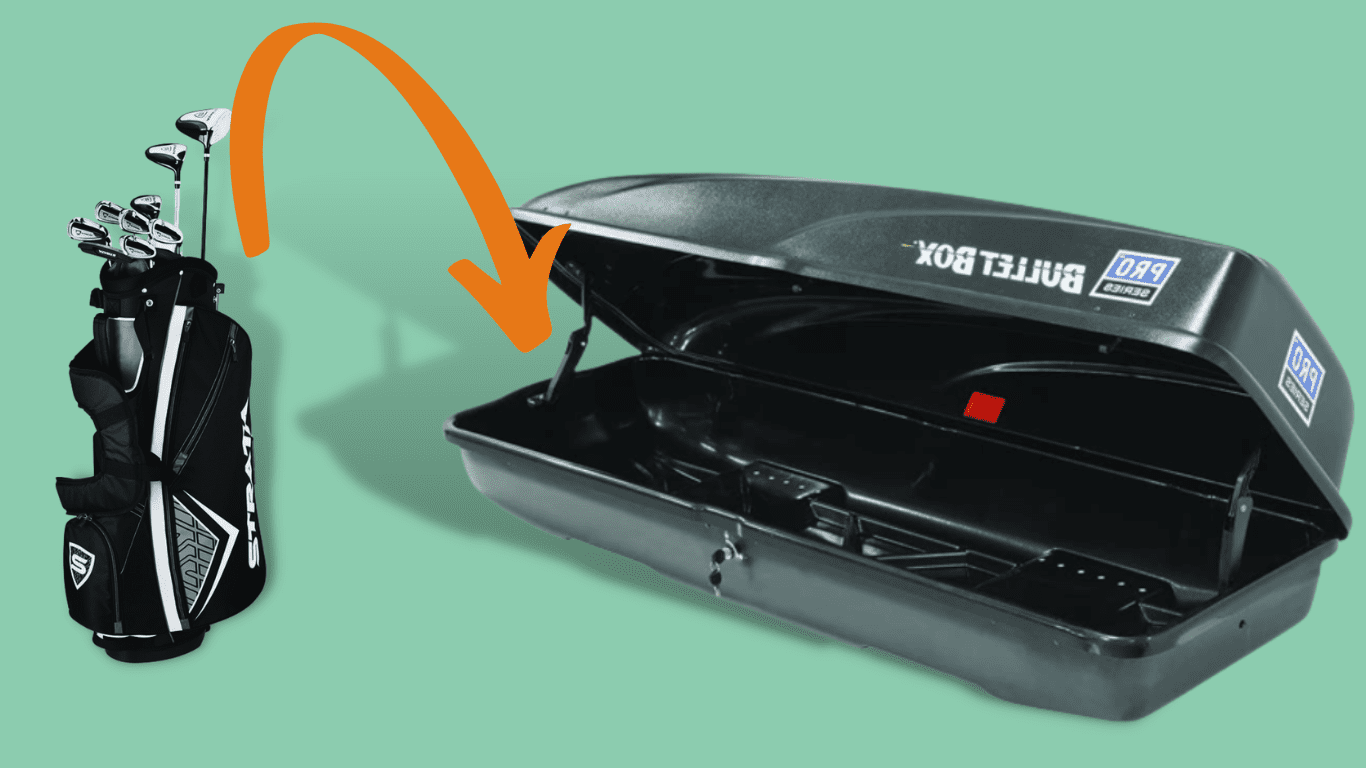 It is another advanced hard-shell cargo box for golf players, but the Pro-series Bullet Box is not only for golf clubs. You can load your camping gear (camping tent) in it for summer family outdoor adventures.
The 13 cubic feet inner room creates ample stowing space for your golf clubs, and it is even large enough for two to four sets of golf clubs. You can go to the golf ground with friends or families without a struggle for storage space. The cargo box allows you to carry up to 110 pounds of items, so two to four sets of golf clubs are a piece of cake for it.
The high-tach plastic ABS materials offer waterproof, durable, and sturdy characteristics, so your gears will not be wet or damaged after a long road trip.
When you pack your golf gears into it, the hinges help you hold up the lid to prevent a sudden drop.
The U-bolt mounting system can work on most factory racks, so there is no trouble finding a suitable rack system for the Pro-series Bullet Cargo box. If your car roof is bare, you can use one of these roof bars without roof rails.
Furthermore, this roof box is pre-assembled in its package, and you won't struggle with the installation of it at all. You take the roof box out of the package before using the U-belt to assemble it on the top of your car. You can do it alone without a tool, but it is better to lift it with two people.
---
Thule Sidekick Cargo Box
We should thank the Thule company for producing it, and it helps us transport our belongings without occupying the room of the trunk.
The Smaller size of this cargo box allows you to assemble it on one side of your roof rack and provide spare space for installing other cargo carriers. You can easily stow your golf clubs into the roof box from the passenger side.
The 75 pounds is the loading weight limit, but it's enough for several sets of golf clubs.
Storage – 8 cubic feet or up to 110lbs of cargo per box- allows you to carry not only golf-gears but also other luggage or equipment.
Length (in) – 54″- Small and long enough to carry your golf bags.
Width (in) – 25″ – wide enough to cover several bags of golf bags.
Height (in) – 15.5″ – it is high enough to lock your golf-bags inside of the box.
Weight (lbs) – 16 pounds – it is light enough to allow one person to carry it up with one hand.
Mounting System – U-bolt – Easy installation is for everyone.
Box Opening – Single side – You won't put yourself in danger when you use it on the highways.
Locking System – Dual side lock/lock bracket system – added security to your belongings.
Capacity – Carries up to 2 sets of golf clubs (not compatible with skis or snowboards)
Its installation process is comparatively more complicated than other roof boxes', but it is relatively simple as it should be. If you are wondering how to do the installation of it, you can read the installation guide.
Related Topic: the best position of a roof box
Two locks ensure that your content will be secure when you drive on the roads or are away from your vehicle.
---
SportRack Horizon Cargo Box
When you use it to carry your golf clubs, you will feel relaxed and comfortable because of its ample inner room.
The high-tech ABS materials build its rugged construction, so your belongings and gears are highly protected during your road journeys.
The easy-use mounting system allows you to assemble it to the rack bars in minutes without a tool or other's assistance. However, we recommend you lift it with someone else because it is a large box.
You only can open this roof box from the passenger side, so you have no chance to put yourself in danger on the highways while you are loading or unloading your golf clubs.
You can tie your golf clubs with a belt to the cargo box's inner bottom to prevent their movement on the roads due to the vibrations.
The lid-lifter helps you hold the lid when you are using the roof box, and the lid-lifter releases your hands from supporting it and prevents a sudden drop of the cover lid.
---
Yakima RocketBox Pro 12 Box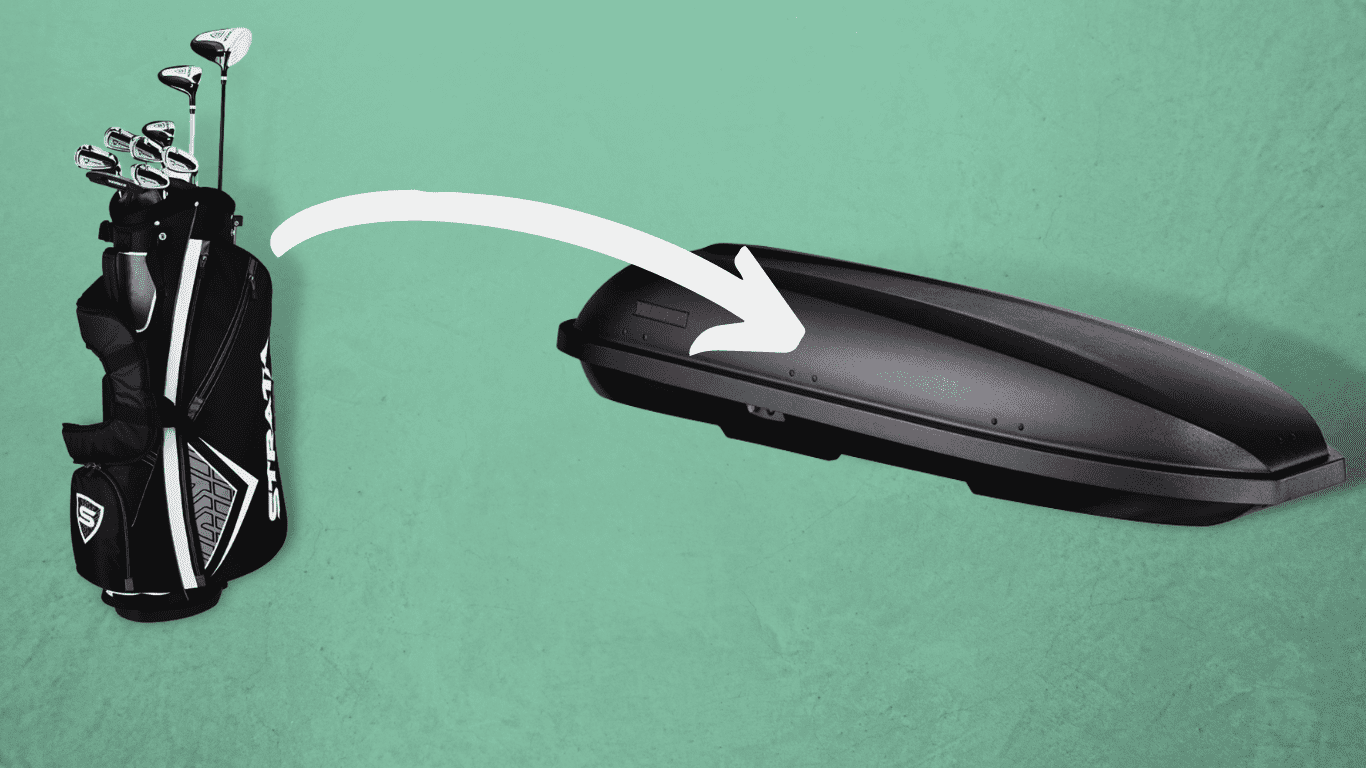 Yakima has a RocketBox cargo box for your golf clubs. This roof box can install on most factory rack systems, and the installation of the RocketBox cargo box is pretty easy without a tool.
Yakima RocketBox cargo box also has an aerodynamic design to reduce both the power of dragging of wind and the wind noise.
Its size is perfect for smaller sedans and SUVs, but it can only carry luggage for a small family in its 12 cubic feet inner room.
Yakima offers a lifelong warranty on its roof boxes, so you will be satisfied with responsible customer services after you have purchased it.
The SKS lock system offers added security, and a push-button design, which besides the lock, adds more protection to the roof box.
Its perfect size ensures that there is no interference between it and the hatchback, and, for your golf clubs, it is the right option.
The high-tech plastic material offers durable and waterproof advantages to the RocketBox Pro 12.
It is 39.4 pounds, so you might need help to carry it up for installation. When you install it to your crossbars, you can adjust its position to make sure you can fully open your hatchback. You have to make sure that the cargo box is sitting correctly on your car roof. Otherwise, you will create a severe problem for both you and your vehicle. Thus, you better double-check if the cargo box is right in position, and you can test the interference between your roof box and the hatchback of your car to ensure that you can fully open the car trunk.
Dual-sided opening
Push-button security
SKS lock cores
Quick-dial mounting hardware
Improved hatch clearance
---
Yakima Skybox Carbonite Cargo Box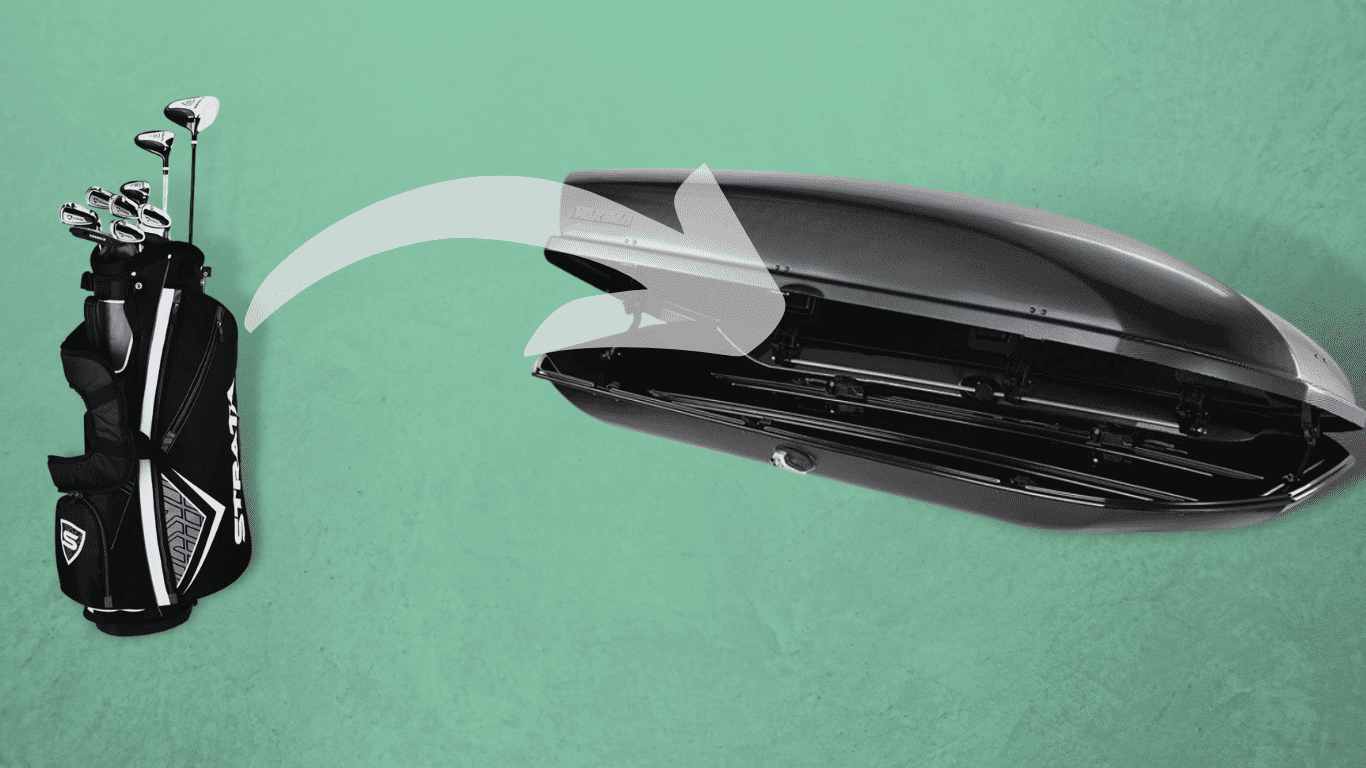 Yakima Skybox Carbonite Cargo box is suitable for cars, wagons, and SUVs; it has 12 cubic feet of inner room for your golf clubs. Moreover, it has variable sizes from 16 cubic feet, 18 cubic feet to 21 cubic feet, and the lo sizes.
You can choose a cargo box that matches the lengths of your golf bags or clubs.
The quick-release mounting hardware creates extra convenience for the installation process, and it is working with the Yakima round, square, and most factory and aerodynamic crossbars.
Its high-glossy and aerodynamic design reduces wind noise and has no impact on the gas mileage; also, the roof box has no interference with your hatchback. Thus, You will not have trouble when you want to load or unload your golf clubs.
You can pack your golf clubs from both sides which ensures you can easily reach your gears when you want them in your hands.
An SKS lock system offers added security to your content. Furthermore, the internal lid stiffeners hold the lid when the cargo box is in use; besides, the SuperLatch ensures that your gears will be safe on your golf journeys.
---
Thule 615 Pulse Rack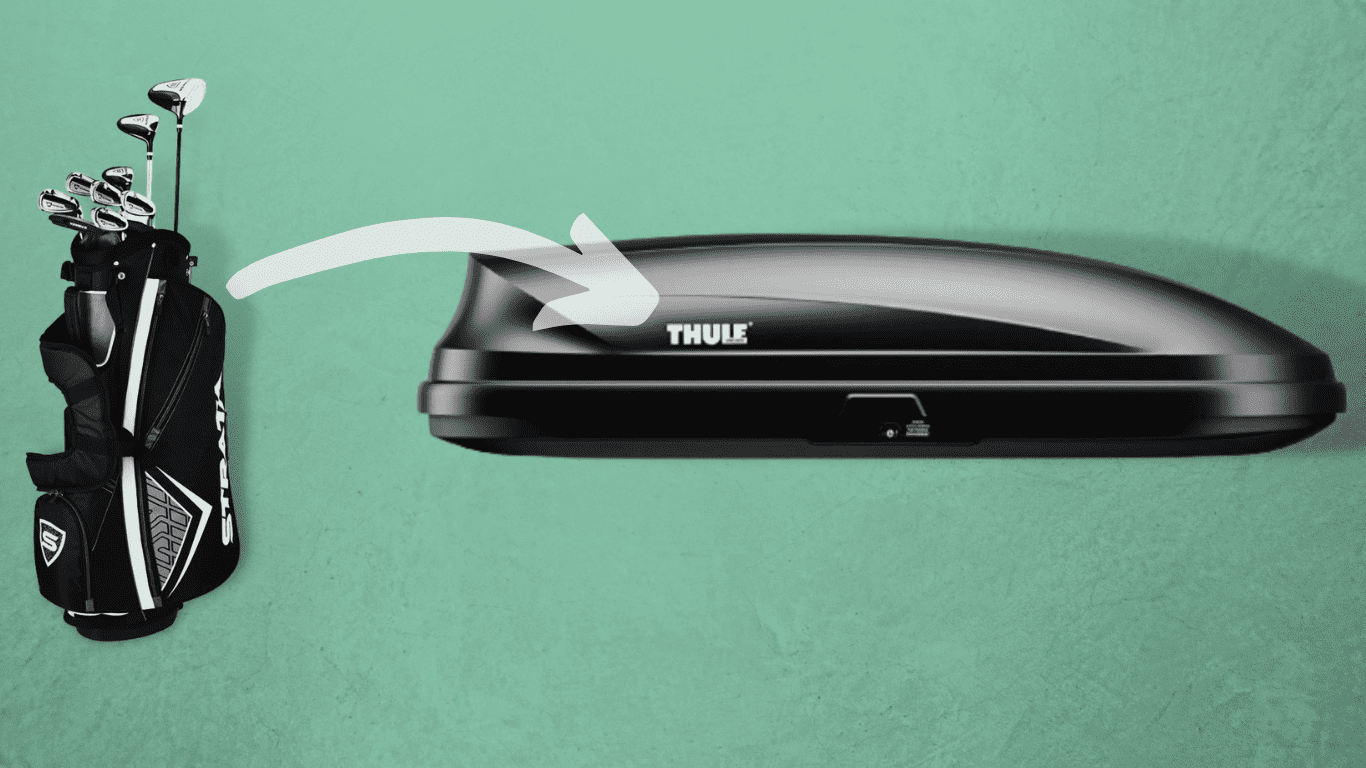 The Thule 615 cargo box is a choice for a taller golfer because of its high and long inner space. A taller golfer might have longer clubs, so the Thule 615 is designed for special needs.
Its sufficient length is one advantage; the ample inner room is another outstanding benefit of the Thule 615 Pulse. You can use it to transport golf clubs and other luggage on your golfing journeys to maximize enjoyment and convenience.
The Thule 615 cargo box offers a central locking system, ABS Plastic constructions, easy-grip mounting hardware, and an aerodynamic design to ensure that your belongings are secure in it and you will not bear the wind noise on the highway.
When you use the key to close the roof box after loading or unloading, you can remove it only if the lock has fully functioned; otherwise, you cannot pull it out. As a result, you will not have an open roof box while your car is in motion on the highways.
You can store three to four golf clubs in the cargo box's maple inner space, so you can invite your friends to go with you to enjoy a golfing time without having a problem loading your gears.
---
INNO Wedge Rooftop Cargo Box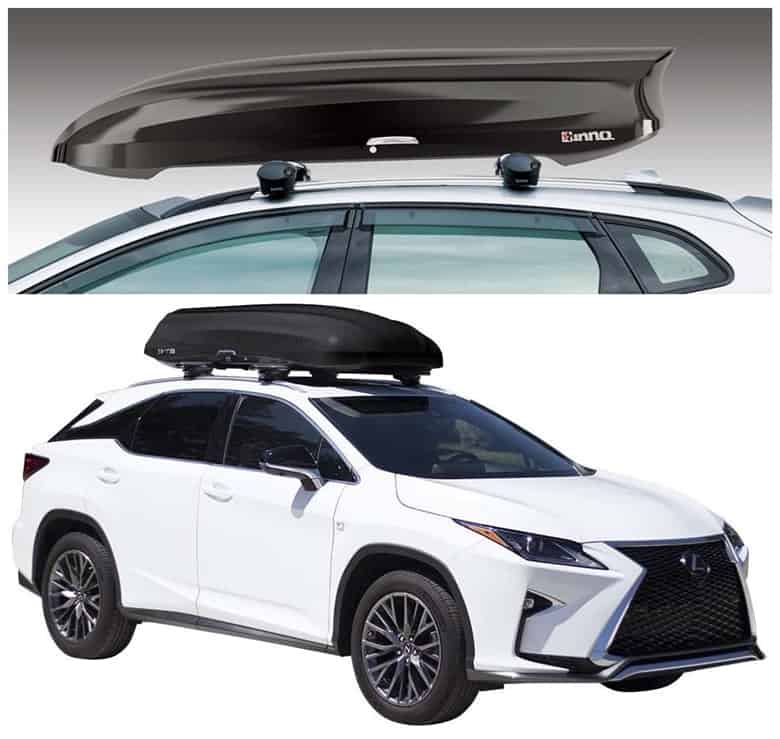 It fits most factory racks, and it has easy installation and dual-opening features to provide conveniences for you.
An advanced track system allows you to adjust the cargo box forward or backward to create zero interference between it and the hatchback.
A complete guide of INNO roof cargo boxes
A high-tech lock system only allows you to pull the key out when you have fully closed the roof box.
A 14 cubic feet inner space is enough for several golf clubs and other items, so you can bring everything you need to enjoy a wonderful golfing day with your friends.
There are two color options for it: black and white. You can choose the color which is matching to your vehicle.
---
SportRack Horizon Cargo Box

SportRack is a famous manufacturing company of cargo management products in the United States. The Horizon cargo box is the best-seller among SportRack's merchandise because of its high-quality and advanced ABS material constructions.
It is durable, sturdy, and waterproof, so you do need to worry that your golf clubs get wet or damaged after a long way trip.
It has 11 cubic feet of inner space to hold your gears, and the ABS materials add extra security to your belongings. It is suitable for winter sports such as skiing, but it is also perfect for carrying your golf clubs.
It can carry 3-5 pairs of skis or 2 to 3 snowboards. Its dimensions are the length of 88.4″ width 20.7″ height 15.9″, so you can use the number to measure if it is suitable to carry your golf clubs or bags.
There are three different sizes of the SportRack Horizon cargo boxes: Alpine, large and extra-large. You can choose one that fits your needs for golfing.
The passenger side opening of it protects you from potential risks from the coming traffic on the highways. You have to step to the passenger side instead of opening it on the driver-side to avoid the risks from coming traffic on the roads.
We have to mention its easy installation, and the package of this product includes the quick-release attachment kit that ensures you can assemble it with your bare hands.
---
Goplus Cargo Box
We are confident to introduce to you another popular cargo carrier that comes from the Goplus company.
It works on most factory racks, and it's easy to assemble or remove in minutes.
A 14 cubic feet inner room is sufficient for your golf clubs.
The heavy-duty materials support it to withstand bad weather and heavy jobs, so carrying several golf clubs and other accessories is a piece of cake for it.
ABS and PC materials offer durable, waterproof, and sturdy characteristics to the Goplus cargo boxes; they can carry up to 165 pounds of items without a problem.
The aerodynamic design ensures that the roof box will not create much wind noise on the highways and that the roof box has no impact on your gas mileage.
When you want to use it for golfing time, you can install it alone without a tool in minutes; the roof box weighs 25 pounds.
---
Thule Force Cargo Box
You can install the Thule Force cargo box in minutes without a tool. The crossbars hold it on the roof of your car to carry extra items for your golfing holidays.
Its high-glossy, diamond-textured surface and aerodynamic shape reduce the wind noise and have no impact on your gas mileage.
You can easily access both sides of it when you need to open it.
An advanced lock system helps you to ensure that your belongings are safe, secure, and dry.
There are indication icons around the lock to notify you which side of the key-turning is locked or unlocked.
The Quick-Grip mounting system is simple to operate without a tool, and you can do the job in minutes alone.
Its appearance is attractive on the streets, and the color of it is matching to most sedans, SUVs, or wagons.
---
Thule 613 Pulse Cargo Box
It is an option for you to carry your golf clubs in your city. You can use this roof box to haul not only your golf clubs but also skis, snowboards, luggage, or everyday essentials.
An 11 cubic feet interior capacity allows you to carry several golf clubs without trouble. The rugged ABS plastic material offers durable, waterproof, and bad-weather resistance characteristics to the roof box;
you only can open this cargo box on the passenger side, so you won't have potential risks when you want to use it on the highways.
Thule Pulse cargo boxes are designed for effortless use on most rack systems. It is also compatible with Thule rack systems, round bars, and most factory racks.
A complete guide to the Thule 613 Pulse cargo box
---
Menabo Quasar Cargo Rooftop Luggage Carrier
Menabo is an Italian brand that has a well-spread reputation among outdoor enthusiasts. If you have a tide budget, you can use the Menabo Quasar cargo box as the added storage space on top of your vehicle for carrying golf clubs between your favorite golfing grounds.
The manufacturer uses ABS materials to build the Menabo Quasar, and it is super light and sturdy. It weighs 26 pounds, and you can lift it alone for installation, but not recommended. You better ask someone else to help you heft the box and put it in position to ensure the most accurate installation process and the best results.
The Menabo Quasar's loading limit is 50 kg or 110 lbs, so you can follow this limit to pack the box safely. It opens on the right side (passenger side), and you can stay away from traffic when using the roof box on the sides of highways.
The Menabo QUASAR roof box works with crossbars only, and it fits most factory, round, square, and aero bars. If your vehicle's roof is bare, you can use cargo bags instead.
---
Conclusion
In this article, we list twelve cargo boxes for your golf clubs. If you still wonder what type of cargo boxes fit your vehicle, you can read our buying guides to choose cargo boxes for your car.
If you are new to cargo boxes, you need to know more than what you have read in this article. Consequently, you can go to the beginner guide to learn much more useful info about cargo boxes.
For example, you will know tips for choosing a cargo box, ways of cleaning a roof box, info about the sizes of cargo boxes, knowledge of storing your cargo box, methods of transport your skis or snowboards, reasons for using a cargo box, usages of cargo boxes, and the steps of installing a cargo box and much more.
There is no definitive answer as to whether or not you can use a roof cargo box to transport your golf clubs. It depends on the size and type of cargo box you have, as well as the make and model of your car. Generally speaking, if your car has a roof rack, you should be able to use a cargo box. However, it is always best to check with the manufacturer of your car and/or cargo box to be sure.