Last Updated on November 22, 2022
What is a cargo box? A cargo box is a box-shaped container that can assemble on the top of your Acura MDX to create extra hauling space for your belongings or luggage.
Why you need one? If are you planning to take a road journey with your family or friends, then you might need a roof box to carry your luggage and camping equipment. 
Cargo-boxes are expensive on the market? No, the price range of them is between $300 to $700. Cargo boxes' price is different because of their different quality levels, materials, sizes, and features. If you are looking for something even cheaper but can do the same job as cargo boxes do, cargo bags might be the option for you.
Related Topic: Do you need roof racks for a roof bag?
Your Acura MDX works with many different cargo boxes, but today, we only list the most high-quality and most-wanted ones.
Before you start to take a look at which cargo boxes are suitable for Acura MDX, you have to know that there are several must-check info about cargo boxes.
Measurement: the length, width, and height of the cargo box
Box Opening: single-side opening or dual-side opening
Capacity: how much luggage can the cargo box carry for you
Lock System: the lock system's quality decides how secure your content will be on the way
Waterproof: the waterproof materials prevent your belongings from getting wet after a long way trip
Material: waterproof, sturdy, long-lasting, and UV-resistant are must-have attributes
Mounting System: hardware that uses to grab your cargo box in position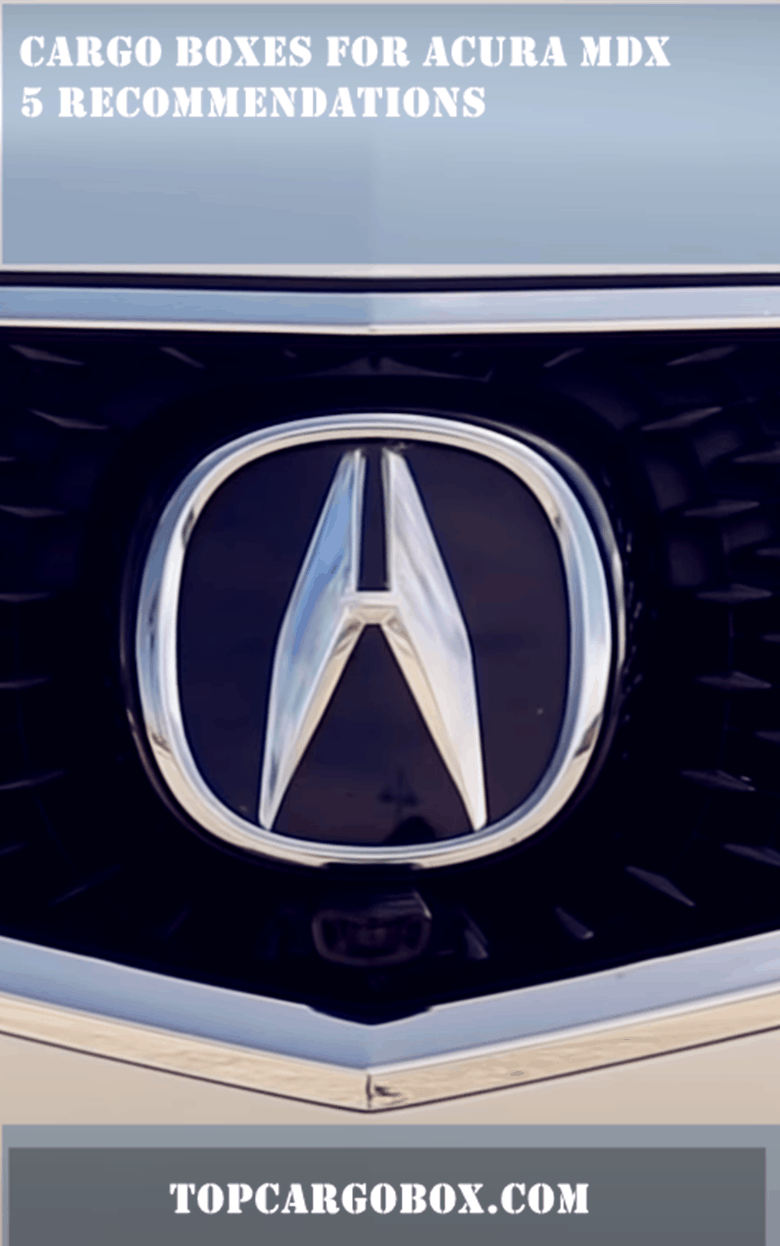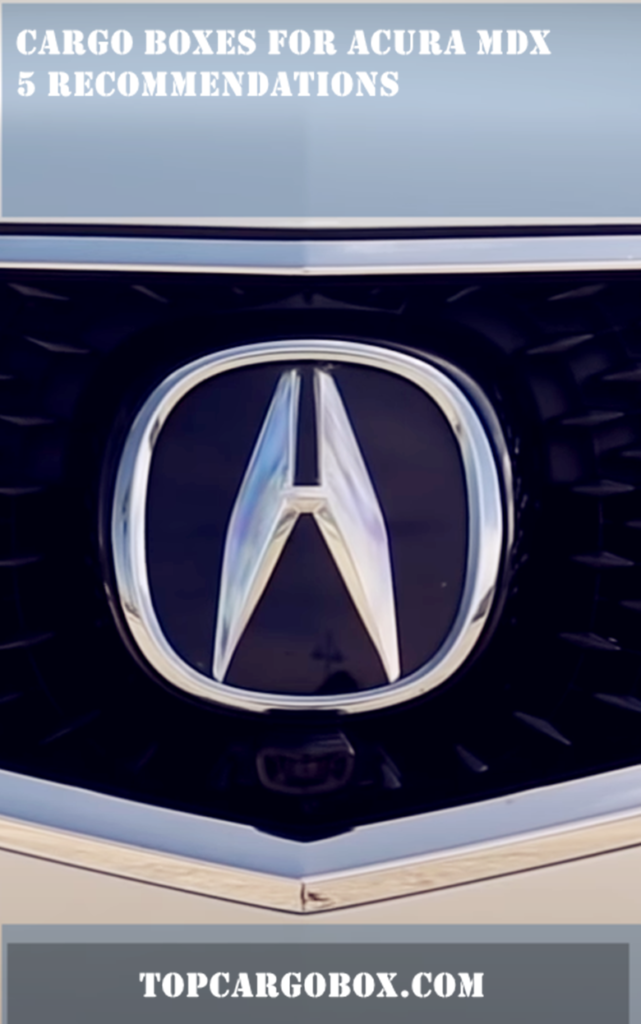 ---
Acura MDX Roof Racks
If you want to find roof racks for your Acura MDX, we recommend contacting your local auto dealer to get one; besides, you also can find one on Amazon or Ebay. We have a list of 8 universal fitting roof racks for all vehicles, so you can check them out when you have an interest. (Check compatibility first)
A list of universal roof racks for all vehicles – you can use any of these racks to build a cargo management system on your Acura MDX – contact the local auto dealer for a compatibility check
---
---
Quick-Pick List of Cargo Boxes For Acura MDX
---
5 best cargo boxes for your Acura MDX
---
5 Cargo Bags For Consideration
---
A list of cargo baskets for all SUVs, Sedans, Vans, Trucks, and your Acura MDX – Cargo baskets are not like cargo boxes that can be locked for security, and baskets are less secure because they are open to the air. You can use a set of cargo nets to stabilize the items on a rooftop cargo basket, but these items must be waterproof. Most people use a cargo basket as a platform to mount other cargo carriers on it like roof boxes and bags.
Details about Cargo Boxes For Acura MDX
Thule Motion XT Rooftop Cargo Box
When you first look at it, you will find that its external dimensions are 91.5 x 37.5 x 18 inches and its internal dimensions are 84.5 x 33 x 16 inches. Its size is perfect for your Acura MDX, so it accurately fits on your crossbars.
It has 22 cubic feet of internal space that allows you to carry your belongings for a road trip or other outdoor adventures. How large are 22 cubic feet? The 22 cubic feet room can load up to 165 pounds without a problem. Besides, its weight is only 55 pounds, and you can lift it with only one hand when it is empty.
Thule Motion XT Car Rooftop Cargo Boxes Buyer Guide
If you are a fan of skiing, you probably will fall in love with the Thule Motion XT Rooftop Cargo box because it can transport Five to Seven pairs of skis or Three to Five snowboards to your favorite skiing grounds.
The aerodynamic, high-glossy, and ABS-made construction offers it durable, waterproof, quiet-in-motion, and sturdy characteristics. When you carry many belongings with it for a road journey, you are hassle-free from wet items, broken items, wind noise, and extra gas costs with the Thule Motion roof box.
When you have it on top of your Acura MDX, you can open it from both sides. As a result, when you park on the roads, you can only use the passenger side to open the cargo box without putting yourself at risk of coming traffic. When you finish using it, you can close it with a "click" sound that ensures your roof box is fully and securely closed.
Furthermore, there are four sizes available: Alpine, L, XL, and XXL-fits extra-large vehicle and needs.
---
INNO Wedge Rooftop Cargo Box
It is another choice for your Acura MDX. It can install or assemble on most of the factory racks, so you do not need to search for the specific rack system to fit both your Acura MDX and the INNO cargo box.
INNO cargo box also opens from both sides to reduce the use-risks on the highways.
What makes the INNO cargo box outstanding on the market? An adjustable mounting system is unique. You can adjust the position of it backward or forward by sliding it on the rack system. This function provides you with clearance between the cargo box and your car's hatchback.
It has a smart lock system that ensures you will not leave the roof box without a fully-closed lock system. The lock sounds like a "click" to notify you that the roof box is fully locked, and the lock system does not allow you to pull the key out when the lock is not securely functioning.
---
INNO Shadow Rooftop Cargo Box
It is another Cargo box from INNO, and it is also a choice for your Acura MDX; there is a video on the seller page. Why it is so popular on the market? INNO company has 30 years of experience in producing professional sports gear and camping-related merchandise, so its products stand at the top line on the market with lots of positive feedback from real customers.
It has two color options: glossy black and matte black. It is 42 lbs in weight, and it has 11 cubic feet of inner room with a high-quality lock system. 
It fits most factory rack systems; it also provides its users with a both-side opening feature to create convenience and safety when the users use it in a parking ground or on the roads.
The INNO Shadow roof box is comparatively small to other brand cargo boxes for your Acura MDX. Thus, if you need to carry lots of belongings for your family or friends, you can choose a larger roof box to fit your needs.
ABS-made three layers construction makes it durable, sturdy, and waterproof. Also, the aerodynamic design reduces wind noise and has no impact on gas mileage. You can put six to eight skis or four snowboards inside of it without a problem. 
There is also a five-year warranty for it from INNO after your purchase.
---
Thule Pulse Cargo Box
Thule offers you another cargo box for your Acura MDX, and it has 16 cubic feet of internal space for stowing. A 16 cubic feet storage space can carry up to 110 lbs of items for your road trips, and it weighs 30 lbs on itself. 
There are three sizes in the Thule Pulse series: Pulse Alpine, Pulse Medium, and Pulse Large.
Your Acura MDX can use the Pulse Large as its car-roof addon. The cargo box can carry SIX to EIGHT pairs of skis or THREE to FOUR snowboards within its limitation of length 181cm.
Thule Pulse Cargo Boxes Buyer Guide
If you have a small family or you often go road-travel on your own, you can choose the Pulse Medium or Pulse Alpine model for your needs.
We found the Comparison chart Manual, user manual part 1, user manual part 2, and Application guide for you.
In general, Thule products are trustable from high-quality constructions and responsible customer services. They fit most factory rack systems and other aerodynamic, square, and round crossbars.
Also, ABS plastic construction is the foundation of the Thule cargo boxes.
---
Car Top Cargo Rooftop Cargo Box
It is another choice for your Acura MDX.
It has 18 cubic feet of harling space to transport your luggage on your road trips, and the weight limit of this roof box is around 110 lbs with its 38 pounds weight on its own.
According to its users, they can put three 21 inches of carry-on luggage and four medium-sized duffel bags in it without a problem.
The lid-lifter helps you to hold the lid when it is in use. Besides, its aerodynamic design eliminates the wind noise on the highways, and it has no impact on your gas mileage.
---
Cargo Boxes On Acura MDX Gallery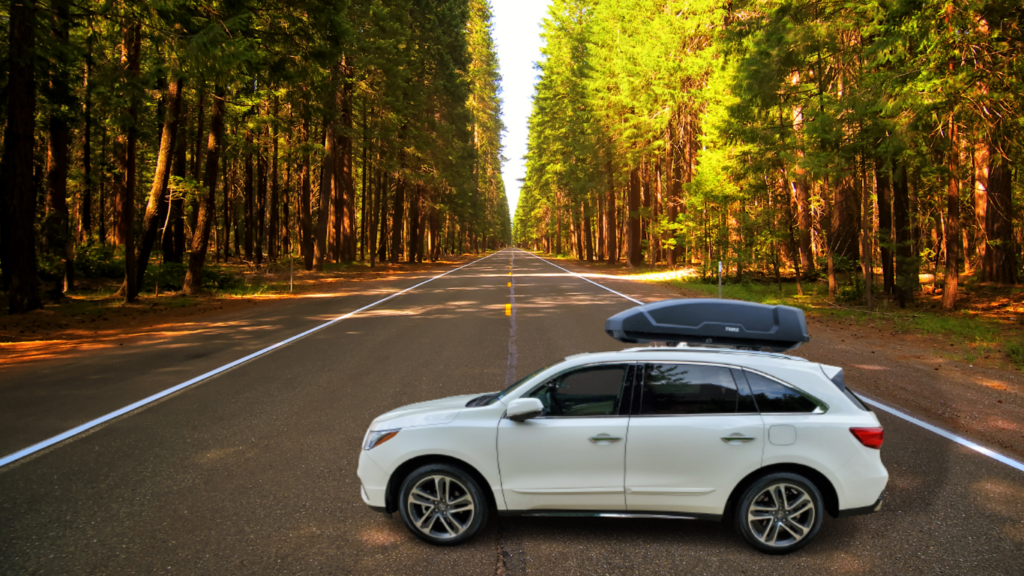 Conclusion
In this article, we have recommended five cargo boxes for your Acura MDX. We hope we can help you with choosing a cargo box.
If you are looking for cargo carriers for other brands of vehicles, you can visit our car guide category.
You can also find bike racks for your Acura MDX here, and you can use hitch-mounted cargo boxes for carrying even more items on the roads. When you want to transport large equipment like wheelchairs, furniture, or scooters, you can use a hitch cargo carrier with a ramp for that purpose.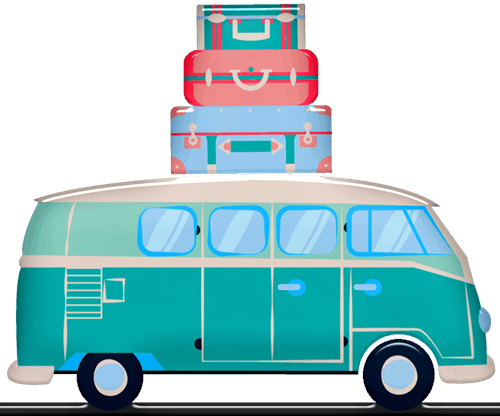 Our team is creating outdoor-gear relevant articles with passion. If our articles can help you to find the correct solutions for your questions, we will be happy about that. In the content creation process, we usually collect accurate and useful information online or offline to compile our content in an organized way. Consequently, we can guarantee that you can discover some expected answers to your questions. We appreciate your time on our site.
We are reader-supported. We get commissions for purchases made through links in this post, As an Amazon Associate we earn from qualifying purchases.