Last Updated on January 6, 2023
You are searching for the best car roof boxes for your family online, and you have no idea about what is the best solutions to your questions. In 2020, we have been going through a tough year that has a severe pandemic around our communities; however, we, humans, will work together to fight COVID-19 until it is disappeared someday.
Although the pandemic is around us, we still can take our family out of town to enjoy a road journey or an outdoor adventure. You may need a car roof box for your future road trips, but you don't know how a roof box works, how to use it, and if your car can work with it or not. On our site, if you are new to car roof boxes, you will find all you need to know here on our site. For example, you are looking for roof boxes for your specific car, and you can use our car guides to discover suitable cargo boxes for your vehicle. Are you looking for informational articles that can help you from misusing a car roof box? You can use our beginner guide to get familiar with cargo boxes from many different perspectives.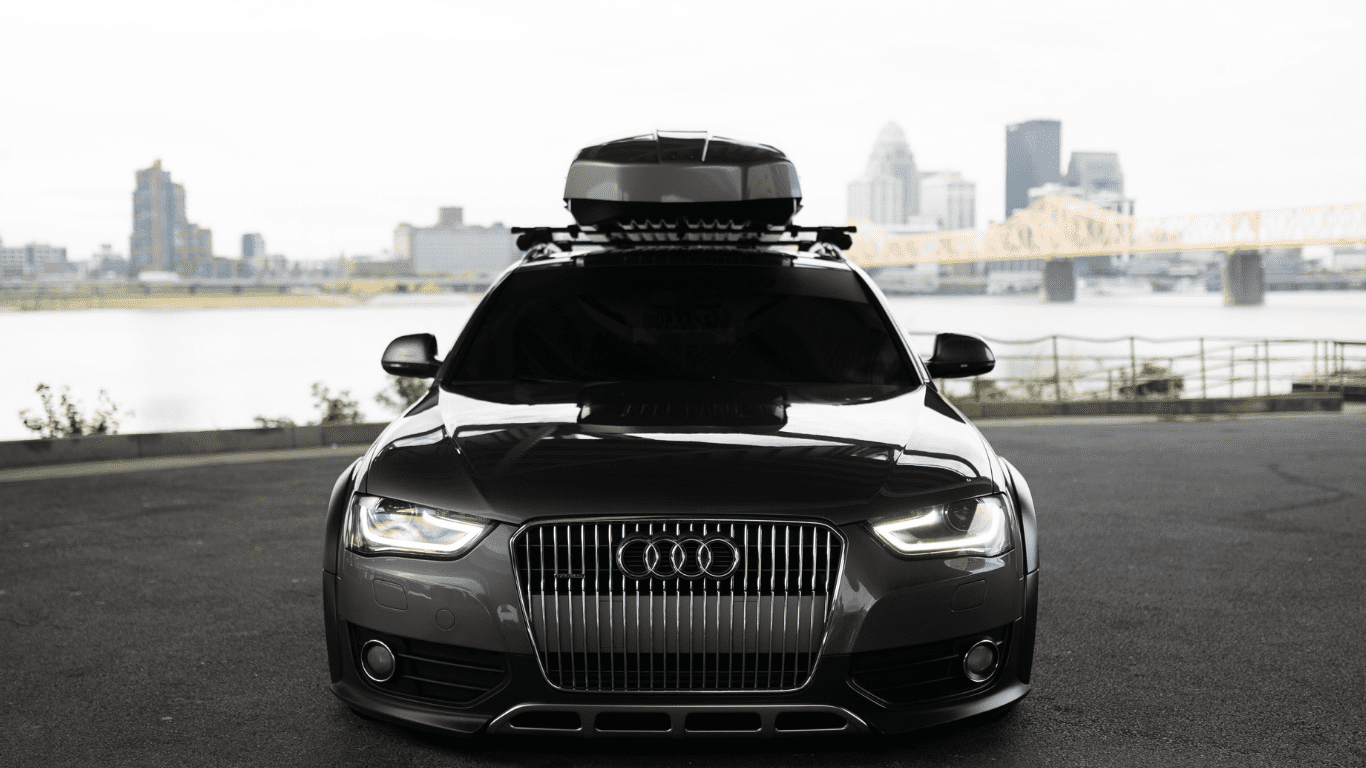 Thus, when you have landed on our site, you can become an expert in using and choosing a car roof box with some reading on our contents.
In this article, we will mainly introduce the best car roof boxes for you.
When you are buying a car roof box, what are the considerations that you may have in your mind? According to our research on this topic, users and real customers of roof boxes are frequently asking and discussing the below questions and opinions.
Tips for Choosing a Car Roof Box
1. The Price
When you are thinking about investing in a car roof box, you may take price as the priority to consider and to compare among your favorite selections. Both expensive and affordable ones are having their advantages and weaknesses, so you can generate enough info and knowledge to add accuracy to your judgment on choosing a roof box.
On the market, the average price of car roof boxes is floating up and down by around 300 dollars. However, if you need a large-size cargo box, you probably need to pay much more than those smaller-size roof boxes.
2. Security
The safety of your content is another must-consider aspect when you are purchasing a car roof box. Although most car roof boxes have lock systems, the sturdiness and durability of a roof box are also significant attributes to aim at when you are choosing one.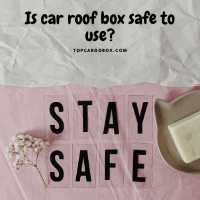 Acrylonitrile Butadiene Styrene is the most popular material for building a durable, sturdy, and waterproof roof box. When you are looking at the features of a cargo box, you have to look for the words "ABS material" to ensure that the roof box composes of that fantastic material.
On the other hand, car roof bags also can carry stuff for travelers. However, soft roof bags are not perfect for the safety of your belongings. Usually, the zipper systems of roof bags can leak water inside for wetting your stuff. Also, the surface of the roof bags is easy to cut open by using a sharp tool like a knife. Consequently, If you are planning to use a car rooftop carrier at a high frequency, you can consider investing in a hard-shell car roof box. If you only use the roof carrier once or twice a year, you may have to consider using a roof bag with a lower investment.
3. Time to Mount
As we all know, car roof boxes must work with a pair of roof bars. Different cars are using a variety of rack systems for mounting all kinds of car roof carriers like roof boxes, kayak carriers, fishing rod holders, and more. However, in general, there are three types of rack systems for car owners: square, round, and aerodynamic.
Besides, most manufacturers are making rack bars universally fitting to all kinds of car roof carriers. Thus, it is not hard to choose a rack system for your vehicle. If you are in doubt about what rack system is suitable for both your requirements and your vehicle, you can contact your car dealer for further info about your questions.
It is so important to know how to securely and accurately mount a car roof box on a pair of rack bars, and you have to read the installation guides several times until you can correctly and safely assemble your roof box to the roof rack.
While you are mounting a car roof box, there is another tip for you. The position of your roof box is also significant to the enjoyment of using it on your road journeys. A perfect spot of a roof box should have clearance with both front view and the opening of your car's hatchback. When you have finished adjusting the position of your roof box, you can try to open the door of the hatchback and can try to check the front view and the rear view from the inside of your car to ensure that your roof box is ready for the job.
4. The Measurements
It is time to consider the size of a car rooftop box. What to put in your considerations? The length, width, and height of a roof box are three numbers that we have to put in mind for comparison when we are choosing a car roof box for our needs.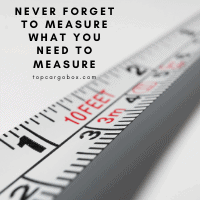 For example, skis, snowboards, kayaks, fishing rods, golf clubs, and other long gears fit in a long car roof box. Furthermore, carry-on bags, luggage bags, or other regular-sized things suit wide roof boxes. In general,
there are narrow, wide, short, long, small, and large size roof boxes on the market for a variety of demands of customers.
You have to measure your stuff wide and long before you start to choose a car roof box for carrying them. You write down all the measurement numbers of your gears on paper then you can use those numbers to find out which size of car roof boxes will fit your needs.
On the other hand, you also need to do the measurement for your car roof. You cannot assemble a longer or wider car roof box to the rack system on the top of your vehicle. As a result, car roof measurement and the measurement of gears are needed statistics for choosing the correct roof box for both your car and your demands.
5. The weight
Car roof boxes have their weight. Although car roof boxes are large, they are light in weight because of the ABS materials. How much weight your car roof can hold? There is a limitation for all kinds of vehicles, so you have to know that you should never overload your roof box. According to most manufacturers, the weight of car roof boxes is much lower than the limitation of vehicles' roof supporting capacity. You do not need to worry about why car roof boxes have different weights and what is the difference among those weight numbers.
6. Impact on Your Gas Mileage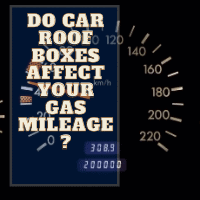 Do you know that you will pay more money for having a car roof box on top of your car? Yes, car roof boxes will cost you extra mileage in your driving because of the pushing power from wind. Although most of the advanced car roof boxes are aerodynamic, they are still affecting the number of your gas mileage.
According to our research online, 90 percent of roof box users are saying that the effects of aerodynamic car roof boxes on mileage usage are ignorable and tiny.
What is the theory of this phenomenon? While you are driving on the highways, the coming wind is pushing your car and the car roof box backward; thus, the force of the wind creates a waste of gas ordering the car engine to spin faster to eliminate the opposite wind force.
7. How Aerodynamic It Is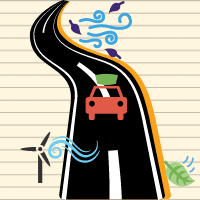 You have to find a car roof box that has an aerodynamic design. An aerodynamic car roof box will minimize the effects on gas mileage, so you will save lots of money by using an aerodynamic roof box.
On the market, the most popular aerodynamic roof boxes come from the Thule brand. The Thule's designers have been spending tons of fortune and energy for decades to discover the most effective designs to deal with the wind drag. Thus, you can trust Thule products without any doubts about their features.
Related Topics: we found the biggest cargo boxes
8. The Opening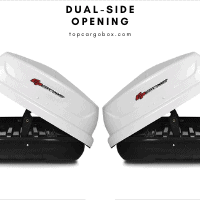 How to open a car roof box? Most car roof boxes can be opened from dual sides, but some of them can only access from one side. What is the difference between the two options? The dual-side opening feature allows people to open a roof box from either the left side or the right side, and the function creates many conveniences for users.
For example, when you are camping in the woods, you want to take something out of your cargo box; however, there are branches of a tree above the left side of your roof box, and you can easily open the right side to reach what you want at that moment.
Consequently, we highly recommend you choose a dual-side opening car roof box for your family.
Related Topics: Canadians can find available roof boxes on a list.
List of the Best Car Roof Boxes For 2022 2023
1. Thule Motion XT Car Roof Box
The Thule Motion XT is one of the most popular cargo boxes on the market. It's made with high-quality materials (ABS Plastic) and is designed for easy use. The Thule Force XT is another popular option, and it's a bit cheaper than the Motion XT. Which one is the most suitable for your needs? To help you decide, we've compared the two cargo boxes side-by-side. We'll look at their features, prices, and performance to help you choose the best option for your needs.
There are many factors to consider when choosing a roof box for your car. Two of the most popular roof boxes on the market are the Thule Motion XT and the Thule Force XT. Both are made from high-quality materials and are designed to withstand the rigors of travel. The Thule Motion XT is the larger of the two boxes, making it a good choice if you need to transport a lot of gear. It is also made from ABS plastic materials, making it one of the lightest boxes on the market. The Thule Force XT is shorter and narrower than the Motion XT, making it a better choice if you need to transport smaller items.
2. Thule Force XT Rooftop Cargo Box
3. Yakima SkyBox Aerodynamic Rooftop Cargo Box
When it comes to choosing a roof box for your car, you have two main options: the Yakima skybox and the Yakima RocketBox. Both options have their pros and cons, so it's important to choose the one that's right for you. The Yakima Skybox is the more popular option, as it offers a lot of space and is easy to use. However, it is more expensive and can be difficult to install. The Yakima RocketBox is a less popular option, but it is less expensive and easier to install. It also offers a bit less space than the Yakima skybox. So, which roof box should you choose? It really depends on your needs and budget. If you need a lot of space and don't mind spending a bit more, the Yakima skybox is a great option.
4. YAKIMA RocketBox Pro Multi-sport Rooftop Cargo Box
5. INNO BRM864MBK Wedge Plus Cargo Box 13
6. Malone Profile18S Rooftop Box Silver
---
7. Hard Shell Roof Top Mount Car Storage Luggage Carrier
More For Consideration:
According to our experiences, the cargo boxes below are recommended for all vehicles; you can pick one that fits your needs and your gear's dimensions. You can use the KNOW MORE ABOUT IT link to discover more info on specific cargo boxes.
Goplus Rooftop Cargo Boxes
The Goplus rooftop cargo carrier is a great way to add extra storage to your vehicle. It's easy to install and can be used for a variety of applications. The carrier is made from heavy-duty steel and has a 160-pound weight capacity. It's also weatherproof, so you can use it in any climate.
The Goplus rooftop cargo carrier is the perfect way to add extra storage to your vehicle. It's easy to install and can be used for a variety of applications. The carrier is made from heavy-duty steel and has a 160-pound weight capacity. It's also weatherproof, so you can use it in any climate.
---
Thule Pulse Rooftop Cargo Carrier
The Thule Pulse is a rooftop cargo box designed to provide extra storage for your gear when you need it. It's made of rugged, weather-resistant materials and features an aerodynamic shape that helps reduce drag and wind noise on the highway.
The Pulse can hold up to 165 pounds of gear, and it features an easy-to-use locking system that keeps your belongings safe and secure. It also has a spacious interior that can accommodate a variety of items, from skis and snowboards to camping gear and luggage.
The Pulse is an excellent option for anyone who needs extra storage space but doesn't want to sacrifice fuel economy or wind noise.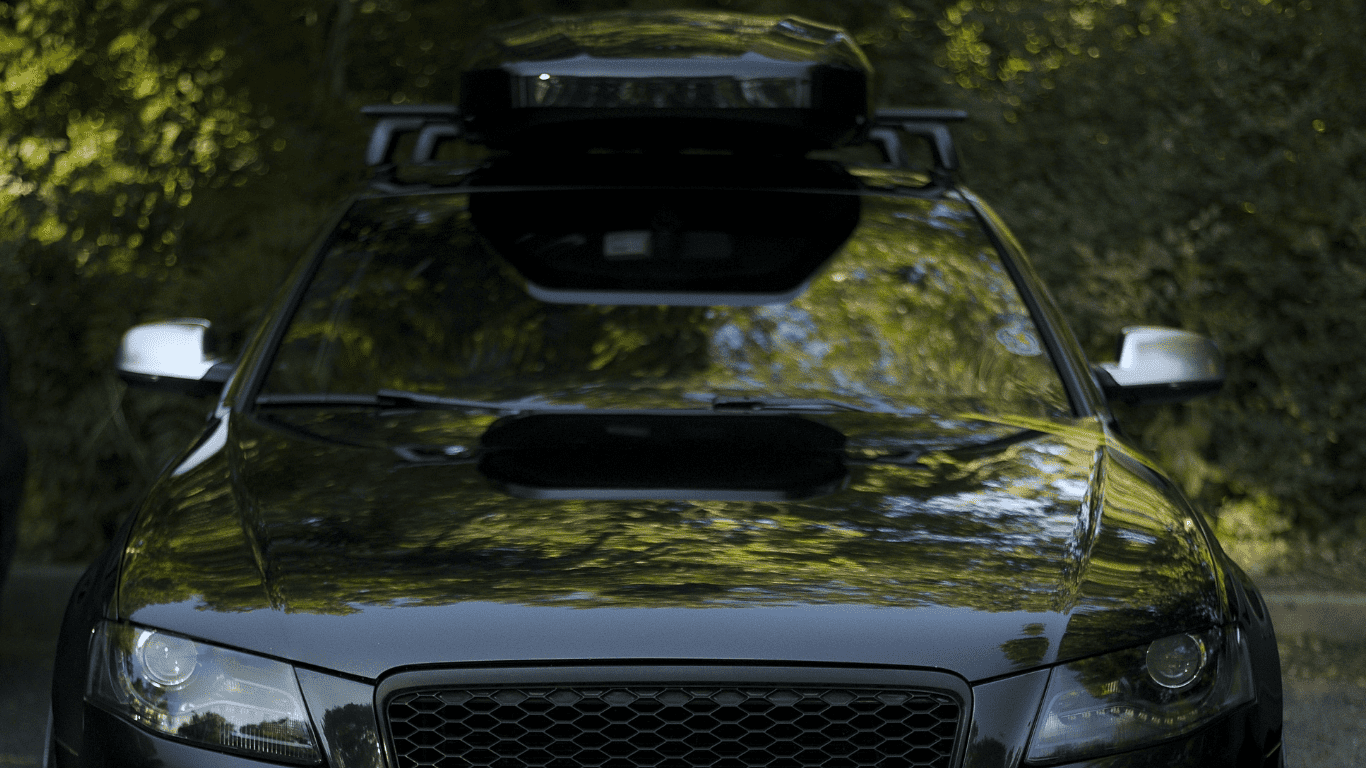 ---
SportRack Vista Cargo Boxes
SportRack Vista rooftop cargo boxes are a great way to transport your gear when you're hitting the open road. With a SportRack Vista rooftop cargo box, you can safely and securely store your luggage, camping gear, or other items on the roof of your car.
There are several different SportRack Vista rooftop cargo boxes to choose from, so you can find the perfect one for your needs. All of the SportRack Vista rooftop cargo boxes are made from high-quality materials and feature a stylish design. They're also easy to install and use.
The SportRack Vista rooftop cargo box is the perfect way to transport your gear when you're hitting the open road. This sturdy box is made from high-quality materials and can hold up to 150 pounds of cargo, making it perfect for camping trips, road trips, and more. It's easy to install and even easier to use, and it'll keep your gear safe and secure while you're on the go.
---
Find More:
You can use the box below to find more high-quality rooftop cargo boxes for adding waterproof and rugged storage room on top of your cars: sedans, trucks, vans, or SUVs. You can also find hitch-mounted cargo carriers on our site to create cargo space at the rear of your vehicles. (hitch cargo boxes or hitch-mounted cargo carriers with ramps)
---
Conclusion
You can find the best rooftop cargo boxes in this article for bringing more luggage on your outdoor holidays. If you still need more information on specific cargo boxes to compare their features, designs, and dimensions, you can use the above guides to compare and find for informed decisions.
Update: Most people feel that these hardshell roof boxes are over expensive to their tight budget, so we have other affordable options that you can utilize to transport items on the car roofs. Soft cargo bags are popular these days because of their durable material, large loading capacity, and easy-to-store characteristic. However, these bags have disadvantages that make them the perfect solution for temporary use. (July 31st, 2022)
When buying a rooftop cargo box for your vehicle, you have to focus on the length of the box and check if it suits the size of your car roof, especially cars with hatchbacks. You won't be happy if a long cargo box interferes with the opening hatchback or extends over the front windshield, so it is necessary to mark all dimensions on paper for a later compatibility check.
Rooftop Cargo Box carrying capacity is a specification that shows how many items you can load into the box; additionally, it is a significant element to consider when choosing a suitable rooftop box for your car. Longer rooftop cargo boxes can pack more things than smaller ones, and higher ones are more fitting to load carry-on luggage bags. In general, the loading capacity tells you how much luggage you can pack into a rooftop cargo box; furthermore, a higher capacity volume means the roof box has more interior storage space for carrying what you need in outdoor life.
Rooftop Cargo Boxes come with different loading volumes: from 8 cubic feet to 22 cubic feet, and these volumes indicate how large the boxes are and how much equipment or luggage you can store in the roof boxes. We have a size guide that helps you to find the accurate model of cargo boxes to meet your outdoor life.
These big cargo boxes are hard to remove because of their sizes, but they are all good in use with ample loading room. We have a list of the amplest roof boxes for your consideration.
The length of the rooftop cargo box is one critical element you need to compare when selecting one for carrying skis, snowboards, and other long gear. When you have the measurement of your skis or snowboards, you can start to compare these rooftop cargo boxes to find the long enough ones for the future skiing seasons. Most manufacturers indicate how many pairs of skis or snowboards their cargo boxes can carry, so you may need to read carefully and hunt for the info you need.
Half-wide rooftop cargo boxes can work with other cargo carriers like bike racks or rooftop cargo baskets. Otherwise, most outdoor enthusiasts install both rooftop cargo carriers and hitch-mounted cargo carriers to make their vehicles able to transport as much stuff as they want.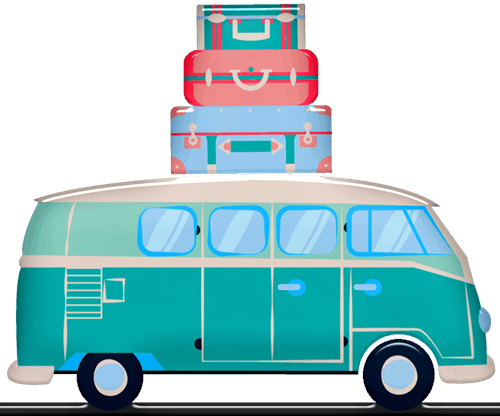 Our team is creating outdoor-gear relevant articles with passion. If our articles can help you to find the correct solutions for your questions, we will be happy about that. In the content creation process, we usually collect accurate and useful information online or offline to compile our content in an organized way. Consequently, we can guarantee that you can discover some expected answers to your questions. We appreciate your time on our site.
We are reader-supported. We get commissions for purchases made through links in this post, As an Amazon Associate we earn from qualifying purchases.