Last Updated on November 22, 2022
You will find that if it is safe or not to drive your car with a car roof box. In general, modern technologies and designs are putting safety as the top priority in manufacturing products. As a result, you can give some trust to these big mobile storage boxes.
Are you thinking about if the cargo boxes can fly off of your car roof under high-speed driving on the highways? Honestly, they will not do that for you. Why do you think that way? When a car is running at high-speed on the roads, the opposite wind-force is strong enough to take away almost everything that is unattached to the surface of your vehicle. However, your cargo box has tightly attached to the roof rack, and it will not move an inch.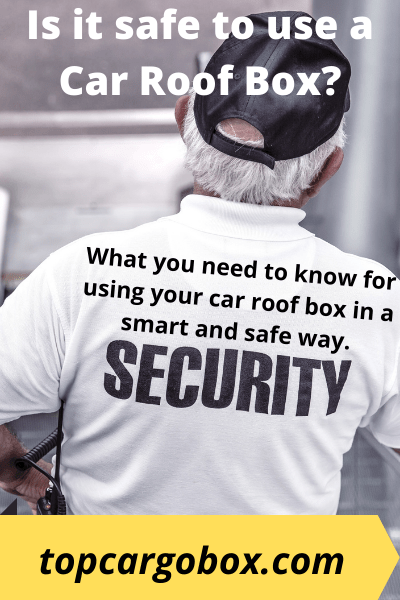 Thus, after the introduction, we can tell you that roof boxes are safe to use. However, when you have brought a roof box, you need to follow the safety instructions to use it without any carelessness. Cargo boxes have many components such as a mounting system, lock system, lid-holders, internal straps, internal lights, lock-latch, and more.
You have to read the instruction brochure twice for an accurate understanding of how safely use your roof box. Choosing a suitable cargo box for your vehicle is the most significant step of having an enjoyable, memorable, and convenient road journey.
For safety reasons, we have published articles about finding the right roof boxes for specific cars.
Mounting Your Car Rooftop Carrier
---
Not safe Don't use
Do you think using a roof box is pretty easy? It is not what you think it is. Also, it is not so hard to operate. You can read the instruction brochure for a better understanding of those tips and regulations.
You have to pay attention to safety precautions on the instruction guides to learn the ways of safely using your car's rooftop carrier. Overloading and overspeeding are two major problems of using a car roof box, so you should never try.
Besides, if you mistakenly install your cargo box, it is not safe for your driving. Your cargo carrier has a chance to fly off your car roof while you are driving when it is not accurately attached to your crossbars. Consequently, you have to ensure that you know how to operate the mounting-components before your car engine starts.
Moreover, we have mentioned how to pack a cargo box in one of our articles, and you need to know a balance of weight is pretty essential for using your roof box. For example, a heavy suitcase or item will slide backward and forward while your car is in motion, and it will push your car's gravity-center away from the middle. The uncentered gravity-center will cause problems for your driving, especially when you are turning or braking.
Most roof boxes have clamps or straps for fastening items on the internal bottom of them. You need to ensure that those clamps or straps are working, and you have to make them tightly surround your belongings if they are loose.
Extreme weather conditions are a challenge for cargo boxes, so you need to prepare for heavy rain, snowing, heavy windy days, and other unusual weather conditions.
You need to pay attention to the cargo box's load limitation, and you should never overload it in whatever situations.
On the other hand, low tire pressure is another unsafe condition for using a cargo carrier, so you may need to check the tire pressure before you are about to go out with a fully-loaded car rooftop box.
You also have to make sure that there is no element inside the lock-hole of your cargo box, and if there is, please clean the dirt, dust, or mud out for safety reasons. Otherwise, you will have a chance to drive with an open roof box on the highways.
We highly recommended you read the instruction brochure several times to build enough knowledge and methods to use a roof box accurately and safely. If you don't want to spend time on finding the brochure, you can use our beginner guide for knowledge building.
---
Do the right things for Installation
When you assemble a cargo carrier on the roof rack, you need to follow the instruction guide and to do every step carefully. You can create potential risks to both vehicle and the people in your car if you make a mistake during the installation process.
Different cargo boxes have variable installing methods, and they are not hard to learn and do. Thus, you have to read the instruction guide to get familiar with your cargo box's mounting-components.
Soft car roof bags are easy to use and install, and they can fit almost all vehicles without a pair of roof bars. However, the hard-shell cargo boxes are working with roof racks, and they are also good to use. In our opinion, hard-shell cargo boxes are better than soft car roof bags because hard-shell cargo boxes are durable, waterproof, sturdy, and nice-looking.
In general, you can use clamps to tighten a hard-shell cargo box on the rack bars by rotating the torques on the clamp-components. Although safe is pretty significant, you cannot over-twist or under-twist the torques to enhance the connecting strength for safety because it is risky. You should follow the instruction brochure to operate the torques without your subjective judgment.
A wrong installation of a cargo box will bring many potential risks to your road journeys. You can search and read more info about how safely use a cargo box on Google, and you also can watch some videos about this topic on Youtube.
---
What type of vehicle do you drive?
It is easy to understand. A cargo box can raise the gravity center of a vehicle. The causes of a higher gravity center are dangerous for driving, especially at high speed. When you are using a roof box, you need to pay attention to the methods to pack your items. You can read the article about how to load a cargo box to learn some tips and solutions.
In general, a balance of weight is pretty significant in using a car cargo carrier, and making the weight equally-separated is the solution.
---
Watch limitations
If you have bought a roof box, you knew that there is a limitation of the loading capacity. You cannot overload your roof box in any situation. If you decide to go out with your family or friends, you have to double-check the total amount of luggage weight before you are about to leave.
When you drive in any extreme weather conditions, you must drive carefully and slowly. With a higher gravity center, it is dangerous to make a turn at high speed, so you must slow your vehicle down before you are about to make the turns.
On the highways, you can drive slower than the regulated speed limit because of safety reasons. When it is a heavy windy day, could you please choose to stay home or disassemble the car roof box? If you are outside on those bad days, could you please drive slowly and safely? You also can move as many items as possible from your cargo box to your hatchback or back seats, and an empty roof box is ok for those extreme weathers.
---
What rack system do you have?
As we all know, a car rooftop carrier must work on a rack system, so do you know what type of roof rack is better for your cargo box? There are custom and factory roof racks, and you can consider having the factory one as a default option. You can contact your car dealer to require the info about where to buy a factory rack system for your vehicle.
However, if you want to load more in your roof box, you need to have a sturdy and durable rack system to hold it on the top of your car. In general, those customized ones on the market are stronger than factory designed ones.
---
Added security to your car roof box
What can you do to provide added security to your car roof box? You can use bungee cords or safety nets to offer extra strength in fastening your cargo box to the top of your car.
It is easy to use. You can find bungee cords and safety nets on Amazon. After using bungee cords or safety nets to tighten your car roof box, your car rooftop carrier will have no chance to fly away on windy days. (7 ways to protect your cargo box like a pro)
---
Clean is important
You have to make sure that your cargo box is clean while you are using it. We know that it is hard to keep the cargo box clean in your road journeys, but you can give it a deep clean somewhere that has tap water.
There are professional cleaners for sale on Amazon, so you can consider using the cleaner with a towel.
If you don't clean your car's rooftop carrier, it becomes dirty and unsafe to operate because water, sun, mud, dirt, dust, and other natural elements gradually corrode its components.
Do roof racks damage your car?
There is no definitive answer as to whether or not rooftop cargo carriers damage cars. There is a lot of debate over whether rooftop cargo carriers damage cars. Some people say that the weight of the carrier can cause structural damage to the car, while others claim that the wind resistance caused by the carrier can lead to decreased gas mileage. However, there are a few things you can do to minimize the risk of damage to your car.
First, the weight of the carrier and the items you are carrying should not be excessive. Overloading a rooftop cargo box can damage the car roof and even the suspension system. Second, you should make sure the lock is fully functioning and secure. If it is not attached securely, it can fly off while you are driving and cause even more damage. Finally, you should inspect your car before or after a long drive or a long period of time to find potential problems and maintain the car to prevent unexpected accidents on the roads.
Related Topic: do roof racks damage your car?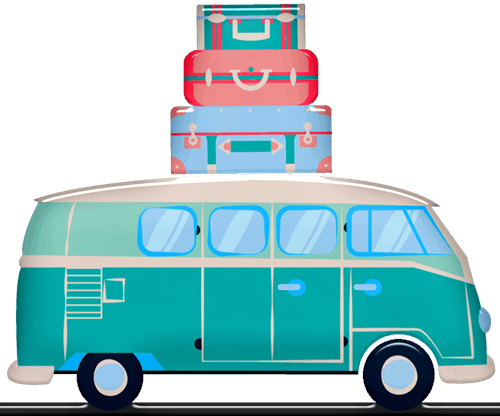 Our team is creating outdoor-gear relevant articles with passion. If our articles can help you to find the correct solutions for your questions, we will be happy about that. In the content creation process, we usually collect accurate and useful information online or offline to compile our content in an organized way. Consequently, we can guarantee that you can discover some expected answers to your questions. We appreciate your time on our site.
We are reader-supported. We get commissions for purchases made through links in this post, As an Amazon Associate we earn from qualifying purchases.