Last Updated on November 23, 2022
Have you heard about the hitch cargo box? A hitch cargo box is a car accessory that you can install at the rear of your vehicle to load more items on the roads.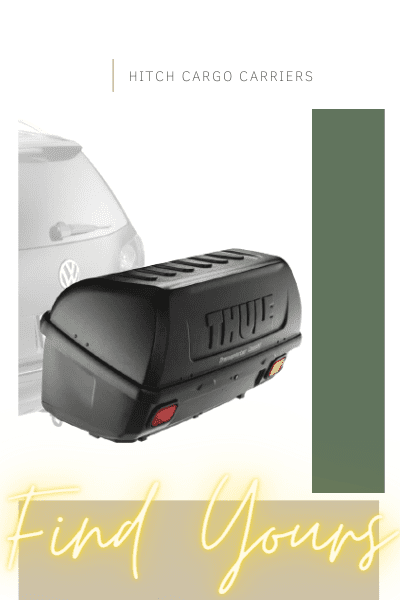 Hitch cargo boxes are easy to load and unload because they are not high to reach as car rooftop carriers are, and they don't affect the car's gas mileage and don't produce wind noise when they are in motion. Compared to other towing car accessories, hitch cargo boxes are simple to install and use.
You can use a cargo box to load almost everything like clothes, shoes, food, furniture, tools, gear, equipment, luggage bags, backpacks, and more.
There are many different variants of hitch cargo boxes ranging from enclosed sturdy plastic containers to metal wire knitted constructions, so you may need help while choosing one. We are here for you, no worries.
In general, you choose a hitch cargo box for items you want to bring on the roads. For example, if you use a cargo box for road trips, you can choose an enclosed box to take whatever you need for the enjoyment of the journey. If you use a cargo box for emergy situations like carrying backup gasoline buckets, you can consider using a cage-style box for that purpose.
Moreover, there are factors that you need to think about twice before buying actions.
Quick-Pick list Of the Best Hitch Cargo Boxes or Carriers For your Car
Find the perfect hitch cargo box: What to think.
What are you going to carry? Does waterproof matter or not?
It is the first question that we ask you about what you will load into the hitch cargo box? It is the first question to narrow down the selections of hitch cargo boxes to fit what you will transport between places.
Those metal cage-style platform boxes are versatile picks among car owners, and they can work on other vehicles: on the wheelchair or at the rear of a motorcycle for carrying stuff.
Although these carriers are open-wire car accessories, they often come with several waterproof removable small bags for your gadgets or gear.
If you want to find the most waterproof options, these sealed hard shell hitch cargo boxes are your choice. They are made of high-density plastic materials, so they are waterproof, rugged, and long-lasting. When you decide to use a carrier to transport items that must always be dry, these hardshell hitch cargo boxes are the best solutions.
Some of these hitch carriers are multi-functioned, and you can remove the boxes from the platforms when waterproof is not a must-have condition. These carriers are expensive, but you get one equals two.
What car do you drive? Do you know the size of the hitch?
Hitch cargo boxes hang at the rear of your vehicle, so it is necessary to know the measurement of your car's hitch receiver. These boxes are not car-specific, but they require at least a 2 inches hitch receiver to work. Although these hitch carriers are universal to most trucks and SUVs, you need to ensure that your car's towing capacity is ok for additional weight. You can use Google to type "your car model + official manual" to find a PDF version of your car's introduction brochure to look for the towing capacity limit.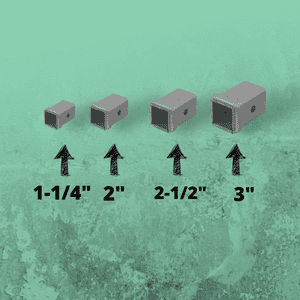 For most smaller sedans, you must double-check the measurement of the receiver and confirm that it is 2 inches or 1-1/4 inches. Some smaller cars only work with 1-1/4″ receivers, and they can hold up to 200 lbs of weight at the rear. When you suspend a fully loaded box at the back of a small car, you can see the car getting significantly lower than usual.
Where is your car's exhaust?
When you have a hitch cargo box at the rear of your vehicle, it takes the hot air from the car exhaust. It is not a big deal for most cargo boxes, and the heated air won't melt the plastic container and the items in it.
You can measure the car exhaust to estimate if an installed hitch cargo carrier can take effects of the hot air or not. If your car cannot use a hitch cargo box because of the exhaust, you can consider using a rooftop cargo box instead.
If you have got one, it has been affected by the hot air from the exhaust. You can use affordable heat prevention to avoid further damage.
Hitch Cargo Boxes are not for off-roading.
If you are a fan of off-roading, you don't use a hitch cargo carrier for safety concerns.
It is great to have extra storage space in your car, but a hitch cargo box seriously decreases the driving angles, especially when parking or turning.
If you load some heavy stuff in the box, it can significantly lower the back of your vehicle. When you drive through some obstacles, it becomes much more dangerous to your hitch receiver because of the bouncing. As a result, when having a hitch cargo box at the back, you don't drive on terrains like mountain areas, unpaved roads, and other places with stones or pits.
Otherwise, you can drive with a hitch carrier on slightly rough roads, but the sturdiness of the box becomes much more vital to face the challenge. If you plan to use a hitch cargo box to carry things on rough roads, you better choose those that are rugged enough to stand with the challenge.
When using a hitch cargo carrier, you have to know that it can slightly swing or shake during driving. If you want to use it in the wild terrains, you can select a carrier that has a sway-prevention feature. Moreover, you can also apply straps or bungees to the box for extra tightening.
Do you care about security?
Most hitch cargo boxes come with locks, but some of the lock cores are poor in quality; besides, for thieves, those low-quality locks equal nothing but descriptions.
Although some of the boxes offer high-quality locking mechanisms, thieves can conveniently break down the hitch receiver and take everything away, the container and items in it.
For prevention, we have 7 ways to increase the security of a hitch cargo box. You can follow the tips to secure what you care about on the roads.
Knowledge Before Actions – Frequently Asked Questions(FAQ)
A hitch cargo box or a car rooftop box, which is better?
Both car rooftop boxes and hitch boxes create additional storage space on a car and bring much convenience to people's outdoor life. When choosing, you should pay attention to the following factors:
specifications(dimensions)
price
measurement of your gear
where you will go with it
fuel economy
loading and trunk opening
A hitch carrier makes your car longer and gives difficulty to the parking and the turning because it changes the turning radius. On the other side, the car rooftop box adds height on top of a car, and it creates difficulties in driving through height-limited places: underground parking, garage, and more.
A list of 10 cargo baskets for all SUVs, Sedans, Vans, Trucks
Hitch carriers don't affect gas mileage, but car roof boxes do and produce wind noise when they are in motion. For fuel economy concerns, hitch carriers are better than car rooftop carriers.
Car rooftop boxes are expensive compared to most hitch cargo boxes because rooftop boxes are big. Although car rooftop boxes are giant, their loading capacity is smaller than hitch cargo boxes.
Hitch cargo boxes don't allow you to open the trunk for loading or unloading, but car rooftop boxes allow. When packing a car rooftop box, you have to heft things overhead and reach the car roof; thus, it is not easy for people who are not tall enough for that height.
It is necessary to evaluate your situation before choosing between multiple box models.
Noise – How to deal with it?
After using a hitch cargo box, you can hear some rattling sounds while driving with it, especially on rough roads. It is impossible to eliminate the sound because it comes from the movement of the box.
The sound volume is affected by the weight of the box and its installation. If it has a loose connection with the receiver or is full of heavy things, the rattling sound becomes louder.
As we mentioned above, you can use rope, straps, or bungees to decrease the noise and strengthen the installation.
Does a hitch cargo box block the license plate, rear window wipers, rear lights, or backup cameras?
When you successfully install a hitch cargo box at the rear of your vehicle, it may block the license plate; consequently, most manufacturers design built-in positions on their box models for placing the license. Other drivers can see your license plate directly on the box at the rear of your car. You don't leave the license plate behind the cargo box because it is illegal in most countries.
If you like to use backup cameras to assist driving, a hitch cargo box may cause troubles that conflict with your usual driving habits.
When a hitch cargo box interferes with the rear lights, it is necessary to use wire to build additional taillights for transportation needs. It is dangerous to drive with concealed rear lights because of a hitch carrier.
Do you need a tool to install a hitch cargo box?
Thanks to those intelligent engineers, we don't need a tool for installing a hitch cargo box to the rear hitch receiver.
However, you may need others' assistance to make the installation even more accurate and better; furthermore, don't hesitate to consult the experts to get tips and instructions.
The difficulty of installing a hitch cargo carrier depends on the vehicle types: SUVs, Sedans, Vans, or Trucks. We suggest you ask someone else to help you through the installation process. When you need to wire up extra taillights on the box, it is better to get help from experts.
Can you open the trunk after using a hitch cargo box?
NO. It is impossible to open the trunk gate after installing a hitch cargo box on a car. Thus, you have to know this before thinking about buying a hitch cargo box.
For example, when you take your family and your pets for a road trip, you will need to take a break on the roads and let your dog off the car for walking; however, you cannot open the trunk because of the hitch-mounted cargo box, and you have to take it off and repack it again. It is a trouble and a flaw of these containers, so keep it in mind.
We have some box models on the market that can swing away for an open trunk gate, but they are expensive and flimsy due to additional mechanisms.
What to compare when choosing a hitch cargo box?
We pick these options based on consideration of some factors: loading capacity, installation difficulty, materials, and price labels. We are sure these box models can do well with most vehicles and different terrains.
However, you are the person who knows your situation the best, so you can use our advice to judge if these boxes are suitable for your life or not.
Loading capacity
It is the weight that the hitch cargo box can hold, so it is vital to know before checking other factors. You have to make sure the chosen box model can carry what you want to transport. Thus, measuring your heaviest and largest items is what you need to do before the next steps.
Compatibility and Functionality
These options are compatible with most vehicle types, and you don't worry about the compatibility issue. Additionally, these box models are large enough for most wide items, and you can use their dimensions to find out if they can carry your long gear or not. If you are looking for a box for a piece of specific equipment, you can use the gear's measurement to check out if our chosen ones are suitable or not.
Installation
Most people don't like complex things because of the difficulty of life. Thus, we pick these boxes that have a simple installation process to simply people's life as possible as we can. However, these box models may require little work and study for the most accurate installation due to safety concerns.
Price
Hitch cargo boxes are affordable to most people because they are not so popular on the market, and not many manufacturers produce them. Therefore, their price is much lower than rooftop cargo boxes.
We spend our time finding some box models that have both the best value and best quality and functionality, so you can save your time by putting our picks in your consideration.
---
Hitch Cargo Boxes Info & Opinions
Stowaway Standard Cargo Carrier with SwingAway Frame For 2 inches Hitch Receiver
It has a unique swing-away design that allows you to open the trunk while having it installed. It is made of sturdy and waterproof materials(ultra-durable polymer and auto-grade gaskets), and it comes with a theft prevention lock system.
You can use it to carry up to 200 lbs of items within its 12.5 cubic feet interior loading space, and its dimensions are 49 x 21 x 24 inches; besides, you can use its measurement to estimate that if your car put your long gear in it or not.
It has built-in taillights and a license supporter, and you may need some work on wiring up the taillights and installing the license plate. The Stowaway cargo carriers are made in the USA with ten years of warranty from the manufacturer with conditions.
The box weighs 94 pounds, and you should ask someone else to help you when installing it. Please be cautious, and you have to ensure that your existing hitch receiver is 2 inches in width; otherwise, you cannot use the box.
We have 4 types of hitch receivers on the market with different dimensions: 1-1/4 inches, 2 inches, 2-1/2 inches, and 3 inches. Check before actions.
Why is it the top one?
It is different from other box models with an oscillate-away design that allows you to access the trunk when the box is on duty. It is waterproof, rugged, long-lasting, and weather-resistant to fit the needs of most outdoor enthusiasts.
A U-Bolt clamp is responsible for locking and connecting the box frame construction and the hitch receiver, and the entire hitch cargo box stays solid at the back of your vehicle.
Experts' Opinions about It
The Stowaway Standard cargo carrier is the most expensive hitch cargo box on the market, but it is worth the money you pay. It has three components that keep the box in position and prevent swing when it is in motion. The manufacturer uses sturdy polymer and auto-grade gaskets to build the entire hitch carrier to stand against extreme weather conditions and different terrains.
A perfect installation is the basic of enjoying the use of the hitch carrier, so you have to ask someone else to assist you in achieving a secure and accurate result. You can refer to the tips on the product manual brochure to increase the accuracy of your work on installing the box. Never forget that you can contact customer service at any time when a problem comes.
---
Thule Transporter Combination Hitch Cargo Carrier
It is another pick from a global outdoor gear manufacturer – Thule Group. The Thule company has a variety of outdoor gear for different outdoor scenarios: camping, hiking, cycling, traveling, climbing, training, and skiing.
Accessories you may need: Pin Adapter & Hitch Clamp
The Thule Transporter hitch cargo box is a rear-mounted carrier that can carry up to 150 lbs of belongings. The container's dimensions are 47 x 21. 5 x 22. 5 inches, so you can use these numbers to check if it fits the measurement of your long gear or not.
It works on two models of hitch receivers: 2 inches(Class III) and 1-1/4 inches(Class II), and it doesn't require a tool for the installation process. However, when wiring up the taillights or installing the license plate, you need tools on duty.
The Thule Transporter box also can tilt down when you need access to the trunk or hatch, so it is convenient for people who usually use the rear hatch to load or unload things.
It offers a central lock that keeps items secure and dry, and you can follow a guide to make your cargo box even safer from thefts.
Why is it here on the list?
The Thule is a trustable brand with advanced production lines and top-rated materials, so its products are perfect in quality with outstanding features. You don't have to worry about the aftersale customer services, and you can contact the care center when you encounter any problems.
When you receive the package, the box comes with pre-wired taillights that generate electricity from the 4-pin wire harness; thus, you can do the wiring in minutes with ease.
The Thule Transporter hitch cargo box works with the 2 inches and 1-1/4 inches receiver; however, it allows less loading capacity when working with the 1.25 inches hitch connector.
Experts' Opinions about it
It is a four-season product that you can use throughout the years without worries about quality issues. You can use it in storms, heavy snowing, and other extreme weather conditions. It is made of high-density plastic materials, so the box is durable, sturdy, and waterproof.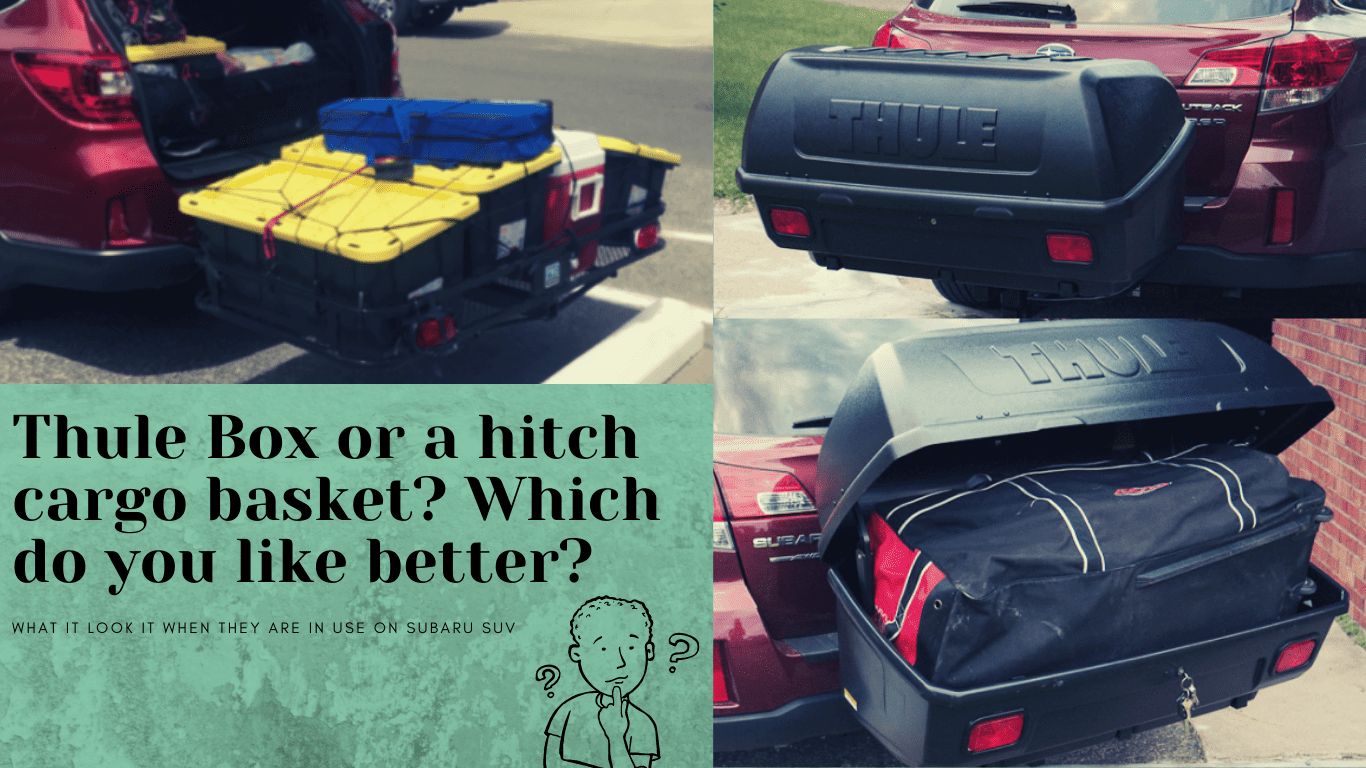 The box has a super-easy installation process that includes the wiring up of the taillights and the use of the license plate supporter; however, you better ask someone else to help you make the installation more secure, accurate, convenient, and fun.
If you are a guy who chases for high-quality, the Thule Transporter box is an option to fit your taste.
---
ROLA 59109 Adventure System
The ROLA 59109 Adventure System is a storage container that can mount at the rear of a vehicle, and it only works with 2 inches hitch receiver. Consequently, the strong Class III receiver allows the ROLA 59109 box to carry up to 250 pounds of luggage or gear on the roads. A 13.5 cubic feet of interior space offers ample space for people who require transporting more belongings in their outdoor journeys.
It has a swing-away feature that allows users to easily access the trunk or rear hatch when the box is in use. The ROLA 59109 box is a combination of high-density plastic materials, and it has lightweight.
The ROLA company has been developing car accessories for almost 30 years, and its products are the results of experiences and intelligence. For example, the swing-away system is a combination of separated mechanisms; besides, all the components in the system are made of high-quality steel and work smoothly together.
The box's dimensions are 54 x 22.5 x 30 inches, and you can load items not longer or broader than the previous numbers in the container.
Why is it here on the list?
If more loading capacity is in need, the ROLA Adventure carrier is an option because of its 250 lbs hauling limit. It allows you to take the box off and only use the platform for transporting oversized items, but the 250 lbs limit is the weight ceiling; furthermore, overloading is super dangerous, and it may damage the cargo box's construction frame and your car.
Experts' Opinions About It
The ROLA Adventure System also has built-in taillights and license brackets, and you can make them work after simple installation procedures. You have to make the license visible on the roads for the laws, and don't forget to wire up those taillights to communicate with drivers around you.
The ROLA company offers a sturdy lock system to the box model to make it safe from thefts, but the lock core is not as rugged as the Thule's. Therefore, you have to lubricate the lock system after using it for a month. Sometimes, you may need to purchase a replacement component to fix the lock system; however, it is easy to find one on the market because the product has a well-known flaw.
You have to install it with someone for safety reasons, and the most enjoyment of the product comes from a correct installation. We want you to read the product manual brochure several times before action because accuracy is the most vital factor here for the installation part.
You must check how far the box is away from the car exhaust and ensure the hot air won't melt the taillights wire and damage the container. You can use a heat protection cover to provide prevention of damage from hot air, and you have to check the location of your exhaust because the problem's solution depends on that.
When you take the box off to take advantage of the platform frame, you should safely and properly store the container without randomly abandoning it in the garage.
When operating the swing-away mechanisms, you must be gentle, especially when the box is fully loaded; otherwise, a sudden drop of weight may damage the connections in the swing-sway system.
---
Mockins Steel Hitch Mounted Cargo Basket
Mockins Steel hitch cargo basket is here because of its affordable price label and large loading capacity. You can find its price by using the link below. It is a bundle of products: a cargo bag, 2 pairs of straps, 1 stell hitch basket, and one cargo net.
The cargo basket is made of high-quality steel, so the manufacturer boasts the carrier's loading limit can reach up to 500 pounds. The 500 pounds are enough for transporting everything we can think out for outdoor needs.
After assembly, the basket's measurement is 60 x 20 x 6 inches; besides, it is long and wide enough to carry regular outdoor gear like skis, snowboards, golf clubs, and more.
It works with 2 inches hitch receiver for all types of vehicles, but, for small sedans, a fully loaded 500 lbs of the basket is dangerous to driving, be cautious. If your spare tire hangs on the trunk gate, you cannot use the basket without taking off the tire.
You can open the hatchback when the basket is empty or with a few things, and the trunk is not accessible after putting a fully loaded cargo bag on the basket. If you plan to use the cargo bag, don't forget to tighten the basket and the bag together to make them tightly stay in one piece.
You can use a U-bolt to connect and lock the hitch tube and the receiver together for holding the basket at the rear of the car, and you put the 15.5 cubic feet waterproof cargo bag on top of the basket to create a cargo storage system with 500 lbs of loading limit. It is a good pick for starters.
If you don't use the cargo bag, you can leave it somewhere in your car; moreover, you can load what you want to bring in the basket and use the cargo net to cover them; subsequently, you use the straps to tie everything together to be one solid piece of work. It is good to go now.
The Mockins cargo basket is super simple to operate and install compared to the above three options.
The basket has a license plate bracket, but it doesn't have pre-installed taillights; furthermore, if you put safety as the priority, you can paste some red signs at the tail-side of the basket.
Why is it here on the list?
It is a versatile product that has different ways of usage. It comes with an attractive price and an average quality score. You can use its built-in hitch stabilizers to make the entire cargo carrier more solid for heavy loading.
When two straps are not enough, you can apply more for safety. It is easy to find on any market.
The cargo bag in the bundle has 15.5 cubic feet of interior space for items, and it is UV-resistant and waterproof. You have to ensure the bag has a safe distance from the car exhaust, and you should provide protection when they are too close.
The company offers responsive customer service to solve your potential questions and problem, so this cargo basket is a reliable product compared to other cheap ones.
---
ROLA 59119 Waterproof Cargo Carrier Bag
It is a weather-resistant cargo bag that people can set on any cargo carrier. The ROLA bag is foldable for easy storage, and it has flaps for the zipper system to prevent water from leaking into the bag.
You can add a foam sheet in the bag to make it like a box: 1-inch foam sheet.
Its dimensions are 24x 24 x 59 inches, and people can use it on any cargo basket whether it is roof-mounted or hitch-mounted.
The bag has 20 cubic feet of interior space for transporting stuff on the roads without the worry of getting wet.
The bag comes with 6 straps that you can use to tie down the bag to any platform for stability and safety.
Why is it here?
If you have a cargo basket on your vehicle, you can get a ROLA bag to prevent your items from getting wet during a rainy trip. When the ROLA bag is on duty, your items are well-organized when they are in motion.
The bag has a friendly price that is affordable and attractive, and you can not use the same amount of money to get a carrier bag as high-quality as the ROLA 59119.
Experts' opinions about it
It is a good option for people who only need a cargo bag. The carrier bag has outstanding quality compared to other cheap bags, and the ROLA company offers effective customer care service to maximize their customers' satisfaction after buying its products.
The bag has multiple usages, and it is easy to store because of the foldable materials. When it is not in use, you can put it in the trunk or one of your backpacks.
The extra 6 straps have enough strength to tighten the bag down to a platform to create a solid one-piece work for preventing swing or dropping.
---
Other Options that Work but Have Flaws
MaxxHaul 70107 Hitch Mount Cargo Carrier
It is a hitch-mounted cargo carrier, and it is a piece of steel frame construction. It works with 2 inches hitch receiver, and it can carry up to 500 lbs of weight at the rear of your car.
However, after installation, it is too close to the car exhaust; thus, you may require to use a heat protection cover to prevent damage to your stuff. It doesn't have pre-installed taillights and an integrated license plate bracket, and you may need to work on these things.
When using the carrier for large pieces of luggage, you must use straps to tie those things down to the platform; otherwise, they get a chance to fall when you drive through some unpaved terrains.
---
ARKSEN Heavy Duty Hitch Cargo Carrier+Cargo Bag
It is a versatile product that can free up your car's interior space and carry extra luggage or gear by connecting to a 2-inch hitch receiver. It can work with most vehicle types: sedans, SUVs, Trucks, and Vans.
You need to ensure that your vehicle has a 2-inch hitch receiver to hook and hold the carrier without security concerns. The cargo bag in the product package is waterproof and UV-resistant, and you can add foam sheets into the bag to make it like a box.
ARKSEN offers a 90-degree angle shank design that lifts the carrier up to avoid getting affected by the exhaust heat air when the car is in motion.
When you don't need the carrier, you can take out the bag and fold up the framework for easy storage; besides, the manufacturer uses heavy-duty materials to build the platform and makes it able to hold up to 500 lbs of items.
When the platform is in position, you cannot open the trunk. It is a flaw that you should know before buying actions.
The carrier has four 14 inches walls to prevent swinging when a fully-loaded cargo bag is on the platform; consequently, you don't worry that your items can drop or get damaged during a road trip.
---
In Conclusion
You can find some popular hitch-mounted cargo carriers in this guide. These carriers work with hitch receivers from class 1 to class 5 in different sizes, so you have to check the compatibility before getting one for your active life. If you want to get a hitch receiver, you should contact the local auto dealer to order one without potential problems.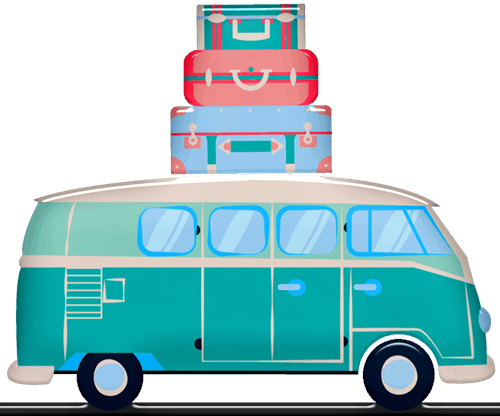 Our team is creating outdoor-gear relevant articles with passion. If our articles can help you to find the correct solutions for your questions, we will be happy about that. In the content creation process, we usually collect accurate and useful information online or offline to compile our content in an organized way. Consequently, we can guarantee that you can discover some expected answers to your questions. We appreciate your time on our site.
We are reader-supported. We get commissions for purchases made through links in this post, As an Amazon Associate we earn from qualifying purchases.