Last Updated on November 23, 2022
Does a panoramic sunroof affect the use of a cargo box or other roof-mounted racks? No, and You can use cargo boxes on a panoramic sunroof with roof racks.
Quick-Pick List Of Cargo Boxes For Panoramic Sunroof
Related Topic: roof racks for bare roofs without roof rails
What is a Panoramic Sunroof?
What is a panoramic sunroof? It is a slide-open automatic window on the roof of a car, and it occupies a large area of the car roof. It is also called a sunroof or moonroof. It provides an upward view for people to enjoy their trips. (Panoramic Sunroof on Wikipedia)
A panoramic sunroof is usually an upgrade option for vehicles, so your car is a luxury model. Before building a cargo management system for your car, you have to think twice because poor-quality roof racks may damage the moonroof. If unwanted results happen, you may spend a lot of money to repair the sunroof.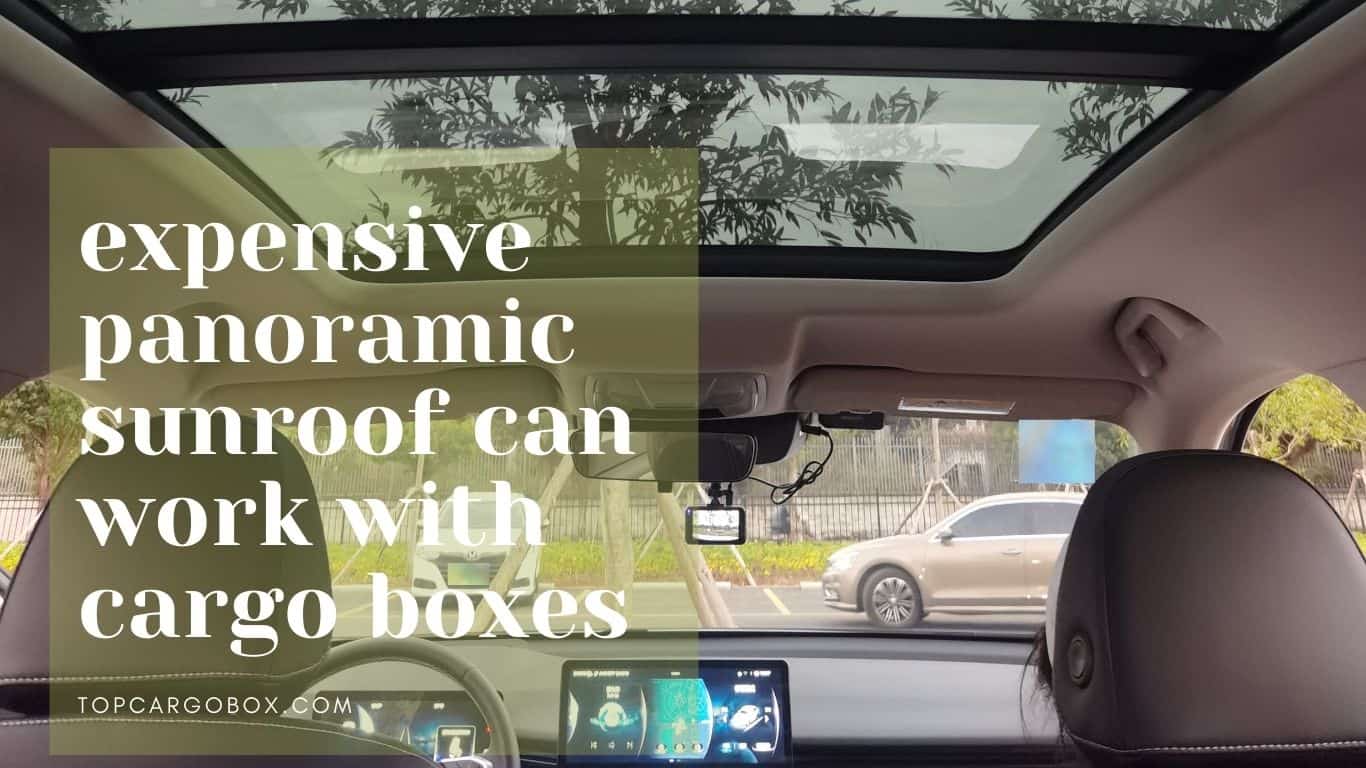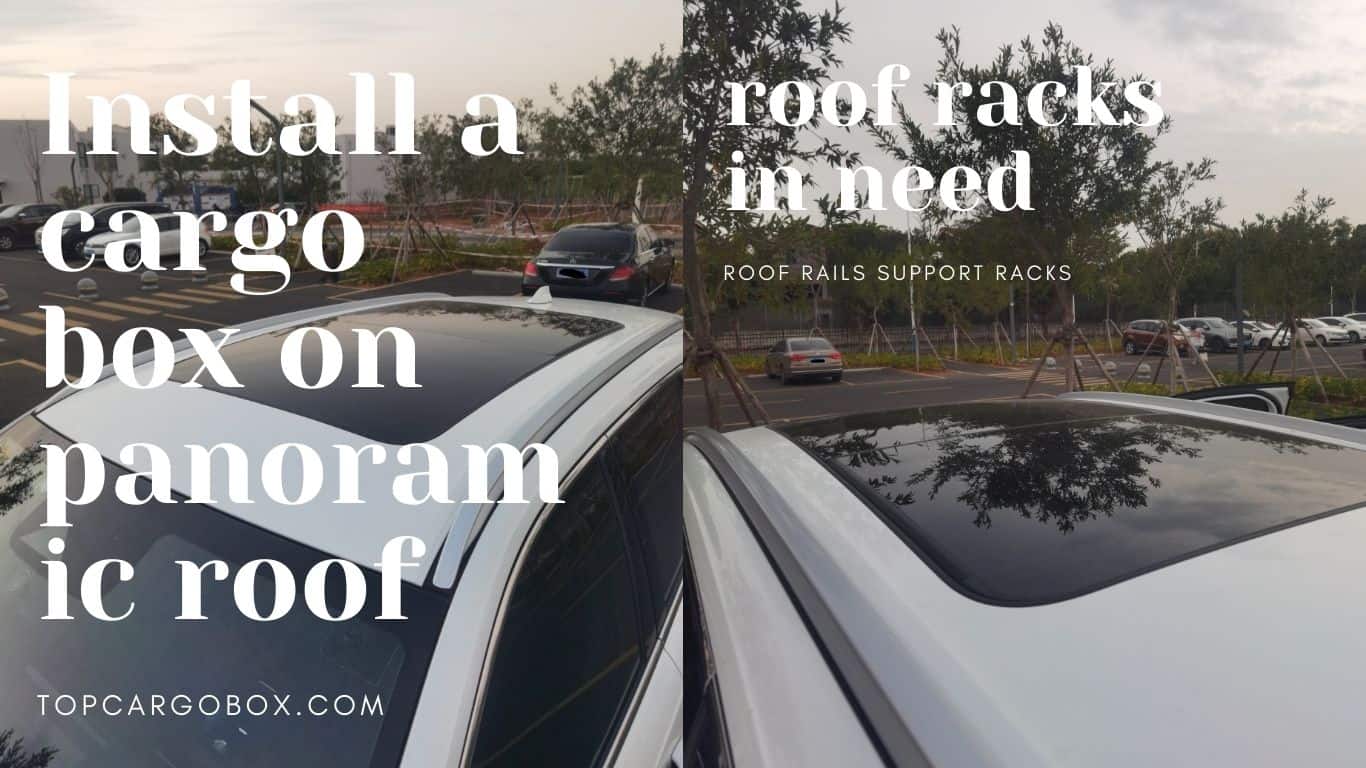 Roof Racks are Important
We suggest that you contact your car dealer to require information about adding roof racks to your car because the specialists have the best solution and recommendations for your plan.
Choosing solid and sturdy roof racks is the key to the success of building a cargo management system on top of the panoramic sunroof, so before thinking about cargo boxes, you have to learn and pick a pair of suitable crossbars for holding a roof box.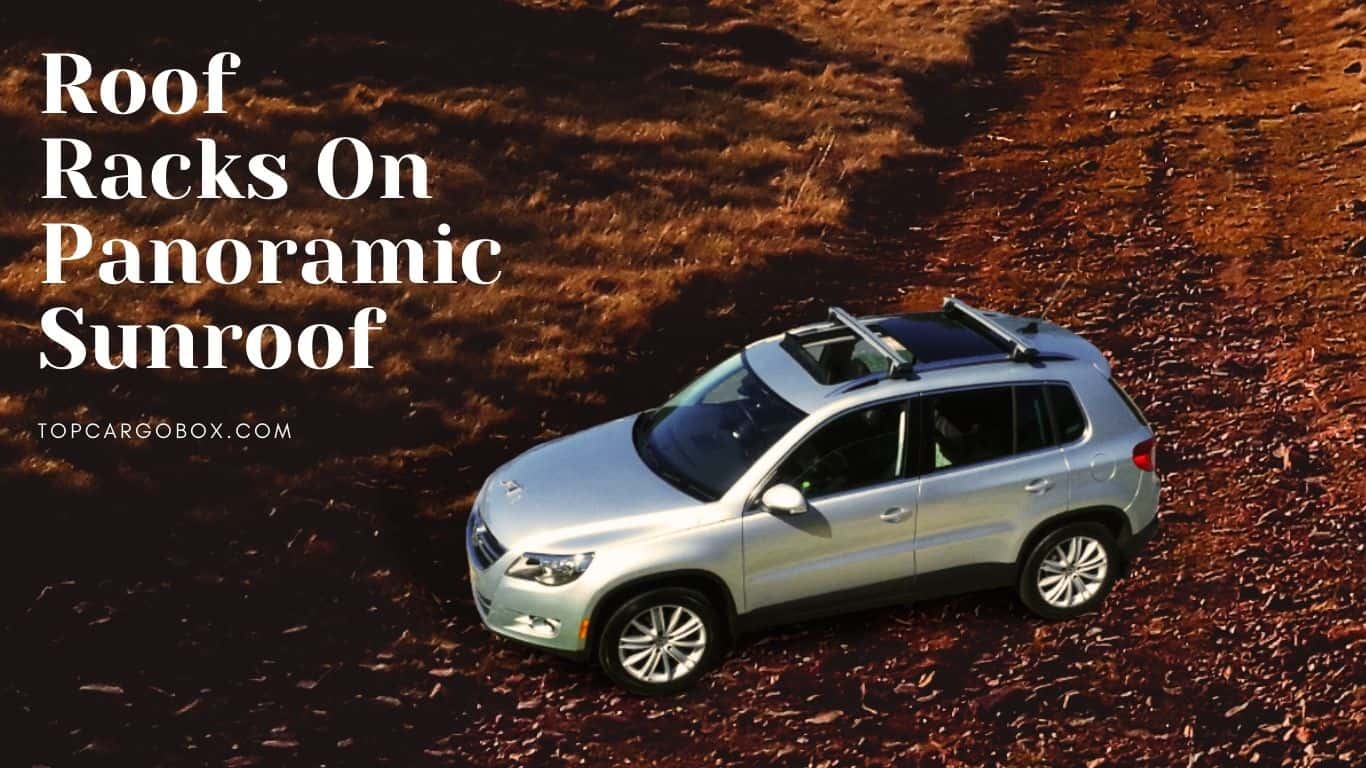 If you have done research on using cargo boxes for transportation, you must have heard about cargo bags or other cargo carriers that work without roof racks. You cannot use these products because of the panoramic sunroof. If you use a cargo bag on the moonroof, the bag swings when it is in motion; consequently, the movement cause scratches on the surface of the glass. Cargo carriers that work without racks are not for your expensive panoramic sunroof, so keep in mind to avoid those products.
A quality rack system can stand on top of your car and hold the cargo box several inches away from your sunroof, so you can still use the panoramic roof without a barrier. Some poor-quality racks may break when a fully loaded cargo box stands on the bars, and we recommend high-quality roof racks for your consideration.
If you are an outdoor enthusiast, you know about the Thule brand. Its roof racks are perfect for your panoramic sunroof. It won't disappoint you after using it for years.
Thule has many high-quality roof racks for vehicles, but we pick one for your panoramic moonroof.
Thule WingBar Evo Load Bars
After consulting with your car dealer, the experts may introduce the Thule WingBar Evo for you. It is not a surprise, but it is the answer from the people's mouths. The Thule WingBar Evo bars have a high ranking and positive reputation on the market because of the product's universal compatibility and outstanding quality.
When you look at the bars on Amazon, it offers you 5 length options for different car roof measurements; besides, you can choose an option to fit your car model. It is easy to find a suitable dimension to work with your vehicle, so you don't need instruction on this point.
The WingBar roof racks have two color options: black and silver. You can choose a color to fit your style. The WingBar racks are made of Aluminum materials, and the product is super light in weight and ultra-sturdy in quality. Consequently, the WingBar racks are stable and reliable on heavy loading. Your Panoramic sunroof is 100% safe below the WingBar crossbars.
It weighs 3.07 kg, and you can lift it alone without any assistance. If you decide to get one, you can get two bars in the package. The Thule group offers an aerodynamic design to the WingBar roof racks, and you can use some tactics to eliminate the wind noise when your car is in motion.
It is super simple to install the Thule WingBar on the roof of your car, and you can quickly finish the installation in half an hour; however, you have to follow the instructions to do it right without any potential risks. Otherwise, you can also fast and easily disassemble the racks.
Before performing the installation, you should read the manual brochure several times to get familiar with the entire assembly process. A successful installation brings much convenience and enjoyment, so accuracy is significant in this part.
Find second-hand Thule WingBar Evo Roof Racks on Ebay
---
Choose a Cargo Box to Work with a Panoramic Sunroof
In general, high-quality cargo boxes are the perfect picks for panoramic sunroofs.
Thule Motion XT Cargo Boxes
It is the best in our opinion. There are many reasons to make the Thule Motion XT the best on this list. We start to discuss and highly recommend it with love and passion.
The Thule Motion XT is the most secure box on the market because of its two-step lock system, and the box has no chance to be closed or open when you don't accomplish two steps – locking the push-button lock and function of the lid lock. Most people want methods to protect their cargo boxes from stealing, and you can find some ways to enhance the security of your roof box for preventing thefts.
The Motion XT boxes are expensive, but they are worth the costs. When you first see the box, you can find it has a glossy surface with an aerodynamic shape; moreover, the box's aero shape cuts the air and reduces the wind noise in motion. Your luxury car looks even more fashionable and cool after setting a Thule Motion XT roof box on it.
Thule Motion XT boxes have three size options: XXL, L, and XL. There are some tips to assist you in choosing the correct size box for your outdoor needs.
When picking a cargo box on the market, you should consider what items you will deliver within the box. A suitable box should fit your gear's length and height, and it must have enough loading capacity to transport the weight you are about to put into it.
You also need to measure out the width of your roof bars because cargo boxes' clamps come with a compatible width limit; thus, you have to ensure your chosen box's mounting hardware works with your existing bars. You can get the answer from the manufacturer's product description. (People usually state it as Bar Spread)
How many people will share the use of the cargo box?
If you have a large family with up to 4 people, you should pick the XXL or XL option for transporting items on holidays. Otherwise, the Large option box is for small families with fewer items.
If you have an interest in buying a Thule Motion XT box, you can read a buyer guide to know more about its dimensions, features, designs, and other must-know tips before taking a purchasing action.
---
Goplus Cargo Box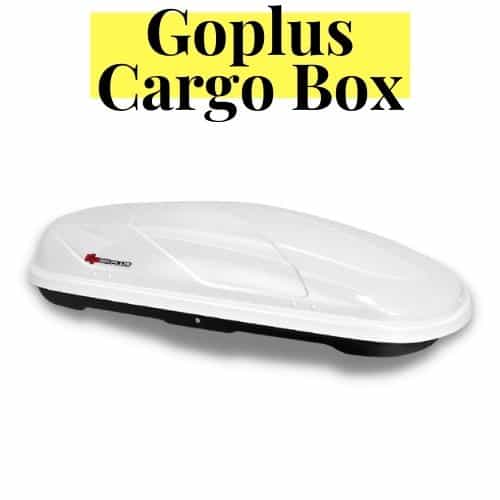 Goplus box does not like the Thule Motion XT with multiple size options, and it has only one size. The roof box has two colors: white and black. You can pick a color accordingly based on the style of your vehicle. It has 14 cubic feet of loading space for people to put their belongings in the box for transportation.
It is a good pick for all vehicle types: SUVs, Sedans, Trucks, and Vans. It is made of high-quality plastic materials, so you don't worry about the panoramic sunroof. The box will stably and quietly stay on top of the roof racks, and the sturdy clamps (hardware used to lock the box on the roof bars) won't break after a proper installation. It has, and the sunroof can work as usual; moreover, the panoramic moonroof won't have any scratches or damages after using a cargo box. Stop thinking that way.
Goplus manufacturers are in China, so the customer service is not responsive as other producers do; besides, it has problems when you want to return a box.
If you want to know more about the Goplus roof box, you can use a buyer guide to find more information for decision making. In the article, you can watch videos that show you the Goplus box from different angles with a complete installation process.
---
Thule Pulse Cargo Box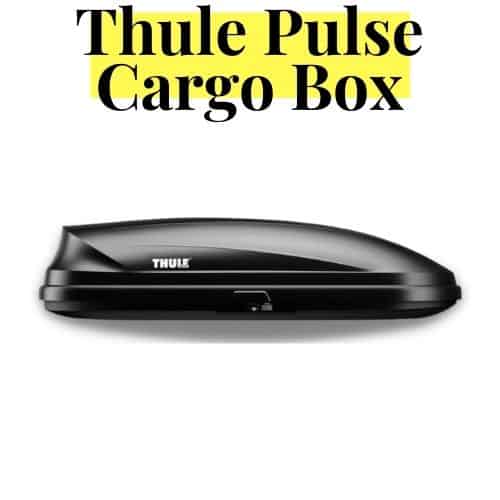 The Thule Pulse cargo box is another pick from the Thule brand, and it is a luxury box on the market. If your car is expensive with fancy printing and style, you can consider using the Thule Pulse or Motion XT to make your car looks even better after installing a cargo box on top.
Thule engineers use advanced materials and skills to build these nice-looking boxes with premium features, and they are super rugged and durable. We cannot find any negative feedback about the Thule boxes except some people intentionally leave some fake statements on the Internet to bring down the reputation of the Thule products.
However, the Thule Boxes are expensive. If you have a tight budget, you can pick other options below.
If you want to know more about the Thule Pulse cargo box, you can use a Buyer Guide to discover the information you need for decision-making.
---
SportRack Vista Cargo Box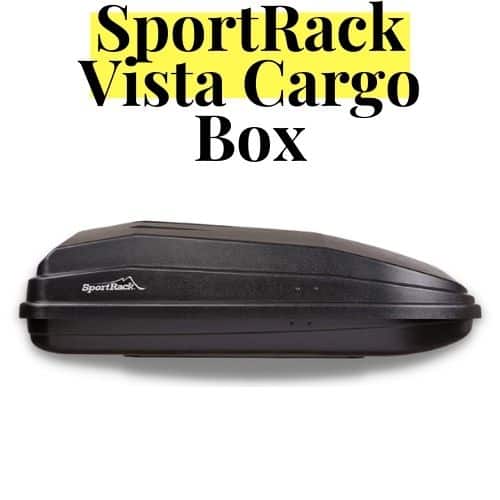 SportRack company belongs to the Thule Group, so Vista box is another pick from the Thule brand. However, the Vista box is much cheaper than the above options because of the quality of the components. When you look at the lock system of the Vista box, you can know why it is cheaper. If you wish the lock system to live longer, you must lubricate the lock-core regularly (monthly).
The flimsy lock system indicates why the Vista box has a cheaper price tag. The Sportrack Vista box is for experienced users because it requires monthly maintenance and a hassle installation process.
The Vista box has no flaws in quality check, and the box is made of high-density plastic materials; thus, the Vista box is super light to lift. You can carry it up alone, but it is not the right thing to do. We suggest you invite someone else to do the installation together to ensure better accuracy of the assembly.
If you require further info about the SportRack Vista roof box, you can read a buyer guide to learn more and compare the Vista box with other chosen cargo boxes.
second-hand SportRack Vista Box on Ebay
---
SportRack Skyline XL Cargo Carrier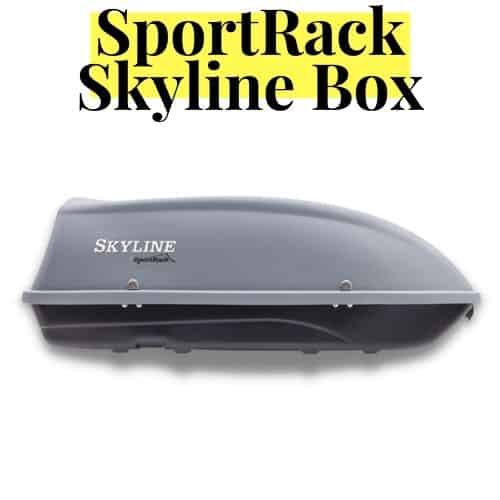 The Skyline box is another affordable box that has a hassle assembly process, and you need to combine 30+ parts to become an actual cargo box. Its price tag tells everything, and you don't worry about its quality. These cheap boxes don't have quality issues, but they have flimsy components like lock core and lid supporters.
For experienced users, you can use it with regular maintenance and replacement. It is still a good one to have. If you are new to cargo boxes, you should consider using those expensive ones for saving energy and time on repairing and maintaining the roof box.
---
Other Cargo Boxes For Consideration:
The Yakima box is often not in stock, so we put it here at the bottom. If you see it is available for buy, don't hesitate to get it because it should be the number one pick in this article.
---
---
---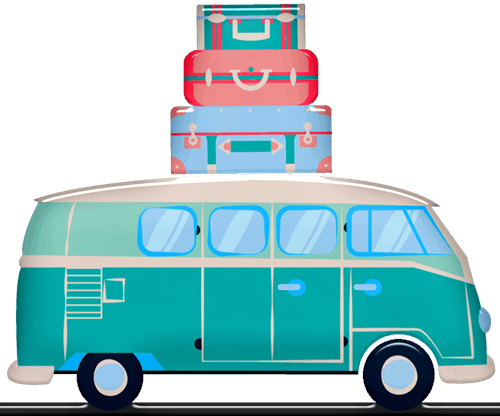 Our team is creating outdoor-gear relevant articles with passion. If our articles can help you to find the correct solutions for your questions, we will be happy about that. In the content creation process, we usually collect accurate and useful information online or offline to compile our content in an organized way. Consequently, we can guarantee that you can discover some expected answers to your questions. We appreciate your time on our site.
We are reader-supported. We get commissions for purchases made through links in this post, As an Amazon Associate we earn from qualifying purchases.