Last Updated on February 1, 2023
Cargo boxes are hardshell plastic-made containers you can mount on top of crossbars (horizontal bars on the car roof) for carrying belongings or gear between places. Most people use cargo boxes to transport their luggage for road trips or other outdoor journeys.
We can find cargo boxes in different sizes and shapes because manufacturers build these boxes for different outdoor needs. Consequently, you must understand what to do with a cargo box before adding one to the shopping cart. There are three types of rooftop cargo carriers for people to choose around when building a cargo management system on their cars. Cargo bags, boxes, and baskets are all for hauling items on top of vehicles, but cargo boxes are the most secure option. You can compare these cargo carriers with a guide we published in 2022.
Different cargo boxes have different prices, from $300 to nearly a thousand, so you better compare these boxes before making a decision. You must have a question about how to judge if a cargo box suits your outdoor needs. We will let you gradually become an expert with enough knowledge about cargo boxes.
Quick-Pick List of 11 Cheap Cargo Boxes
We find 11 cheap cargo boxes for your consideration, but they are smaller than expensive ones. Price range is from high to low.
---
---
---
---
---
---
---
---
---
---
---
Detail Of 11 Cheap and Small Cargo Boxes
Thule SideKick Cargo Boxes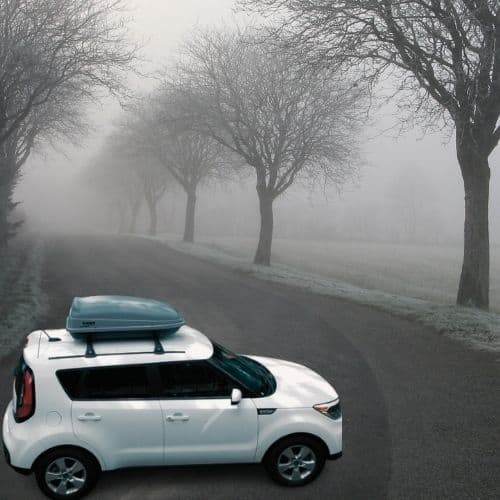 It is the most expensive selection in this article, but Thule always satisfies its customers with responsive services and trustable quality. You want to find a cheap and small cargo box, so you should focus on the price and the dimensions.
Thule SideKick is a perfect solution for small cars, and it is also a good choice for people who wish to mount other cargo carriers (bike racks or ski carriers) on the other side of the roof bars. Its external measurement is 54 x 25 x 15.5 inches or 137.16 x 63.5 x 39.37 cm, and you can use these numbers to know how large an area it will occupy on the car roof. If it meets your demands, you should consider getting it.
Although the Thule SideKick is a small cargo carrier, it gives you 8 cubic feet (227L) of storage space for hauling things above the car roof. You can pack up to 75 lbs of items in the box for transportation, and you should follow some tips to pack a cargo box for both effectiveness and safety.
The Thule SideKick cargo box weighs 16 pounds or 7.2 kg, and you can lift it alone for installation. It opens from the passenger side to avoid risks from using the cargo box on highways. You can find 4 U-shape bolts in the package for installation, and you use these bolts to lock the box on crossbars without a tool. Most people spend less than 10 minutes assembling and installing the cargo box to their cars, and you won't be the exception.
You can find an integrated lock system on the cargo box, but you better use lubrication powder to maintain the lock core after a period of time. You better ask the manufacturer to give you extra keys and leave one in the car for a situation when you don't have a key for the locked cargo box. If you require more information about the Thule SideKick cargo boxes, you can refer to an article to learn more.
---
OMAC Rooftop Cargo Carrier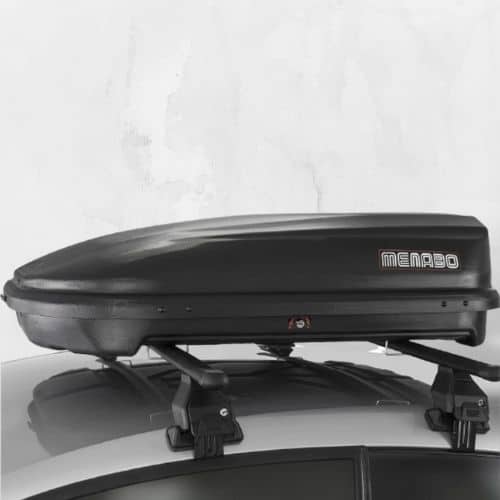 OMAC cargo carrier is another small cargo box that is under 500 dollars. Its dimensions are 50 x 35.5 x10.3 inches or 127 x 90.17 x 26.2 cm, and you can use these numbers to compare with the Sidekick's measurement to see the differences in sizes. For example, the Thule SideKick is 10 cm longer than this OMAC cargo carrier.
OMAC cargo boxes open from the passenger side with 11 cubic feet of inner space for loading up to 110 lbs of belongings; however, it is not an option for transporting long gear like snowboards or skis.
It works with most crossbars, but you should check if your existing bars are equal to or lean than 3.1 x 1.3 (bar-heads measurement W x H) inches in size; otherwise, the U-bolts cannot lock on the bars.
You can find two 8 feet straps in the package for tightening belongings to the bottom of the cargo box, and you can buy more sturdy straps for added security. We find some accessories you can use to maximize the enjoyment of a hardshell cargo box.
---
Nagauna Waterproof Cargo Box
It is another affordable and small cargo box for outdoor enthusiasts. It is cheaper than Thule SideKick and OMAC cargo carriers, but the Nagauna brand is not as famous as the former. We have not heard about the Nagauna brand in the cargo box industry in 2021 and 2022. Consequently, you are on your own if you decide to be the first person who eats the crabs.
Its dimensions are 53 x 24 x 15 inches or 134.6 x 61 x 38 cm, and it comes with 10 cubic feet of storage space for carrying up to 100 lbs of stuff. Nagauna cargo boxes use U-shape bolts to lock the cargo box to the roof racks: factory, round, square, and aerodynamic racks. If you are new to cargo boxes, you can refer to a post to learn the general process of installing a cargo box to the roof racks and prepare some knowledge before starting.
The manufacturer uses ABS material to build the box and coat it with glossy black, so it is waterproof, sturdy, durable, and UV-resistant. You can find two supporting arms that hold the lid when the cargo box is in use. A pair of keys are in the package, so you should keep one in the car for emergency situations. Don't forget to maintain the lock core with lubrication oil or powder after using the cargo box for a while.
---
SportRack Vista XL cargo box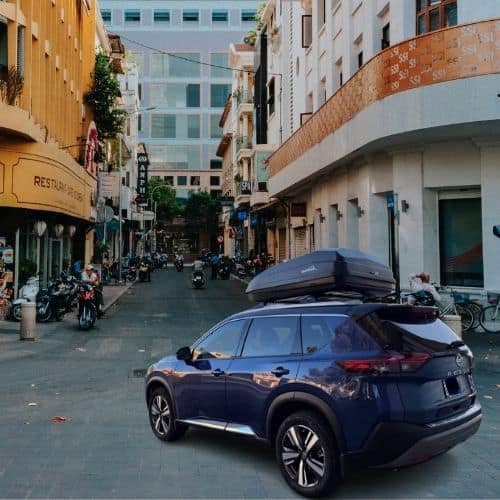 SportRack Vista XL is one of the best-selling cargo boxes in 2021 and 2022, so you won't disappoint with it. It opens from the back, and the rear-opening feature is unique on the market. The rear-opening function brings easy accessibility when packing the box, so you can use two sides to organize items.
SportRack Vista cargo carrier comes with 18 cubic feet of loading space for carrying up to 100 lbs of stuff on the roads, and it may satisfy most outdoor needs. However, it is not for skis or snowboards like SportRack Horizon does.
After measuring its external length, width, and height, we know its dimensions are 63 x 38 x 19 inches or 160 x 96.52 x 48.26 cm. Thus, you can use these numbers to estimate if it is a suitable box for your outdoor life. You can measure up the items you want to load into a cargo box and use the measurement to test if SportRack Vista XL is large enough to hold your stuff.
SportRack Vista XL has a flimsy lock system, so you need to pay extra attention to it and maintain the lock core carefully for a longer life cycle; otherwise, you can find a replacement online to repair the broken lock system. If you are good at DIY, you can change the lock component with high-quality alternatives.
Most people are concerned about the compatibility match with their vehicles when buying a rooftop cargo box, but it is not a problem between cars and cargo boxes but crossbars and these boxes. If you are fresh to this topic, you can read this article to understand the relationship between roof rails, crossbars, and cargo carriers (including cargo boxes).
If your vehicle has a bare roof (empty car roof without roof rails), you can find several universal crossbars that work for naked car roofs. As we know, the SportRack Vista XL has 4 mounting U-shape bolts which work for most roof bars: factory, aerodynamic, round, and square crossbars; However, if the roof bars are too high or wide, the bolts cannot lock on them for a successful installation. Thus, you may need a compatibility check with the manufacturer before buying one. Find SportRack Vista XL on Ebay.
Some official PDFs that may help:
You can find more information about the SportRack Vista XL by reading through another article.
---
Goplus 8.83 Cubic Feet Cargo Box
Goplus released this model in 2022 around July, but it is a small roof box with 8.83 cubic feet of loading space. Its loading capacity is about 121 pounds, so you can confidently stow up to 121 lbs of stuff in the box without a hassle.
Its overall measurement is 52 x 30.5 x 12 inches or 132 x 77.5 x 30.48 cm, so it is shorter than SportRack Vista but a little bit longer than OMAC boxes. If you wish to try it on your car, you better test it with your actual luggage measurement.
Goplus utilize PP plastic materials to build this new model, so it has waterproof, long-lasting, UV-resistant, and sturdiness as its characteristics. The passenger-side opening feature allows you to open the cargo box from the right side, so you won't take the risk of coming traffic when loading or unloading the roof box on highways. You can find a central lock component on the lid to protect your belongings from start to end. You should contact the manufacturer to ask for several keys and prepare for the time when you don't have a key for a locked cargo box.
This Goplus model works on crossbars less than 3.15 inches wide, and the distance between two roof bars should be between 18.5 and 36.61 inches; otherwise, you cannot use the Goplus cargo box. This model works with most roof racks: square, round, factory, and aerodynamic crossbars.
We have more information about it: check more detail.
---
SportRack Horizon Models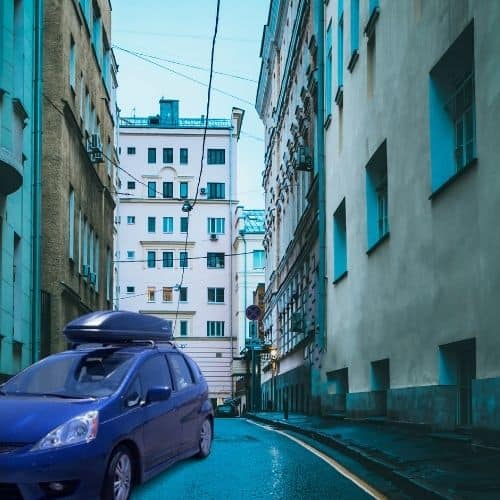 SportRack Horizon model has two size options: Alpine, Large, and X large. If you want to find a cargo box to transport skis or other long gear, the SportRack Horizon Alpine is a cheap one for the job.
It weighs 29 pounds, and you can lift it alone for installation; however, we believe two people working together can make the installation process more secure and accurate.
SportRack Horizon Models work on most roof racks: square, round, factory, and aerodynamic rack systems. The Alpine model provides 11 cubic feet of interior room for loading items up to 110 pounds, and its dimensions are 88.4 x 20.7 x 15.9 inches or 225 x 53 x 53 cm.
SportRavk Horizon Large Model is shorter than the Alpine model, so it is perfect for carrying road trip luggage. X Large Model is the longest choice in the SportRack Horizon series.
Large: 75.9 x 33.2 x 16.1 inches or 193 x 84.3 x 40.6 cm
X Large: 91 x 30.7 x 16.5 inches or 231.1 x 78 x 41.91 cm
You can use these numbers to check suitability and make decisions.
Can you use a rooftop cargo box on a car with a panoramic sunroof?
Yes, you can. When adding rooftop cargo carriers to a car with panoramic sunroofs, you must use high-quality crossbars to protect the expensive panoramic sunroof before adding other rooftop cargo carriers to your vehicle. You can follow this guide to learn more tips about using roof racks on panoramic moonroofs.
Related Topics: more information about SportRack Horizon models
---
TACTIK Rooftop Cargo Carrier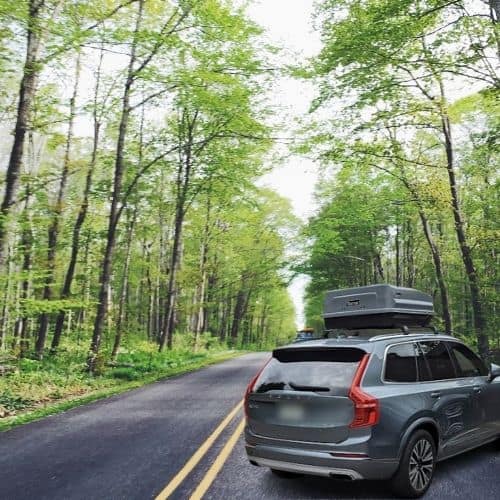 It is another small and cheap rooftop cargo box for most cars. TACTIK is a US brand that mainly focuses on selling car accessories. TACTIK people use high-density plastic material to build this cargo box to satisfy people's outdoor living styles.
It opens from dual-side, so you can conveniently load or unload anywhere. Dual-side access cargo boxes are often expensive, but the TACTIK is an exception with this premium feature.
TACTIK cargo carrier offers 18 cubic feet of loading room to store up to 110 pounds of belongings for outdoor enthusiasts. Its measurement is 57 x 38.5 x 17.75 inches or 145 x 98 x 45 cm, and these numbers are external dimensions, not internal. The actual inside loading space may be smaller than the above numbers, a tiny difference.
On TACTIK cargo carriers, there are four corner locks for security and safety; moreover, you can follow a coaching guide to find some tactics to add extra protection to a cargo carrier and prevent theft. After applying these tracking methods to a cargo carrier, you can enjoy the time away from the vehicle and stop worrying about being stolen.
TACTIK confirmed that its cargo boxes fit on the square, round, factory, and aerodynamic crossbars less than 4 inches wide, so you should pay attention to this point when making decisions. If your car has existing roof bars, you must confirm that the crossbar spread (the distance between two roof bars) is 24 inches; otherwise, you may need to drill new holds at the bottom of the cargo carrier.
TACTIK cargo box has an aerodynamic design that cuts the air when it is in motion, and the aero-shape reduces the effect on mileage and eliminates the wind noise as much as possible. We found the 7 most aerodynamic cargo boxes are better at cutting the air than TACTIK boxes.
Related Topic: More Information about the TACTIK cargo boxes
---
Heavy Duty Rooftop Cargo Carrier From Dynasty Store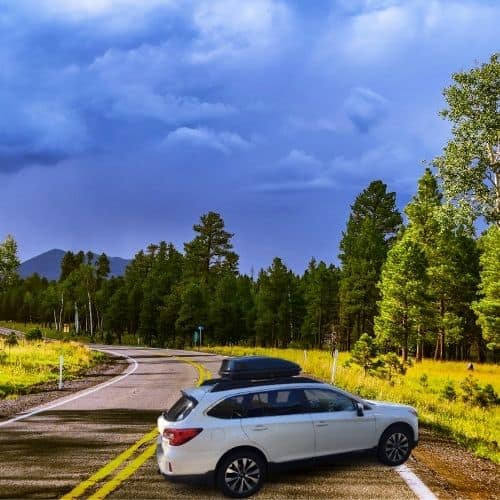 It is another small cargo box with 11 cubic feet of storage space and is cheaper than the above options. After checking out the above selections, you may have gotten a general idea about choosing a rooftop cargo box for a car.
Dynasty cargo box can hold up to 110 pounds of items, and its overall external dimensions are 53 x 34 x 15 inches or 134 x 86 x 38 cm. We have a post that ranks cargo boxes from long to short or large to small, so you can get more ideas by checking out the comparison table.
It opens on the passenger side like the Goplus 2022 model. The manufacturer uses ABS plastic materials to build this cargo box to make it super sturdy, waterproof, durable, and ultra-light. You can install a Dynasty box to the roof racks without a tool, but you should ask someone to join the installation process for better security and accuracy. We don't have much information about this small cargo carrier, so you can use the link below to find relevant knowledge on Amazon.
---
TUFFIOM Waterproof Cargo Box
TUFFIOM cargo boxes have three different size options: 11.65 Cubic, 8.83 Cubic, and 13.4 Cubic. You can choose one that fits your outdoor needs without investing too much in unnecessary premium features. TUFFIOM cargo carriers have all the needed components to make the cargo boxes able to handle most customer needs, but not for heavy-duty assignments.
It has a both-side opening feature that allows you to open and close the box from dual sides, and you can have many conveniences when loading or unloading the cargo box. The integrated lock systems are on both sides, so you can easily lock the box without walking around your car.
TUFFIOM is the only option that has lock cores on both sides. If you like this feature, you can consider using the TUFFIOM box as a rooftop luggage carrier for your family.
Dimensions:
11.65 Cubic Model: 55 x 29.5 x 12.2 inches or 139.7 x 74.93 x 30.98 cm
8.83 Cubic Model: 48 x 28.3 x 12.6 inches or 121.92 x 71.882 x 32 cm
13.4 Cubic Model: 61 x 27.6 x 13.8 inches or 154.94 x 70.1 x 35 cm
You can use these numbers to estimate how high your vehicle will be after adding a cargo box and figure out if a specific box model suits your luggage sizes.
---
JEGS Rooftop Cargo Carrier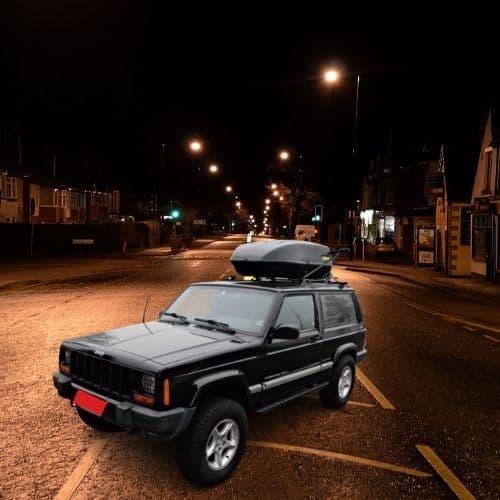 It is another cheap option, and it has three size options: 18 Cubic Dual-side opening model, 10 Cubic Small Model, and 18 Cubic Rear Opening option. You can choose one that fits your outdoor lifestyle.
Whatever the model you pick from JEGS, the loading capacity is up to 110 lbs; consequently, you should know how much weight your car's roof can hold and follow the roof loading limit to use the cargo box.
JEGS uses HDPE plastic material to build these boxes and make them ultra-light, waterproof, and long-lasting, but you need to pay attention to the flimsy lock components because they are not strong enough to live longer. The tool-free installation brings many conveniences when it is time for assembly and compatibility checks. We know JEGS boxes work with most roof racks: round, square, aero, and factory, so it is not a big issue for cars with existing roof bars.
Measurement of three JEGS models:
10 Cubic Small Model: 47.5 x 28 x 12.5 inches or 120.65 x 71.12 x 31.75 cm
18 Cubic Rear Opening: 61.25 x 39 x 12 inches or 155.5 x 99 x 30.48 cm
18 Cubic Dual-Side Opening: 61.25 x 39 x 12 inches or 155.5 x 99 x 30.48 cm
More about the JEGS cargo carriers
---
GQOG Rooftop Soft Cargo Bags
We put this soft cargo bag here for your consideration because it is the cheapest one in this article, and most soft roof bags are much more affordable than hardshell cargo boxes. However, soft cargo bags are less secure than boxes, and most cargo bags bring more road noise and produce waste on gas mileage.
If you want to find the differences between cargo boxes and soft cargo bags, you can follow an article for more knowledge.
GQOG soft cargo bags have two different size options: 20 Cubic and 15 Cubic. 15 Cubic model is cheaper than the 20 cubic option. These bags are waterproof with zipper systems, and the zipper locks can protect your belongings from theft.
Do you need crossbars to use a soft cargo bag?
We have a post that answers this question in detail with recommendations. The short answer is NO.
You can find a protective mat in the package that you can use to prevent scratches on the car roof. You must not directly put the cargo bag on your car roof without laying the mat underneath. After adjusting the bag's position, you can use several sturdy straps to tighten the cargo bag to the car door frames. The installation process is tool-free and easy to learn, so you should follow the instructions and carefully attach the bag to your car.
---
Conclusion
We list 11 cheap and small cargo carriers for outdoor enthusiasts. You can compare these options in different factors: dimensions, loading capacity, price, weight, and installation components. After comparison, you may find the most suitable one for your car. We don't know what car you drive, but you can use our site to find a compatible cargo box without further digging on the Internet.
Related Topic: Low-profile cargo boxes