Last Updated on February 8, 2023
Why do you need a roof cargo box for your Toyota Corolla? When you want to load more things in your compact sedan, you find that it is out of storage room. Most people feel the same way you have there. You can find solutions to expand the loading space for a Toyota Corolla without spending too much investment or energy.
You can follow this article to build a rooftop cargo management system for your Corolla and load enough luggage or gear for most outdoor adventures.
Toyota Corolla is a compact sedan with 13.1 cubic feet of trunk space, and you can fold the rear seats down to get a total of 18 cubic feet of space in the hatchback. However, for most outdoor enthusiasts, it is not enough at all. Although 18 cubic feet is a large area for luggage, where do passengers sit without the standing back seats? Thus, adding storage space outside the cabin room is the best solution for people who want to transport more luggage with their Toyota Corolla.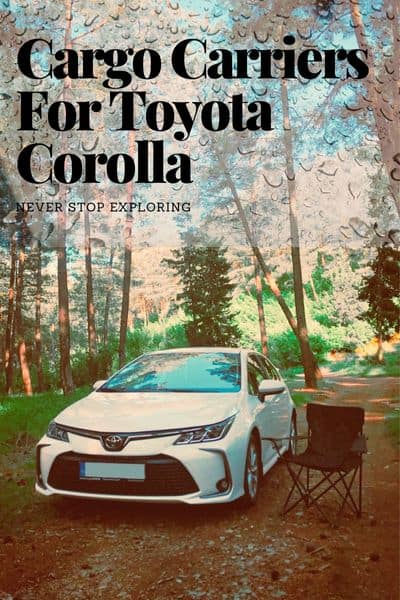 ---
Quick-Pick List of 6 Cargo Carriers For Toyota Corolla
| Image | Product | Weight | Capacity | Opening | Dimensions | Link |
| --- | --- | --- | --- | --- | --- | --- |
| | SportRack Vista XL |  28 Pounds |  18 Cubic Feet |  Rear opening |  63 x 38 x 19 in / 160 x 96.5 x 48 cm | Chick Price |
| |  Thule Pulse |  34 lbs |  14 Cubic Feet |  Passenger-side opening |  67 x 35 x 16 inches | Chick Price |
| |  FIVKLEMNZ |  9.48 pounds |  21 Cubic Feet |  Zipper System |  52 x 40 x 17 inches | Chick Price |
| |  TUFFIOM |  24.25 lbs |  13.4 Cubic Feet |  Dual-side opening |  61"L x 27.6"W x 13.8"H | Chick Price |
| |  Thule Sidekick |  16 lbs |  8 Cubic Feet / 227L |  Passenger Side |  54 x 25 x 15.5″ | Chick Price |
| | Rhino-Rack | 47.4 pounds | 18.7 Cubic feet | Dual-side opening | 85 x 31.5 x 17 inches | Check Price |
---
Roof Racks For Toyota Corolla
Before adding a rooftop cargo carrier to your Toyota Corolla, you must have roof racks on the car roof. However, rooftop crossbars are not universally fit on all car models; thus, you need to consult the local Toyota dealer for a compatibility check when shopping for a pair of crossbars. You can contact the local Toyota dealer to order roof bars or find one on Ebay or Amazon. We recommend a set of items (compatibility check confirmed) that you can use to build a roof rack system for a Toyota Corolla with a bare roof.
Thule Wingbar EVO Crossbars
You can use the Thule Wingbar EVO 53-inch crossbars on your Toyota Corolla. It is one of the most aerodynamic roof racks on the market, and it cuts the airflow to reduce wind noise and decrease the effect on mileage. You won't see significant changes in mileage consumption after adding rooftop cargo boxes to a car, especially with aerodynamic crossbars.
Thule uses aluminum materials to build these bars for better performance when working with heavy loads, and you can use the Thule Wingbar on expensive panoramic sunroofs. Most car manufacturers don't allow customers to use roof racks on panoramic moonroofs, so you better consult the dealer to know the results about using roof racks on a Toyota Corolla with a panoramic sunroof.
Crossbars are the foundation of a rooftop rack system, so you should choose a high-quality one like the Thule Wingbar to do the carrying job. You don't save money on roof racks! It is about safety, not relevant to the $50 you can save from a pair of cheap bars.
Tips:
You must read the instruction carefully to learn the installation process and check the existence of all necessary parts in the package.
You have to clean the car roof for installation.
You should keep the distance between two bars between 60cm to 80cm and never carry cargo when the bar spared is under 60cm.
You should manually test the roof racks and any above cargo carriers by pushing or pulling them in different directions for safety and accuracy checks.
Don't overload the roof racks for any reason!!!
Don't drive too fast with rooftop cargo carriers.
Thule EVO Clamp Foot Pack
It is a set of tower feet for the Thule Wingbar, so you must have it if you want to use the Thule Wingbar on your Toyota Corolla.
Thule Roof Rack Fit Kits 5148
Finally, you must have the FIT KIT 5148 to mount the Thule Wingbar roof bars on a Toyota Corolla without roof rails. Thule Fit Kits are for cars with naked roofs, and Thule has different Fit Kits for most car models. Toyota Corolla works with the Fit Kits 5148.
---
Detail of 6 Cargo Carriers For Toyota Corolla
SportRack Vista XL Rear Opening Cargo Box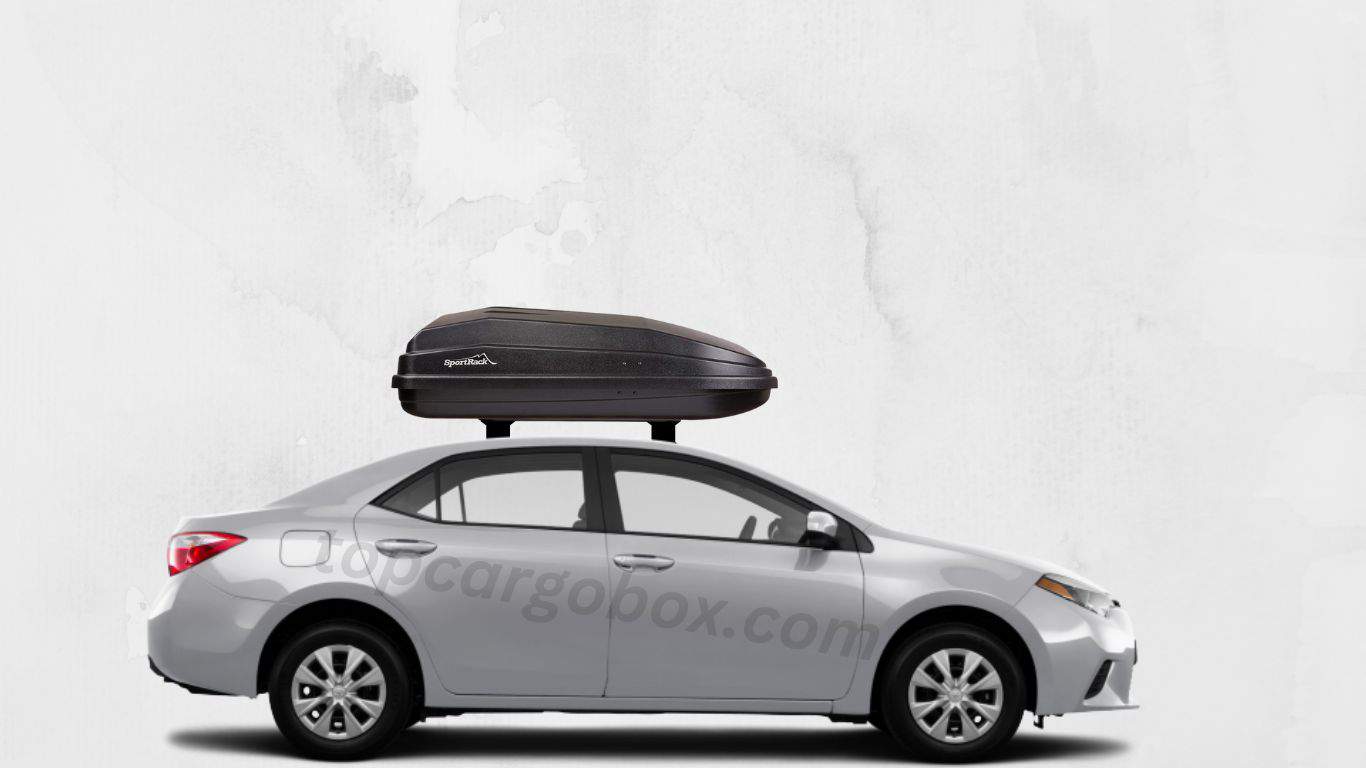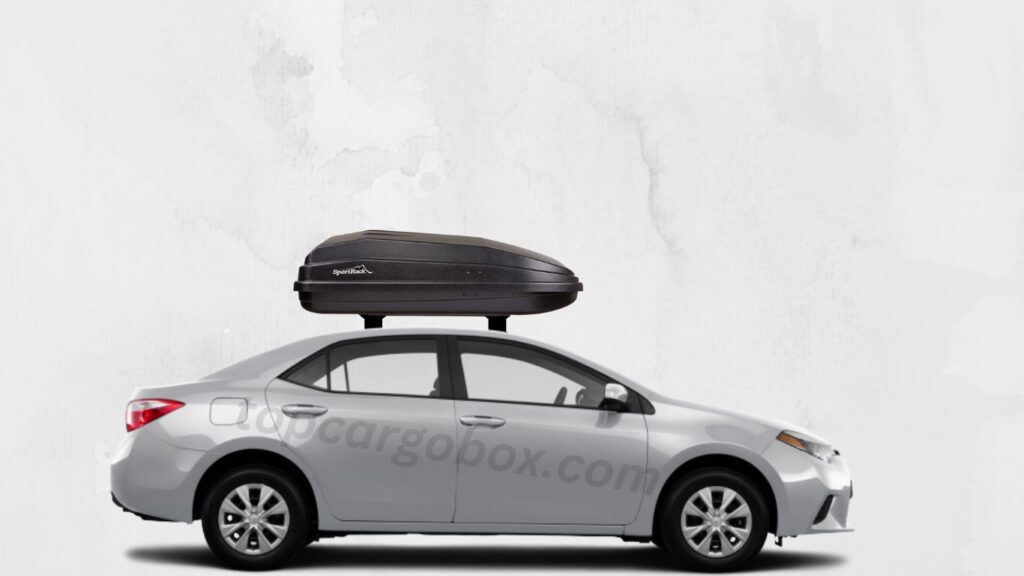 The SportRack Vista XL roof box is one of the best-selling cargo carriers because of its affordable price, aero shape, rear opening, sturdy body, and big loading room. You can use it for most outdoor activities like road trips, hiking events, hunting journeys, camping holidays, golfing games, and more; as a result, roof cargo boxes are popular in recent years because it creates extra loading space on the car roof.
The SportRack Vista XL has 18 cubic feet of inner room for carrying belongings, and its dimensions are 62.5 x 39 x 19 inches or 158.75 x 99.06 x 48.26 cm. You can use these numbers to estimate if the SportRack Vista fits your specific items and to find out the height of your Corolla after adding the Vista box on the car roof.
The SportRack utilizes ABS plastic materials to construct the Vista XL cargo box to make it as light as 28 pounds, and you can lift it alone for installation. The installation is simple enough for most of us, and you can use four tool-free mounting hardware to connect and lock the cargo box on crossbars in minutes. During the installation, you should adjust the position of the cargo box to avoid interference with the opening hatchback and the roof antenna.
The unique rear opening feature allows you to load items in the cargo box from both sides, and you can utilize a Car Door Step to stand higher for loading and unloading. The SportRack Vista allows a minimum of 60cm to a maximum of 75.5cm bar spread (the distance between two bars), which meets the requirement of the Thule Wingbar crossbars.
SportRack Vista XL cargo carrier has a flimsy lock system, which you should pay extra attention to, so you better apply lubrication powder to the lock core regularly for a longer lifecycle. We find some accessories you can use on a rooftop cargo box for better maintenance, enjoyment, and protection.
According to the SportRack official description, you can load up to 100 lbs of stuff in the box; however, you should know how much weight a Toyota Corolla can hold on its roof and learn about the relationship between static roof loading limit and the dynamic roof loading rate. If you need more information about the SportRack Vista XL cargo box, you can read another article to check more detail.
---
Thule Pulse Roof Cargo Box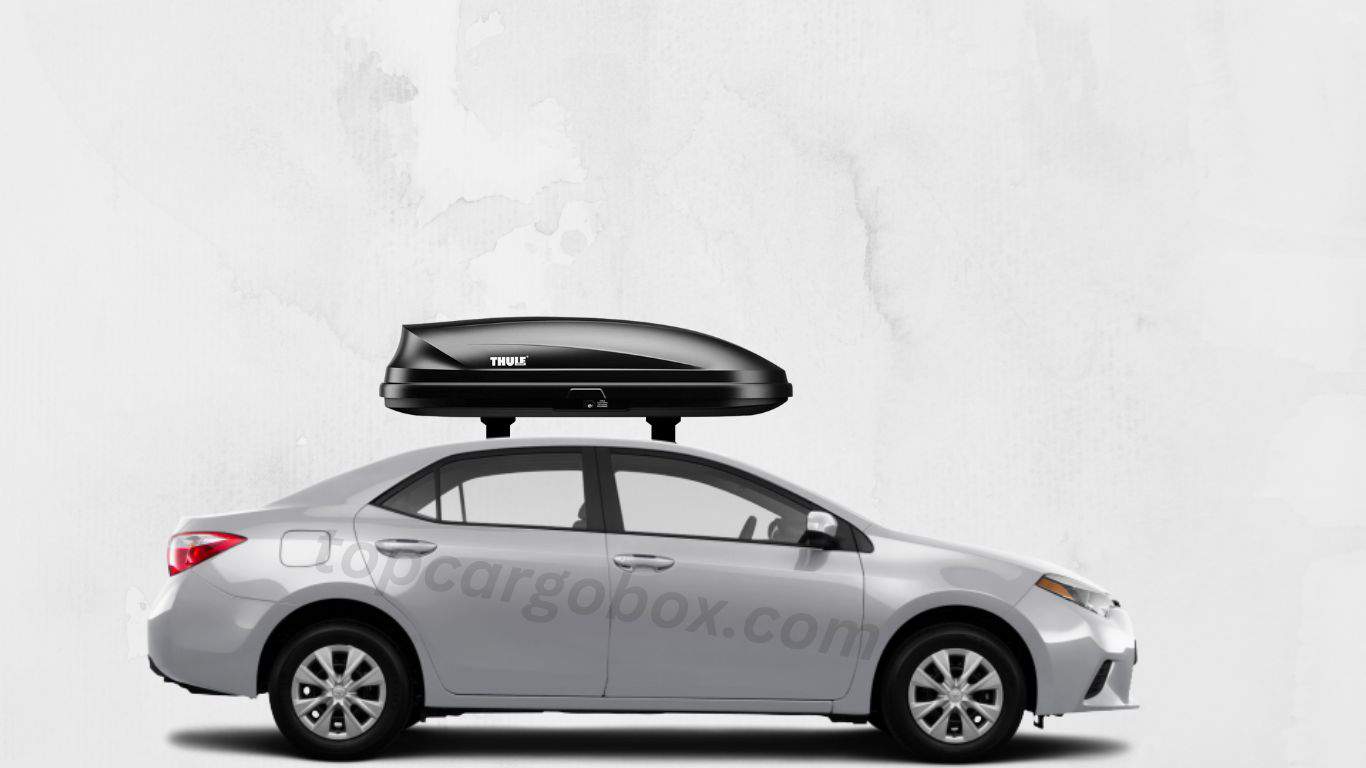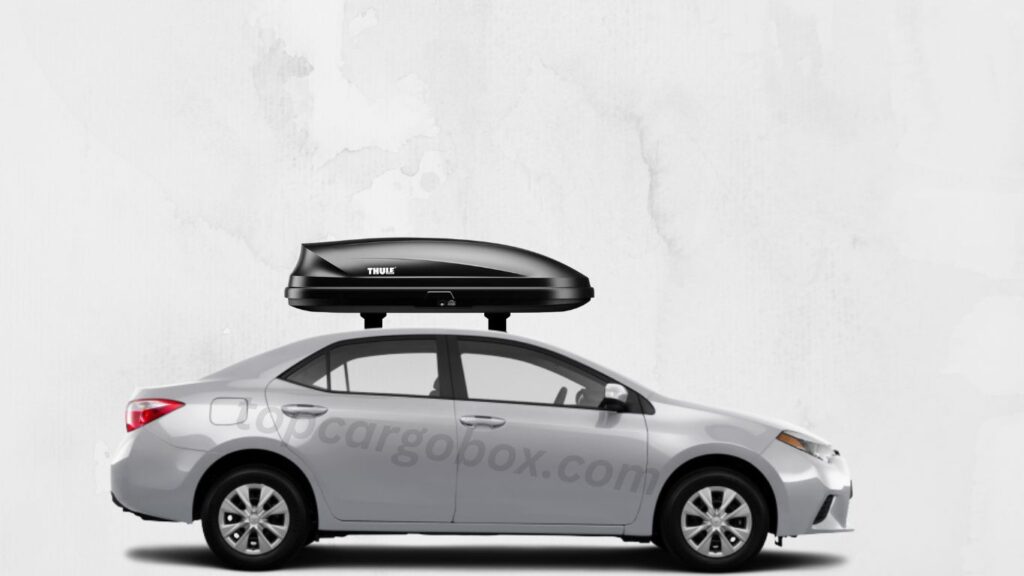 Thule Pulse series has three size options: Medium, Alpine, and Large. These models have different dimensions to make them suit for specific outdoor needs. For example, Thule Pulse Alpine is perfect for long gear like skis or snowboards, and the Alpine is a low-profile box that won't make your Corolla too high. The Alpine model is more aerodynamic than the Medium and Large models, and you can have better fuel efficiency with the Alpine model.
The Thule Pulse series fits on most crossbars: factory, round, square, and aerodynamic racks (including the Thule Wingbar). These boxes open from the passenger side, which helps you avoid risks of the coming traffic when using a roof box on the highway.
We want to use the Medium model on Toyota Corolla because they perfectly match each other in size. The Large model is longer than the Medium but narrower, so the Large model is for people who want to use a cargo carrier for long gear and road trip luggage.
Dimensions of three Thule Pulse Models:
Alpine: 88.5 x 25.5 x 12.5 inches / 224.79 x 64.77 x 31.75 cm
Medium: 67 x 35 x 16 inches / 170.18 x 88.9 x 40.64 cm
Large: 76 x 33 x 16.5 inches / 193.04 x 83.82 x 41.91 cm
There is more about the Thule Pulse series, so you can follow another article to discover specifications, features, images, and videos about the Thule Pulse boxes.
---
FIVKLEMNZ car rooftop cargo bag
Have you heard about soft rooftop cargo bags? These soft cargo bags are more affordable than hardshell roof boxes, and they are foldable; Thus, you can keep one in the car trunk and get ready for loading more when the time calls. Do you need roof racks for using soft cargo bags? You don't need roof racks for using a soft rooftop cargo bag.
FIVKLEMNZ uses 700D oxford cloth materials to make this cargo bag, so it is waterproof and sturdy enough for the regular loading job, even in extreme weather conditions.
When attaching the cargo bag to your Corolla, you must put a protective mat underneath to prevent slipping when the cargo bag is in motion. After loading, the cargo bag becomes a container about 52 x 40 x 17 inches or 132.1 x 101.6 x 42.18 cm in length, width, and height.
You can use 10 strengthened adjustable straps with 6 hooks to tighten the cargo bag to the car door frames, so you don't worry about safety.
After using it for a while, you need to clean it and maintain it for a longer lifecycle; however, if you want to use a high-pressure washer to clean a soft cargo bag, you need to follow these tips.
According to the manufacturer's suggestion, you can load 5 suitcases, 3 4-person tents, 6 camping chairs, or 2 camping tables in a 21 cubic feet space; additionally, FIVKLEMNZ has two size options: 15 cubic feet and 21 cubic feet. This cargo bag has a waterproof zipper system to keep your belongings in safe and dry condition, and you can add locks on the zipper to prevent theft.
---
TUFFIOM 13.4 Cubic Feet Hardshell Cargo Carrier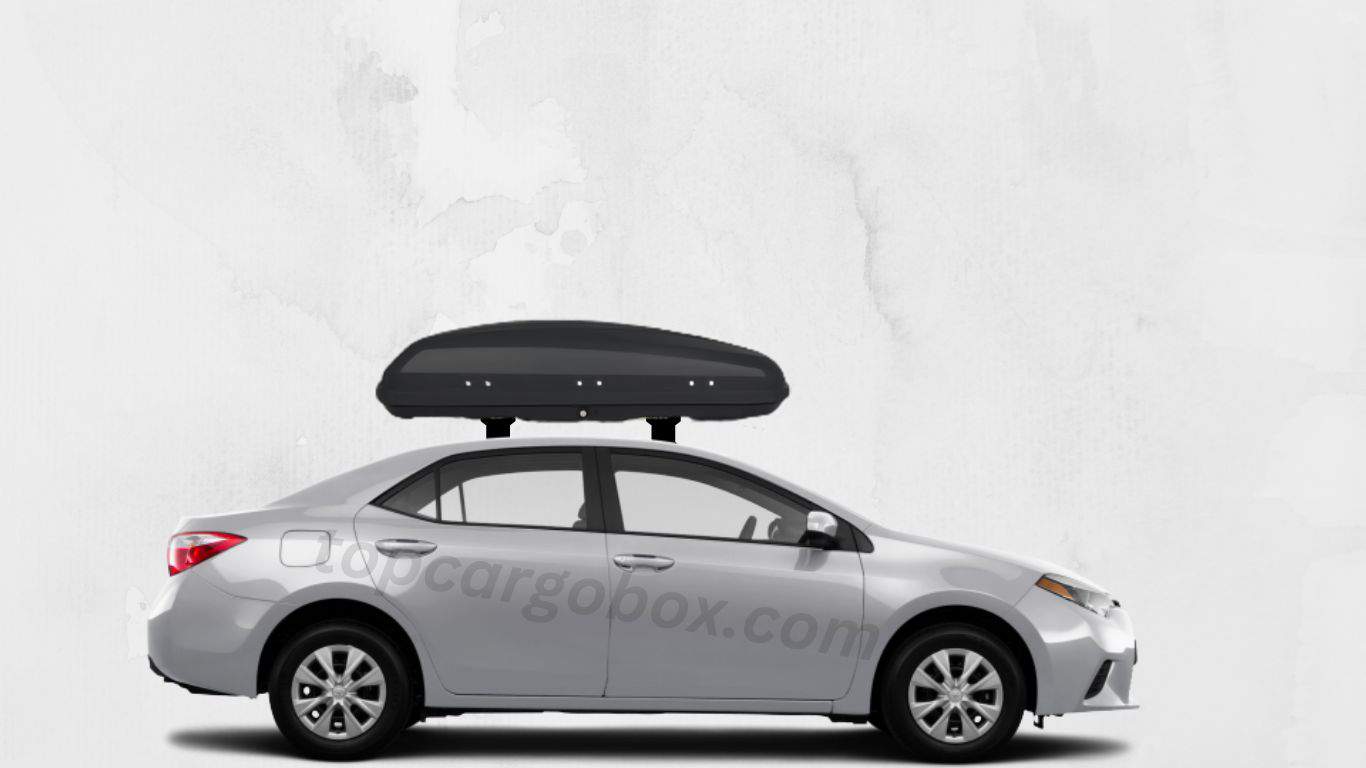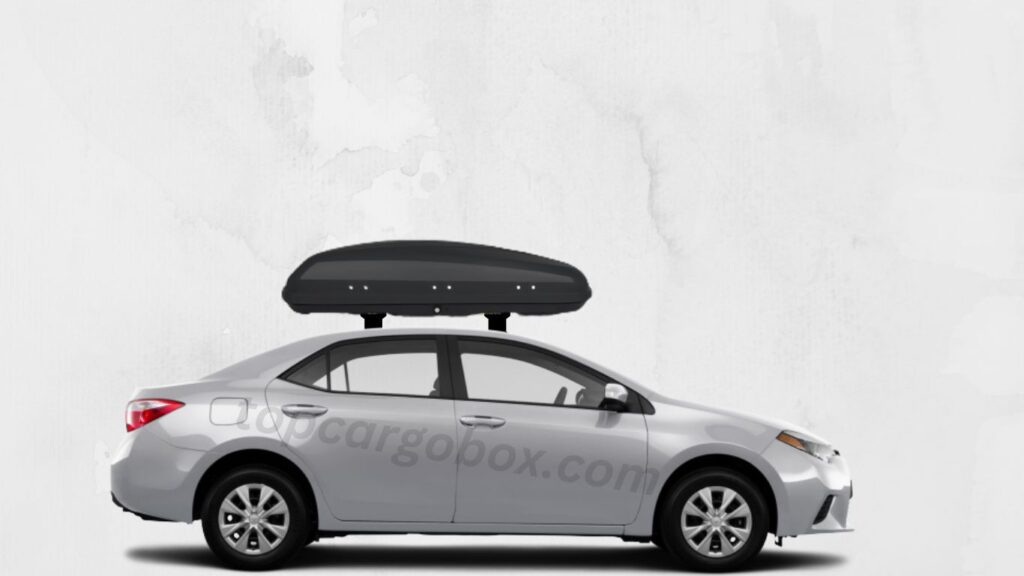 After successfully installing crossbars on your Toyota Corolla, you can use the TUFFIOM cargo box without worry. TUFFIOM utilizes ABS (Acrylonitrile Butadiene Styrene) plastic to build this cargo box for most vehicles: sedans, SUVs, and trucks.
This cargo box weighs 24.25 pounds, and its dimensions are 61 x 27.6 x 13.8 inches or 154.94 x 70.104 x 35.052 cm. The maximum loading capacity is about 150 pounds which means you can load up to 150 lbs of items in the box; however, you must follow the car roof loading limit to use any roof racks. If you are new to roof racks, you should read an article to understand the relationship between roof rails, crossbars, and rooftop cargo carriers.
TUFFIOM cargo boxes open on both sides and bring you many conveniences when organizing items in the box. It has a streamlined and aerodynamic design, which minimizes wind noise and reduces the effect on gas mileage while the car is in motion. When driving with a rooftop cargo box, you may need to learn some tips for safely operating your Corolla with a rooftop cargo box.
You can find a central lock system on the TUFFIOM cargo box to protect your belongings on a road trip when you are away from the vehicle. However, you should regularly maintain the lock core with lubrication powder or oil to expand its lifecycle.
You can use the link below to find more detail about the TUFFIOM cargo boxes on Amazon.
---
Thule SideKick Rooftop Cargo Boxes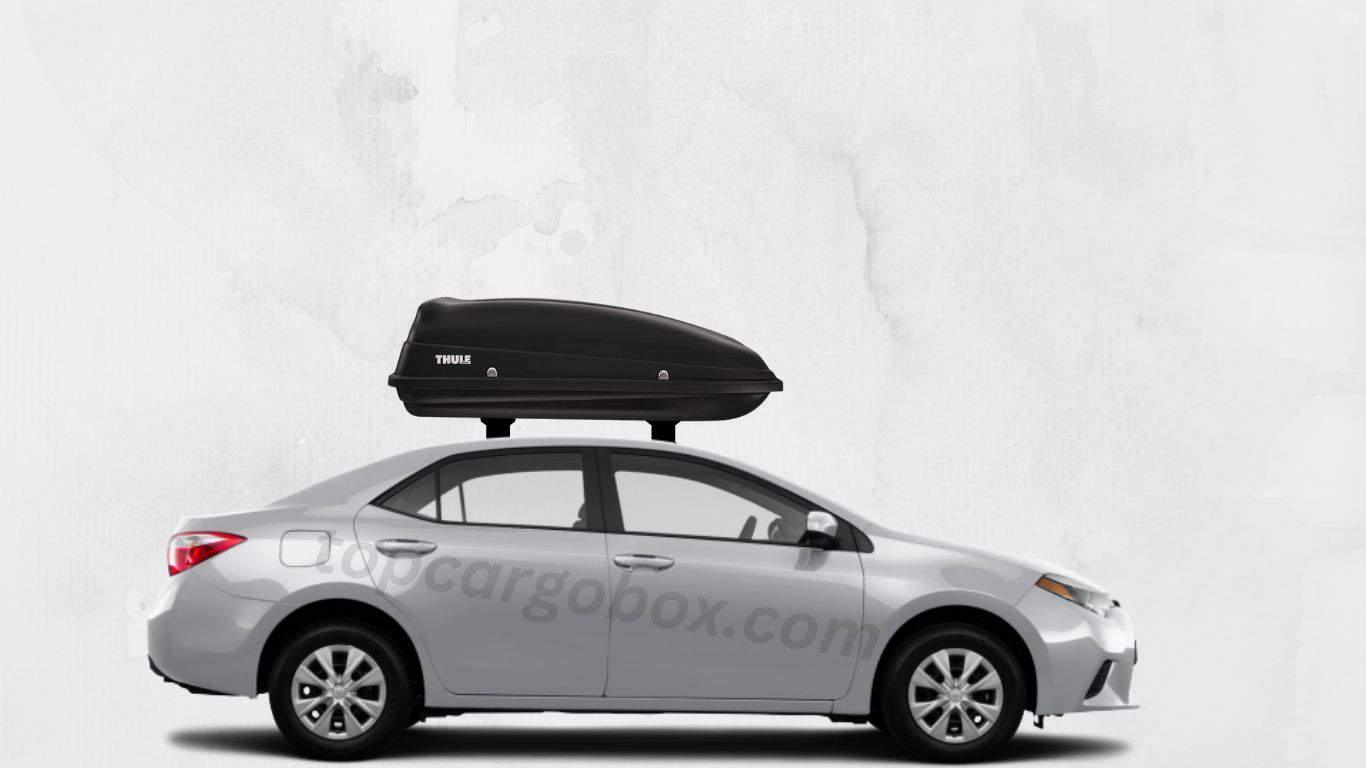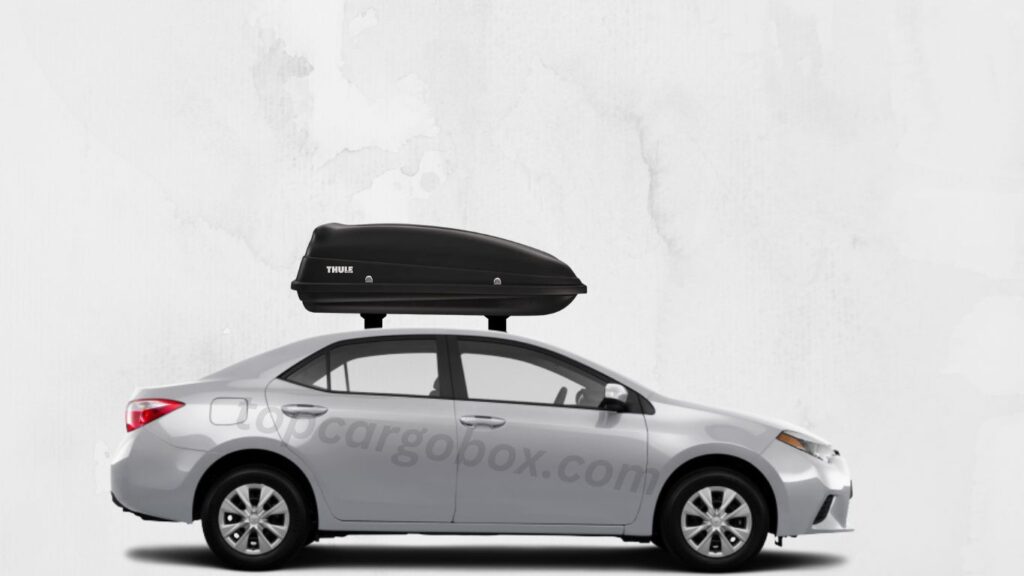 What do you need to know about the SideKick cargo carrier? When shopping for a rooftop cargo box, you need to check its loading capacity and dimensions to ensure that it fits your outdoor needs.
Thule SideKick can perfectly work on the Thule Wingbar crossbars, so you don't need to worry about compatibility issues.
Thule SideKick has two color options: black and gray. If your Toyota Corolla is black, you should use the black option for color matching; otherwise, the gray color is a good pick for light-color car vehicles.
SideKick's dimensions are 54 x 25 x 15.5 inches or 137.16 x 63.5 x 39.37 cm, and these numbers are from the Thule. If you require more information about the Thule SideKick, you can visit an article on our site.
---
Rhino-Rack MasterFit Cargo Box
It is the last option that we pick for your Toyota Corolla. The Rhino-Rack is a famous brand that manufactures many outstanding outdoor merchandises, including MasterFit cargo boxes.
You can use the MasterFit cargo box to carry skis, snowboards, golf clubs, camping equipment, tents, clothes, shoes, and other outdoor gear, but you need to learn how effectively packing a cargo carrier. 
The Rhino-Rack uses ABS and ASA blend materials to build the MasterFit cargo boxes, and these roof boxes are durable, sturdy, waterproof, and UV-resistant. Furthermore, the Rhino-Rack offers a 5-year warranty on its products; thus, you can contact customer service for concerns relevant to quality and useability.
You can use four mounting hardware to quickly and securely mount the MasterFit cargo carrier to crossbars in under 5 minutes, even faster. The beautiful aerodynamic design makes the MasterFit effectively reduce wind noise and slightly affect the gas mileage, but ignorable when the car is in motion.
The MasterFit cargo carrier opens from dual-side, and you have easy access when loading or unloading items. Although it has a dual-side opening feature, you must not use the driver's side to load or unload things on the highways. It gives you 18.7 cubic feet of loading room to satisfy your outdoor demands, and you can load up to 165 pounds or 75 kg of luggage in the box.
The rugged MasterFit cargo box can work on Thule Wingbar crossbars, but you need to check if the bar spread is between 21 inches or 53 cm and 39.4 inches or 100 cm. You can visit the official site or Amazon to discover more information about the MasterFit cargo boxes.
---
Conclusion
In this article, we recommend 6 hardshell car roof boxes for Toyota Corolla drivers, and we also give them a list of 3 items that can combine together to work as roof racks (crossbars) on their Corolla. You can follow this guide to build a cargo management system to load more items and bring more friends with your Corolla for many outdoor adventures.
Except for using a rooftop cargo box, you can utilize a hitch-mounted cargo carrier to transport even more luggage; however, your Corolla must have a trailer hitch receiver.
If you are a fan of cycling, you must read some articles to build some knowledge about choosing car bike racks for a specific car model. For your Toyota Corolla, you can check this list and compare the options to find a compatible bike carrier for future bike hiking events.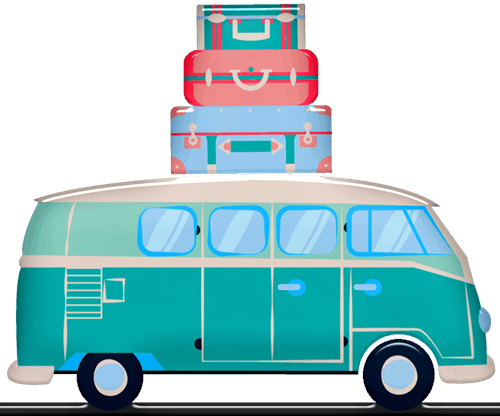 Our team is creating outdoor-gear relevant articles with passion. If our articles can help you to find the correct solutions for your questions, we will be happy about that. In the content creation process, we usually collect accurate and useful information online or offline to compile our content in an organized way. Consequently, we can guarantee that you can discover some expected answers to your questions. We appreciate your time on our site.
We are reader-supported. We get commissions for purchases made through links in this post, As an Amazon Associate we earn from qualifying purchases.