Last Updated on November 22, 2022
There are many cargo carriers on the market, but which one is the perfect option for your Ford Explorer? In this article, you are about to find the answers about finding a cargo box for your Ford Explorer.
Ford Explorer is a large SUV that has ample interior space for both items and passengers. If you take your family to enjoy a road trip or camping event, your Ford Explorer may need extra space for carrying your belongings, gear, and other camping equipment.
On the market, roof boxes have many different sizes, shapes, capacities, and styles, so it is hard to choose the perfect one for your vehicle without knowing about them in detail. On our site, you can learn much about cargo boxes from different perspectives. Before you discover more about the five cargo boxes, there are some contents for you: why do you need a cargo box, and what can roof boxes do for you.
After reading these two articles, you will know the main features of cargo boxes and how to choose the fitted one for both your needs and your car. If you rush on time, here is some general info for you.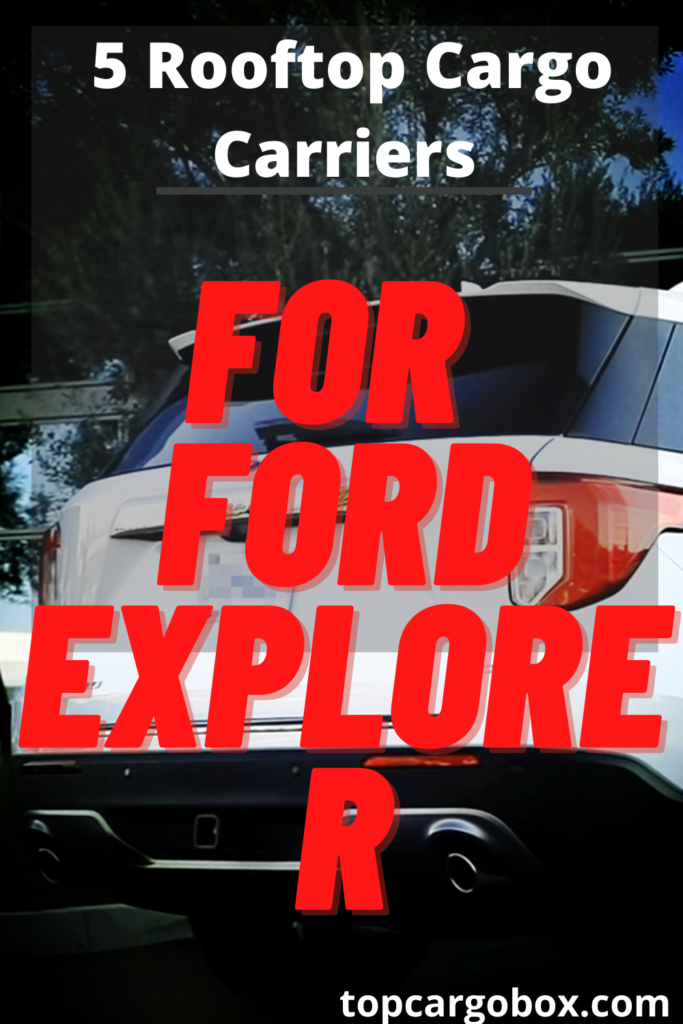 Capacity: On the market, sellers use the Capacity to describe how much interior space the roof boxes have.
Small ones: 8 to 12 cubic feet capacity
Middle ones: 13 to 16 cubic feet capacity
Large ones: 18 to 22 cubic feet capacity
Sizes: This is the dimension of the cargo carrier. Sellers usually count the measurement in the unit of inches.
Height is the distance between the bottom to the top at the middle position of the cargo carrier.
Width is the distance from the left to the right of the cargo box.
Length is the distance from the front to the back of the cargo box.
Material: On the market, ABS(Acrylonitrile butadiene styrene) is the most famous, advanced, and high-tech material that provides waterproof, rugged, and durable properties to modern car rooftop carriers. 
Mount system: Do you have a rack system on top of your Ford Explorer? If you do, most cargo boxes are fitting on most factory roof racks. If you don't have one, you can contact your car dealer to order one or buy one on Amazon or Ebay.  We have square, round, and factory rack bars on the market, and you need to ensure what type of roof racks you have or need. (crossbars for bare roofs without roof rails)
Aerodynamic Design: When you are buying a roof box online or in local stores, you have to check if it has an aerodynamic design to reduce the wind noise on the roads or not.
---
Quick-Pick list of 5 Cargo Carriers for Ford Explorer
---
---
---
---
---
5 Cargo Bags & 10 Cargo Baskets For Ford Explorer
You can use cargo bags as cargo boxes' alternatives to create extra storage space for your vehicle, and they are super easy to install and keep. We have a list of 5 best-selling roof bags for all cars, and you can check them out by clicking the link below.
A list of best-selling soft cargo bags for all SUVs, Sedans, Trucks, Vans
A list of 10 cargo baskets for all SUVs, Sedans, Vans, Trucks
---
Details about 5 Cargo Carriers for Ford Explorer
1.SportRack Horizon Alpine Cargo Carrier
There are two options for the SportRack Horizon Alpine roof box: 11 cubic feet and 17 cubic feet. If you have a small family, you can go with the 11 cubic feet option. If you have a large family, you can consider investing in the 17 cubic feet option. The SportRack uses ABS materials for building the construction of its cargo boxes, so you don't need to worry about their qualities. 
SportRack Horizon Car Rooftop Cargo Carriers Specs Guide
These roof boxes provide a spacious, waterproof, safe, sturdy, and durable room for your gear, camping equipment, clothes, luggage, and other belongings.
11 Cubic feet option dimensions: L 88.4″ x W 20.7″ x H 15.9″
17 cubic feet option dimensions: L 91.0″ x W 30.7″ x H 16.5″
Do you have the measurement of your Ford Explorer's roof size? If you do, you can use the dimension to estimate if the SportRack cargo boxes can perfectly fit on top of your vehicle without any interference with the hatchback.
For Winter sports enthusiasts, the 17 cubic feet cargo box can hold 4 to 6 pairs of skis(up to 216cm) or 3 to 4 snowboards.
You only can open it from the passenger side because the SportRack wants you to operate it away from the coming traffic on the highways.
Its mounting system is super-easy to use, for you can assemble the car roof carrier on the top of your car within minutes without tools.
With all of these good points, we highly recommend you consider investing in it as the added storage for your Ford Explorer.
---
2. Thule Pulse Alpine Rooftop Cargo Box
In the Pulse series, there are three size options for you.
The 11 cubic feet is the smallest one, and it is the recommendation for your Ford Explorer. Its thin build is different from those high ones on the market. 
The 14 cubic feet is another size option in the Pulse family, and if you need a larger one, you can go with it.
Thule Pulse Cargo Boxes Buying Guide
The 16 cubic feet is the amplest option in the Pulse series, and you can consider having it for a large family.
Details about the 11 cubic feet car rooftop carrier:
The 11 cubic feet inner room can help you pack up to 110 pounds of items, and its dimension is 82. 75 x 23. 5 x 10. 5 inches. You can load 4 to 6 skis or 3 to 4 snowboards into the cargo box for your winter sporting activities.
Many people are falling in love with its high-glossy surface of it. If your car's color is different from the cargo box, you can print the box to the color that matches your vehicle.
---
3. YAKIMA RocketBox Pro Multi-sport Rooftop Cargo Box
For your Ford Explorer, the Yakima RocketBox pro 14 is another suitable option. It is large enough for not only SUVs but also wagons and trucks. Its universal fitting mounting hardware can work on most factory roof racks or other round and square crossbars.
The fashion-looking aerodynamic design decreases the force of wind dragging to save gas on your road trips or vacation camping days. The Yakima offers a limited lifetime warranty for its products, so you can relax on using it.
Yakima RocketBox Car Rooftop Cargo Boxes Buyer Guide
Its dimension is L 74.00 in x W 33.00 in x H 16.00 inches, and you can use the dimension number to measure that if you can load your gears into it and if you can use it on top of your Ford Explorer.
The SKS lock system ensures that your luggage, gears, belongings, or other equipment will be safe in it. You can park your car away from you without worrying that your car rooftop carrier can be stolen or damaged when you are not near it.
Below, we find a video from the Yakima company about this car rooftop carrier, and we think you can find more info in the video.
---
4. Thule Hyper XL Rooftop Cargo Box
Another good option for your Ford Explorer is the Thule hyper xl rooftop cargo box. Its durability is long, for it has an ultra-thick lid and base with added strength and support.
The adjustable mounting system ensures that there is no interference between the roof box and the hatchback.
The audible lock system notifies you when the lock has securely functioned, and you won't have an open roof box on the roads.
The 17 cubic feet inner space allows you to load up to 110 lbs of items with you on camping trips, and it can help you pack 3 to 5 snowboards.
It has an advanced feature which is the integrated internal light. The light helps you to see clearly when the surrounding is dark, especially in the evenings.
It also has a universal fitting mounting system that works with most factory roof racks.
---
5. Rhino-Rack MasterFit Roof Box 440L Black RMFT440
Rhino-Rack Masterfit cargo box is another cool-design option for your lovely Ford Explorer, and it also fits many other vehicles. The triangle aerodynamic design reduces wind noise, and it also does not affect your gas mileage.
It is made from ABS/ASA materials, two metal reinforcement profiles under the bottom, and two inside securing straps.
You can open it from both sides. We are not familiar with this company, and there is not enough info on the internet for this product.
We do not recommend you choose this one, but it is an option for your Ford Explorer.
---
A list of best cargo boxes for all SUVs, Sedans, Trucks, Vans, and your Ford Explorer
Cargo Boxes On Ford Explorer Gallery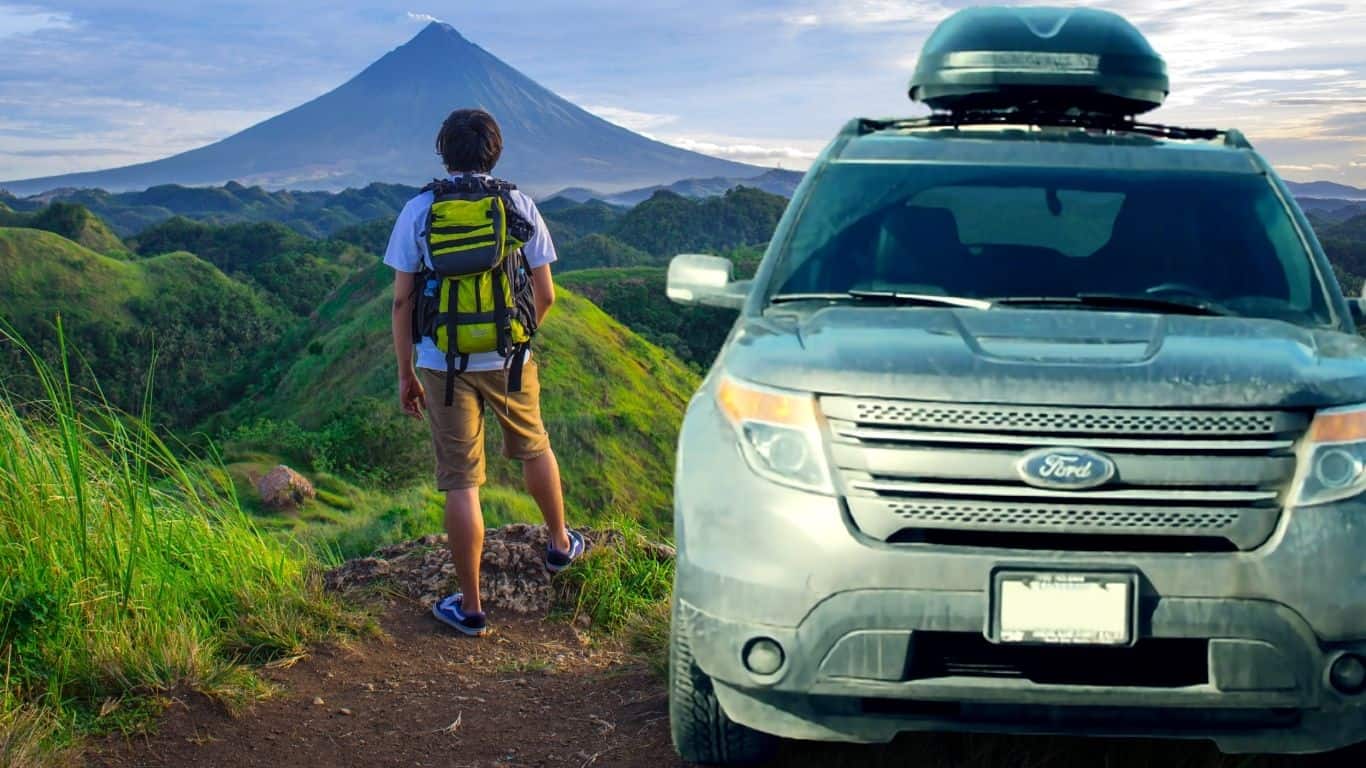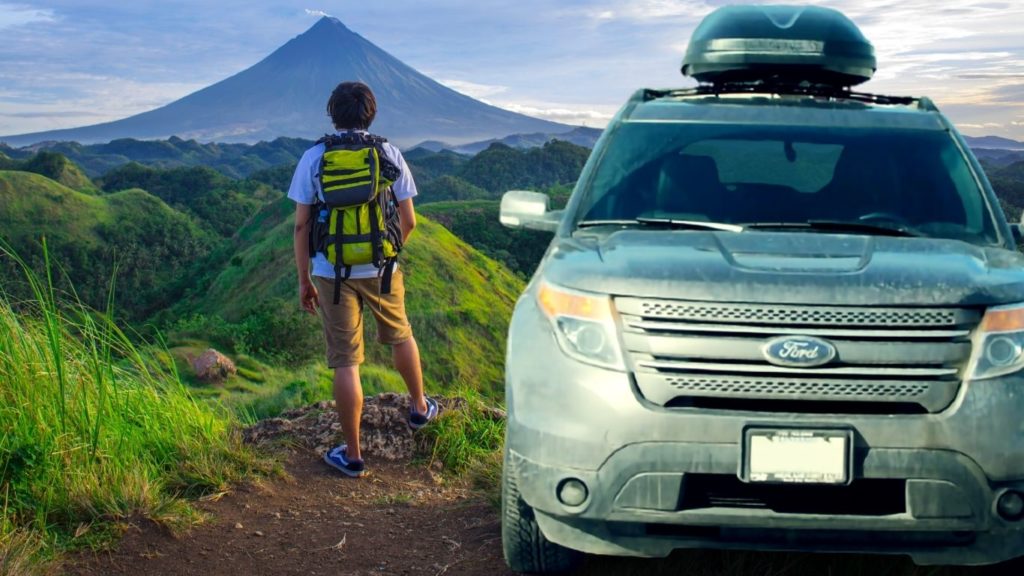 Conclusion
In this article, you can find cargo carriers that can expand the loading space of your Ford Explorer. You have cargo boxes, cargo baskets, cargo bags, and other car rooftop carriers as your options to maximize the fun and enjoyment of your outdoor journey. When you have concerns or questions about selecting and using a cargo carrier, you can use the menu section to discover more relevant topics to read and learn.
Other car rooftop or rear cargo carriers for bikes, kayaks, luggage, and more gear.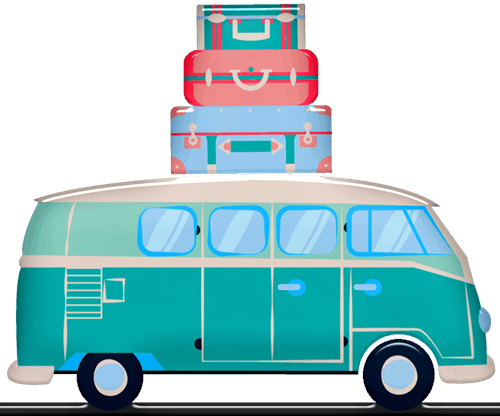 Our team is creating outdoor-gear relevant articles with passion. If our articles can help you to find the correct solutions for your questions, we will be happy about that. In the content creation process, we usually collect accurate and useful information online or offline to compile our content in an organized way. Consequently, we can guarantee that you can discover some expected answers to your questions. We appreciate your time on our site.
We are reader-supported. We get commissions for purchases made through links in this post, As an Amazon Associate we earn from qualifying purchases.