Last Updated on November 23, 2022
You can find many available bike racks on the market with different features and designs. They are all built for carrying bikes on a car without occupying the passenger area. If you want to drive out for a bike hiking, you can follow this guide to find a bike rack for your Toyota Prius.
After learning and researching many bike racks to compare and find out which are the best fitting ones for your Prius, we pick the 6 best bike racks for your Toyota Prius. You will save a lot of time building a cargo system for your bikes.
Quick-Pick list of Trunk Bike Racks
---
---
---
Detail of trunk bike racks for Toyota Prius
Saris Trunk Bike Rack For Prius
Saris is a big brand in the mouths of those outdoor enthusiasts. You can use this trunk bike rack without a hitch receiver, and it is easy to install and store. You can leave it in the trunk when it is not on duty. Its dimensions are 19.79 x 8.75 x 22.31 inches, and you can use these numbers to figure out how big it is.
According to the manufacturer, it weighs 11 pounds. We believe you can handle it one hand. The Saris BONES EX Trunk bike rack works with almost 90% of vehicles on the market, and you can use six hooks to hold the bike carrier in position. The manufacturer uses recyclable synthetic materials to build this bike rack to stand with natural elements.
It comes with several rubber feet to effectively prevent damage to the car. The two strong arms can hold up to 35 pounds of weight (per bike), and the Saris Bones EX bike carrier can hold up to two bikes (maximum load of 70 pounds).
If you want to load more bikes, you can go with the 3-bike options.
If you decide to pick the SARIS BONES EX trunk bike rack as your way to deliver bikes, you have to know it is better to avoid setting the rubber feet on class when installing the bike rack. When installing the bike rack, you don't bend the hook because a bent hook cannot fully hold and lock on the car body. If you are confused about this point, please check the image below or above for understanding. If you have further questions to ask about the Saris Bones EX bike carriers, you can contact the Saris at support@saris.com for advice and suggestions.
What we like
The synthetic materials are ultra-rugged that can last for years, so we like the biker rack's sturdiness and durability. We love its small size, and we can put it in the trunk when we don't need it. We are also a fan of its installation, and we can use six straps with hooks and several tightening straps to hold the bikes in place. The entire installation process is only 5 to 6 minutes without a tool, so we believe everybody can do it without experience.
What we don't like
If you don't install it in a proper way, it may damage both your car and your bikes. We suggest you test it after installation without put bikes on, and if you don't hear any strange sounds or if you cannot manually move it around, you can start to test it with bikes on.
---
Allen Sports Ultra Compact Trunk Bike Rack
Allen Sports bike racks are popular with countless positive feedback and high ranking score. You can rely on its brand reputation and responsive customer service.
This bike rack has two models: 1-bike model and 2-bike model. According to the manufacturer, it works on most vehicles: minivans, sedans, and SUVs. (it is not for vans)
It is made of alloy steel, and it weighs 2.7 kg. You can hold it in one hand, and its dimensions are 14.37 x 7.28 x 3.54 inches. You can use these numbers to check if you have free space in the trunk for it when it is not in use. You can fold it and put it in a bag for carrying.
This bike rack series has 6 different models to carry up to 3 bikes. You can find one that fits your bike hiking adventures. We will build a chart with all the six options for your consideration. Allen Sports Ultra Compact bike carrier series is cheaper than the Saris Bones bike rack series.
What we like
We like its foldable design because it can be super small to carry around when we don't need it. It works with most vehicles, so it is ready for different situations. It comes with a protection spine (soft TPR landing pad) that protects the bike and the car.
What we don't like
If you drive to an unpaved mountain zone, it is not a perfect choice for that kind of terrain.
---
Thule Passage Trunk Bike Carrier
After comparing many different bike racks, we choose to use the Thule Passage Trunk bike carrier for your Toyota Prius. Thule is a well-known outdoor brand that mainly focuses on equipment and gear for outdoor activities. If you do not know the Thule brand, you can refer to an article to discover more info about its history and merchandise.
The Thule Passage bike carriers have two models: the 2-bike model and the 3-bike model. You can select one that fits your needs.
The Thule Passage bike carrier is foldable and is made of steel that makes it last longer. It weighs 9.7 lbs, so you can handle it alone without someone's help. You can install it at the back of your car in minutes without a tool. When you don't need it, you can fold it and store it in the trunk or a carry bag.
The bike carrier comes with soft rubber seats to offer better protection to your bike frame while holding it on the roads. Two stretching out arms have cages to securely lock the bikes in position and prevent swaying during the transportation.
You can use six straps with hooks to mount the bike carrier to the trunk of your Prius. When using those hooks, you don't bend them for whatever reasons you have. The bent hook cannot effectively grasp the trunk frame, and it may cause damage to your properties.
What we like
We are attracted by its easy installation and its brand power. We believe the Thule is more reliable than other brands when you want to find a piece of equipment for outdoor events. We like its universal fitting mounting system, and we can use it on most vehicles.
What we don't like
It can hold most conventional bike frames but odd bike frames.
---
Hitch-mounted bike racks for Toyota Prius
We have a list of 10 hitch-mounted bike carriers for your consideration. When choosing a hitch-mounted bike rack for your Prius, you have to make sure that your Prius has a hitch receiver installed. If it doesn't have one, you can order from the local dealer with a compatibility check.
Hitch-mounted bike carriers are expensive and large, and they can not be taken off when not in use on the roads, don't like trunk bike racks. However, hitch-mounted bike racks are more durable and sturdy.
---
Steps of Choosing the best bike racks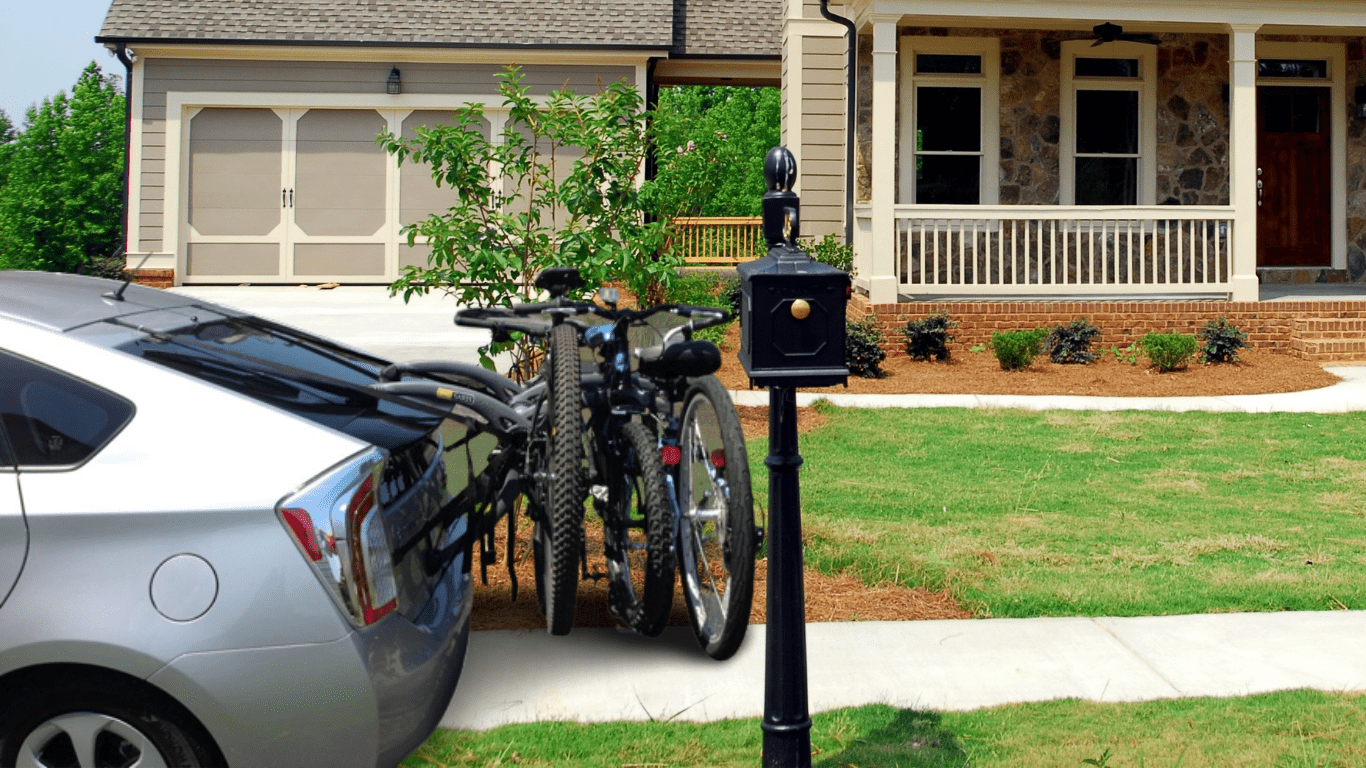 What to think about when thinking about choosing a bike rack for your car? You need to consider these factors before adding the selected one to the shopping cart. You know what you want to do with a bike carrier, and you know how many bikes you want to transport in your regular bike hiking adventure.
How many options do you have?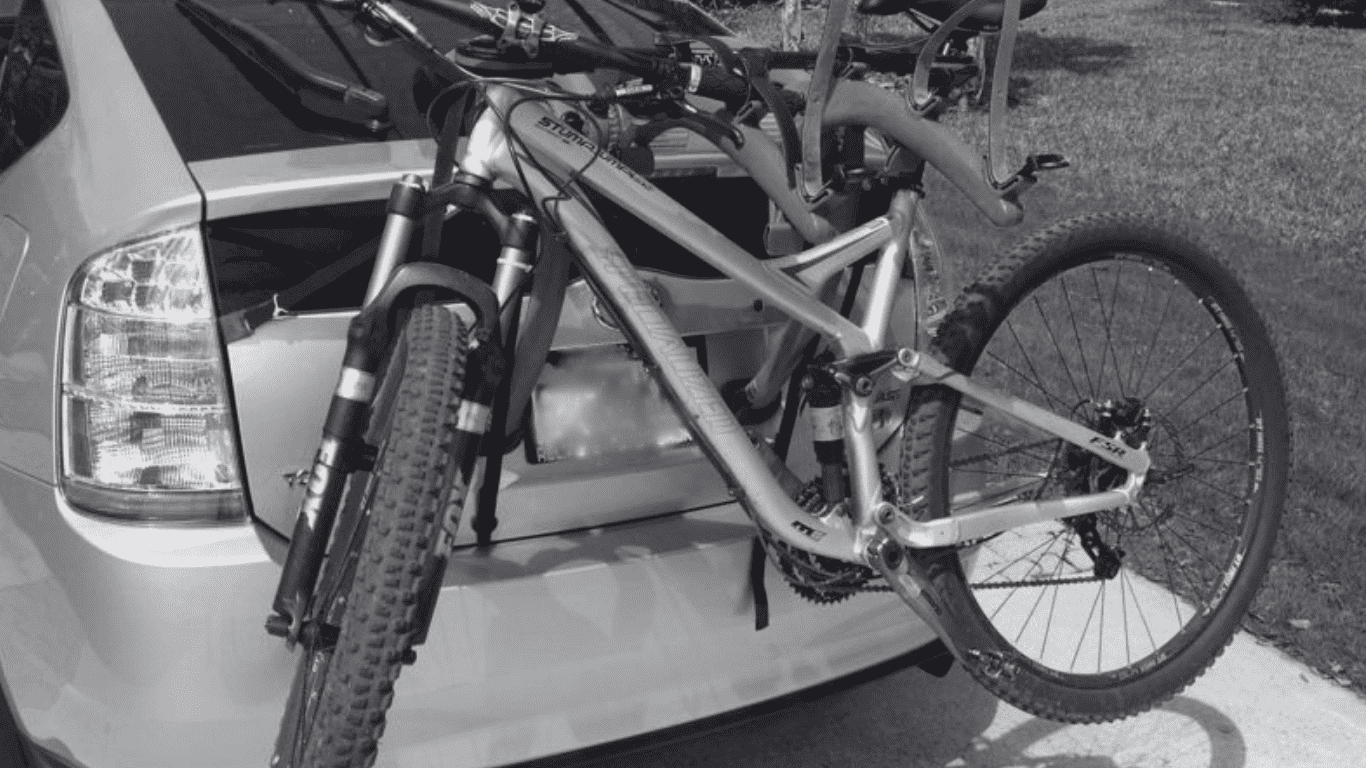 You can choose to use hitch-mounted bike racks, trunk bike carriers, and rooftop bike racks. These are the best type of bike racks for your Toyota Prius.
Rooftop bike racks: these bike racks are mounted on top of your Prius, and they require roof crossbars to work. You need to find a pair of crossbars before thinking about adding rooftop bike carriers to your Toyota Prius.
Hitch-mounted bike carriers: these carriers are more expensive, but they are reliable in quality. If you want to use one, you must have hitch-receivers to connect to the bike racks. You can contact the local Toyota dealer to order OEM hitch receivers or find one online.
Trunk bike racks are what we are discussing in this article. They are comparatively cheaper than other types of bike racks. They are easy to install and store, and they are light and small. If you are a beginner, you can start from it. These bike racks can be dangerous if they are not accurately mounted to the car trunk.
How many bikes you are going to transport on the roads?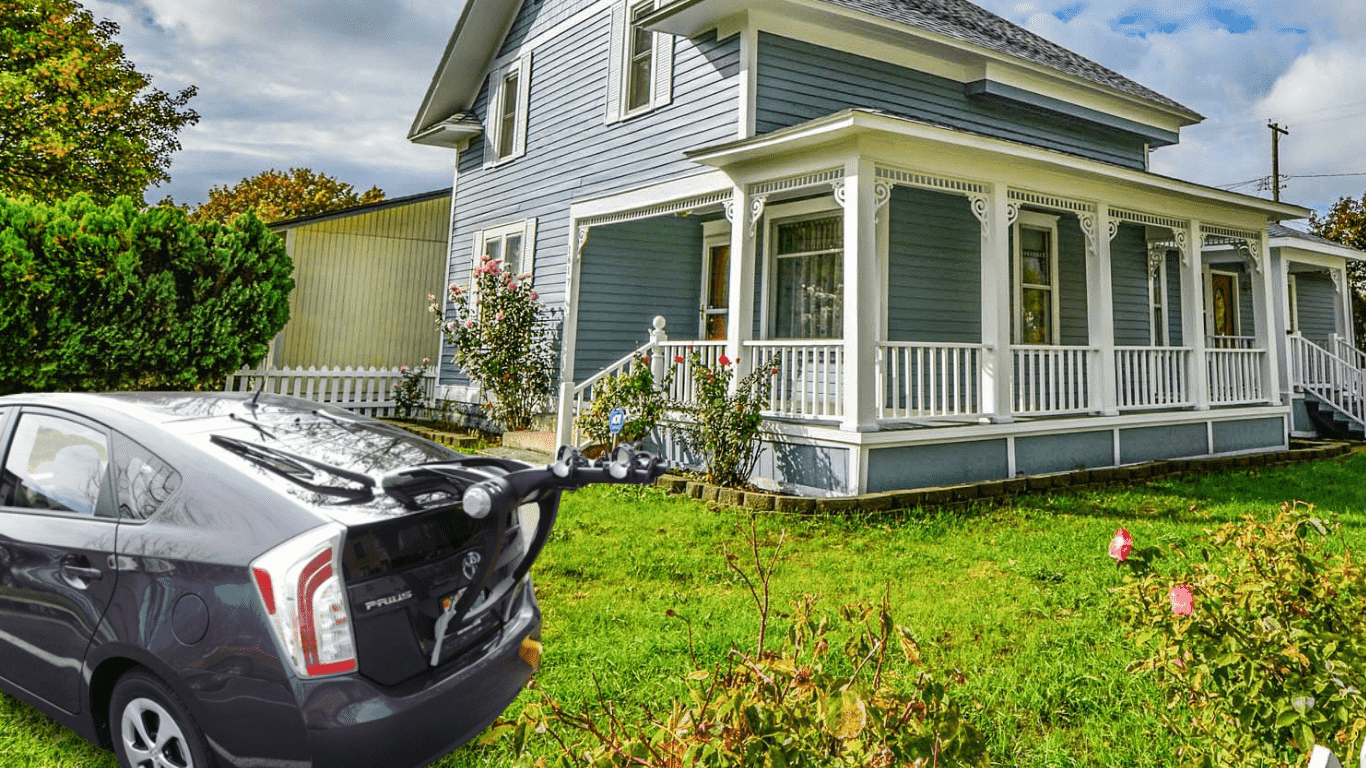 It is an important factor to consider when purchasing a bike rack for your Toyota Prius. If you desire to carry more than 2 bikes on your Toyota Prius, you should think about using rooftop bike racks or hitch-mounted bike carriers because of their weight.
If you only take up to 2 bikes on the roads, you can use trunk bike racks for your Prius. Most trunk bike racks can hold up to 80 pounds of items and securely transport them between locations. Most bikes are around 35 pounds, so trunk bike racks are good for up to 2 bikes.
You don't overload a bike rack because it is super risky when driving on unpaved terrain. You can follow this gudie to learn tips of cleaning and maintaining bike racks like a pro.
What about rooftop cargo boxes?
After figuring out a way to carry bikes on your Toyota Prius, do you need more storage space for luggage? You have different types of cargo carriers to think about when you want to build extra loading room on your car. You can use roof cargo boxes, bags, baskets, or hitch-mounted cargo boxes; additionally, you can take benefit from a hitch-mounted cargo carrier with a ramp to deliver large devices like a wheelchair, furniture, lawnmower, and more.
Conclusion
You can find compatible bike racks for your Toyota Prius and transport bikes between your favorite hiking locations.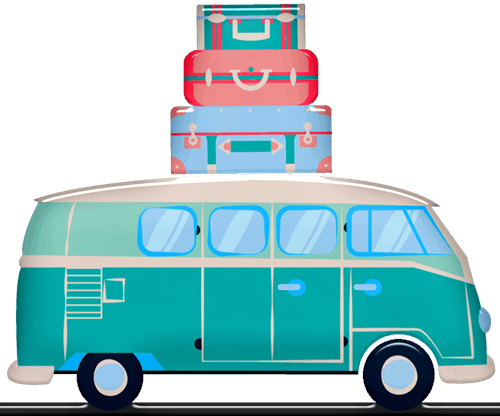 Our team is creating outdoor-gear relevant articles with passion. If our articles can help you to find the correct solutions for your questions, we will be happy about that. In the content creation process, we usually collect accurate and useful information online or offline to compile our content in an organized way. Consequently, we can guarantee that you can discover some expected answers to your questions. We appreciate your time on our site.
We are reader-supported. We get commissions for purchases made through links in this post, As an Amazon Associate we earn from qualifying purchases.