Last Updated on November 26, 2022
Volvo XC60 is a great car that has 22.4 cubic feet (without a cargo box) of internal storage space for stowing stuff. When you want to go on a family road journey, you will not worry about insufficient storage space for your luggage. However, if you have a large family or lots of belongings, your XC60 cannot handle the job for storage. Is there any solution to the above hassle? Yes, a roof box can take care of your problem. What is a car rooftop carrier? You will discover everything you need to know about cargo rooftop boxes from different perspectives on our site.
In general, a cargo box is a large container that can mount on your car roof rack to transport items for your family. Usually, people use it to carry daily essentials, sports gear, camping equipment, carry-on luggage, and other belongings.
You may be concerned about what roof boxes do for you and the reasons for having one at home, and you can find answers on our site.
Before you consider buying a roof box for your Volvo XC60, you should learn tips for using one and how to choose a suitable one.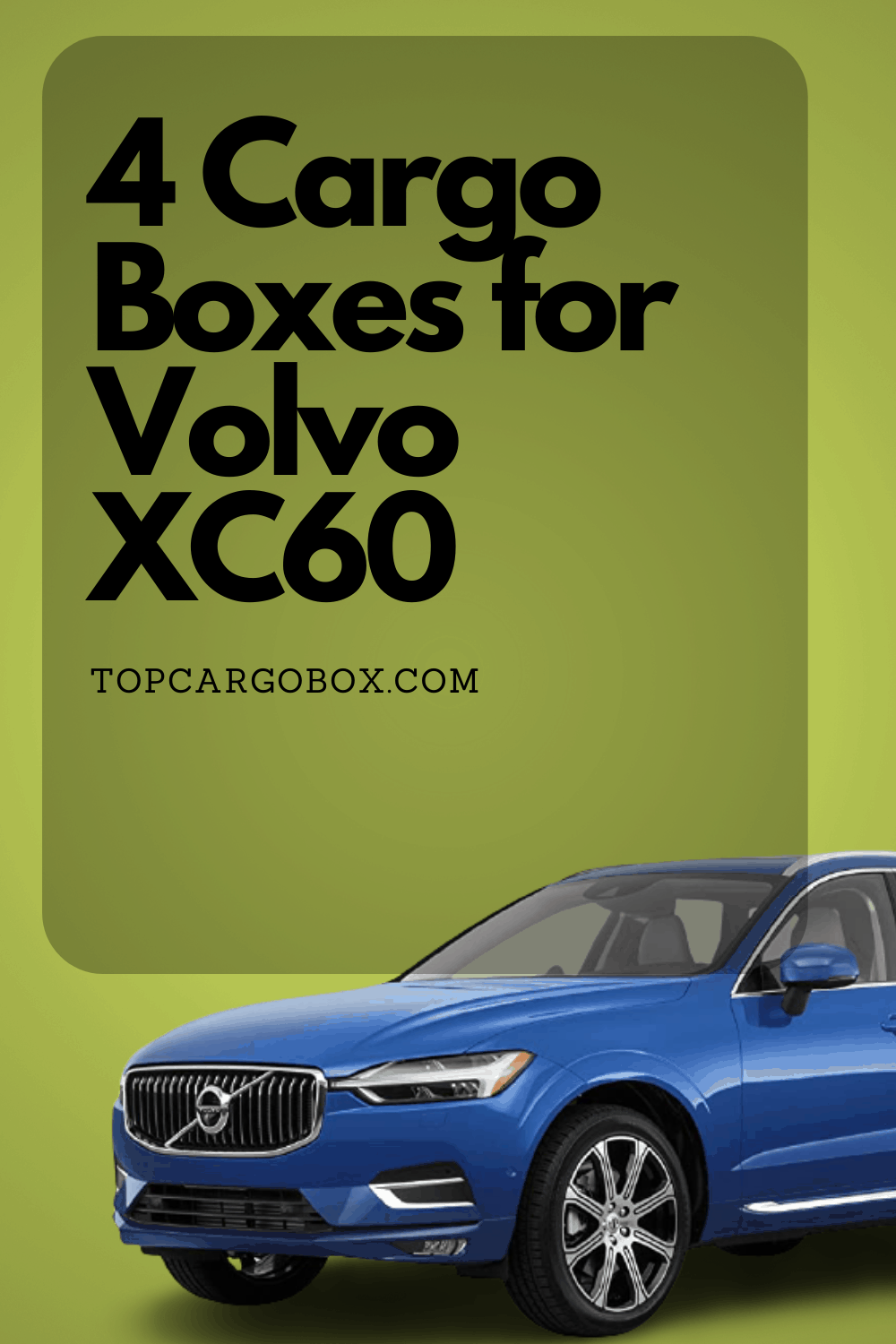 We spent half a year researching roof boxes from many perspectives, and you can learn much useful info from our articles. For instance, you can find cargo boxes for specific cars or learn relevant knowledge about using a car rooftop box in the informational guide category.
In this article, you will discover four cargo boxes for your Volvo XC60, and we will showcase them in detail.
A list of universal roof racks for all vehicles: although these roof racks have different dimensions for different car roofs, you should always check compatibility before adding one to your shopping cart. You can contact the manufacturer to consult what you need to know.
---
Quick-Pick list of Cargo Boxes for Volvo XC60
| Image | Product | Capacity | Loading Capacity | Size | Links |
| --- | --- | --- | --- | --- | --- |
| | Thule Motion XT Rooftop Cargo Box | 22 cubic feet | 165 lbs | 91.5 x 37.5 x 18 inches | Check Price |
| | Thule Pulse Rooftop Cargo Box | 16 cubic feet | 165 lbs | 76 x 33 x 16.5 inches | Check Price |
| | SportRack Vista XL | 18 cubic feet | 100 lbs | 17.25 x 63 x 38 inches | Check Price |
| | Malone Auto Racks Cargo Box | 16 cubic feet | 165 lbs | 76.4 x 27.9 x 18.9 inches | Check Price |
A list of best-selling soft cargo bags for Volvo XC60. You can follow this guide to find some cargo bags that you can use as alternatives to hardshell cargo boxes. Roof bags are affordable and easy to store. They are great for temporary use.
A list of 10 cargo baskets for Volvo XC60: a cargo basket is a platform that is not covered by a lid, so it is not waterproof. It looks like a bigger platform that can hold other rooftop cargo carriers on it, so most people leave their roof baskets above their cars all the time.
---
Details about 4 Cargo Boxes for Volvo XC60
Thule Motion XT Rooftop Cargo Box
Have you heard about the Thule company? It is an outdoor gear manufacturer that has decades of experience in producing high-quality outdoor equipment. We have published an article to introduce the Thule company from different angles. When you have fully familiarized yourself with the Thule company's history and its info, you can consider investing in a Thule product without any worries. The Thule Motion XT series comes with four size options: Alpine, Large, XL, and XXL; two color options: black and Titan. We recommend the XXL option for you as the rooftop carrier for your Volvo XC60.
Thule Motion XT Car Rooftop Cargo Boxes Buying Guide
About it:
The Thule Motion XT XXL cargo box has 22 cubic feet of interior space, and it has advanced plastic materials to support its construction. Its sturdy, waterproof, and durable construction stand on a metal reinforcement at the base. Consequently, you don't worry about its quality and customer service because the Thule company will take care of your concerns.
It is 91.5 inches long, 37.5 inches wide, and 18 inches high, and its internal dimensions are 84.5 x 33 x 16 inches. It can hold up to 5 to 7 pairs of skis and 3 to 5 snowboards. If you are a fan of winter sports, you can know more about the ways to transport your snowboards or skis in the winter seasons. The Thule Motion XT XXL roof box can load up to 165 pounds of items for your family, and it weighs 55 pounds. You can use the quick-mount hardware to securely assemble the roof box on top of your roof rack in minutes, and when the mounting hardware is accurately locked, you can hear a sound to prove that it is safe in position. Users can open it from both sides for convenience. There is a lid-lifter that helps you hold the lid while the roof box is open. There is no interference between the cargo box and your car's hatchback, so you can fully open and access your trunk when you want to do so.
Tips:
You cannot tie your cargo box by using several straps.
The cargo box is not for people, pets, or other inadequate items.
When you have a roof box on top of your car, you have to pay attention to accessing your garage entrance.
When you store your roof box in your garage, you cannot vertically put it beside the way because it is risky.
When you lift a cargo box, you should not do it alone; however, you should ask someone else to help you raise it for safety reasons.
When you use the quick-mount hardware to assemble the roof box, you should never over-twist or insufficiently twist the mounting components.
You can use straps to tie your belongings to the bottom of the roof box. For safety reasons, you can learn how accurately pack a cargo box.
When you are concerned about how to store a cargo box, you will find solutions here.
You must control your speed under 130 km/h or 80 mph for driving with a cargo box. Overspeeding is not allowed on earth.
You cannot put metals, chemical materials, or flammable and explosive items in the cargo box.
---
Thule Pulse Rooftop Cargo Box
It is another option for your Volvo XC60. We also highly recommend it to your family because it has many highlighted features to satisfy your demands. We have published an article about the Thule Pulse cargo boxes, so you can know more by reading it.
Thule Pulse Cargo Boxes Buyer Guide
---
SportRack Vista XL Rear Opening Cargo Box
It is the third option for your Volvo XC60. You can learn it from an article on our site. Why do we pick it for your VOLVO XC60? The SportRack Vista XL roof box is the only one that can open from the rear, and it is big enough for most outdoor needs. You can use the Info Box below to find its dimensions, features, photos, designs, user feedback, and more.
SportRack Vista Car Rooftop Cargo Carriers Buying Guide
---
Malone Auto Racks Cargo Box
It is the fourth option for your Volvo XC60. You have to know that it only fits on the roof racks with a 25 to 40 inches spread. What is the bar spread? The distance between two crossbars is called bar spread, and this is the must-known factor when choosing a roof box for your Volvo model. This option is made in Italy, and you can check its general features in the box below.
Other car rooftop or rear cargo carriers for transporting bikes, kayaks, luggage, and more. You can build a complicated cargo system on your Volvo XC60 without leaving our site.
Conclusion
In this article, you can find some rooftop cargo boxes for your Volvo XC60. After checking these options, you are almost ready to choose one for your coming outdoor events. However, you may need more knowledge to make a judgment on these roof cargo boxes. You can go back to the homepage and follow those links and content to learn more about how to use and select a suitable big box for carrying luggage or gear on top of your VOLVO XC60.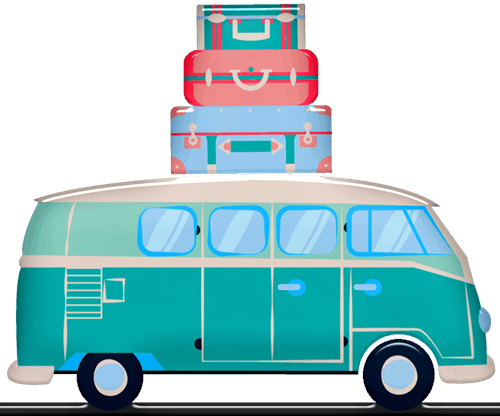 Our team is creating outdoor-gear relevant articles with passion. If our articles can help you to find the correct solutions for your questions, we will be happy about that. In the content creation process, we usually collect accurate and useful information online or offline to compile our content in an organized way. Consequently, we can guarantee that you can discover some expected answers to your questions. We appreciate your time on our site.
We are reader-supported. We get commissions for purchases made through links in this post, As an Amazon Associate we earn from qualifying purchases.