Last Updated on November 23, 2022
In this article, you will find three car rooftop cargo boxes for Toyota 4Runner. The Mid-size SUV provides you with a large inner space for people and belongings, and the original storage capacity is between 9 cubic feet to 88.8 cubic feet. When you want to maximize the loading capacity of your 4Runner, you have to fold up all the rear seats. Then, people are having nowhere to sit in your car. Consequently, it is not an accurate way to use your SUV, and no one wants to enjoy a long-time road trip alone with only a lot of stuff. What is the solution to make your car have both enough loading capacity for items and sufficient space for people? A cargo box will help you to realize that without a complicated process and installation. On the market, there are many different-sized cargo boxes for customers' varying demands.
For your Toyota 4Runner, you can choose a larger roof box to create a stowing space on the roof of your car for harling luggage or gear.
After you have installed a cargo box for your Toyota 4Runner, you will be confident to invite your families and friends to explore the woods or other far-from-home places without a struggle in space arrangement for both people and luggage. Roof boxes can carry snowboards, tents, fishing rods, skis, camping equipment, sleeping bags, luggage boxes, clothes, gear for outdoor adventures, and more for outdoor enthusiasts.
Roof Rack For Toyota 4Runner
A list of universal roof racks for Toyota 4Runner – you can use any of these racks to build a cargo management system for carrying gear.
---
Quick-Pick list of Cargo Boxes for Toyota 4Runner
| Image | Name | Capacity | Opening | Dimensions | Links |
| --- | --- | --- | --- | --- | --- |
| | Thule Force XT Rooftop Cargo Box | 18 cu ft. | Dual-side opening | 82.75 x 33.75 x 17.25 inches | Check Price |
| | Thule Pulse Rooftop Cargo Box | 16 cu ft. | Passenger-side opening | 76 x 33 x 16.5 inches | Check Price |
| | MENABO Diamond 580 Duo Roof Box | 20.4 cu ft. | Dual-side opening | 55 x 14.25 x 31.5 inches | Check Price |
| | SportRack Horizon Cargo Box | 17 cu ft. | Passenger-side opening | 91.0 x 30.7 x 16.5 inches | Check Price |
---
A list of Cargo Bags For Toyot 4Runner
When you don't like cargo boxes anymore, you can use a cargo bag instead. Cargo bags are much cheaper, and they are foldable for storage.
A list of best-selling soft cargo bags for all SUVs, Sedans, Trucks, Vans, and your Toyota 4Runner
A list of 10 cargo baskets for all SUVs, Sedans, Vans, Trucks, and your Toyota 4Runner
---
Details About 4 Roof Boxes For Toyota 4Runner
Thule Force XT Rooftop Cargo Box
We recommend you put it at the first position of your consideration list. The Thule company has been developing for decades, and it has generated specialties through half a century for producing high-quality outdoor gear. The Thule Force series has four capacity options for customers: 18 cubic feet, 16 cubic feet,11 cubic feet, and 22 cubic feet. 
Thule Force Car Rooftop Cargo Boxes Buyer Guide
You can choose one that fits both your vehicle and your family size. In general, the Thule Force series is in black printing, and it is a construction of advanced plastic materials. It has tool-free mounting hardware that saves you time during the installation steps. If you don't have a rack system, you can contact your car dealer to require a pair of factory-designed crossbars or buy aftermarket roof racks on Amazon or Ebay. It opens from both sides, so you can conveniently pack your luggage.
The smallest one in the Thule Force series has 11 cubic feet of interior space to carry your items, but its narrow design allows you to mount other cargo carriers beside it.
The largest one in the Thule Force series has 22 cubic feet of inner space. If you have a large family with more than four people, you can consider investing in it for family road trips.
| Image | Name | Capacity | Weight | Links |
| --- | --- | --- | --- | --- |
| | Thule Force XT Sport | 11 Cubic Feet/165 lbs | 32 lbs | Check Price |
| | Thule Force XT L | 16 cubic feet/165 lbs | 41 lbs | Check Price |
| | Thule Force XT XL | 18 cubic feet/165 lbs | 47 lbs | Check Price |
| | Thule Force XT XXL | 22 cubic feet/165 lbs | 52 lbs | Check Price |
---
Thule Pulse Series Roof Boxes
It is another choice for Toyota 4Runner, and it is also a fantastic option for family road journeys. We have published an article about the Thule Pulse cargo boxes.
---
Menabo Diamond series Roof Boxes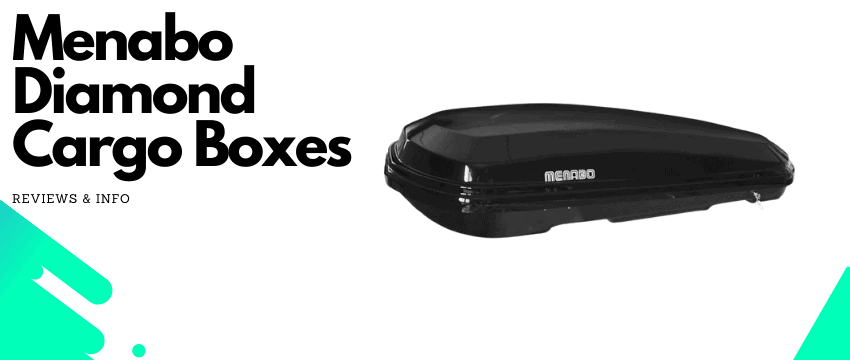 It is also an option for you. Currently, on the market, roof boxes are short in the stock. However, the Menabo company is US-based, and its products are available for customers. Other options in this article may be temporarily out of stock, but they will be back as soon as possible. The Menabo Diamond series is good in quality and design, so we have also published an article to introduce it in detail.
---
SportRack Horizon Alpine Cargo box
It is another fashion-looking roof box from SportRack Company. Its sturdy construction is made of impact-resistant ABS plastic materials, so it is rugged, durable, waterproof, and UV-resistant. It opens from the passenger side to allow you to access it without facing the risk of traffic on the highway.
SportRack Vista Car Rooftop Cargo Carriers Buyer Guide – what we know about it
---
Cargo Boxes On Toyota 4Runner Gallery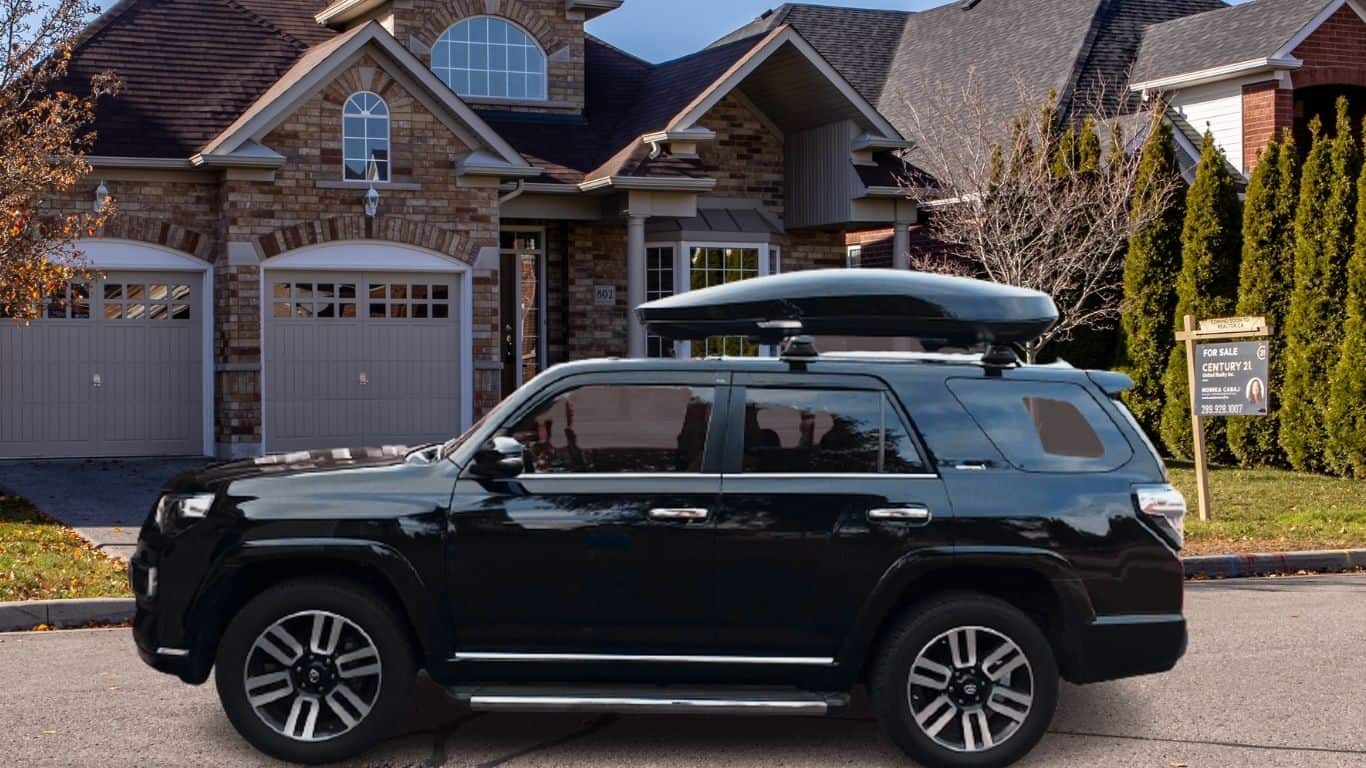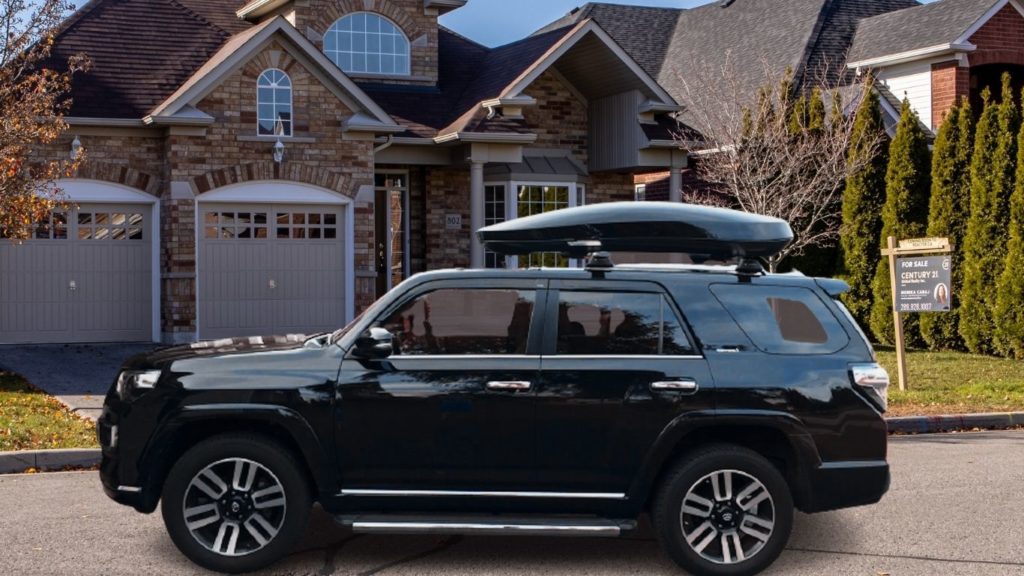 In Conclusion
We have recommended four roof boxes for your Toyota 4Runner in this article, and we introduced them with details. For Thule Pulse and Menabo cargo boxes, you can click the links below the subtitle to read articles on our site about them. Choosing a cargo box is not that easy, and you have to learn before action. Our site will help you to get familiar with roof boxes from different perspectives. For example, you can learn how to choose, how to fit, how to clean, and more informational guides to establish foundational knowledge about roof boxes.
Other car rooftop or rear cargo carriers for bikes, kayaks, luggage, and more.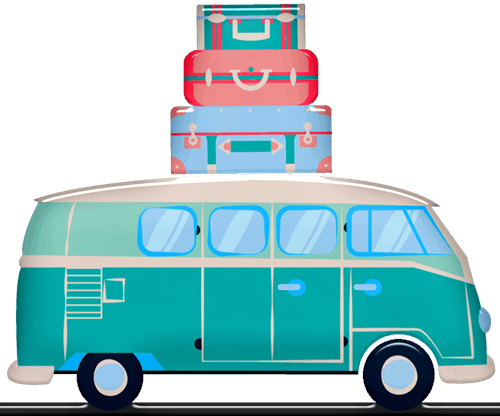 Our team is creating outdoor-gear relevant articles with passion. If our articles can help you to find the correct solutions for your questions, we will be happy about that. In the content creation process, we usually collect accurate and useful information online or offline to compile our content in an organized way. Consequently, we can guarantee that you can discover some expected answers to your questions. We appreciate your time on our site.
We are reader-supported. We get commissions for purchases made through links in this post, As an Amazon Associate we earn from qualifying purchases.