Last Updated on November 22, 2022
In this article, you will find info about how to pack a car roof box. We guess that you may want to buy a roof box or you have just bought one. This article will help you with finding the solutions to your questions about accurately using car rooftop carriers.
Correctly using a cargo box helps you to enjoy trouble-free road journeys or vacation camping. You are here to get info about organizing things in a roof box, and the answers are variable and depend on what stuff or gear you bring on your road trips.
Why do we need to learn how to pack cargo boxes? Because they have limited interior space for our belongings. If you don't know how to stow things to maximize the enjoyment of using a roof box, you will be disappointed with its loading capacity. In general, car rooftop boxes are much smaller than the hatchback of your vehicle.
Below, we will write down important points about accurately packing and mounting a cargo box for your future road journeys or other outdoor adventures. You may need to pay attention to these tips for better use of a roof box.
An organized car rooftop carrier will be easy to unload, so it is a big step towards a trouble-free road journey.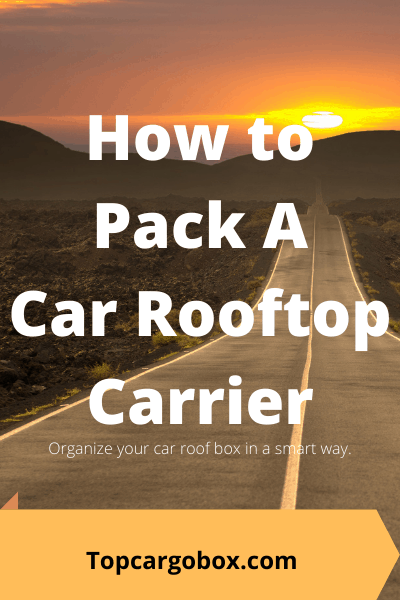 ---
5 Tips about How to Mount Your Car Rooftop Carrier
When you have accurately mounted your roof box, it is the moment of starting to know how to put your items organizationally into it.
On the market, there are many different rooftop cargo boxes for sale with a variety of features. However, you can follow the tips below to generate info about securely and correctly mounting a cargo box on the top of your vehicle.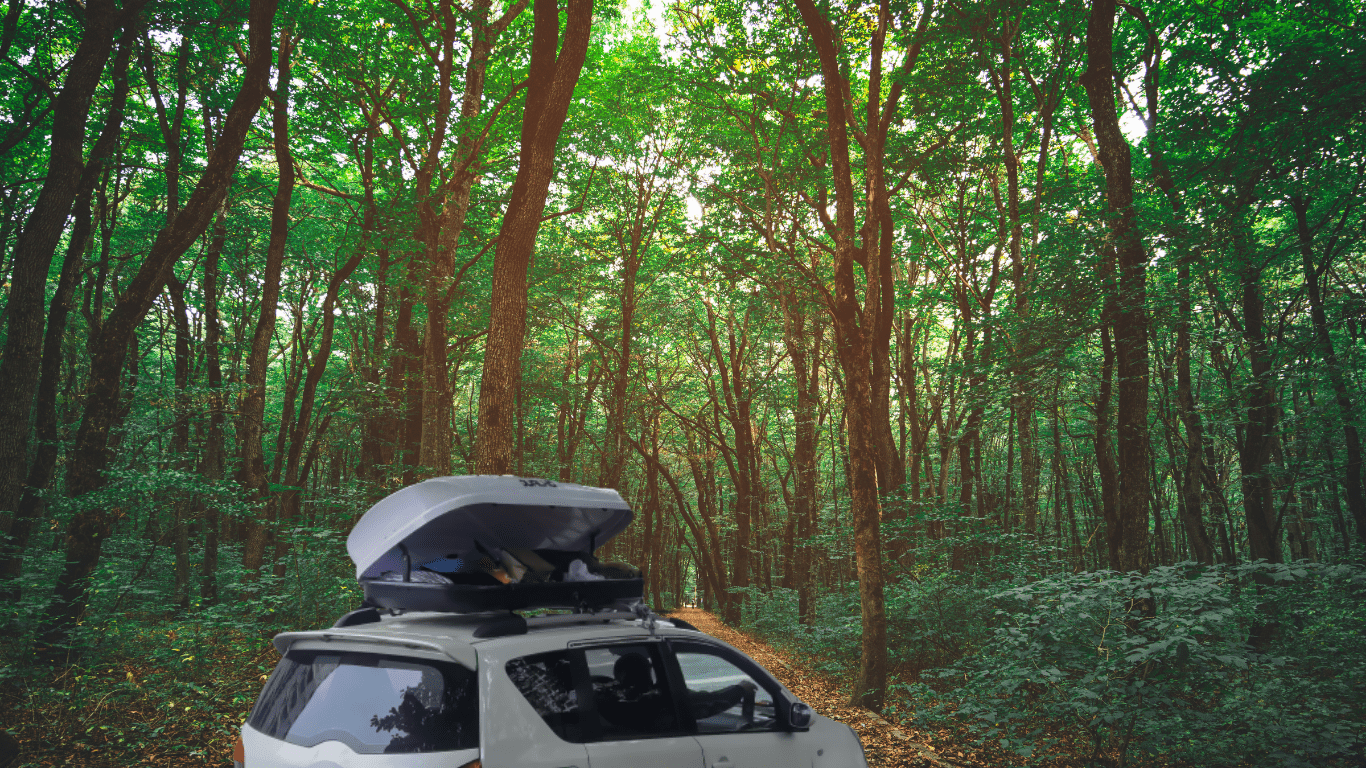 ---
Check the Instruction Brochure
Most online sellers will set a link on the seller page to an instruction brochure PDF file. You can click on the file to open the PDF file to learn much valuable knowledge about the product.
For car rooftop boxes, you will find the info about the steps of mounting them on top of a vehicle in the instruction book. You have to read the instruction brochure carefully because it usually contains vital info for safely using it.
---
Know the torque component of the mounting system
Cargo carriers have different torque components, so you need to learn how to use them correctly. If you over-twist or under-twist a torque component, the roof box is at risk of damage or loss while it is in motion. For example, over-twisting the torque components can damage the mounting system and the roof racks; under-twisting can create a chance of dragging off by wind on the highways.
A properly installed roof box can bring many conveniences to your road trips, and you don't want to damage your car by mistakenly mounting the cargo box. Thus, you need to read and learn how to accurately assemble the car roof box before you start to leave your home with it on top of your car. (Tips: how long to fit a cargo box)
There are roof boxes with audible mounting components, and they notify you with sound when securely and accurately mounted on the roof bars.
---
Do not forget the lubrication
Car rooftop carriers are used for outdoor adventures, so they have a chance to be exposed to unexpected elements such as mud, rain, oil, and other natural substances. Consequently, you have to lubricate its components after you have arrived home each time of your road journey to ensure that those components work in perfect conditions.
---
Do not assemble the car rooftop carrier alone
Cargo boxes are large exterior accessories for cars, so they are not light as a suitcase that you can carry with one hand. You can get someone to help you to prevent accidental drop that damages your car. (where is the best position of a roof box)
---
Double-check what rack system you have
If you decide to invest in a car roof bag, you can ignore this point. If you consider buying a cargo box, you need to double-check the compatibility of your roof racks.
A list of universal roof racks for all vehicles – These roof racks are compatible with most cars, and they can work with most roof-mounted carriers.
There are different rack systems such as square, round, and factory-designed rack systems on the market. We recommend you contact your car dealer to get info about where to buy the factory-designed rack systems. However, you also can find one online on Amazon or Ebay.
Then you can choose a cargo box that fits the factory rack of your car brand. On our site, we also discussed a variety of cargo boxes for specific cars.
---
9 Tips for packing your Car rooftop carriers
Every cargo box, whether a soft one or a hard-shell one, has a loading-weight limitation that helps you use it securely and safely.
If you overload your roof box, your car will become hard to control, especially in turning. The wind force on the highway is going to make the operation of your vehicle even harder.
You can find the load-capacity limitation on the instruction brochure, or you can visit the seller's page to hunt for the number.
---
Know the Roof Loading Weight limit
Whatever cargo carriers you use on top of your vehicle, you should find and follow the roof loading limit in the car manual. Don't follow the loading limit from the instruction book of a cargo carrier.
If you don't know your car's roof loading limit, you can search online or find it in the car manual guide. For example, when you want to use cargo carriers on a VOLVO model, you should follow the roof loading limit of the VOLVO car, not the cargo carrier. (most vehicles' roof loading limit > cargo boxes' loading limit)
Some compact SUVs or sedans use a large cargo box with a larger loading capacity than the car's roof can support, and we should ignore the cargo box's loading limit ( It doesn't mean you can overload the roof box to meet the car roof loading limit) and follow the car roof's loading limit to load items in the box.
It is better to keep in mind that overloading a cargo carrier can bring risks to driving; furthermore, driving with an overloaded cargo box is super dangerous, especially turning or braking. (roof boxes can be fulfilled within the car roof loading limit)
---
Heaviest items first
When you take your family to enjoy a road journey, you can follow these tips to maximize your car's load capacity. First, you take out everything that you will need on your vacation on the floor. Then, if your trunk is large, you can put the heaviest stuff in the hatchback first.
Your trunk is always better for loading heavy items than your roof box is. After packing all the heavy things in your hatchback, you can load other belongings into the car rooftop carrier.
---
Suitcases are first
Cargo boxes are perfect for suitcases, so if you have many carry-on bags, you can put them into the box at the beginning of packing. However, you have to pay attention to its load capacity. Never overload it for any reason.
If you can load all your suitcases into the roof box, you will have an empty trunk during the days of your road journeys. That is what you are looking for, right?
How to pack those suitcases in a roof box?
Side-by-side is the best way to lay suitcases in it, and the loose or tight space between each luggage does not affect the ways of using a car roof box. If it is loose, there is a chance that the suitcase will slide while the roof box is in motion(most cargo carriers have internal straps for holding items in position). If space is tight, nothing is going to happen.
We highly recommend you consider using the Thule Duffel set to pack your stuff with organizations.
---
A Balance Of Weight
When you load your cargo box, you better pay attention to the weight of each portion of the box: front, middle, and back. The equalization of weight from the front to the back creates better user experiences.
We recommend you put the heaviest item in the middle of the car roof box. If you cannot make the weight evenly separated, you can pack the heaviest items in the middle and the rest of your belongings at the front and back in your roof box.
---
Using the straps or holders
Many cargo boxes have internal straps or holders, so you can use these small components to fasten your items to the bottom of the roof box. Usually, the straps or holders have an adjustable length, so you won't worry that you cannot tightly fasten your gears or items.
---
Additional protection
You can wrap your items in plastic bags or other materials. Although most roof boxes are waterproof and sturdy, you still need additional protection as wrapping up your gear or equipment with used clothes or plastic bags.
This extra protection can offer added security to your expensive items. (how to protect your roof box from thefts)
---
Double-Check your lock system
When you have finished loading your cargo carrier, you need to lock it. Sometimes, using the lock system, you need to check if it is clean or not. If it is not clean, there is a chance that your car roof box will be wind-dragged to open on the highways; as a result, you have to triple-check the lock and clean it after each time of using it.
---
Added strength on attaching your car roof box
You can use other straps or bungees to fasten your cargo box on top of your car. However, this is not necessary for our modern roof boxes, and if you want, you can use as many straps or bungees as you wish across your roof box to offer added security to it.
---
Pay attention to the weight limits of your car rooftop carrier
All the cargo boxes have their load capacity, so you need to follow the user guide to pack your roof box. You cannot overload your roof box in any situation because it is dangerous.
Overloading brings strong gravity force, and when your vehicle turns or brakes, it becomes hard to control or out of operation.
Thus, you need to figure out the best way to organize your car roof box by learning and using the correct methods.
Related Topic: Thule VS Yakima roof boxes – Compare and find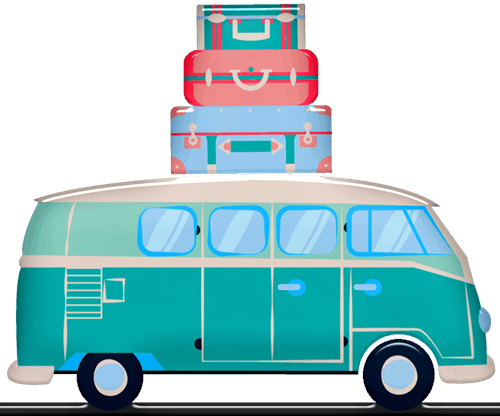 Our team is creating outdoor-gear relevant articles with passion. If our articles can help you to find the correct solutions for your questions, we will be happy about that. In the content creation process, we usually collect accurate and useful information online or offline to compile our content in an organized way. Consequently, we can guarantee that you can discover some expected answers to your questions. We appreciate your time on our site.
We are reader-supported. We get commissions for purchases made through links in this post, As an Amazon Associate we earn from qualifying purchases.