Last Updated on November 23, 2022
A cargo box can significantly increase your Nissan PathFinder's loading space, so it is a perfect choice for people who need additional storage room in their cars. A cargo box is for outdoor activities like camping, hiking, skiing, golfing, fishing, training, climbing, cycling, traveling, and other adventures, so it is not a mistake to have one in your garage for the rest of your outdoor life.
Your Nissan Pathfinder is a large SUV that comes with incredible towing capacity(up to 6000lbs) and horsepower(284 hp/6400 rpm), so an additional fully loaded cargo box is a little weight to Nissan Pathfinder. Therefore, you don't worry about your car's loading capacity, even with multiple cargo carriers or a trailer.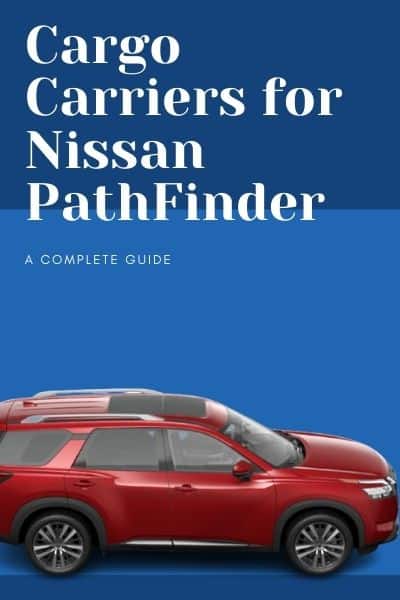 According to the official Nissan site, the Nissan Pathfinder's trunk space is between 16.6 cubic feet and 80.5 cubic feet (fold all rear seats down). If you have a small family with 3 people, you don't need a cargo carrier at all because your Nissan Pathfinder has sufficient loading room for your family's needs. When you have more than 4 travel companions, your Nissan Pathfinder does not offer enough space for your entire luggage; therefore, a cargo box comes to help and support your outdoor plan. (Nissan Pathfinder User Manual Brochure)
When choosing a cargo box for the Nissan Pathfinder, you can pick the big ones without any concerns about if you can use them or not. Consequently, we don't recommend small roof boxes for you because, for your Nissan Pathfinder, it is a waste of your car's performance and towing capacity.
Roof Racks For Nissan Pathfinder
If your Nissan Pathfinder's roof is bare, you need roof racks to make it possible to mount a roof box on top of your SUV. You can contact the local Nissan dealer to get a pair of crossbars or find one on Amazon or Ebay. Otherwise, there are universal fitting roof racks on the market, and you can pick one from a list of 8 roof racks that are compatible with all cars.
A list of universal roof racks for all vehicles include Nissan Pathfinder
---
Quick-Pick List of Cargo Boxes For Nissan Pathfinder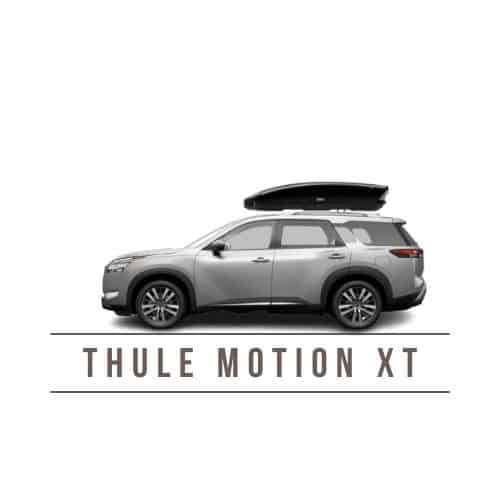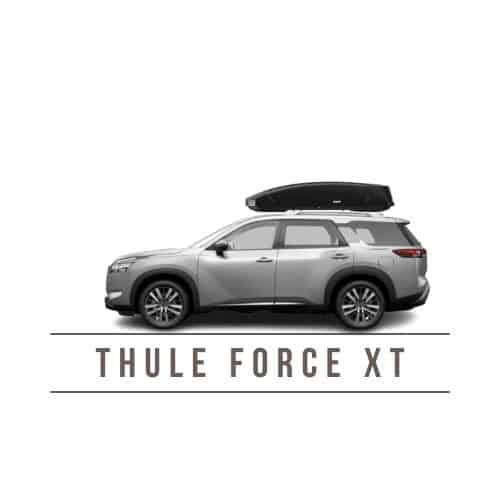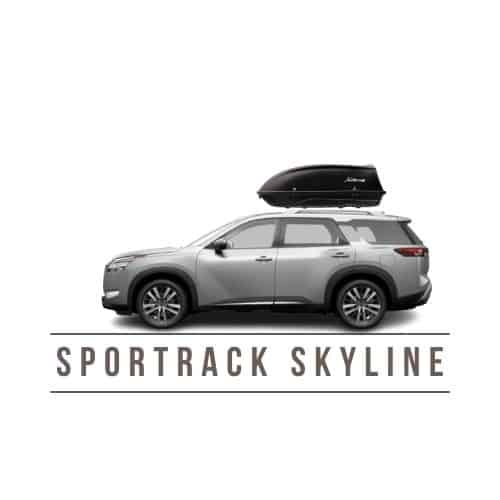 ---
Other Alternatives:
| Image | Product | Links |
| --- | --- | --- |
| | Goplus roof Box | Check Price |
| | Thule Pulse Rooftop Cargo Box | Check Price |
| | Waterproof Heavy Duty Hard Shell Roof Top Box | Check Price |
| | DNA MOTORING PT-ZTL-8138-BK Roof Top Cargo Box | Check Price |
| | Pair Adjustable Aluminum Roof Top Side Rail Cross bar and rooftop Box | Check Price |
A list of 10 cargo baskets for all SUVs, Sedans, Vans, Trucks, and your Nissan PathFinder
---
Detail of Cargo Boxes For Nissan PathFinder
Thule Motion XT Cargo Boxes
The Thule Motion XT series has four size options: Alpine, L, XL, and XXL. You can use the XXL option to be the extra loading space on the roof of your Nissan Pathfinder.
The Thule Motion XT XXL cargo box is a super large container that you can use to carry almost everything around you. It gives you 22 cubic feet of interior space for loading up to 165 lbs of gear, equipment, luggage, and more. Thus, your Nissan Pathfinder gets a total of 16.6+22=38.6 cubic feet of hauling space without folding those rear seats down.
It weighs 55 lbs, so you have to lift it with someone else for safety reasons.
If you want to use it to carry skis or snowboards, you can probably put 5 to 7 pairs of skis or 3 to 5 snowboards in it for transportation, according to official statistics. Moreover, it is also a perfect carrier for fishing rods, golf clubs, hunting gear, and other long equipment. It is prohibited to use a cargo box to carry people, animals, explosive stuff, large pieces of metal and wood, bricks, and chemical material. The maximum length of items that the Thule Motion XT XXL can hold is 215 cm, and you can use this measurement to estimate if the XXL option can haul what you may need to put into it.
The Thule Motion XT XXL's dimensions are 91.5 x 37.5 x 18 inches, and you can use these numbers to know if your vehicle can go through the garage gate or not. When you have a cargo box on top of your Nissan Pathfinder, it is good to keep in mind there is an extra height above the car roof. When going through some places like underground parking, you have to check before continuing driving. If unpredictable incidents happen, you can follow a guide to repair scratches or holes on a cargo box.
The Thule Motion XT XXL cargo box has the most secure lock system compared to other cargo boxes on the market. However, when you need extra security for your cargo box, you can follow tips on HOW TO SECURE YOUR CARGO BOX FROM THEFTS to provide added protection to your roof box.
You can install a Thule Motion XT cargo box in minutes without tools or assistance from others, but you have to do the installation accurately. If the installation process has mistakes, it may bring accidents on the roads. You have to read the user manual several times to ensure that you fully understand the process of installing the cargo box to the roof racks, and you have to give a test to the finished installation by pushing and pulling the cargo box left to right and up to down for safety check. After testing for minutes, it is time to go for a road test without loading anything. Then, you can enjoy the use of your newly installed cargo box for outdoor journeys. Moreover, when installing a cargo box, you have to avoid interference between the roof box and your Nissan Pathfinder's open trunk gate by moving it forward but not blocking the driver's insight. If you want to know more about installing a roof box on a car, you can read HOW LONG TO FIT A CARGO BOX for further info.
It is time to talk about the dual-sides opening feature that allows users to open the Thule Motion XT XXL box from both the left and right sides to pack the roof box. When loading a roof box, you have to follow the "heaviest things are first at the middle" principle to ensure the weight separates evenly in the box. You also utilize the straps or bungees to tight down those things to the bottom of the roof box to prevent swinging when the roof box is in motion. You don't overload a roof box under whatever situations, and you don't drive over-speed when using a cargo box. You have to follow the guide to manage your speed limit when having a roof box for your Nissan Pathfinder.
Thule Motion XT Car Rooftop Cargo Boxes Buying Guide
---
Thule Force XT Cargo Boxes
It is another option for your Nissan Pathfinder, and it is also a product from the Thule Group. We pick the Thule Force XT XXL size for Nissan Pathfinder because it is the largest one in the Thule Force XT series.
The Thule Force XT XXL's measurement is 90.5 x 35.5 x 18.5 inches, and it offers 22 cubic feet of inner room for loading stuff. It can haul up to 165 lbs of items, and overloading is what you cannot do in whatever situations.
The Thule Force XT cargo box doesn't have a lock system that is as secure as the Thule Motion XT's, so you may require added security to it. The Thule Force XT also comes with easy-to-use mounting components that you can operate with bare hands.
After a successful installation, you may hear wind noise or whistling sounds when driving on the roads. Although most cargo boxes have an aerodynamic design, they can produce a tiny volume of wind whistling while they are in highspeed motion. There are ways to deal with wind noise, and you can learn from TIPS OF DEAL WITH WIND NOISE.
Except for cargo boxes, you can also use a car roof bag to carry what you need in an outdoor activity. However, cargo bags are not safe to use because they are soft and easy to cut open with sharp tools. Besides, roof bags use a zipper system to close; thus, leaking is hard to prevent when they encounter storms or heavy rainy days. Although most cargo bags have a zipper cover, it is hard to believe that they won't get wet during a long way drive on a rainy day. Cargo bags are for temporary use only, and they are cheap and affordable. We have a list of top-selling cargo bags for your consideration. It is not a mistake to have both a cargo box and a roof bag as a backup.
Thule Force XT Car Rooftop Cargo Boxes Buying Guide
---
SportRack Skyline Cargo Carrier
The SportRack Skyline cargo box is the third pick for your Nissan Pathfinder because of its 18 cubic ample interior space. You can put up to 150 lbs of stuff in it for transportation, and the box weighs 30 lbs.
You have to assemble the SportRack Skyline roof box before performing the installation, and there are 30+ small parts in the package waiting for putting together. However, it is not so hard if you follow the user guide to assemble the cargo box, and it may take 30 minutes to complete. After a successful assembling, you can install it on top of your car in minutes without a tool or anyone's help.
When performing the installation, you have to put the cargo box in the position without interferences with the open trunk gate or the antenna. You can know more by reading TIPS OF INSTALLING A CARGO BOX.
SportRack Skyline cargo box is made of blended plastic materials, so it is waterproof, rugged, durable, and weather-proof. However, its central lock core is weak and flimsy, and you have to lubricate it after using it for a while. When you think further protection is needed, you can follow TIPS OF SECURE YOUR CARGO BOX FROM THEFTS to gain more tactics to prevent your cargo box from unsafe situations.
If you have a tight budget, you choose the SportRack Skyline cargo box for your Nissan Pathfinder. If you are rich, we suggest you consider using the above Thule roof boxes.
---
JEGS Cargo Carriers
JEGS is another top-ranked brand with different outdoor gear categories in stock includes cargo boxes. You can choose the 18 cubic feet JEGS cargo carrier as the added storage for your Nissan Pathfinder. It is affordable and big enough, so we pick it for you.
However, its flimsy lock cores also require lubrication after months of use. Sometimes, you may need to purchase a replacement part to change the entire lock core when it is not ok for use.
It weighs 35 pounds, so we believe you can heft it alone for simple installation. Manufacturers use HDPE plastic to build the JEGS cargo boxes for making them stand in extreme weather conditions and unexpected incidents; besides, they are sturdy, waterproof, and long-lasting.
There is much more you need to know about JEGS cargo boxes, and we have a post with all the information: specifications, features, photos, feedbacks about it.
JEGS Car Rooftop Cargo Carriers Buying Guide
---
Conclusion:
In this article, you can find some compatible cargo boxes for your Nissan Pathfinder. If you don't like them, you can use another list to check more best-selling cargo boxes for consideration.
You can use multiple cargo carriers like roof racks +a cargo basket +a cargo box + bike carrier, or roof racks + a cargo basket + a cargo bag + a hitch cargo box or other combinations that you can think out for carrying things.
Other car rooftop or rear cargo carriers for bikes, kayaks, luggage, and more.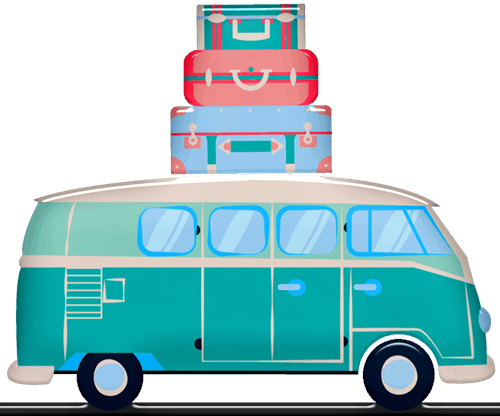 Our team is creating outdoor-gear relevant articles with passion. If our articles can help you to find the correct solutions for your questions, we will be happy about that. In the content creation process, we usually collect accurate and useful information online or offline to compile our content in an organized way. Consequently, we can guarantee that you can discover some expected answers to your questions. We appreciate your time on our site.
We are reader-supported. We get commissions for purchases made through links in this post, As an Amazon Associate we earn from qualifying purchases.