Last Updated on October 16, 2023
How to reduce wind noise for your car roof box or roof rack? You are about to find the solutions in this article. You can use a car roof box for multiple purposes to maximize the outcomes of your outdoor adventures. Have you also searched about how to clean your cargo box, how to pack your roof box, and is it safe to use a car roof box? If you are new to a car roof box, those articles on our site may have the info that can help you a little bit in better knowing your roof box.
A car roof box is a plastic container that you can attach to the top of your vehicle for carrying gear, clothes, items, luggage, equipment, and other stuff. People often use a car rooftop carrier for road journeys, outdoor sports, and camping vacations. However, every coin has two sides. Although car roof boxes are popular and useful for people, they also have disadvantages.
In this article, we are mainly discussing one of the cargo boxes' shortcomings – wind noise. While you are driving a car with a car rooftop carrier, you can hear much wind noise like whistling. Do you want to know how to reduce the wind noise of car roof boxes? Keep reading to find solutions.
---
We Start From Here
First, you are about to know how the wind noise accrued during the time of your driving. You have to understand the mounting system of car roof boxes then you will realize why there is wind noise exists.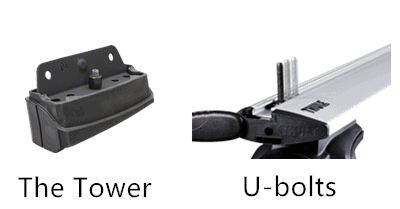 In general, car roof boxes are mounted on car roof bars(rack systems), and different cars need different rack systems. The Fit Kit and the tower are the two most essential components of the mounting system. If you have a flat roof, you may need to purchase a fit kit to support the tower. If you need to buy a fit kit, you have to contact your car dealer for advice because a fit kit is not a universal fit product. If you know what type of fit kit you need, you can check Ebay or Amazon search results for Fit kit.
Besides, the towers are universal fit, so you can pick one set and mount them on the fit kits. The towers can help you to hold the bars in positions on the roof of your car.
After talking about the towers and the fit kits, we continue to move up to figure out what is above the mounting towers. The crossbars (rack bars) are standing on top of the towers for holding your car roof box.
On the market, you have round, square, and aero crossbars for selections. According to our research online, the square rack system produces the most noise than the other two options, and it is the cheapest option. The round crossbar is standing in the middle of these three options. The aero rack bar is quiet while you are driving, but it is expensive.
After a secure and accurate installation of a rack system, you can attach your car rooftop carrier to the roof of your vehicle with two types of components: t-track adapters or U-bolts.
---
Find Out the Reasons for Wind Noise
When you have installed your car roof box to the roof of your vehicle, you will find that there is vertical space between the box and the roof surface. While you are driving your car on the highways, the coming air will fly through the gap to create a whistling sound. The gap is the main reason for wind noise, so let us find out how to fix it.
How to Reduce the Wind Noise of a Car Roof Box
---
4 Methods of How to Reduce Wind Noise of the Rack System
---
DIY- How to Use Bungee Cord to Reduce Wind Noise – Video Tutorial
Above are four ways how to reduce wind noise for your car roof box, and you can try each of them to find the best solution for your needs. Below, we are going to recommend some products to help you in solving the problem of wind noise.
INNO Universal Mount Fairing
INNO fairing is our top recommendation. You can install it on the front bar to block the gap between your car roof and the first rack bar. The installation is easy to do. You can follow the user guide brochure to finish the installation in minutes. The fairing is made of three layers of ABS plastic, so it is sturdy, durable, and waterproof.
For the measurement, there are 3 sizes for selection: 31 inches, 40 inches, and 48 inches. You have to measure the length of your rack bar to decide which size of the INNO fairing will work on your rack bar. In general, when you have this INNO fairing in hand, you need to attach three brackets to the rack bar and tighten the fairing to the bracket holders.
YAKIMA Aerodynamic Crossbars
If you don't have a rack system on the roof of your car, you can consider investing in an aerodynamic rack system. It is expensive, but it permanently solves the wind noise problem. Why can it do the job for you? Yakima JetStream crossbar has an aerodynamic shape and seamless aluminum construction, so, in high-speed conditions, the coming air will flow through the sides of the bar without a whistling sound.
---
Products Help you How to Reduce Wind Noise or Whistling Sound of Your Car Roof Box or Rack Bars
| Image | Name | Type | Dimensions | Check Price |
| --- | --- | --- | --- | --- |
| | Yakima Whispbar Through Bar Roof-Rack System | Aerodynamic crossbar system | 65.36 x 6.7 x 5.91 inches | Check Price on Amazon |
| | Thule AeroBlade Edge Flush Mount Rack | Aerodynamic crossbar system | 48 x 6 x 4 inches | Check Price on Amazon |
| | YAKIMA – JetStream Bar Aerodynamic Crossbars for Roof Rack Systems | Aerodynamic rack bars | 52.5 x 3.25 x 1 inches | Check Price On Amazon |
| | INNO INA261 Medium Universal Mount | Fairing for Mid-Size Cars and SUVs | 48 x 6 x 3 inches | Check Price on Amazon |
| | Thule AirScreen Fairing | Fairing plate that blocks the gap between the crossbars and the roof of your car. | 32 x 8 x 3 inches | Check Price on Amazon |
| | Dakine Long Aero Rack Pad | You can wrap the front bar by using this pad to reduce wind noise on the highways. | 7.87 x 3.15 x 3.94 inches | Check Price on amazon |
| | Rhino-Rack Wind Fairing | Fairing for reducing wind noise of your rack system. | 39 x 6 x 3 inches | Check Price on Amazon |
| | Premium Bungee Cord | You can use this bungee cord to wrap the front crossbar to reduce wind noise. | 48 inches | Check Price on Amazon |
---
In Conclusion
In this article, we discussed how to fix the wind noise for a rack system or a car roof box.
First, we learned the construction of the rack system, and we familiarised ourselves with the reasons why wind noise accrues on the highways. You have to control your speed when driving with a cargo box because of risen gravity center.
Then, we listed several methods to deal with the wind noise, and we introduced ways to solve the problem.
Finally, we listed some products that you may need to use in solving the wind noise problem.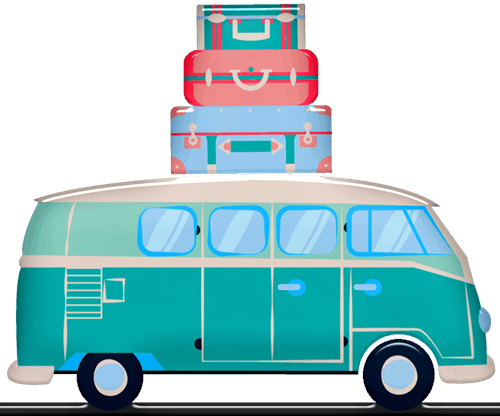 Our team is creating outdoor-gear relevant articles with passion. If our articles can help you to find the correct solutions for your questions, we will be happy about that. In the content creation process, we usually collect accurate and useful information online or offline to compile our content in an organized way. Consequently, we can guarantee that you can discover some expected answers to your questions. We appreciate your time on our site.
We are reader-supported. We get commissions for purchases made through links in this post, As an Amazon Associate we earn from qualifying purchases.