Last Updated on November 22, 2022
You want to find out the right-size cargo boxes for specific cars, but you are confused about their dimensions. Besides, you have nowhere to find out the info about which car roof box is the largest or the smallest or the narrowest or the longest.
Consequently, you are searching online to find a webpage that shows you the answers you need. Here you go. In this article, you are about to discover a size guide, and we hope that we can help you a little bit in choosing the right car roof box for your outdoor adventures.
You have to know the dimensions of your car roof, and you also need to have the measurement of your gears or other stuff. There are many different sizes of car roof boxes for people to choose around for varying purposes.
When choosing a cargo box, you have to concentrate on both its loading capacity and its dimensions. However, all of these factors have to be put into consideration. Moreover, you have to focus on the measurement of your rack system, and a larger roof box can block the opening of your hatchback. You don't want that, so that is why different cars can work with a variety of roof boxes in variable sizes. Consequently, you cannot install a roof box that is larger than the measurement of your rack system or car roof size.
If you do so, you cannot open the hatchback or see clearly through the windshield while your car is in motion. We find the biggest cargo boxes.
First, we will list five size options from half-width to large for you to get familiar with the basic features and size scales of cargo boxes. According to your needs and the measurement of your gear, you can pick a fitted roof box for your next family road trip.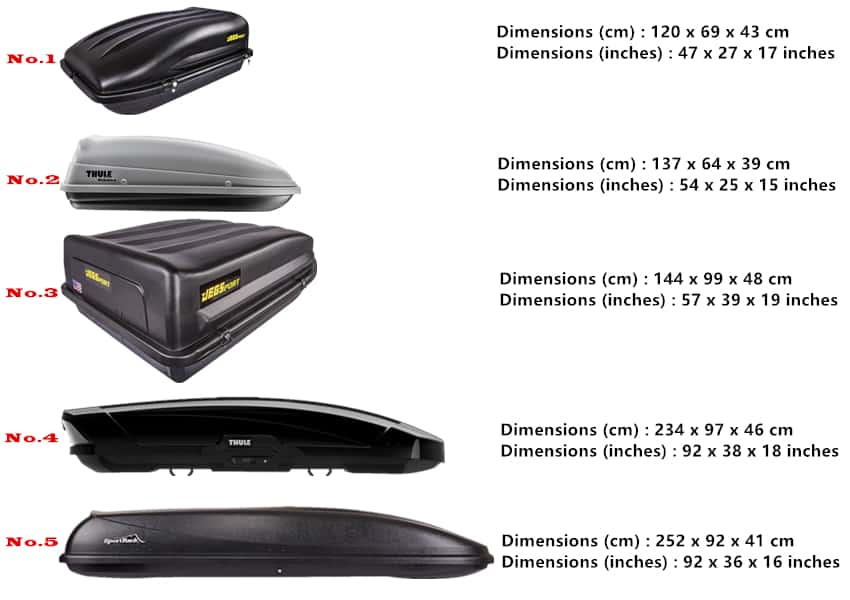 ---
Let us start with the half-width size roof box:
2-Thule Sidekick Rooftop Cargo Box – Half-Wide Cargo Box
We assume that you have a rack system on the roof of your car, and you don't want a car roof box to occupy the entire space of your car roof. Then, you may search for a solution that can still use a roof box without sacrificing all the room on a pair of rack bars.
A half-width roof box is a solution for you because it only needs 64cm or 25 inches in width on your rack systems. You can utilize the rest of the space to mount other gear like skis, snowboards, bikes, and other equipment.
The Sidekick roof box is not the smallest one in this article, but it is a popular choice for transporting less stuff on smaller vehicles.
Its length is 137cm, and its height is 39cm. The eight cubic feet of inner space allows you to load up to 75 lbs of items in total. You cannot put your skis or snowboards into this roof box because of its limited length.
---
Skinny, Narrow, Thinnest, and Low Profile Roof Boxes
If you look for a skinny roof box for your sedans, SUVs, Vans, or Trucks, you can find one here. 6 skinny cargo boxes
3-JEGS Rooftop Cargo Box – Wide Cargo box
When you have assembled a wide-size roof box for your car, you will not have any spare space on the rack system for other items. However, the ample interior space of a wide-size car roof box offers you enough room to carry as many belongings as you need for your vacations.
JEGS car roof box has 18 cubic feet of inner space to help you carry up to 110 lbs(49.8952kg) of stuff. When it is empty, it is only 28 lbs(12.7006kg). Although you can breezily assemble it alone, we recommend you do the installation with your friend or family for safety reasons.
If you require a large cargo box that can carry luggage for you and your families, this is a perfect option for you. However, if you are looking for a car roof box that you want to use for carrying your skis, snowboards, or other long items, this is not a thumb-up choice.
---
5-SportRack Horizon Alpine Cargo Box – Long Car Roof Box
You have golf clubs, skis, snowboards, fishing rods, or other long gear at home, and you may want to bring them out for outdoor adventures. Then, you start to search online for solutions about how to transport long gear with your car without occupying the carriage room.
A car roof box can be the answer to your desires. SportRack horizon alpine car roof box is a long-size container that can help you for multiple purposes. It has three size options: 11 cubic feet, 16 cubic feet, and 17 cubic feet. In general, it can hold up to 3 to 5 pairs of skis and 2 to 3 snowboards that are not longer than 210cm.
Additionally, it fits most of the factory rack systems. ABS material supports the construction of this car roof box, and it makes the roof box sturdy, waterproof, and durable. There are tons of real customer feedback on Amazon, and you will find how they feel about this product in real-life conditions.
---
1-JEGS 90097 Car Roof Box – Small Capacity cargo box
We assume that you only need to transport some small or light stuff around in your city, and you are not expecting to use your car roof box for carrying lots of luggage. Then, JEGS 90097 car roof box is your choice.
A 10 cubic feet of interior space allows you to load up to 110 lbs (49.8952kg) of items, and it has all the needed features as other popular car roof boxes on the market. It is easy to operate and assemble without a tool, and you can do the installation alone. In comparison, it only occupies a part of your rack system. Consequently, you can attach other items or gears to the spare part of your rack bars. For example, most people usually assemble both a roof box and bikes, snowboards, roof tents, skis, and kayaks to their roof racks. On the other hand, if you use a broad and long roof box, it covers the entire car roof space and occupies the whole rack system; thus, you will have no room for other mountable things.
---
4-Thule Motion XT Car Roof Box – large cargo box
Thule company are producing high-quality car roof boxes for decades, and it has many valuable experiences in manufacturing top-quality outdoor gear. In the Thule family, the Motion XT series has three options: 16 cubic feet, 18 cubic feet, and 22 cubic feet.
Consequently, whatever purposes you have for using a car roof box, the Motion XT cargo box will satisfy your desires with its features and capabilities.
Compare with other options in this article, Thule Motion XT is the most expensive one, but it is the best quality one.
From narrow to broad, from short to long, you are looking at five different sizes of cargo boxes that are shown and described in this article. You can choose the fitted one for your specific needs and your vehicle. Some accessories that make the roof cargo boxes even more convenient to use.
---
Size Chart From Short To Long
| Image | Name | Measurement | Capacity | Links |
| --- | --- | --- | --- | --- |
| | Menabo Quasar Roof Cargo Box | 47.24 x 32.28 x 13.39 inches | 320 liters | Check Price |
| | JEGS Rooftop Cargo Carrier | 47.5 x 28 x 12.5 inches | 10 Cubic Feet | Check Price |
| | Heavy Duty Hard Shell Roof Top Mount Car Storage Travel Luggage Box | 53″ L x 34″ W x 15″ H | 11 Cubic Feet | Check Price |
| | Thule Sidekick Rooftop Cargo Box | 54 x 25 x 15.5 inches | 8 cubic feet / 227L | Check Price |
| | INNO BRA240BK Ridge Cargo Box | 54.5 x 28.5 x 14 inches | 8 Cubic Feet | Check Price |
| | TUFFIOM 14.85 Cubic Feet Rooftop Cargo Box | 61"L x 27.6"W x 13.8"H | 14.85 cubic feet | Check Price |
| | JEGS Rooftop Cargo Carrier | 61.25 x 39 x 12 inches | 18 cubic ft | Check Price |
| | SportRack Vista XL Rear Opening Cargo Box | 62.5 x 19 x 39 inches | 18 cubic feet (510 L) | Check Price |
| | Goplus Cargo Box | 63 x 31 x 15 inches | 14 Cubic Feet | Check Price |
| | Thule Pulse Rooftop Cargo Box, Medium | 67 x 35 x 16 inches | 14 cubic feet | Check Price |
| | CAM Hard-Shell Vehicle Rooftop Cargo Carrier | 72 x 29 x 15 inches | 15 cu ft | Check Price |
| | Perflex Bosphorus Rooftop Cargo Box | 73 x 34 x 16 inches | 17 Cu Ft (480 L) | Check Price |
| | INNO Shadow Cargo Box | 78.7 x 31.9 x 13.4 inches | 13 cubic feet | Check Price |
| | INNO BRM660WH Wedge Cargo Box | 80 x 33 x 11 inches | 11 Cubic Feet | Check Price |
| | Thule Vector Rooftop Cargo Box | 83.5 x 34.5 x 14 inches | 13 cubic feet | Check Price |
In Conclusion
We mainly discussed cargo boxes' five different size options from narrow to broad and short to long. If you are going to have a car roof box in your life, you may want to know more about it. There are several questions that you need to learn and know before you start to use your cargo box: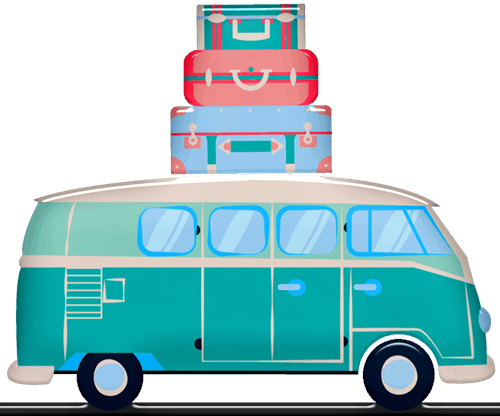 Our team is creating outdoor-gear relevant articles with passion. If our articles can help you to find the correct solutions for your questions, we will be happy about that. In the content creation process, we usually collect accurate and useful information online or offline to compile our content in an organized way. Consequently, we can guarantee that you can discover some expected answers to your questions. We appreciate your time on our site.
We are reader-supported. We get commissions for purchases made through links in this post, As an Amazon Associate we earn from qualifying purchases.