Last Updated on November 22, 2022
If you are an outdoor enthusiast, you probably want to drive your car to the woods and wish to enjoy the time of camping or outdoor sports. However, your vehicle does not have enough space for all your belongings, and you must bring your clothes, equipment, gear, and other necessary stuff. What can you do? Is there any solution to that trouble? Can you add an extra storage room for your vehicle?
When you ask questions like the above, you may have heard about the Thule roof boxes. The Thule, A big brand of outdoor equipment, will offer you a solution to create added space above the car roof for your road journeys.
We are pretty sure that you will fall in love with your first cargo box, and you will enjoy the convenience of using it. When you drive your car with a fully-loaded car roof box, there is a spacious room in your vehicle for people. During your road trips, you and your companions can stretch your legs or arms to enjoy the comfort of your vacation time. All your items and belongings safely load inside the cargo box, and you can pull over to find anything at any time.
On the market, you have many options for cargo boxes. However, Thule is the best for sure. In the outdoor equipment industry, Thule is the industry leader with much professional experience in manufacturing high-quality equipment and gear for outdoor enthusiasts. In general, choosing Thule products was never wrong for many years.
Below, you are about to know more info about the Thule roof boxes.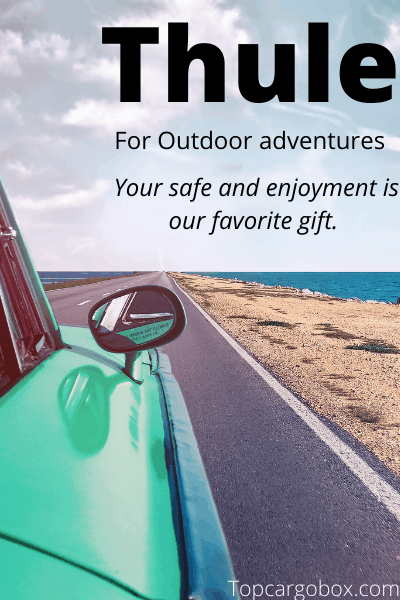 ---
The Definition of Thule Car Roof Box
1942 to 2020, in 78 years, Thule has built its reputation in the industry with countless positive feedbacks and millions of happy thumb-ups. With 78 years of experience, Thule has innovated and developed its manufacturing process with many advanced materials and methods.
Thule roof boxes are a part of Thule's business, and they are popular and famous all over the world. Except for car roof boxes, Thule also produces car rack systems, cargo carriers, roof baskets, cargo tents, strollers, bike trailers, and other outdoor gear.
Thule innovated cargo boxes in 1977. A car roof box is an added storage room at the top of a car for carrying items. There are many car roof boxes in different sizes, shapes, colors, and designs. We highly recommend you start with the Thule car roof boxes. You won't regret having a Thule cargo box in your life.
Thule cargo boxes rank at the top with advanced high-tech materials, aerodynamic shapes, and high-gloss colors. If you think to invest in a car roof box, you must consider buying a Thule cargo box as your first car roof storage. Thule cargo boxes have different models, so you have to learn the differences between them before making decisions. Making the best choice is our purpose for writing these articles, so you need to read and compare these Thule cargo boxes for finding the suitable one for both your family and your car.
Related Topic: Thule VS Yakima cargo boxes
---
How Much Can Thule Car Roof Boxes Hold?
Why there are many models and sizes of Thule cargo boxes? Different people have many demands and purposes for using cargo boxes, so what is your plan for having a roof box? If you are about to use a car roof box for camping with families or friends, you have to choose a large cargo box with a higher load capacity. If you use a cargo box for specific equipment such as skis or snowboards, you can pick a long one that fits the length of your gear. Moreover, if you do not like those large ones, you can choose a small or narrow one to offer spare space on your rack system for other items such as bikes or kayaks.
The load capacity of Thule car roof boxes is different from small to large, short to long, and narrow to broad; consequently, you have to choose the one that fits your needs. How much can a Thule cargo box load? The smallest Thule roof box has an 8 cubic feet load capacity, and it can load 34 kilograms(75 lbs) for you. On the opposite, the hugest Thule roof box has 22 cubic feet of interior space for loading, and it is about 165 lbs(74kg). Also, there are other capacity options in the Thule cargo box family: 17 cu ft, 14 cu ft, 22 cu ft, 22 cu ft, 18 cu ft, 18 cu ft, 16 cu ft, 16 cu ft, 21 cu ft, 17 cu ft, 16 cu ft, 13 cu ft, 12 cu ft, 16 cu ft, 14 cu ft, 11 cu ft. You can use the above info to calculate which size of car roof boxes you need, and you need to measure how heavy your items are. 
On the market, the most popular range of capacity is 15 to 18 cubic feet, and it is perfect for a family size of 4 people. If you overload and don't follow safety regulations to pack a car roof box, your car's gravity center will move forward or backward to create potential risks to your driving.
---
The Largest Thule Car Roof Box
Thule Motion XT Rooftop Cargo Carrier is the largest car roof box in the Thule family. It can load 5-7 pairs of skis, 3-5 snowboards, and up to 76 kg items, and the max length of skis is 215cm.
Thule Motion XT Rooftop Cargo Carrier

We recommend this car roof box to you in the first position of this list because of its capacity and high-level quality. When you first take a look at this cargo roof box, you will fell in love with it. The aerodynamic design and the high-gloss surface gives you unforgettable first impressions.

It is fitting to most factory rack systems, so you won't worry about if your Subaru Crosstrek can use it or cannot use it. The pretty simple installation system makes the cargo box easy to use and easy to assemble.

A 22 cubic inner space of the cargo box allows carrying up to 75kg belongings on your road trips or other outdoor adventures. This model of the Thule roof boxes has different sizes and capacities for the various customers' needs. If you are often traveling with a few belongings, you can choose the 16 to 18 capacity ones.

However, If you are doing seasonal sporting adventures such as skiing, you need to pay attention to find a car roof box that has enough length to load your skis or snowboards. Usually, in the seller's description, you can find detailed info about his point.

There are three options of capacity: 16 cubic feet, 18 cubic feet, and 22 cubic feet.

There are two color options: black and titan.

Outside dimensions: 91.5 x 37.5 x 18 inches

Inside dimensions: 84.5 x 33 x 16 inches

A dual-opening feature allows you to open the cargo box from both sides in a parking zone or on the side of a highway. Why this feature matters to you? If you are parking on the side of a road, you should avoid using the driver's side to open the car roof box because of the potential risks from the coming traffic. On the other side, if you are loading your items at home or in a parking zone, you can use both sides to stow your stuff into the cargo box.
Thule Motion XT Car Rooftop Cargo Boxes Buyer Guide
---
Related Topic: Skinny roof boxes have thin designs that create comparatively lower heights on top of vehicles.
The Smallest Thule Car Roof Box
In Thule's cargo boxes' family, the Sidekick rooftop carrier is the smallest. It will not occupy the entire roof space of your Toyota RAV 4, so you can also assemble other gears on your rack system. The Sidekick rooftop cargo box is made of ABS plastic material that offers waterproof, sturdy, and durable characteristics to the rooftop cargo carrier.

If you are seeking a light and small car roof box, this is the perfect option for you. For example, a family size of 2 or 3 people is perfect to use this rooftop cargo box for road trips, camping vacations, or other outdoor adventures.

The Sidekick rooftop cargo box provides 8 cubic feet of inner space that allows you to carry up to 110lbs items. You can assemble the Sidekick rooftop cargo box on most of the factory rack systems, and the rooftop carrier's U-bolt/knob mounting system ensures that you can assemble it on a rack system within minutes without a tool.

If you are a fan of winter sports such as skiing, you can load your skis or snowboards into the car roof box; however, this Sidekick cargo carrier's dimension is 54 L x 25 W x 15.5″ H inches, so you have to make sure that your gears are shorter than 54 inches. We recommend you to consider a larger car roof box for winter sporting gears because the Sidekick rooftop carrier is the smallest product in the Thule cargo boxes' family.

The Sidekick Thule rooftop cargo carrier can open only from the passenger side, so when you assemble it on top of your car, you have to set the position of it close to the passenger side doors in order to reach it conveniently.

There are two locks on the side of the Sidekick cargo carrier that provides added security to your belongings. The construction of the car roof box is UV-resistant, so the color of the body is not going to fade away after a long time using under the sun.
Thule SideKick Car Rooftop Cargo Boxes Specs Guide
---
How are Thule Car Roof Boxes Built?
Thule cargo boxes are waterproof, sturdy, durable, fashion-looking, and safe to use. These thumb-up characteristics came from 78 years of Thule company's hard-working in developing and innovating. The Thule has many advanced high-tech methods to produce outstanding and unique outdoor gear for outdoor enthusiasts.
Thule's cargo boxes are combinations of five layers of super-tough modern plastic materials, so they have little weight. The grade of these materials is professional-automotive-level, so, even after an accident, a Thule roof box will stay in one piece. Thule's products are environmentally friendly because Thule announced earlier that 80% of the materials in their products are recyclable.
When Thule people start to build roof boxes, they put a large sheet of plastic on a machine. Then, those machines will heat and vacuum the plastic to the shape according to the blueprint. Thule's workers will use the Thule molds to build cargo boxes' constructions with grooves and indentations. They fit most factory rack systems. Finally, Thule people install additional components to them, and they will ensure that a Thule cargo box has all the advanced functionalities and sturdy constructions. After final high-glossy printing, you will find a high-quality Thule cargo box on the market.
When you use a Thule rooftop box, it exposes to the outside elements all the time. UV-resistant is another must-have feature of all Thule car roof boxes, and you won't worry about the color-fading of your Thule cargo box after a year of use. There are many color options for Thule car roof boxes, so you can choose one that fits your vehicle. If you cannot find a fitted one, you can choose to print it yourself. However, we are not sure if you can print your car roof box or not, and could you please search online to find solutions?
Thule is a great company. It has built its test program to examine its products under many different conditions, and Thule's testing program takes safety to a new level exceeding the current ISO standard by far. You can watch the video below. Thule tests its products countless times in the real world under all kinds of conditions like extreme weather, over-speeding, fast-turning, and more. Thule treats safety as the priority over everything.
---
How to Mount a Thule Car Roof Box?
Do you know that a car roof box should work on a rack system? There is no exception for that only if you use a roof bag that does not need to be attached to rack bars. For Thule cargo boxes, they also need to be mounted on a pair of roof bars to carry items for you, and how to choose a rack system?
Most cars have factory-designed rack systems, so you have to contact your local car dealer to require a rack system for your vehicle. If your car dealer does not offer one for you, you can search and choose a pair of Thule roof bars online. However, before you decide to take one home, you need to know that if the desired Thule rack system fits on the roof of your car. How to make sure that they will be suitable for each other?
You need to do the measurement for your vehicle's roof, and you also need to learn how to install a rack system. Moreover, you require to make sure of the compatibility of the crossbars and the chosen roof box.
A list of universal roof racks for all vehicles – If you want to use a Thule cargo box to stow things, you must install roof racks on the roof of your car. Most people use OEM roof racks for that purpose, but you can consider using third-party universal crossbars to build your roof-mounted storage space.
A rack system decides how much weight you can load in your cargo box, so you need to pay attention to its hauling power. If you want to get a pair of rack bars, we recommend the Thule rack bars.
Once you have installed a pair of rack bars, you are about to mount a Thule roof box on top of it. The Thule cargo box's mounting components are simple to use, and the specially designed audible clamps will help you securely and safely attach the roof box to the rack bars. During the installation, you can adjust the cargo box's position to avoid any interference with the open hatchback or the antenna. In general, the cargo box's center point should be on the same vertical line as the center of your vehicle. Then, the gravity center of your car is right for safe driving. If their center points are not on the same vertical line, the gravity center is changed to create potential risks while your car is in motion, especially on the highways.
Some of the Thule car roof boxes have a sliding mount system that will ensure you can adjust the roof box's position at any time.
---
How Do You Remove a Thule Roof Box?
Thule has developed its cargo boxes with easy-to-use mounting systems, and AcuTight clamps are simple to operate. When you want to disassemble your Thule roof box, you need to start from the inside and untighten all the clamps. If your Thule box is large, you have to call someone else to take it off with you. Two people can do it without any potential possibility of hurting your vehicle, so do it with someone else, unless your Thule car roof box is a small one like the Sidekick version.
---
List of 17 Thule Cargo Boxes
---
External info about Thule Car roof Boxes: