Last Updated on November 23, 2022
If you are here, you want to expand the storage space for your Mazda CX 9 for a reason. A cargo box may help with your desires for extra loading space on top of your vehicle, but choosing a cargo box is tricky sometimes because there are many different ones on the market. We have a Size Guide that ranks roof boxes from short to long for people who want to find a suitable cargo carrier for their specific gear or equipment.
Your Mazda CX 9 offers original 14.4 cubic feet of trunk space for stowing things when you need it to do so. When you fold those back seats down, you can generate another 56.8 cubic feet of loading space for stuff; consequently, you can have 71.2 cubic feet of storage room in the hatch room of your car.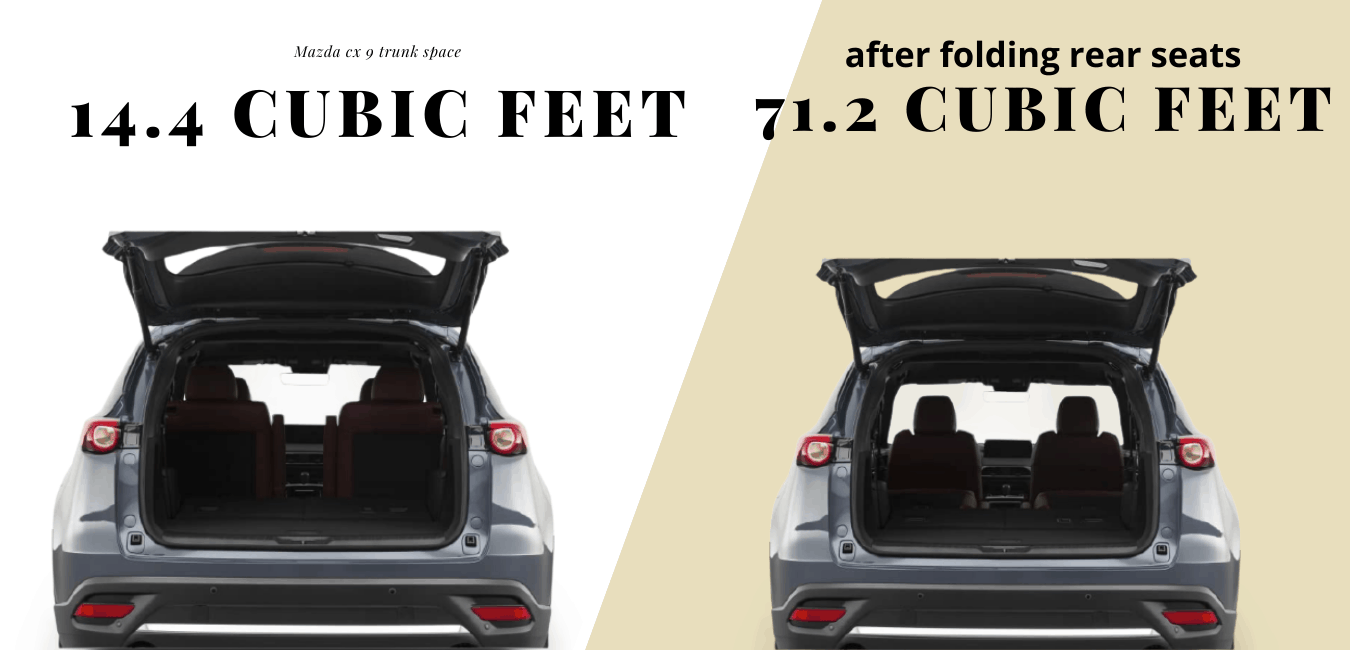 Although your Mazda CX 9 has spacious hauling space, it requires sacrificing the sitting area for storing more luggage or gear. At this point, you may think that where do people sit if all the back seats are full of belongings; thus, occupying the back seats for things is not an option if you have a family with more than three persons.
As a result, manufacturers have seen the demands there, and they innovated cargo carriers for people like us who want their cars to have an ample loading space and a comfortable hatch room. Except for using a cargo box, we also can use hitch carriers or trailers to enlarge the hauling capacity of our vehicles. However, for us, hitch carriers and trailers are not options.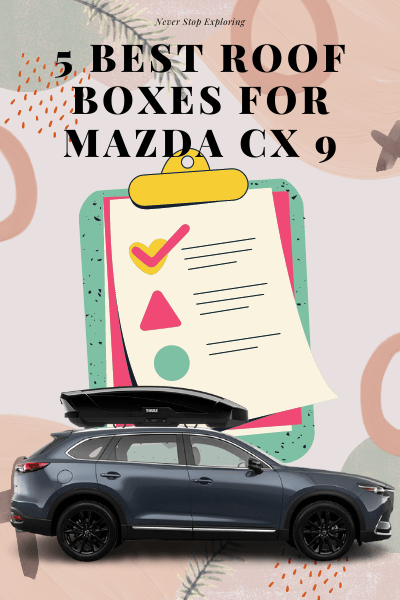 If you are new to cargo boxes, you can use the navigation menu to find relevant topics for building some foundational knowledge for choosing and operating a roof box.
Below, there is a list of the 5 best roof boxes for your Mazda CX 9.
---
Do you need roof racks for your vehicle?
A list of universal roof racks for all vehicles – compatibility check required
---
Quick-Pick List of 5 Roof Boxes For Mazda CX 9
---
---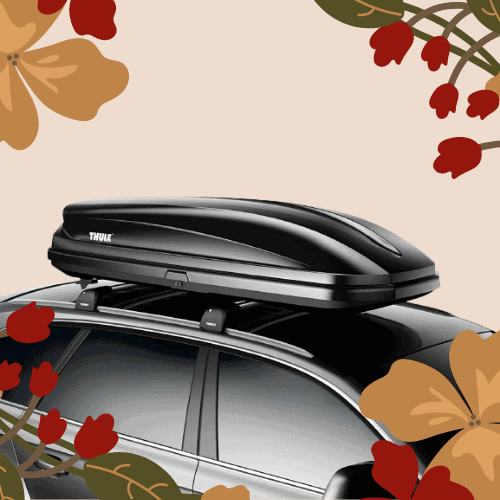 ---
---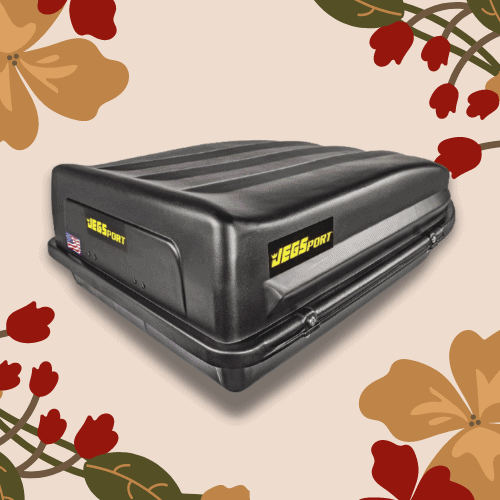 ---
Other Car Rooftop Carriers You Can Use
Except using a cargo box, you can use cargo bags or cargo baskets to carry items or belongings on the roof of your Mazda CX 9. If you want to know the differences between cargo bags and cargo boxes, you can find answers in another post.
A list of best-selling soft cargo bags for all SUVs, Sedans, Trucks, Vans – Soft roof bags are perfect for temporary use but not for long-term use. You can use the search bar to find more topics on cargo bags.
A list of 10 cargo baskets for all SUVs, Sedans, Vans, Trucks, and your Mazda CX 9.
---
Detail of 5 Best Cargo Boxes For Mazda CX 9
Thule Force XT Rooftop Cargo Box
It is the first option for your Mazda CX 9, and it is the best overall on this list. The Thule brand has much popularity among outdoor enthusiasts with a top-rated positive reputation across global markets. Thule products are perfect options for beginners because of their premium features, responsive customer service, top-level quality, and aesthetic designs; therefore, we put the Thule Force XT roof box at the first position on this list for your Mazda CX 9.
Thule Force XT Car Rooftop Cargo Boxes Buying Guide
The Thule Force XT comes with 4 size options: Large (16 cubic feet), Extra Large (18 cubic feet), XXL(22 cubic feet), and Sport(11 cubic feet), but we suggest you consider mounting the XXL model to the top of your Mazda CX 9 because of its spacious loading capacity. You can put up to 165 pounds of things into the box without a hassle, and metal bricks, alcohol, explosive materials, people, animals, large pieces of wood, chemical materials are not allowed to transport in any car rooftop carriers.
You can use a roof box to carry things: luggage bags, clothes, shoes, tents, gear, tools, essentials, inflatable canoes, and more. When packing the cargo box, you should follow some tips for effectively using the space provided. The roof box comes with at least 3 inner straps for tying items to the box's bottom to prevent sliding when the cargo box is in motion.
Thule Force XT XXL roof box's dimensions are 90.5 inches long x 35.5 inches wide x 18.5 inches tall, and you can use these numbers to estimate that if you can drive through the garage gate with it on top of your Mazda CX 9 or not. The box weighs 52 pounds, so we believe you require someone else to help you with hefting it up for installation. It can perfectly hold 5 to 7 pairs of skis up to 215 cm for transportation, and gear, like skis or snowboards, must be tightened by the internal straps for security reasons.
The manufacturer constructed the Thule Force XT cargo boxes by using rugged ABS plastic to generate waterproof, sturdy, UV-resistant, and long-lasting characteristics for the products, so your items are always dry and clean after long way trips.
The cargo box requires to mount on a pair of crossbars: round, square, aerodynamic, and most factory roof racks. If you have no idea what a roof rack is, you can learn more here – TIPS OF CHOOSING A CAR RACK. We also have a list of 8 UNIVERSAL FIT ROOF RACKS AND ROOF RAILS for all vehicles, and you can take a look at the list for considerations. We recommend you contact your local auto dealer to request info on roof racks for compatibility reasons.
---
Thule Motion XT Cargo Box
It is the second choice for your Mazda CX 9, and it is also a product from the Thule Group. The Motion XT model has three size options: L (16 cubic feet), XL(18 cubic feet), and XXL(22 cubic feet). We push the XXL option in front of you for the recommendation because of its ample loading space and premium features. Thule Motion XT XXL is almost the same as the Force XT XXL, but what are the differences?
Thule Motion XT Car Rooftop Cargo Boxes Buying Guide
Motion XT models are the most secure roof boxes because of their slide locks, and Force XT roof boxes are the easiest to install because of quick-mount components. Thus, which one do you prefer? Safety or simplicity?
We have another post that shows the specifications of Thule Motion XT cargo boxes, and you can refer to the page to discover more info for ideas.
---
Thule Pulse Cargo Box
Thule Pulse Cargo Boxes Buyer Guide
It is the third option for your Mazda CX 9. When you have a short budget, it is a good pick. Although it is cheaper than the above options, it gets all the necessary features for daily use. You probably wonder what features does it have? It is a combination of rugged ABS plastic, so it is waterproof, durable, and sturdy. The Dual-opening feature allows you to open the box from either side when loading or unloading. It has more premium features such as quick-mount hardware that makes the installation process as simple as possible. When you start to grow interests in knowing more about the Thule Pulse cargo boxes, you can refer to a page on our site to discover its specifications, features, images, and more.
---
Goplus Car Roof Box
It is the fourth choice for your Mazda CX 9, and it is the best one when you require a high-quality and affordable price at the same time. It is much cheaper than the above Thule boxes, and it generates a 4.5 out of 5 rating score from 378 global users on Amazon on September 24th of 2021. The score changes as time goes, so you have to check it by your time. Goplus cargo box is one of the best selling cargo carriers in recent years (2019, 2020, 2021, 2022). However, Goplus is a foreign company in China, so you don't expect too much from its customer service.
Goplus Car Rooftop Cargo Carriers Buyer Guide
We use the rating score to indicate its overall reputation among users is pretty high, so it is not wrong to give it a try.
We know much more about it, and there is another post that shows you info about the Goplus roof boxes from different perspectives.
---
JEGS Cargo Box
It is the fifth option for your Mazda CX 9. If you would like to know more about it, you can view JEGS CARGO BOX INFO to find its features, dimensions, feedbacks, images, and much more. It has the lowest price on this list, so its lock system is flimsy. However, according to the users' experiences, although it is affordable, it is also a rugged, waterproof, non-leaking, durable, heavy-duty roof box for outdoor enthusiasts. There are 10 more accessories that you can use to make a cargo box easier to use.
JEGS Car Rooftop Cargo Carriers Buying Guide
---
Conclusion
In this post, we have introduced 5 compatible roof boxes to your Mazda CX 9. You can use a cargo box to enlarge your vehicle's loading capacity for road trips, camping holidays, sports, and much more outdoor adventures.
Other car rooftop or rear cargo carriers for bikes, kayaks, luggage, and more.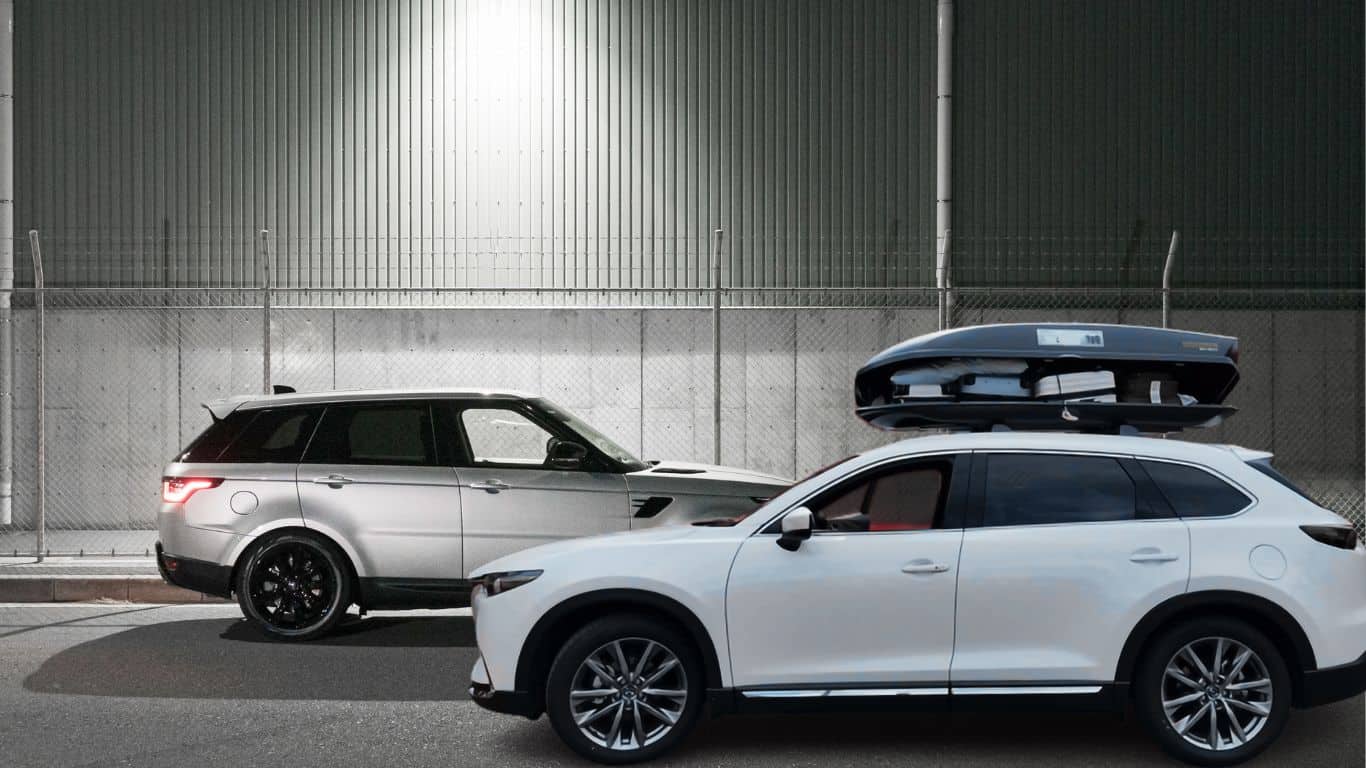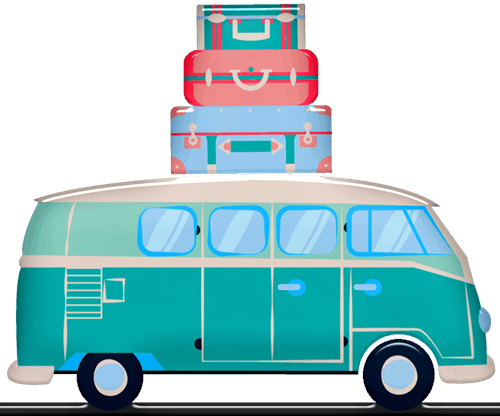 Our team is creating outdoor-gear relevant articles with passion. If our articles can help you to find the correct solutions for your questions, we will be happy about that. In the content creation process, we usually collect accurate and useful information online or offline to compile our content in an organized way. Consequently, we can guarantee that you can discover some expected answers to your questions. We appreciate your time on our site.
We are reader-supported. We get commissions for purchases made through links in this post, As an Amazon Associate we earn from qualifying purchases.