Last Updated on November 22, 2022
A cargo box will make Honda Odyssey more comfortable and convenient for large families or many people to travel together on roads with their luggage. We recommend you pick one roof box on the market for your Hoda Odyssey because you are going to feel so satisfied and happy with one on top of your car.
The Honda Odyssey has a lot of space, but if you, sometimes, decide to travel with your family or friends, the room of the Honda Odyssey is only enough for people. Thus, what about those gears that you are planning to carry on roads? Where do you put them? The answer is that a car roof box is a perfect solution for your needs.
As a result, many people choose to buy car roof boxes for their Honda Odyssey today for different purposes.
A cargo box not only helps you to store your luggage on the roads but also protects your items in poor weather conditions. We will discuss some great options on the roof boxes with their highlighted features and advantages. If you are considering buying one roof box today, you should continue to read until you are ready to make your correct buying choices.
There are five points for you to look for in the descriptions of products on the market to judge which one is perfect for you.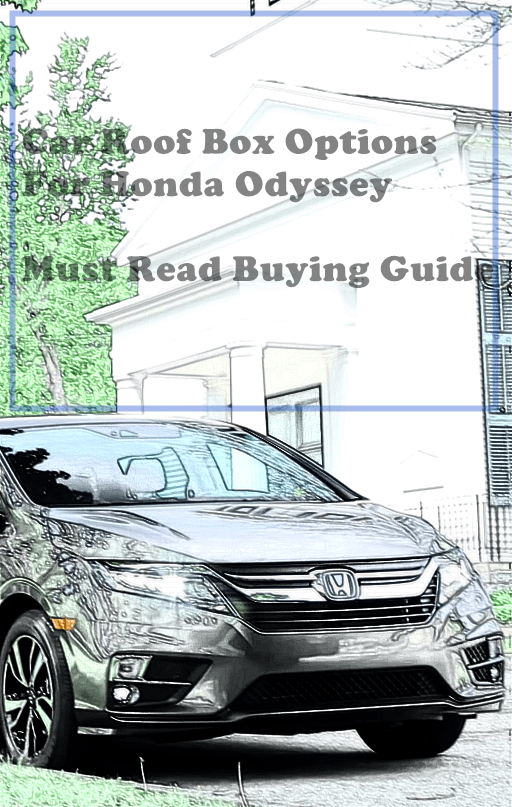 ---
Quick-pick list of 8 Roof Boxes For Your Honda Odyssey
---
---
---
---
---
---
---
---
Details about Car Roof Boxes For Honda Odyssey
1. Thule Motion XT Rooftop Cargo Carrier
Thule is a famous car roof box brand that has produced many great roof boxes for different vehicles. Motion XT is an outstanding model of the Thule brand roof boxes, so we first recommend it to you for your Honda Odyssey.
The flat and aerodynamic design of the Motion XT roof box not only attracts people's attention but also reduces noise and waste of gas while you are driving on the highway.
The durable and sturdy material of the Motion XT roof box makes it a perfect choice for long trips, and the roof box has 22 cubic feet of space to fill with your stuff. The ample internal space makes this roof box very convenient to use for a big family or a group of friends, so if you install one on top of your Honda Odyssey, your car is turning into a useful vehicle for multi-purposes.
We move to the Thule Motion XT mounting system and talk about it. The memory clips attach the roof box to the crossbars, and they are safe and easy to operate. For security reasons, the cargo box comes with a specially designed slide-lock system that provides added security to your luggage and convenience to you. You have no chance to drive on the highway with an open-lid roof box because the slide-lock system is automatic and audible. Additionally, the lid-lifter keeps the box open when you are loading or unloading, so your head or arms won't be hit by a shutting-down lid.
---
2. Car Top Cargo Rooftop Cargo Box
It is another roof box that has not only an aerodynamic design but also ample internal space.
These two features ensure that you won't waste too much gas on the highway and have enough room for large luggage. You also have no problem accessing the roof box to reach your belongings when you need to find stuff in it.
Like other roof boxes, the Car Top Cargo roof box also has a lid-lifter to hold the lid while it is open for you to reach deeper inside without being hit by a falling-down piece of plastic.
There are many different cargo boxes on the market, but a 22 cubic feet space is enough for regular family use.
We also need to mention the lock system and mounting system of this car roof box because the Car Top Cargo roof box has its unique opening ways. It is open from the rear of it, and the lock is also at the back; consequently, you won't have problems opening the doors of your vehicle while you are loading or unloading the roof box. When you have installed it on the top of the rack system, you can adjust its position to make a clean interference between it and the hatchback and the front view.
---
3.Thule 615 Pulse Rack
This fantastic roof box is a combination of ABS materials that make the roof box sturdy and long-lasting, so it is famous on the market for many people and different car brands. Its aerodynamic design decreases gas consumption and reduces wind noise while it is in motion.
ABS material is a kind of sturdy substance that will protect your belongings from poor weather conditions and attacks, and you won't worry about the safety of your luggage.
Thule Pulse Information & Specification
Its lock system ensures that you won't get out the key if it is not fully and securely closed, so you will have no chance to drive with an open-lid roof box on the roads.
We should thank Thule to produce a roof box like this one to satisfy our desires for road traveling, and we highly recommend the Thule cargo boxes to be your first consideration if you are going to get one today.
---
4. Yakima Skybox Carbonite Cargo Box
We are here to give you another selection of roof boxes for your Honda Odyssey, and the Yakima Skybox carbonite car roof box also has a large internal room to fit your needs on road trips for a big family.
It has different sizes for customers, and it offers safety, comfortable, fashion-looking, and efficiency to drivers.
If you are thinking about what sizes the cargo box has, we list the options down below:
12 cubic feet
15 cubic feet
16 cubic feet
18 cubic feet
21 cubic feet
Its mounting components are pretty simple to use, and it can be installed or uninstalled in minutes by a single person. You won't worry about taking too much time to prepare your next road trip with the roof box or not.
On the other hand, the lock system of this roof box provides security to your belongings. You won't worry about stealing or damage of your stuff by using this car roof box.
---
5.3D MAXpider 6063L-09
If you search for a roof box with easy installation steps, this one is your perfect choice.
The mounting system of this roof box is easy to use, so you won't have a problem installing it on top of your car, not only for your Honda Odyssey but also for other vehicles. Frustration and awkwardness will not happen to you if you are using this roof box for your car.
Its tie-down mounting system is unique and powerful, and you can adjust its position at any time when you want to. Furthermore, the tie-down system makes it almost suitable for all types of vehicles.
Its special-made zipper keeps your belongings safe and dry inside of the cargo box, and it also makes the roof box super easy to clean. The zipper system surrounds the entire cargo box, and the teeth of the zipper are durable. Then, this roof box is also waterproof.
---
6. Thule Hyper XL Rooftop Cargo Box
Thule Hyper XL rooftop cargo box is coming onto this stage with our warm welcome, and it is becoming the center of people's attention. We like its aerodynamic design and glossy printing of it, and we are excited about its internal loading capacity and its other advanced features.
The durable and advanced-tough material makes it not only sturdy but also hard to damage. We tried to use a hammer to break it from outside when it's locked, but it won't allow us to make an open after 1 hour of hitting on the surface of it. We love Thule very much with passion, and we believe only Thule can produce this kind of pretty roof box for us.
The mounting system and lock system are also very friendly to us, and they are working on their jobs in smart ways. The mounting system is easy to operate by one person, and the installation and uninstallation are not complicated. We believe a person can install or disassemble this roof box in minutes, even ladies or elders.
Also, its lock system is smart, and it produces a "click" sound when it is fully locked; otherwise, the lid won't be closed.
---
7.INNO Shadow Rooftop Cargo Box
Are you planning to travel with your families or friends in your Honda Odyssey to somewhere far from home today? We are so happy about your decision, and we have recommendations for you.
Your Honda Odyssey has enough room for people, but does it have enough space for your family's luggage? If you think it does not have sufficient area for your gear, you should consider purchasing a roof box to provide extra room for items.
INNO Shadow roof box is an option for you to create additional space for hauling belongings on your road trips. Easy installation system, smart locking system, aerodynamic body design, and sufficient internal capacity make Shadow cargo box the perfect choice for you and your vehicle to enjoy any road journeys in the future.
We highly recommend it to your family.
We will not write too much about this fantastic roof box, and we encourage you to learn more on the seller's page. What you are going to find by clicking the button below: Price, capacity, how to mount, more photos and videos, others' stories of using it, and more.
---
8. Yakima Showcase Rooftop Cargo Box
Yakima leads the cargo roof box market, so its products have many outstanding benefits and support by satisfying customer service. You are free from worrying about the quality of Yakima cargo boxes because of the brand power.
Its metal clamps and molded finish offer you added hauling space to your Honda Odyssey. Consequently, you can pack your accessories and gears into it for your holiday camping events or other outdoor adventures.
There is no interference between it and your hatchback, and the sliding mounting system makes its position adjustable. Then, you also have clean sight while you are driving with the roof box on top.
When you want to take something out from your roof box, you need to pull over and search for it from both sides of the roof box. It has never been that easy to store your luggage with a roof box, and the roof box can be opened from both sides. Its lid is held by a lid-lifter, so when you use it, the lid cover will not suddenly fall and hurt your hands or arms. The lock system also offers you extra safety for your belongings.
---
9.SportRack Skyline Box
It can fit most types of vehicles, and the weight of this roof box is light. Thus, you can install the roof box along on top of your Honda Odyssey. A Large internal space makes this roof box the best seller on the market, and it has tons of positive feedback. You can use the button below to read more real customer words on the Amazon site. We highly recommend this roof box to you today without any doubts about its quality and its functionalities.
SportRack has responsible customer service to help you out with your questions about installation, quality, fix, and many other product-related inquiries. This roof box from SportRack has two locks on the passenger side to ensure that you have to fully open your roof box on the passenger side to avoid coming traffic on the highways.
Besides, the waterproof design offers absolute dry condition to the inside room of the roof box, and you won't have many wet clothes or books after a long time road trip.
Its 18 cubic feet of space gives you enough space to store necessary travel-needed stuff, and we do not recommend bringing many unuseful things with you on a journey.
We find a video that shows you the easy installation steps of it, and you will learn some tips for correctly using it.
---
Conclusion
In this post, we are here to help you pick the right car roof box for your Honda Odyssey on the market. We have listed nine roof boxes with their highlighted advantages, so you can know the difference between them and make your buying decision much easy and smart. We are happy if we have helped with your buying decision today.
In general, you should consider several questions before you purchase a roof box for your car:
How large is the internal space?
How to pack a cargo box?
How to install the roof box?
How to open the roof box without a key?
Informational Articles: know more about car roof box
We also have posts on Cargo box Recommendations for BMW, AUDI Q5, FORD ESCAPE, VW GOLF, Honda Pilot, Honda Passport, Honda Insight, Honda HR-V, Honda Fit, Honda Civic, Honda Accord, Honda CR-V.
Cargo Boxes On Honda Odyssey Gallery