Last Updated on January 6, 2023
If you want to use roof-mounted cargo carriers like cargo boxes, bags, baskets, roof tents, ski carriers, and kayak carriers on Ford Models, you must know how much weight your Ford model can hold on its roof.
The car roof loading limit is a number that tells you the max weight you can put on the car roof without potential risks.
We find all the information in the Ford Model Manuals, so you can double-check by reading through the specific section in the manual you have.
Ford Expedition:
When using roof racks on Ford Expedition, you should remember the weight distribution and evenly separate the weight from right to lift. The added roof racks can make your vehicle's gravity center higher and cause driving difficulties; as a result, you have to drive slower, use longer breaks, and avoid sharp turns.
According to Expedition's manual brochure, you can load 125 pounds or 56 kg of items on a Ford Expedition (with a panoramic sunroof). If your Ford Expedition has a bare roof, you can put up to 200 pounds or 90 kg of stuff there without a worry.
You must read and learn the Ford official manual before adding roof racks to your Ford model because some particular models have zero roof loading limit.
Ford Expedition Official Manual
Ford Escape:
By checking through the Escape manual, we have learned that you better not use roof racks on Escape models with sunroofs because added roof racks may void the car's warranty. However, if your Ford Escape does not come with a panoramic sunroof, you can use rooftop cargo carriers to transport up to 100 pounds or 45 kg of things on the car roof.
If your Ford Escape has a sunroof, you can consider using hitch-mounted cargo carriers for loading extra luggage or gear. Hitch-mounted boxes or bags have a large loading capacity and are easier to use than rooftop carriers. (find high-quality hitch cargo boxes on a list)
2017-2022 Ford Escape with sunroofs: roof loading limit – 45 lbs or 20 kg
Ford Explorer:
It is ok to use roof racks on Ford Explorer models, but if your Explorer has a moonroof, 45 pounds or 20 kg is the highest weight limit on the car roof. Otherwise, if a Ford Explorer does not have a moonroof, you can load up to 100 pounds or 45 kg of items on the roof racks.
When choosing crossbars or roof rails for your Ford Explorer, you should consult the local dealer first and consider using the factory racks in the first place.
You must follow the car roof loading limit to use rooftop cargo carriers, and exceeding the loading limit may cause accidents while the car is in motion. After using a rooftop cargo carrier, you should learn and change your driving habits for better safety.
Ford Edge:
We know that you can put up to 100 pounds or 45 kg of stuff on top of a Ford Edge for transportation, but it is better not to put anything on a Ford Edge with a moonroof because it may disable the car warranty.
When using rooftop cargo carriers, you must securely tighten the cargo and check the tightness before driving out. You can always add more straps or bungees for the tightening job.
Ford Edge Vignale roof loading limit (165 lbs or 75 kg) is different than other Edge models: SE, SEL, ST-LINE, TITANIUM, and ST.
Ford Excursion:
Ford Excursion is a large SUV with a big roof for people who want to put things on, but do you know how much you can load there? Excursion 2000 to 2005 models have the same roof loading limit, which is 190 lbs or 87 kg, but we believe 200 lbs is not a problem for Ford Excursion.
Ford Flex:
You can use roof racks on a Ford Flex. After reading through the specific section in the official manual, we found that Ford Flex's roof loading limit is 100 lbs or 45 kg.
You can not directly load things on the car roof without roof racks, and you should use roof rails, crossbars, and other rooftop cargo carriers to load different outdoor equipment or gear on top of the car. The weight of those carriers is a part of the cargo, so they are eating up the total weight limit. For example, a pair of roof rails + a pair of crossbars + a hardshell cargo box = 20 kg, then you only have 25 kg left for luggage or gear on top of your Ford Flex.
Ford Galaxy:
If you wish to use roof racks on Ford Galaxy, you must not exceed the roof loading limit of 165 pounds or 75 kg (including cargo carriers).
After adding rooftop cargo carriers to a Ford Galaxy, you better change your driving habits and control the speed under 130km/h (81mph).
When driving with fully loaded rooftop cargo carriers, you should check the security and the tightness before driving out, after 29 miles, and at 550 miles.
Crossbars are the feet of your cargo, so you need to check if it is damaged or loose every time before loading things on the bars. You also can manually shake the crossbars in different directions to test the firmness. Don't forget to tighten the screws on the tower feet for better security.
Ford Bronco Sport:
It is possible to add roof racks to a Ford Bronco Sport and load up to 150 pounds (68 kg) of cargo. If you want to use a rooftop cargo tent on a Ford Bronco Sport, you should know that the Ford Bronco Sport can hold up to 600 pounds of weight on the car roof when it is not in motion.
Ford Bronco Sport with a sunroof can hold up to 110 pounds, and you don't put things directly on the moonroof without protection. Using roof racks on Ford Bronco Sport with moonroofs may void the car warranty.
Ford FreeStyle:
It is possible to load up to 55 kg or 121 lbs of items on top of Ford FreeStyle and carry what you want to use on a road trip or other outdoor journeys.
Ford Transit:
Ford Transit series has three models: Low, Medium, and High roofs. These models have different roof loading limits: 419 lbs (190 kg), 331 lbs (150 kg), and 220 lbs (100 kg).
We have a list of rooftop cargo boxes for minivans, and you can choose one to load extra tools or belongings above the car roof. There are different types of rooftop cargo carriers that you can use to carry a variety of gear on top of cars, but how to choose the best one is a frequently asked question by many outdoor enthusiasts.
why do you need to know the car roof loading limit?
When it comes to car roof loading, many people don't think about it or even know there is such a thing. But knowing the car roof loading limit is important for a number of reasons. First, it helps you know how much weight your car's roof can safely support. This is important because if you exceed the limit, you could damage your car's roof or even cause it to collapse. Second, knowing the limit helps you determine how many people or how much gear you can safely transport on your car's roof. Lastly, some car insurance companies use the roof loading limit as a factor in determining rates. So if you're looking to get the best rates, it's important to know what your car's limit is.
Despite all these reasons, many people still don't know what their car's roof-loading limit is. If you're one of them, don't worry, we're here to help. Let's start by looking at what the car roof loading limit actually is.
The Car Roof Loading Limit: What Is It?
As the name suggests, the car roof loading limit is the amount of weight your car's roof can support. Every car has a different limit and it's generally listed in the owner's manual. Most car models have a roof loading limit between 150 and 165 pounds, but there are some that have a higher or lower limit. In general, the heavier the car, the higher the limit will be.
Knowing the roof loading limit is important for a number of reasons, as we've already discussed. Now that we know what it is, let's take a look at how you can find out what your car's limit is.
Where Can I Find the Roof Loading Limit for My Car?
The best place to look is in your car's owner's manual. However, if you don't have the manual or can't find it, there are a few other places you can check.
If you don't have the manual, you can check the car's VIN. Every car has a vehicle identification number, which is a combination of 17 letters and numbers. Every car is assigned a unique number and if you call your car's manufacturer, they should be able to tell you the roof loading limit. However, this might take some time to get the information because a representative will have to look it up.
Another option is to take a look at the car's sticker. Most cars will have a sticker that lists a variety of information about the car. If you can't find the sticker, check under the hood or the driver's side door. Usually, the sticker will be attached to the frame there. If it's not, the sticker might have fallen off, or it may be covered by something. The sticker goes by a variety of names — the vehicle Pillar Placard is the most common. It often will say "Safety Compliant Vehicle," "Vehicle Certification Label," "Maximum Seating Capacity," or something similar. Look for a section on weight. If the car was manufactured after 1968, it likely will have a Gross Vehicle Weight Rating (GVWR) or a Gross Axle Weight Rating (GAWR) listed. This is your car's weight limit when fully loaded with passengers, freight, and fuel. You can find out if the car has a GAWR or a GVWR by visiting the National Highway Traffic Safety Administration website. If the car doesn't have a GAWR or a GVWR, you'll need to multiply the vehicle's axle weight limit by the number of axles. The axle weight limit is usually listed with the car's GAWR or GVWR.
As a final option, you can try contacting the car's dealership. If you explain you want to put a roof rack on the car and want to know the car's roof loading limit, a customer service representative should be able to help you.
In Conclusion
In this post, you can learn Ford models' roof loading limits and follow the limitation to build cargo management systems on top of your Ford vehicles.
Before adding roof racks to your car, you better learn and consult experts for better results. The compatibility check is a vital step and must to do before buying any rooftop cargo carriers.
You can use roof racks to carry many things: find out what you can do with roof racks.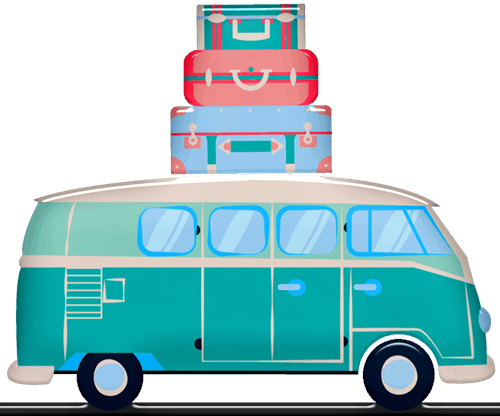 Our team is creating outdoor-gear relevant articles with passion. If our articles can help you to find the correct solutions for your questions, we will be happy about that. In the content creation process, we usually collect accurate and useful information online or offline to compile our content in an organized way. Consequently, we can guarantee that you can discover some expected answers to your questions. We appreciate your time on our site.
We are reader-supported. We get commissions for purchases made through links in this post, As an Amazon Associate we earn from qualifying purchases.