Last Updated on December 10, 2022
What are car roof racks? Roof racks are car accessories installed on car roofs to carry gear or luggage for most outdoor adventures like hunting, fishing, camping, road trips, hiking, and more.
If this is your first time hearing about roof racks, we are here for your knowledge building. Most vehicles can use roof racks, and cars have factory-designed roof racks. You can consult the local car dealer to generate relevant information before getting roof racks for specific vehicles.
In general, cars' roof sizes are different, so when choosing roof racks, you need to pay attention to the bars' length, and a bit longer is much better than short options. For your clear understanding of roof racks, we recommend an article that explains the relationship between roof rails, racks, and crossbars.
In our mind, you should get crossbars from a car dealer for fewer compatibility concerns. However, factory rack systems are more expensive than third-party products. You should know about that. Factory rack systems are trustable, reliable, durable, and sturdy, and it is easy to find a replacement after years of use. Consequently, you can contact the local car dealer to order roof racks without a compatibility check.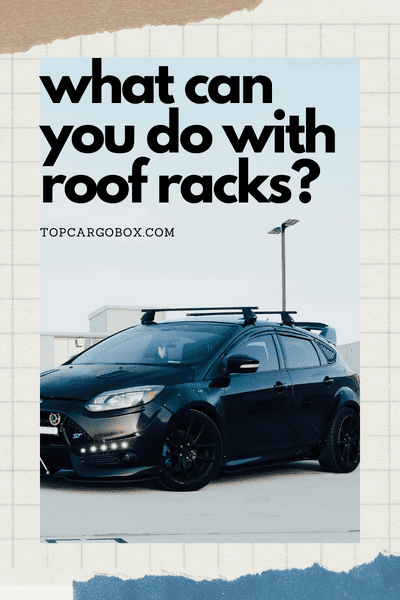 ---
What can you do with roof racks?
What can you mount on car rooftop crossbars?
After successfully installing a pair of crossbars, you can use rooftop cargo carriers to deliver things from gear to luggage. You can install the following rooftop cargo carriers on roof racks:
Cargo Boxes
Cargo Bags
Cargo Baskets
Bike Racks
Ski Carriers
Kayak Carriers
Rooftop Tents
Choosing a rooftop cargo carrier is always a question for most outdoor enthusiasts, and it is a question that depends on your situation, not a regular answer for everyone. You can refer to an article and get tips and tricks for selecting the best cargo carriers.
Then, we talk about the above cargo carriers one by one with examples.
Cargo boxes are hardshell waterproof boxes that you can mount and lock on roof bars for carrying belongings and sporting gear. They are the most secure options because of their sealed bodies and lockable lids. As a result, cargo boxes are popular in recent years ( also named rooftop cargo boxes, roof boxes, and car roof boxes ). We have a list of the best cargo boxes for your consideration.
Cargo Baskets are platform-style rooftop cargo carriers that you can use to carry tools, gear, large equipment, and other waterproof things. However, some people use cargo baskets as a large base for mounting other rooftop carriers. For example, you can mount a narrow-design roof box and several bike racks or ski carriers on a cargo basket. Otherwise, if you want to use a cargo basket to deliver things on rainy days, you can put a soft cargo bag on a basket to create waterproof storage space like a cargo box. We have a list of the best cargo baskets for your consideration.
Cargo bags are soft, waterproof, and foldable. They are perfect for temporary use for most outdoor events, but most cargo bags won't guarantee 100% waterproof because of design problems. Most manufacturers use zipper systems on soft cargo bags, but these zipper systems are hard to prevent all the water from getting inside the bags. On the other hand, some soft bags have flaps covering the zipper system to make things better. We have a list of the most popular soft cargo bags for your consideration.
A rooftop bike rack can transport a single bike on the car roof, and you can mount a bike rack beside a cargo box or on a basket to create a versatile cargo management system to stow all you need on a bike hiking holiday. If you need to deliver multiple bikes at once, you can use several rooftop bike carriers for that purpose; otherwise, you can use hitch-mounted bike racks to transport up to 5 bikes at once. Before getting bike racks, you need to learn some installation tips and compatibility information; as a result, we recommend a list of articles for building your knowledge on car bike racks.
If you are a fan of winter sporting, you may want to have ski carriers to transport snowboards or skis. However, most people use roof boxes to carry skis or snowboards. It is up to your personal choices. We have a list of ski carriers for your consideration.
Rooftop tents are for camping holidays. You can install a roof tent on crossbars and build a temporary home in the woods or on a beach. Roof tents are big, so you won't have spare space after mounting one on the car roof. We have a list of roof tents for your consideration.
---
Tips for using rooftop cargo carriers:
You better prepare some straps or ropes when using roof racks for outdoor life. You can use extra straps or ropes to tie gear on roof racks and provide better security and stability. It is a good idea for most situations. For example, extra straps for tightening luggage to the bottom of a cargo box can prevent sliding during the trip.
When driving with roof racks, you should control the speed and consider the wind. Wind cause wind noise and extra waste on gas mileage, so you can do some tactics to minimize the wind effect.
When roof racks are on duty, you better gently operate the loading and unloading. If unexpected things happen, they can damage your car. If you travel with someone else, you should ask them to help when unloading a large amount of luggage off the carriers.
We have a beginner guide for people who require more information about rooftop cargo boxes, and you can refer to that article and find interesting topics to read on.
We don't know what car you drive, but every car has a roof loading limit. Consequently, you must follow the limit to load the roof racks and ensure not to overload the car roof. When packing a rooftop cargo carrier, you better evenly separate the weight and load the heaviest things in the middle. You can read an article about packing roof boxes to get some ideas.
When driving with roof racks on unpaved roads like mountain areas or off-road territories, you should lower the weight on roof racks as much as possible. For example, a fully loaded cargo box is 75 kg in weight, but you should minimize the weight to less than 50 kg when driving in off-road areas. In our mind, rooftop cargo carriers are not for off-road conditions, so don't use them if you know you will go somewhere unpaved.
---
How to use roof racks to load ladders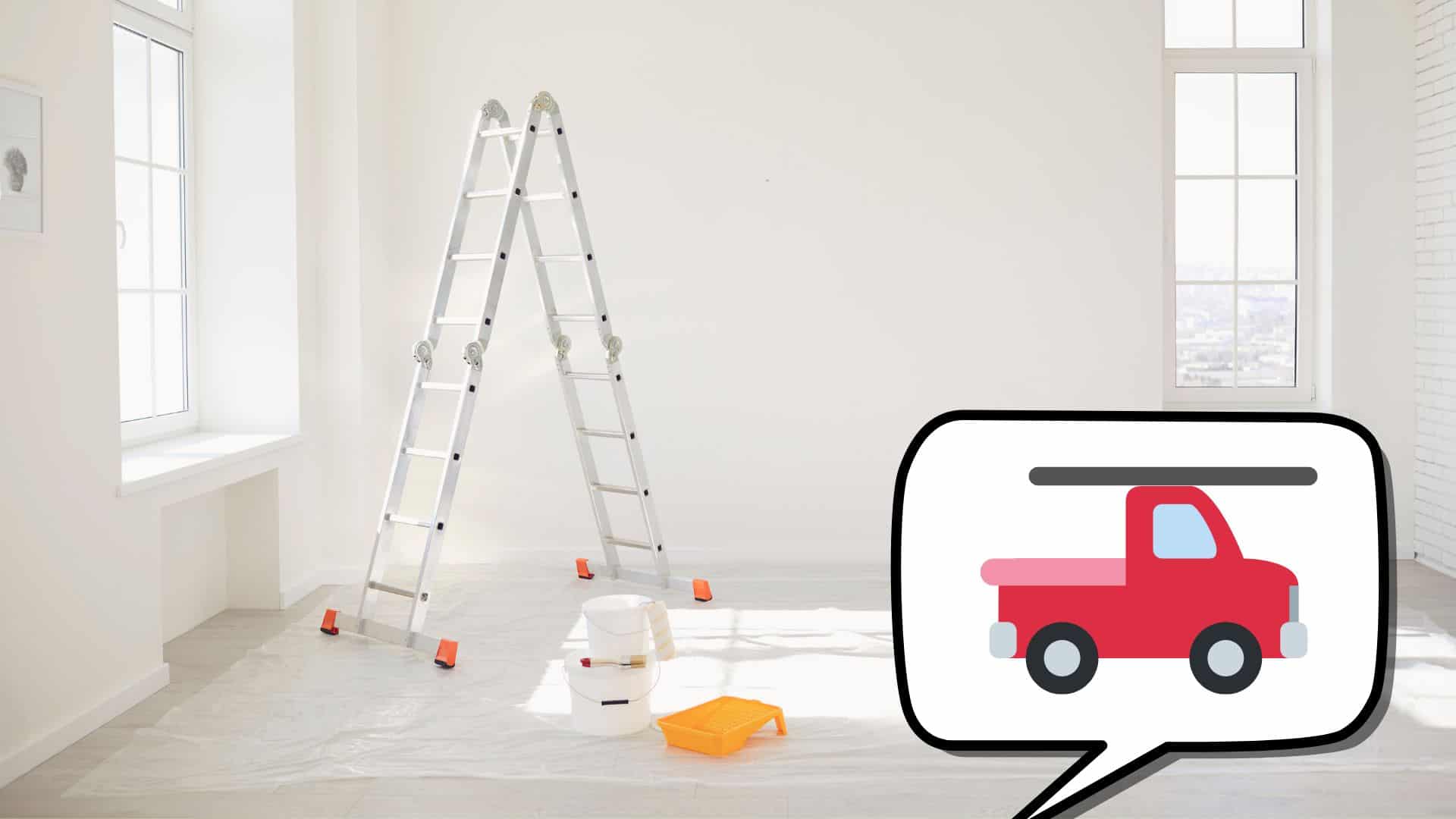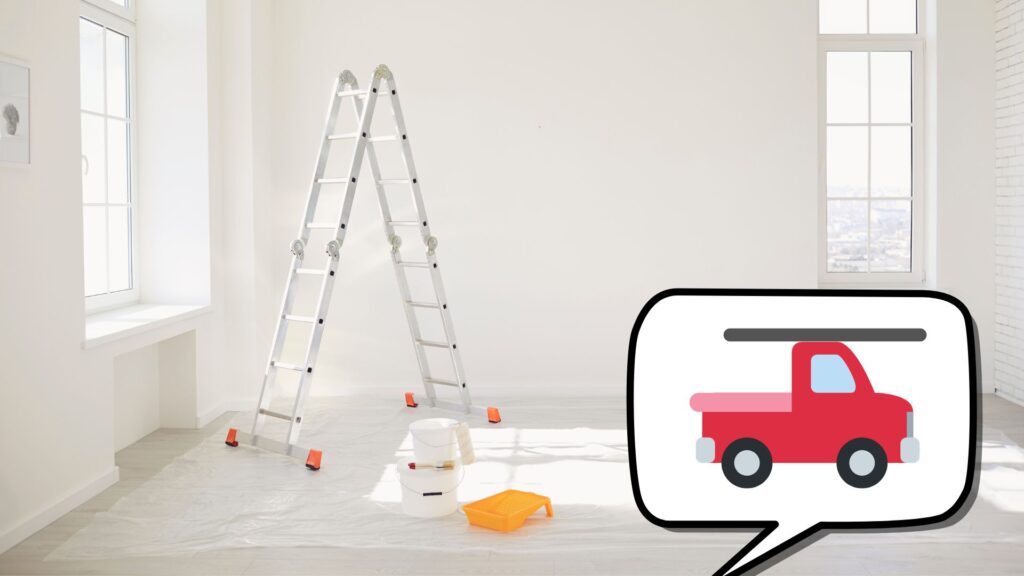 Contractors may transport ladders between different working zones at a high frequency. Roof racks are must-in-use car accessories for contractors because they create loading space on the car roof and free up the trunk and cabin room for people and other tools.
You can use roof racks to transport ladders in two simple steps.
Ask someone else to help you lift the ladders onto the rooftop crossbars. You must center the ladder from the back to the front on the car roof.
After positioning the ladders, you must use ladder mounting kits to lock ladders to the crossbars for security. These mounting kits are super easy to use, and they can slide on bars to adjust the width to fit different-sized ladders. If you cannot find ladder mounting kits, you can use straps or ropes to tie ladders to the roof racks; however, this is not a method for long-term use.
---
How to use roof racks to load Kayaks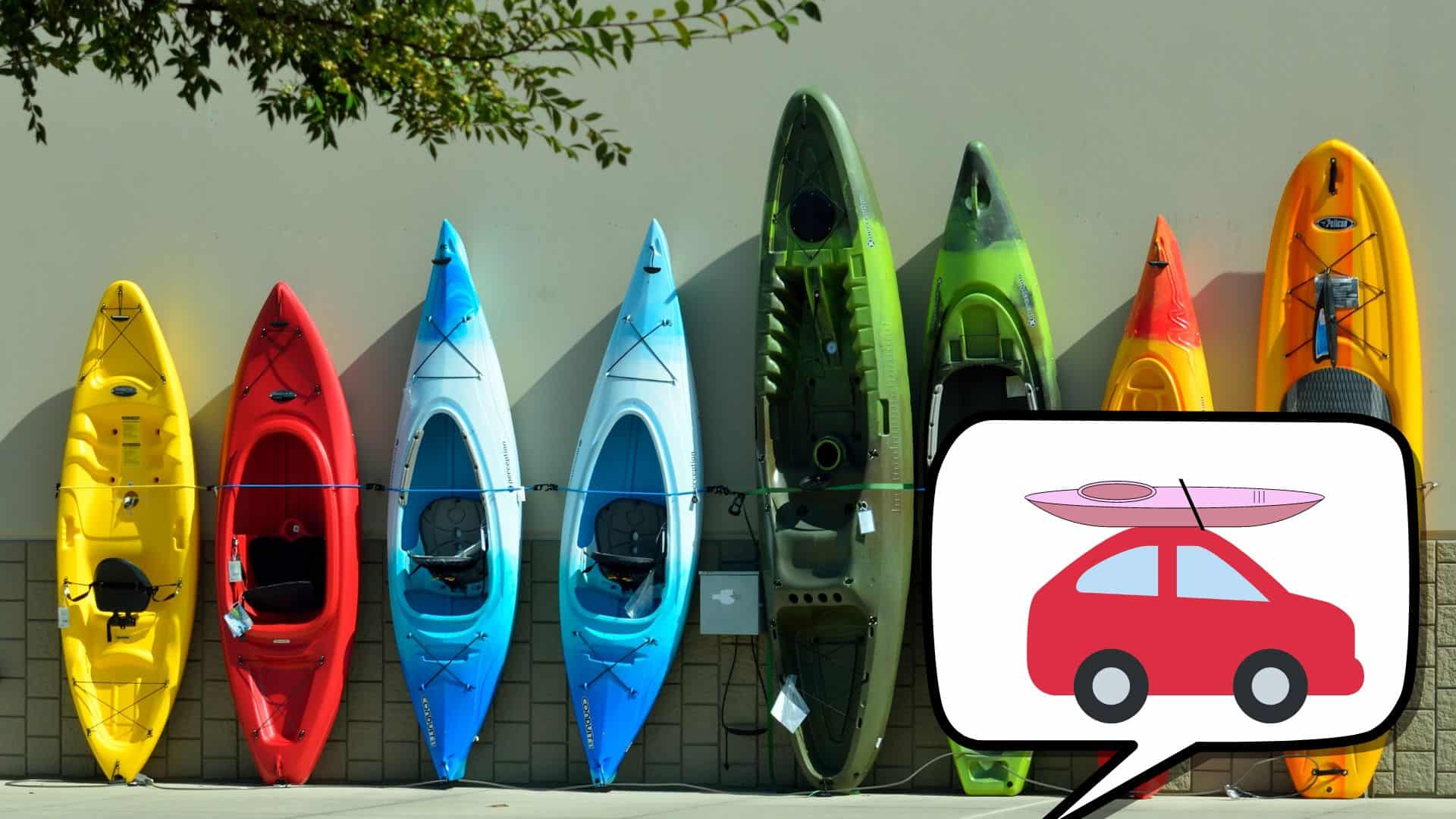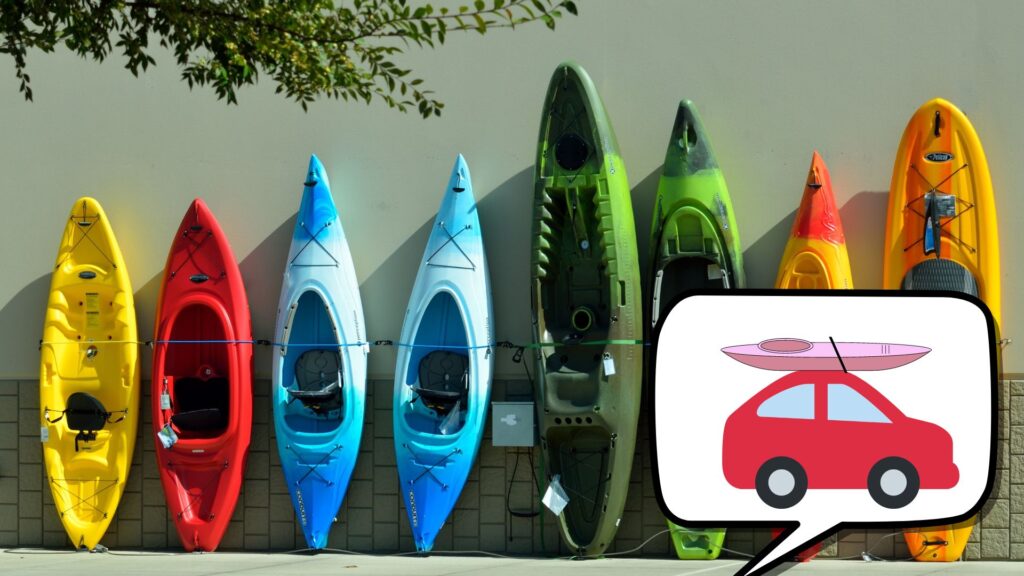 You can use roof racks to transport kayaks, but you must use kayak carriers. There are three types of kayak carriers: foam blocks, crossbar pads, and kayak carriers. The previous two are cheaper than kayak carriers, but they are only for temporary jobs.
When using kayak carriers, you can follow these steps:
Mount kayak carriers on the crossbars and adjust the distance between the two holders to fit the width of your watercraft. While installing kayak carriers, you can apply extra soft cloth or foam on the holders to protect the bottom of your kayaks. J-style and saddle-style carriers are the most popular choices. If you get a large kayak, you better load it with someone else. Most J-style kayak carriers can carry two kayaks at once. You must follow the manufacturer's instructions to learn how to accommodate two watercraft on your car roof (don't exceed the car roof's loading limit).
---
YAKIMA Jaylow Rooftop J-style Kayak Carriers
We use Jaylow as an example to explain how J-style kayak carriers work, and you can compare it with the saddle-style holder below to find the difference. Yakima Jaylow kayak carrier requires a minimum crossbar spread of 24 inches (distance between two crossbars). It can load two kayaks at once, and you can use extra straps or ropes to add more strength and tighten kayaks down to the bars.
Yakima offer locks to the Jaylow kayak carriers to ensure the security of your kayaks when you are away from your cars. You probably will spend 10 minutes mounting the Yakima Jaylow kayak carrier on the crossbars. We believe the installation will be a straightforward process for most of us.
---
Rhino-Rack Nautic 570 series kayak or Canoe watercraft carrier
It is a saddle-style carrier that you can use to transport only one kayak or canoe at a time, but it is cheaper than most J-style carriers. When using a saddle-style kayak carrier, you need to mount four rubber pads on roof racks and adjust the distance between these pads to fit the size of your kayak. Then, you load the kayak onto the roof racks and use straps to tie it there for transportation. It is easy enough.
The above two products are examples of the most popular types of kayak carriers that you can find on the market, online or offline.
---
How to load luggage on roof racks?
People often drive their car on a family road trip or invite some friends to enjoy a camping holiday in a forest or along a river. Consequently, campers must bring a lot of luggage to ensure happiness and relaxation during their outdoor journeys.
Car trunks provide limited space for storing luggage, and most people desire more storage room in their cars. As a result, roof racks give extra space for all vehicles.
You can use cargo boxes, bags, or baskets to load luggage on the car roofs. We recommend you read through an article about choosing the best rooftop cargo carrier to get ideas about packing luggage on roof racks.
We recommend cargo boxes for everyone because of their waterproof, durable, sturdy, and reliable construction. Cargo baskets are great for off-road journeys.
---
In Conclusion
You get ideas about how to use roof racks for outdoor adventures. You can use roof racks to transport luggage, kayaks, skis, snowboards, golf clubs, hunting equipment, camping gear, and more.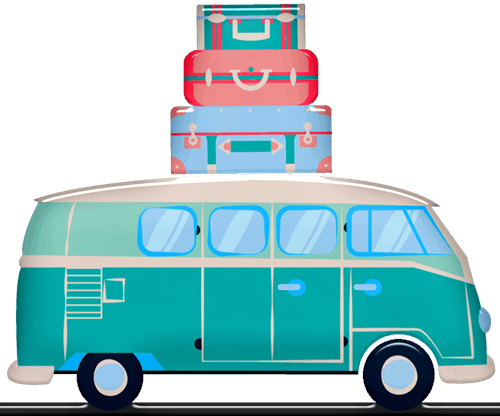 Our team is creating outdoor-gear relevant articles with passion. If our articles can help you to find the correct solutions for your questions, we will be happy about that. In the content creation process, we usually collect accurate and useful information online or offline to compile our content in an organized way. Consequently, we can guarantee that you can discover some expected answers to your questions. We appreciate your time on our site.
We are reader-supported. We get commissions for purchases made through links in this post, As an Amazon Associate we earn from qualifying purchases.