Last Updated on January 6, 2023
It is time to find a rooftop cargo box for your Dodge Grand Caravan or Dodge Caravan (shorter-wheelbase model). If you are new to rooftop cargo boxes, you can use our site as a learning center and boost your knowledge about cargo carriers.
Dodge Grand Caravan is one of the most popular minivans in the United States because of its ample internal space for people and luggage. Chrysler has manufactured the Dodge Caravan series since 1984, and 2020 is the last model year of the Dodge Caravan (including the Dodge Grand Caravan).
Dodge Grand Caravan has three rows of seats for 7 people and a trunk space of 33.0 cubic feet behind the third row of seats. You can fold the second row of seats down to get 83.3 cubic feet of space for storage, and you can get a total of 143.8 cubic feet if you fold all the seats down behind the first row.
However, loading space is never enough for people like us; as a result, we have learned how to add roof racks and cargo carriers to a Dodge Grand Caravan. Now, we share the results and tips with readers.
We don't know why you need a rooftop cargo box for your Dodge Grand Caravan, but we know what you can do with a cargo box. Most people use car roof boxes and other cargo carriers to transport luggage or gear for outdoor activities like hunting, fishing, golfing, training, hiking, and road trips.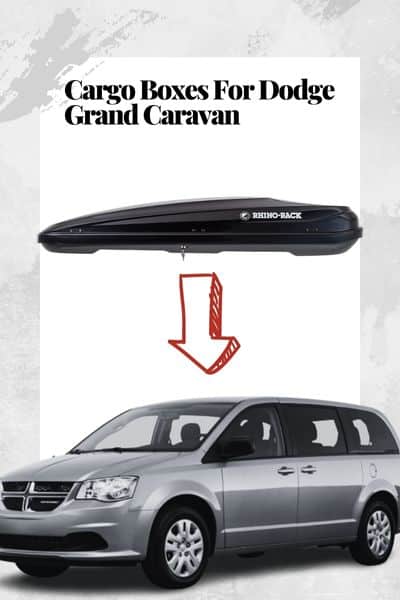 Consequently, rooftop cargo boxes have different sizes and dimensions to fit various sizes of items: from long to short.
You can use our size guide to choose a roof box based on length from small to large.
If your Dodge Grand Caravan has a naked roof, you can follow this article to find roof racks that work with naked car roofs.
You may be confused about roof racks, rails, and crossbars, so we have an article to solve your concerns at once and explain the relationships between these three terms. If you find your Dodge Grand Caravan has roof rails, you can start to choose a rooftop cargo carrier. Additionally, we list three types of rooftop cargo carriers for your consideration and make some examples of using roof racks for daily outdoor life. You can find roof racks for Dodge Grand Caravan on Ebay or Amazon.
Quick-Pick List of 5 Cargo Boxes For Dodge Grand Caravan
---
---
---
---
---
Detail of 5 Cargo Boxes For Dodge Grand Caravan
Thule Pulse Cargo Carrier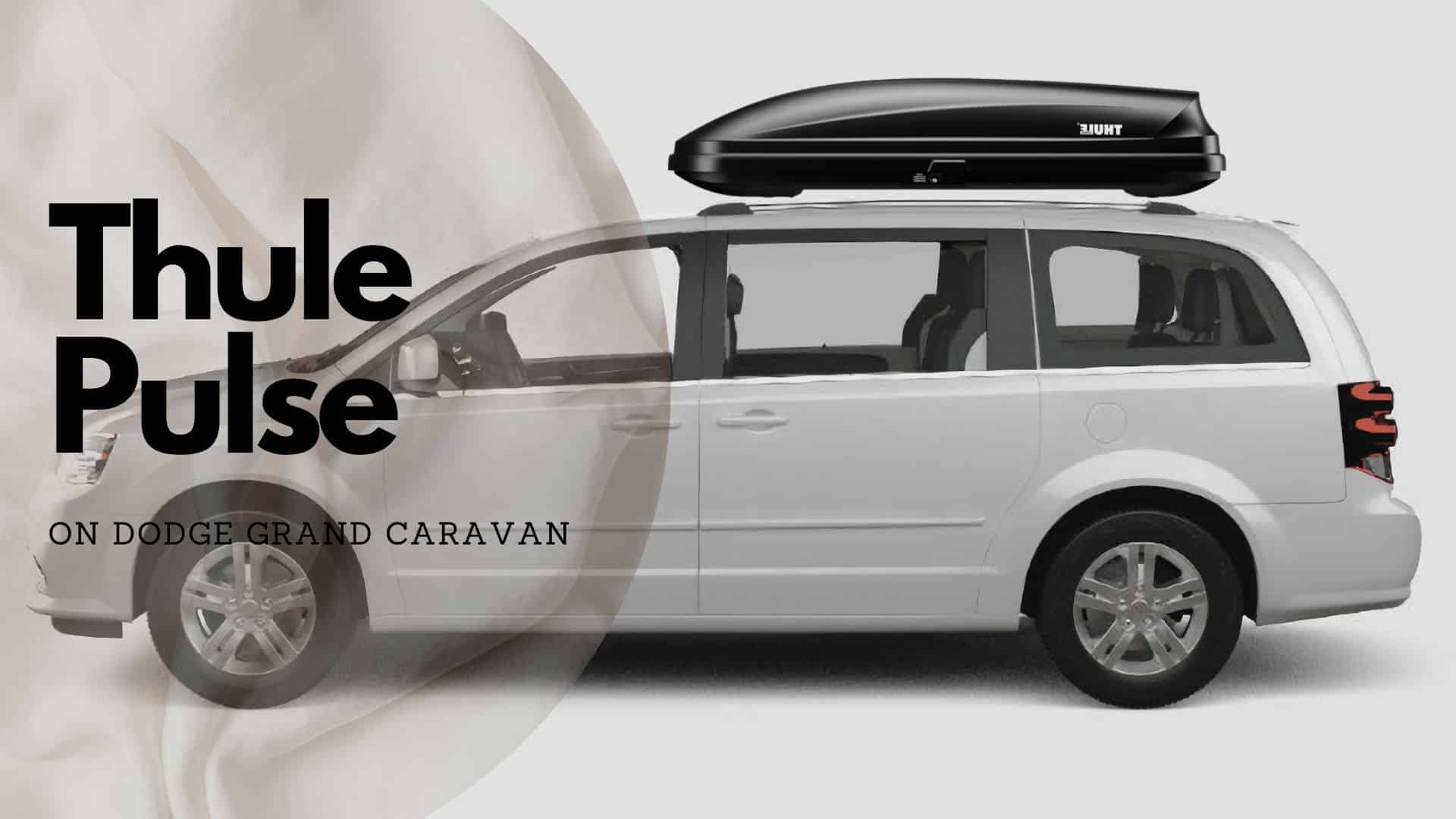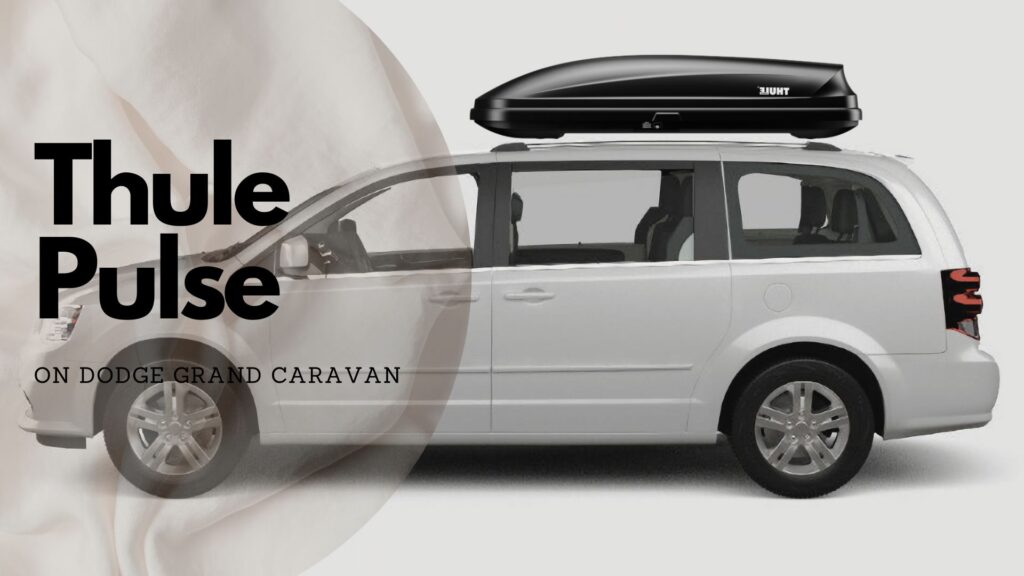 Thule Pulse is the first option for your Dodge Grand Caravan. Thule brand is the leading company in the cargo box industry, and Yakima is also a powerful company with many outstanding rooftop cargo carriers for outdoor enthusiasts. When comparing car roof boxes from these two brands, we find some differences worth your attention.
Thule Pulse series has 3 size models for different outdoor needs. We pick the Large model for your Dodge Grand Caravan because of its ample inner loading space. You can use Medium or Alpine models, but we believe they are too small for your large Caravan. If you can add one to your minivan, you should consider using the biggest to maximize your car's roof-loading capacity.
Thule Pulse Large model gives you 16 cubic feet of interior space for holding and transporting what you need on the roads. Its dimensions are 76 x 33 x 16.5 inches or 193.04 x 83.82 x 41.91 cm (L x W x H). You can use these numbers to estimate whether the Large model fits your needs. According to the manufacturers, 181 cm is the max length allowed in the Thule Pulse large model, so you should check your skis or snowboards for suitability.
After having a Thule Pulse large roof box on top of your Caravan, you can bring enough luggage and gear on outdoor journeys. If you find the Large model is too big, you can consider getting the Medium or Alpine models.
We have a post that shows more detail about the Thule Pulse series, so you can refer to that article to generate more information for comparison.
---
Yakima SkyBox Aerodynamic Rooftop Cargo Box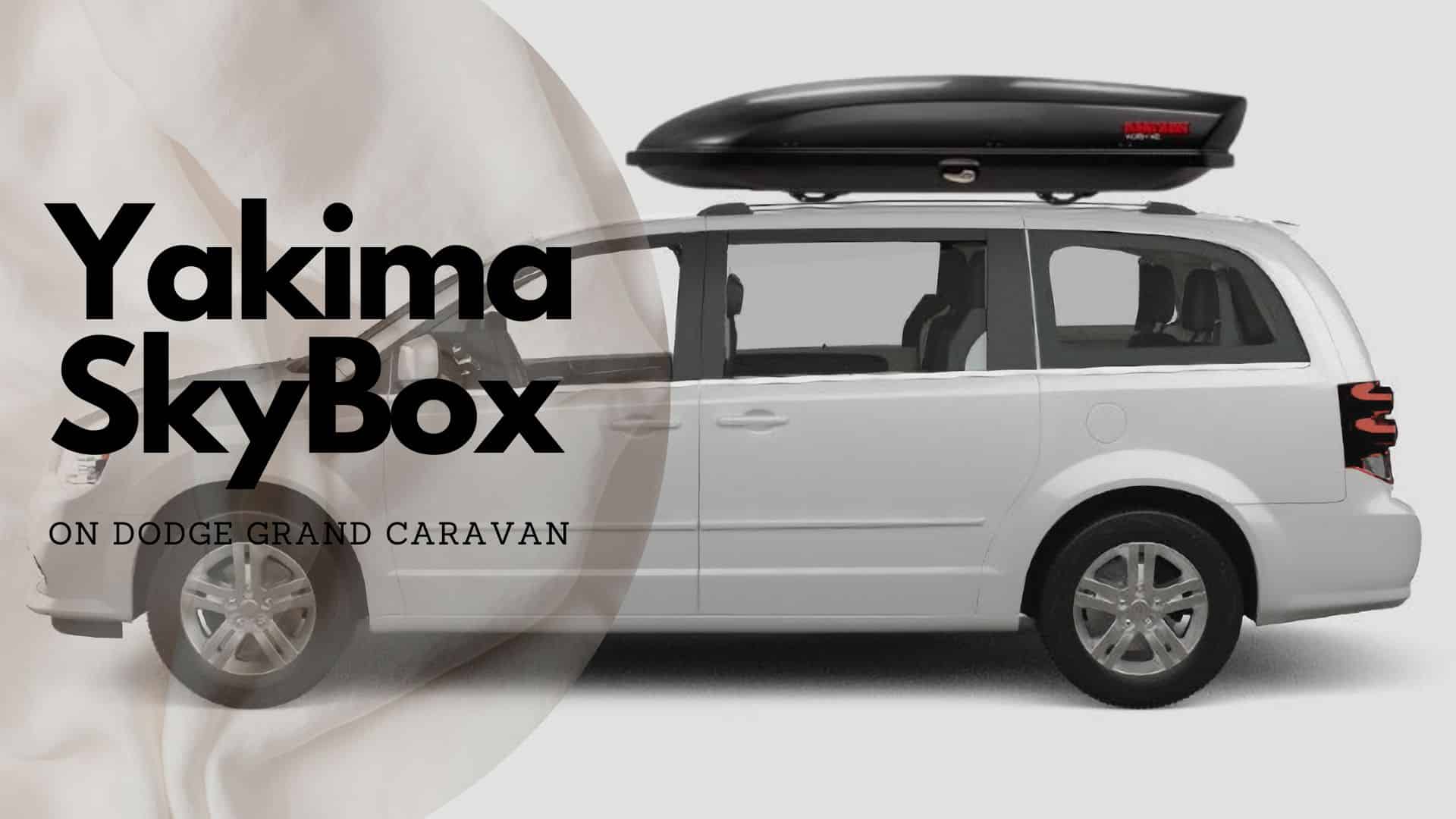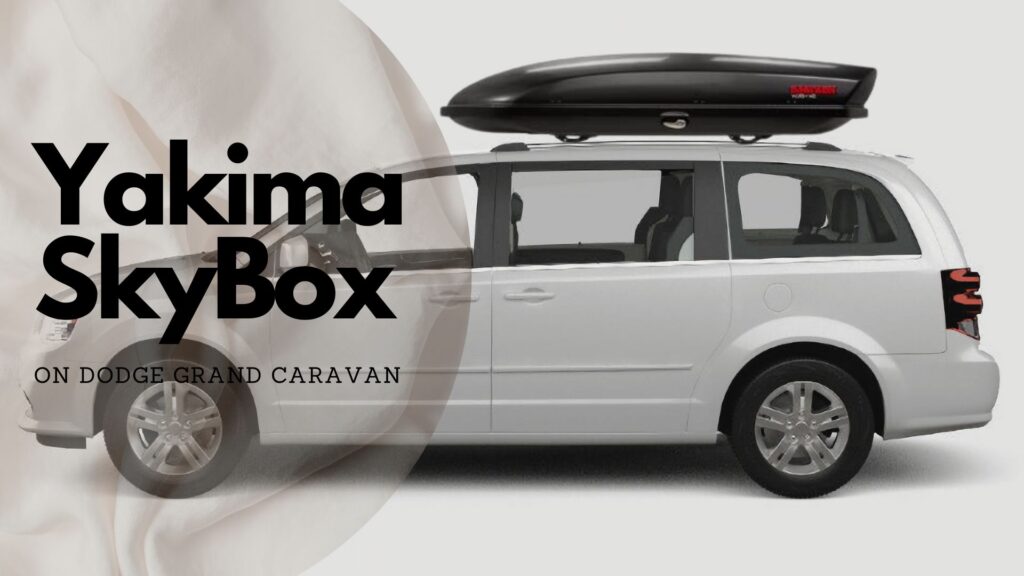 We choose the Yakima SkyBox Aerodynamic cargo box as the second option for your Dodge Grand Caravan. The Yakima SkyBox series has 4 size models: 12, 16, 18, and 21 cubic feet. You can consider choosing the 21 cubic feet option as a rooftop cargo carrier on your Caravan.
The Yakima SkyBox series is more expensive than the Thule Pulse series. The SkyBox 21's dimensions are 92 x 36 x 18 inches or 233.68 x 91.44 x 45.72 cm, and it is longer than the Thule Pulse Large model.
Yakima SkyBox series only provide a black color option for customers, but you can find white cargo boxes for white vehicles.
You don't need a tool for the installation, but you must ensure that the crossbar spreads are between 24 to 42 inches or 60.96 to 106.68 cm. Bar spreads mean the distance between two crossbars, and most crossbars are adjustable.
Related Topic: Do roof racks damage your car?
Before putting a SkyBox 21 in your shopping cart, you better check this post to learn more about its features, designs, appearance, and specifications.
---
Rhino-Rack Master-Fit Cargo Box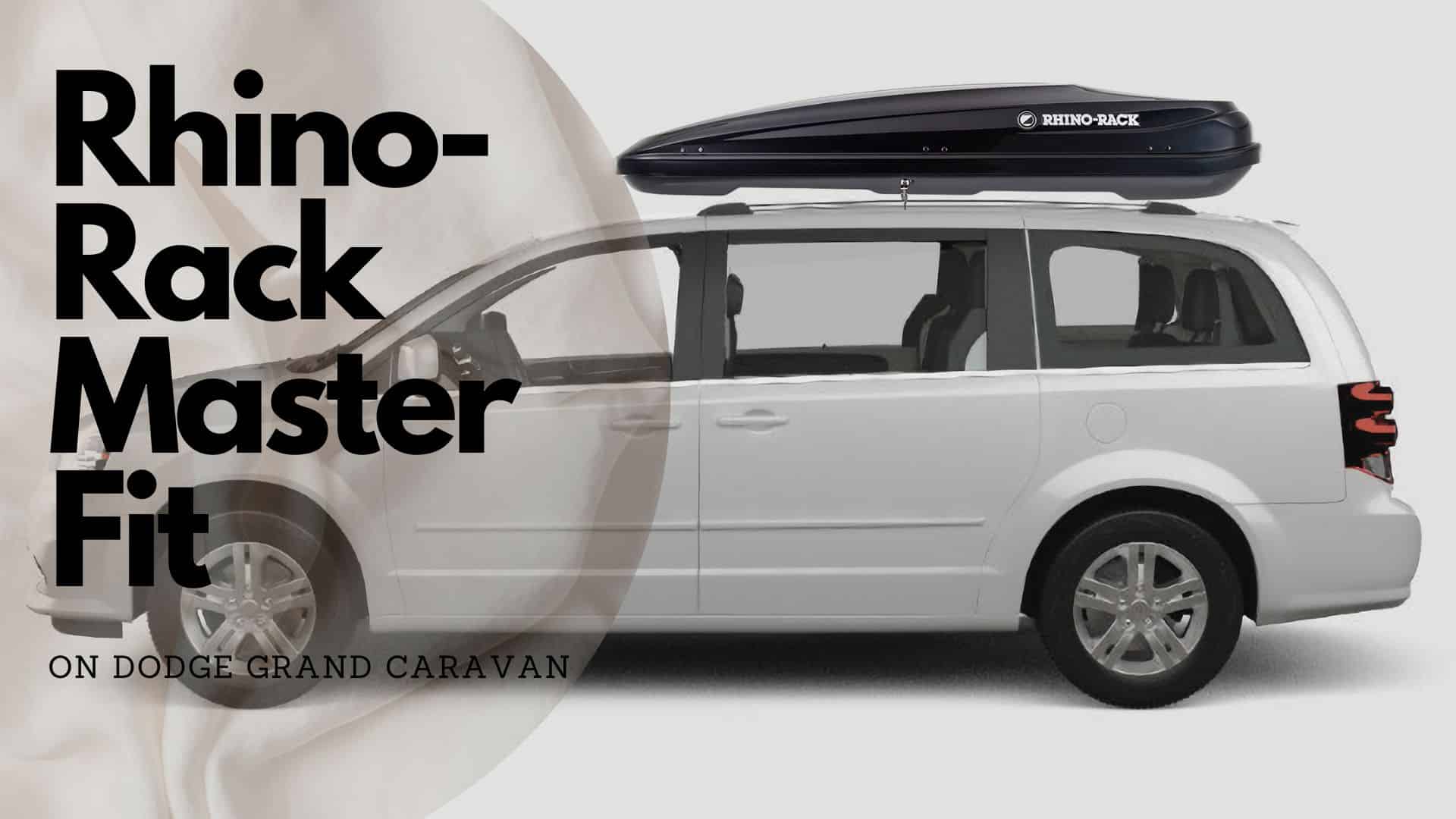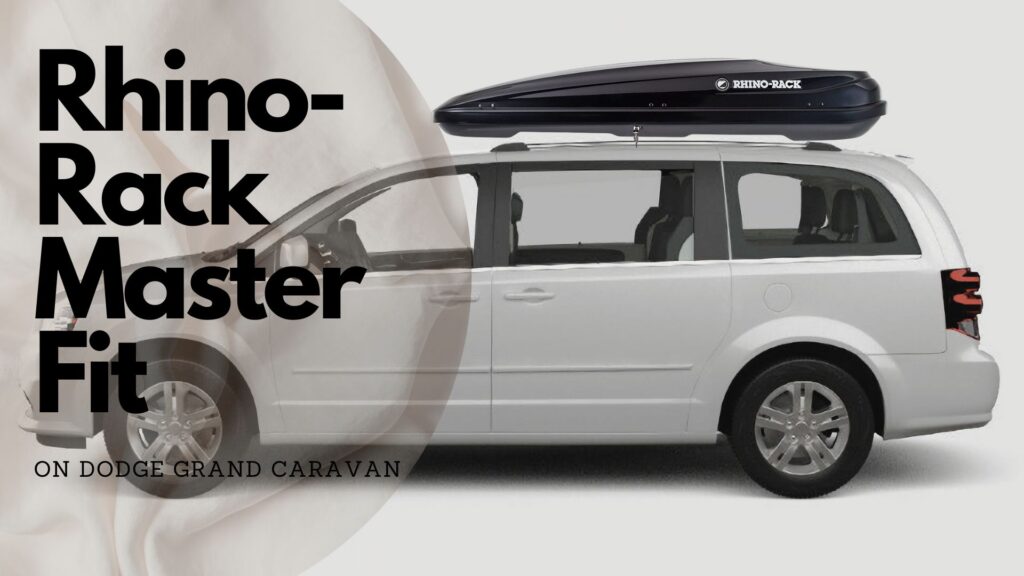 We pick the Rhino-Rack Master-Fit rooftop cargo carrier as the third option for your Dodge Grand Caravan.
Rhino-Rack uses ABS (Acrylonitrile Butadiene Styrene) to build waterproof, durable, and sturdy cargo boxes. Master-Fit cargo box gives you 14.13 cubic feet (400 liters) of inner space for carrying what you need for outdoor journeys. The loading capacity is about 120 lbs, but you should follow the roof loading limit of your Caravan.
Master-Fit cargo box fits on most crossbars: round, square, aero, and factory racks. A compatibility check is always the right thing to do before buying car accessories.
Master-Fit cargo box allows a maximum length of 181 cm to load in it, and you can put golf clubs, beach chairs, yoga mats, scooters, life jackets, furniture, skis, camping tents, and outdoor games. However, you should follow the tips in this post to pack a cargo box for safety and effectiveness.
Rhino-Rack Master-Fit cargo box opens from dual sides, and you should use the passenger side when loading or unloading items on the highways. If you encounter unexpected incidents that cause some damage to a rooftop cargo box, you can follow this guide to DIY the fix with tools.
Master-Fit roof box's dimensions are 78 x 36 x 18 inches or 198.12 x 91.44 x 45.72 cm (L x W x H). You can use these numbers to check whether it fits your outdoor needs. When there is additional height over the car roof, you should avoid driving to places that have a height limit as underground parking lots.
---
SENMU Galaxy Rooftop Cargo Box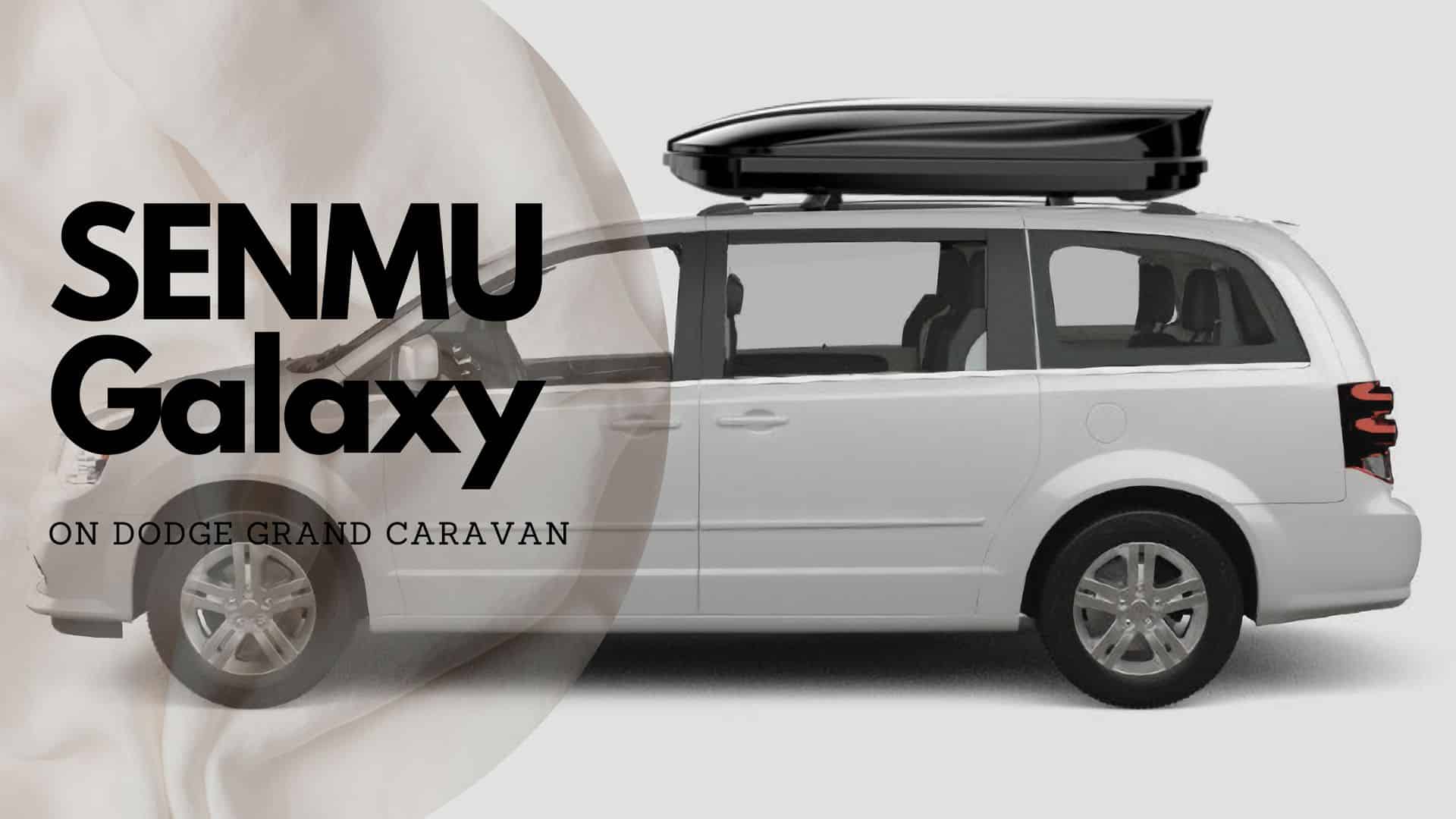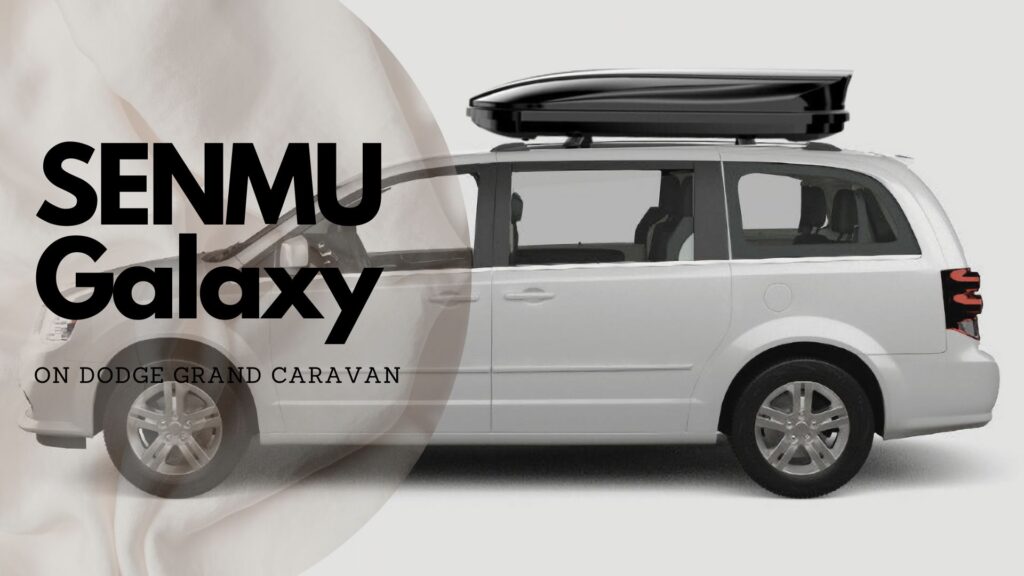 It is the fourth option for your Dodge Grand Caravan. SENMU Galaxy cargo box opens from both sides for better accessibility. If you feel an installed cargo box is too high to reach, you can consider using a car doorstep to make it easier to load or unload.
SENMU Galaxy cargo boxes are cheaper than other options in this article, and the China-based customer service is really a headache when returning or replacing a purchased SENMU cargo box. On the other hand, the manufacturer does not give enough specifications about the products, so we have concerns about it.
---
Roahtrip Rooftop Cargo Box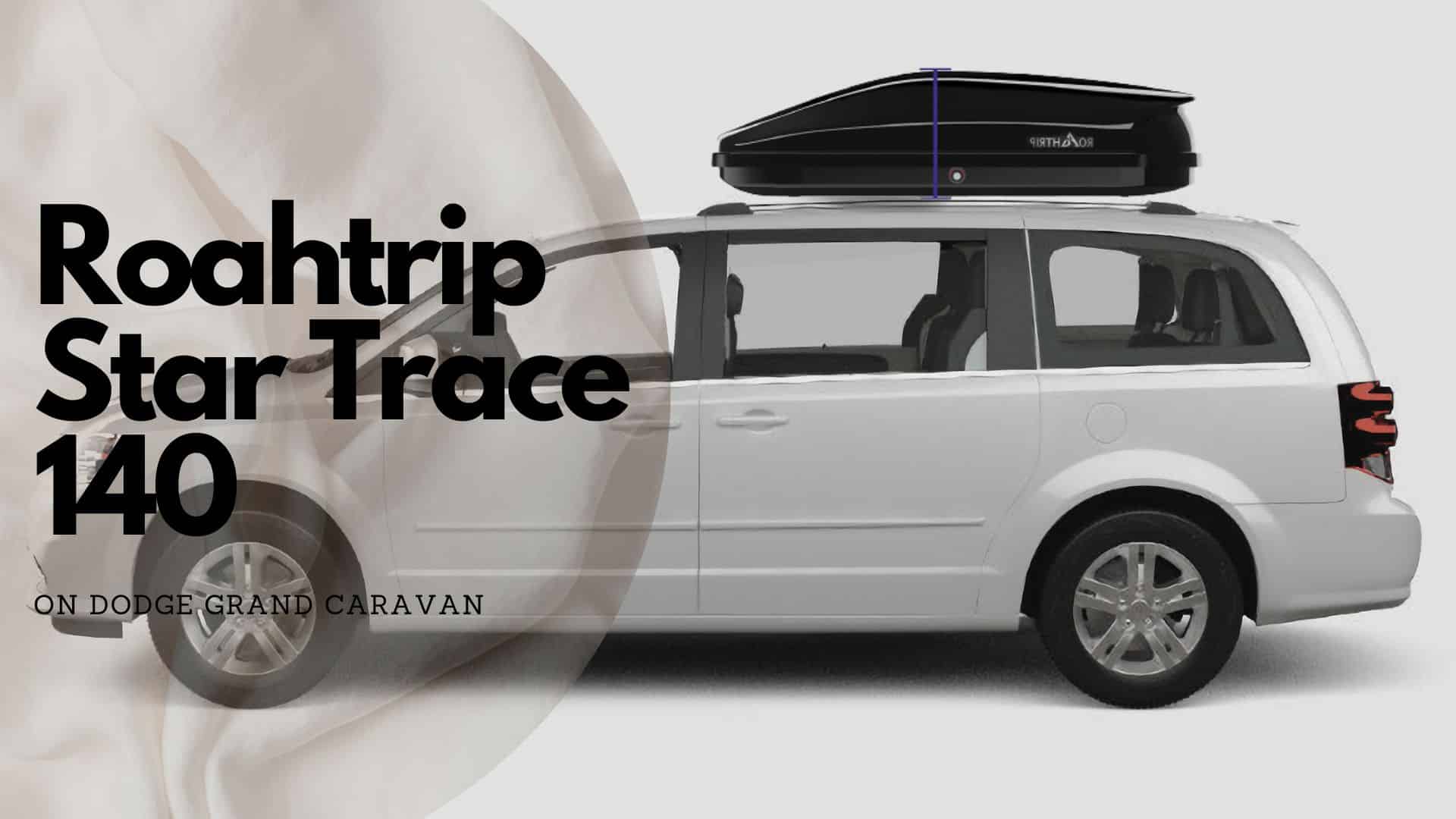 We pick Roahtrip cargo carrier as the fifth option for your Dodge Grand Caravan. It offers 12 cubic feet of internal space for transporting items between locations, and you can load up to 165 lbs of belongings into the cargo box.
It is made of ABS + PC plastic materials, so the Roahtrip roof box is super light, waterproof, long-lasting, and rugged. It opens from both sides to ensure you can load or unload items anywhere you want to. For example, if your park your car under a tree and the tree branches block the opening of the lift side, you can open the right side for loading. The dual-side opening feature allows you to conveniently and effectively organize belongings in the roof box.
When installing the roof box to the crossbars, you must adjust the box's position to avoid interference with the opening hatchback and antenna.
You can use four fast clips to lock the Roahtrip cargo box to roof bars, and the process is straightforward and easy enough for almost everyone. However, when lifting the roof box, you better ask someone to help to ensure security and accuracy. Roahtrip cargo box weighs 41.7 pounds, and its dimensions are 54.2 x 35.5 13.8 inches or 137.68 x 90.17 x 35.052 cm (L x W x H).
Related Topic: Does a cargo box affect gas mileage?
---
Conclusion
In this article, you can find rooftop cargo boxes for Dodge Grand Caravan or Dodge Caravan (shorter wheelbase). Before getting a cargo box for your minivan, you must have rooftop crossbars on the car roof. You must ensure the rooftop crossbars are compatible with the wanted cargo box.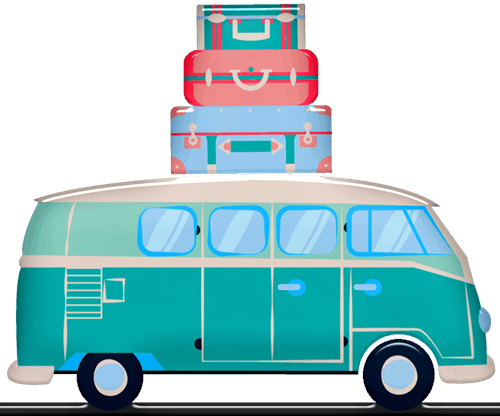 Our team is creating outdoor-gear relevant articles with passion. If our articles can help you to find the correct solutions for your questions, we will be happy about that. In the content creation process, we usually collect accurate and useful information online or offline to compile our content in an organized way. Consequently, we can guarantee that you can discover some expected answers to your questions. We appreciate your time on our site.
We are reader-supported. We get commissions for purchases made through links in this post, As an Amazon Associate we earn from qualifying purchases.