Last Updated on November 23, 2022
Do you want to use a cargo box to expand the loading capacity for your Lexus GX? There are many options to make your Lexus GX larger for loading more luggage, but we believe cargo boxes are the most secure and easy-to-use solutions for most outdoor enthusiasts.
Although the Lexus GX is a large luxury SUV, it has only 11.6 cubic feet of trunk space for hauling stuff. If you like traveling alone, you can fold down the second and third rows of seats to get 64.5 cubic feet of storage space for transporting luggage on the roads. Most people travel with families or friends, so they cannot gain more luggage space by sacrificing the passenger area. What to do when you want to have enough room for both people and stuff? A cargo box comes to help and add additional storage space on top of your Lexus GX. You can find some top-rated options in this buying guide.
Before thinking about adding a cargo box to your Lexus GX, you should check if your Lexus GX has a pair of crossbars and existing roof rails. If you see an empty car roof on your SUV, you should consider finding solutions to install two crossbars before choosing a compatible cargo box.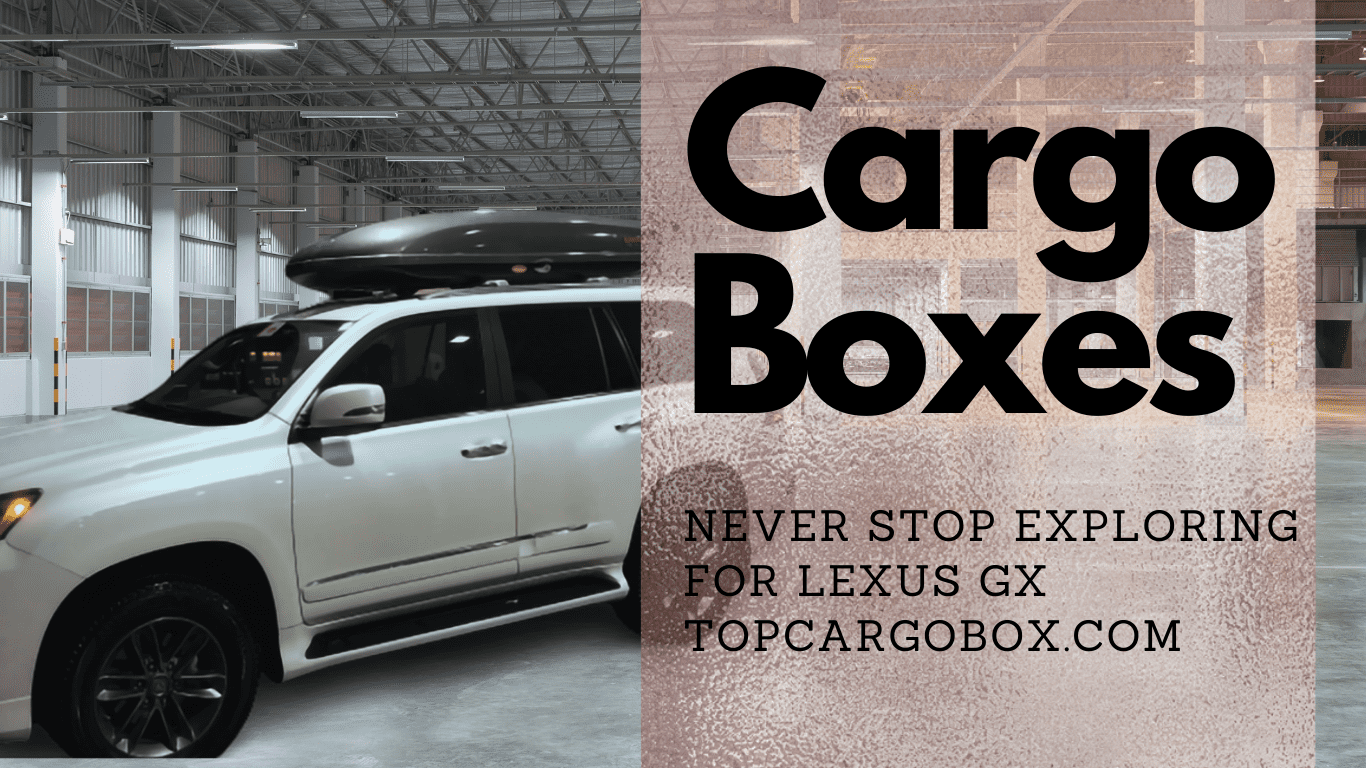 When choosing roof racks (crossbars) for an empty car roof, you have two options: roof rails + crossbars or crossbars without roof rails (for bare car roof). If you would like to go with option one, you should contact the load Lexus dealer to order OEM roof rails before getting crossbars that fit on those rails. If you would like to pick option two, you should check a guide to find some high-quality crossbars that work for empty car roofs.
---
Quick-Pick List of 4 Cargo Boxes For Lexus GX
| Image | Name | Weight | Capacity | Opening | Dimensions | Link |
| --- | --- | --- | --- | --- | --- | --- |
| | SportRack Vista XL Rear Opening | 28 Pounds | 100 lbs | Rear opening | 63 x 38 x 19 in / 160 x 96.5 x 48 cm | Check Price |
| | Goplus Rooftop Cargo Box | 25 lbs | 120 LBS | passenger-side opening | 52" x 30.5" x 12" (L x W x H) | Check Price |
| | Menabo Marathon 400 Liter Roof Box | 30 Pounds | 110 lbs | Passenger Side | 65.5 x 31.5 x 16 inches | Check Price |
| | Thule Vector Rooftop Cargo Box Medium | 59.3 Pounds | 165 lb | Dual Side Opening | 91 x 35 x 12.5 in | Check Price |
Detail of 4 Cargo Boxes For Lexus GX
SportRack Vista XL Cargo Box
We have interviewed a user to ask about how he feels about the SportRack Vista XL roof box, and he told us a story about his experience with this box. He drove his Chrysler Pacific on a road trip about 2300 miles with a fully packed Vista XL cargo box on the roof.
He encountered extreme weather conditions like a thunderstorm on his trip, but he didn't find any water inside the box after the rain. His luggage was well-protected after a long drive. He told us that he installed the Vista XL roof box in 5 minutes without any tools.
If you decide to use the SportRack Vista XL cargo box, you will get (18 + 11.6) 29.6 cubic feet of storage room on your Lexus GX. It is enough for a large family's (4 to 5 people) outdoor demands.
The SportRack Vista XL rear opening cargo box's dimensions are 63 x 38 x 19 inches / 160 x 96.5 x 48 cm, and you can use these numbers to figure out if it fits your items' measurement. For example, you have to choose a cargo box that is longer than your skis' length if you want to load skiing equipment in the box.
If you require to know more information about the SportRack Vista XL roof box, you can use the buttons below.
---
Goplus Roof Cargo Box 2022 Small Model
It is a smaller one compared to the first one. The Goplus cargo box 2022 version is a new release item on May 14th, 2022. It offers 8.82 cubic feet of inner room for transporting luggage, and you can load sleeping bags, tents, skis (shorter than 52 inches), suitcases, and more in the box when you need to do so.
It is made of low-density Polypropylene plastic, so the box is super-light. You can visit Wikipedia to know more about the PP material. The PP material makes the Goplus roof box waterproof, long-lasting, anti-extreme weather, and sturdy, and the box has a smoke finish which makes it easy to clean and maintain.
You can find a central lock system on the roof box to secure your luggage from thefts. If you need more protection for your essentials, you can find other strategies to protect your items when traveling with a cargo box. Don't forget to use lubrication powder to smooth the lock core after a period of time. It makes the lock system live longer.
If you decide to use the Goplus 2022 model as the additional storage space on top of your Lexus GX, you must ensure that the distance between the existing crossbars must be between 18.5 and 36.6 inches; if they are out of the range, you cannot lock the mounting hardware on these bars. You also need to check if your roof bars are broader than 3.15 inches or not; if they are, the mounting hardware cannot fully lock the bars.
Its dimensions are 52" x 30.5" x 12" (L x W x H). You better check your items' measurements to ensure that you can load them into the box or not. Otherwise, you need to estimate if you can drive through the garage gate with the added height. Some users damage their cargo box when driving into the garage because they didn't realize the garage gate is not high enough for the added height. We have several DIY solutions to fix small holes or scratches on a cargo box.
---
Menabo Marathon 400 Liter Cargo Carrier
Menabo is an Italy brand. Marathon roof boxes are large enough for people who love outdoor events like camping, cycling, hiking, fishing, and golfing. It is a combination of ABS plastic, and it is waterproof and rugged. You can use it for heavy-duty jobs.
It provides 14 cubic feet of loading area for carrying up to 110 lbs of stuff on the roads. You don't overload the roof box because overloading can cause your car to roll over when making turns.
If you require to know more about the Menabo Marathon 400 liter cargo box, you can follow the button below to find photos, videos, features, and more relevant info.
---
Thule Vector Rooftop Cargo Box
It is the longest option in this guide. You can use the Vector roof box to carry long gear like skis or snowboards.
Thule is the best brand on the market for manufacturing roof cargo boxes, so you can rely on its brand power and enjoy the after-sale service and the quality of its products.
The Thule Vector series has two size options: Alpine and Medium.
Alpine is longer and thinner than Medium, and Medium is more suitable for road journeys. The Alpine model is the most low-profile cargo box on the market, and you cannot find another roof box that is thinner than the Vector Alpine model. However, the Thule Vector series is the most expensive cargo box, and you may need to consider the price tag when making decisions on Vector boxes.
Dimensions:
Alpine- 91 x 35 x 12.5 inches (Max length of gear : 200 cm)
Medium- 83.5 x 34.5 x 14 inches (Max length of gear : 185 cm)
You can use these numbers to check if these Vector models are suitable for your situation. Thule Vector roof boxes work with most factory, round, square, and aero crossbars; thus, you don't need to worry about compatibility. These Vector models offer 13 cubic feet of storage area for gear, equipment, or luggage. You can put up to 165 lbs of stuff in the carrier, and the box has a lock to add security to your belongings.
---
In Conclusion
You are here to find some top-rated cargo boxes for your Lexus GX. You can choose one to boost the loading capacity for your car and carry more things on the roads for outdoor needs.
If you are new to cargo boxes, you can go to the home page to discover more relevant topics to help you better understand these rooftop cargo carriers.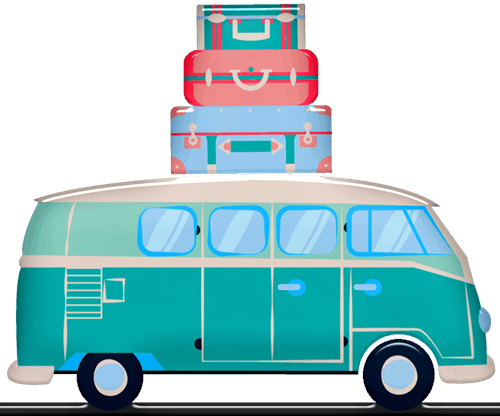 Our team is creating outdoor-gear relevant articles with passion. If our articles can help you to find the correct solutions for your questions, we will be happy about that. In the content creation process, we usually collect accurate and useful information online or offline to compile our content in an organized way. Consequently, we can guarantee that you can discover some expected answers to your questions. We appreciate your time on our site.
We are reader-supported. We get commissions for purchases made through links in this post, As an Amazon Associate we earn from qualifying purchases.