Last Updated on November 22, 2022
Are you looking for cargo carriers for your beautiful Mini Cooper? In this article, you are going to discover cargo box recommendations for your Mini Cooper. Why do you need a roof box for your Mini Cooper? We guess that you need more space to carry your luggage or gear for your vacation road trips or other outdoor adventures. However, your Mini Cooper is comparatively small without enough interior room to haul the belongings that you will need on your road trips or camping days. 
A roof box helps you solve the space shortage of your Mini Cooper, so let us dive into the options of cargo boxes that fit your Mini Cooper.
Before we start our discovery, you have to learn some basic knowledge about cargo boxes. Also, you need to know how to choose one that fits both your needs and your Mini Cooper.
First, you have to check the capacity to ensure that the cargo boxes have enough inner space for stowing your belongings on a road trip. Secondly, you have to confirm that the roof boxes' size numbers fit the roof size of your Mini Cooper. For example, the width and the length of the cargo carrier are suitable for the size of your Mini Cooper's rack system. Thirdly, you have to choose a cargo carrier that has waterproof, sturdy, and durable materials. Fourth, you have to learn about:
If you have no idea right now, you have to think about these three problems.
After you have got a general picture of cargo boxes, you can find the cargo boxes for your Mini Cooper below.
Info about your Mini Cooper
Mini Cooper has five models:
Countryman
Clubman
Convertible
5-door hatch
3-door hatch
First, you double-check your Mini Cooper's model name to figure out how much weight the roof rack can hold. If you don't want to damage your car roof, you have to make everything thing right. You can make a call to the car dealer to figure out the correct model info about your Mini Cooper.
According to the research, your Mini Cooper, whatever model it is, can hold up to 75kg or 165 lbs items on the rack system. You have to ask yourself if a 75kg loading capacity is enough for use or not. 
On the other hand, there is another method of using a cargo carrier without a rack system. You can choose a cargo bag that can mount on the top of your Mini Cooper without a rack system. You will see the options below.
A list of best-selling soft cargo bags for all SUVs, Sedans, Trucks, Vans, and your Mini Cooper.
You also keep in mind that the right-size cargo box is smaller than the size of your Mini Cooper's roof size. If a cargo box is larger than the size of your car's roof size, it will overhang and create potential dangers to your driving.
You can buy a Mini factory rack system from Amazon or on Ebay.
A list of universal roof racks for all vehicles – You can use any of these racks to build a cargo management system on your Mini Cooper. However, we recommend you consult the local dealer for a compatibility check.
Other car rooftop or rear cargo carriers for bikes, kayaks, luggage, and more.
---
Quick-Pick list of 4 Cargo Carriers for Your Mini Cooper
---
---
---
---
5 Alternatives
We have created a list of 5 top-selling cargo bags for your Mini Cooper, and you can put them in your consideration. Below, you can find a list of universal cargo baskets for your Mini Cooper.
A list of cargo baskets for all SUVs, Sedans, Vans, Trucks, and your Mini Cooper.
Details about 4 Cargo Carriers for Mini Cooper
JEGS 90098 Rooftop Cargo Carrier
The JEGS 90098 cargo carrier is the best option for your Mini Cooper. It has a large capacity, 18 cubic feet of interior space, for carrying up to 110 lbs of belongings. You can lift it with one hand, for it weighs only 28 lbs when it is empty. 
The JEGS can only mount on a rack system, so you have to make sure you have one. The cargo carrier fits most of the factory rack system. You can assemble it on top of your Mini Cooper without a tool.
An advanced four-corner lock system protects your items on your road trips, and a dual-opening feature creates the convenience of loading or unloading the cargo box.
JEPG offers a lifetime warranty to it, and the JEPG company uses durable and four-season HDPE plastic to build its construction. You do not need to worry that your belongings will get wet or become damaged after a road trip.
For your Mini Cooper, it is the best selection. Its dimension is 57 inches,38 1/2 inches, and 17 3/4 inches(H, L, W), so it is perfect to fit your Mini Cooper's roof.
---
Rightline Gear Sport 2 Car Top Carrier
The Rightline Gear Sport manufactures the cargo carrier with long-lasting construction and a waterproof SZIP system to ensure you will not get wet items at the destinations of your road trips.
The specially-designed mounting system allows you to assemble it to your Mini Cooper's roof rack or the door frames. You do not worry about the installation procedures because they are easy to do in minutes with the smart clips.
The 15 cubic feet of interior space allows you to carry enough belongings for your road trips, camping vacations, and sports activities.
There are four attachment straps and four clips in its package, and an installation guide to help you install it on the top of your Mini Cooper in minutes without a tool.
42″ L x 34″ W x 18″ H is the dimension of this cargo carrier, so it is fitting to your Mini Cooper without a hassle.
Highlights of this cargo carrier:
The SZIP waterproof zipper: prevent water from getting into the cargo carrier through the zipper.
The PVC Semi-Coated Mesh XT Construction: durable and UV-protected material makes the cargo bag last longer.
Stuff Sack: When you do not need it, you can store it in a bag in minutes.
Easy-Mounting System: easy clip-and-go mounting system allows assembling the car roof bag to your Mini Cooper in minutes without a tool.
According to product information, it can carry 10 carry-on bags (one carry-one bag =14″W x 8″ D x 22″ H, 1.43 cu ft).
---
Goplus Cargo Box Waterproof Rooftop Cargo Carrier
Goplus cargo carrier is another choice for your Mini Cooper. It has 14 cubic feet of interior space that allows for carrying up to 165 lbs of luggage. As a result, if you travel a lot, this is a better option because of its ample hauling space. 
Goplus cargo carrier fits most factory rack bars, so you don't need to worry about if your Mini Cooper can work with the cargo box or not. Its advanced aerodynamic design reduces wind noise on the roads and has no impact on your gas mileage. Its high-tech ABS and PC materials ensure that it can last longer and resist outside strikes and extreme weather conditions.
Menabo Diamond Car Rooftop Cargo Carriers Buying Guide
Its easy-mounting system offers easy installation that only takes you a few minutes to finish. After the installation, you will find that you can open it from both sides; a lid-holder helps you hold the lid when you pack your cargo box.
Its special-made and high-tech materials allow it to perform heavy-duty jobs under extreme conditions, so you won't need to worry that your belongings have a chance to get damaged inside the cargo box.
When it is empty, it is 25 pounds in weight. Its dimension is 63 x 31 x 15 inches, and it fits your Mini Cooper.
---
AmazonBasics Rooftop Cargo Carrier Bag
Amazon is a global company that has more than 1 million products for sale. Amazon has its branded products in all categories, and this Amazonbasics car roof bag is one of them. Amazon invests a large amount of money in its manufacturing line to produce different kinds of merchandise with high-quality materials and satisfactory customer service.
It has 15 cubic feet of interior room for storage, and it has eight straps for installation. Its waterproof and UV-resistant materials help you keep your items dry and safe on the way to your road trip. On the other hand, Amazon offers a one-year warranty to it.
A flap covers its zipper to prevent water get into the bag on rainy days.
It needs a rack system to work, and you can use the eight cinch-straps to attach the cargo bag to your rack system without a tool in minutes.
---
Cargo Boxes On Mini Cooper Gallery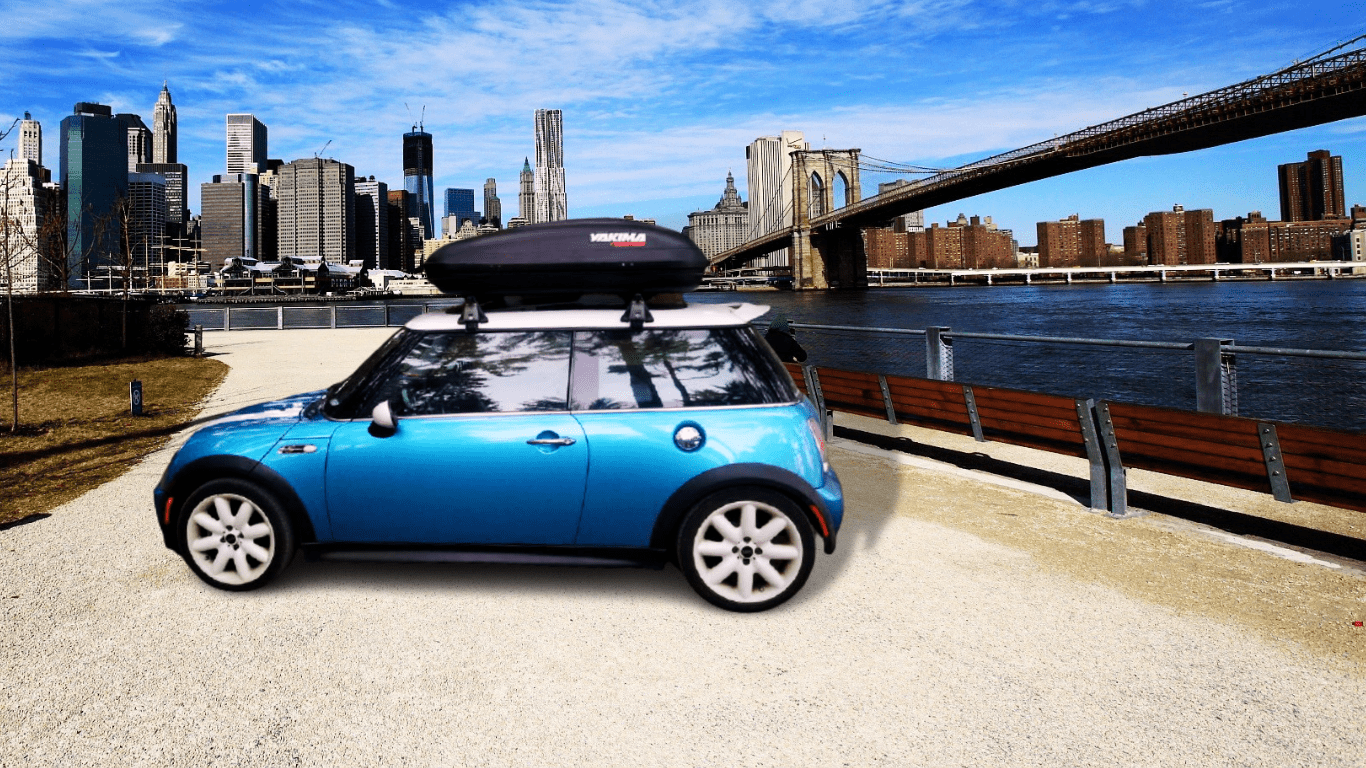 Conclusion
For your Mini Cooper, a cargo carrier helps a lot on your road trips or on your camping vacations. However, choosing the right cargo box for your Mini Cooper is not that easy, and we have researched for you about how to choose one. In this article, you have found 4 cargo carriers for Mini Cooper. 
These cargo carriers fit your car, and they are of high quality with much positive customer feedback. We also attached a Youtube video below each of them, so you can click the videos to know more.
In general, if you are ready to get one today, you can follow our lead to buy one on Amazon.
We have also published articles about finding car roof boxes for other brands of vehicles, cargo carriers for camping trips, and roof boxes for golf clubs, so you can know more by reading those contents.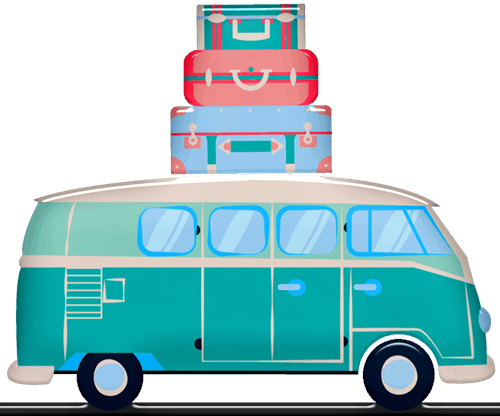 Our team is creating outdoor-gear relevant articles with passion. If our articles can help you to find the correct solutions for your questions, we will be happy about that. In the content creation process, we usually collect accurate and useful information online or offline to compile our content in an organized way. Consequently, we can guarantee that you can discover some expected answers to your questions. We appreciate your time on our site.
We are reader-supported. We get commissions for purchases made through links in this post, As an Amazon Associate we earn from qualifying purchases.