Last Updated on November 23, 2022
Finding compatible cargo boxes for Mazda CX 3 is a little bit tricky for most people, so we are here to help you out with recommending the 5 best roof boxes for your vehicle. According to the US Environmental Protection Agency's car class rating, Mazda CX 3 is a compact car that can not use an oversized cargo box. (Mazda CX-3 information on Wikipedia)
The Mazda CX-3 comes with a trunk space that has 17.8 cubic feet of room for loading items, and you even can fold those rear seats down to get another 26.7 cubic feet of space when you have many essentials to load. Thus, your Mazda totally can provide 44.5 cubic feet of storage space for your active life. However, you cannot count on the extra 26.7 cu ft to solve your problem all the time because the stuff is occupying people's seats. Except you are a lonely traveler, no need for companions.
A cargo box can do much for you except what you have known, and you can learn WHAT A CARGO BOX CAN DO FOR YOU on another post. Before you think about using a cargo box, you need to check that your vehicle has roof rails and a roof rack system. If your car doesn't have roof supporting hardware, you require to get one from the local auto dealer or the online markets such as Amazon.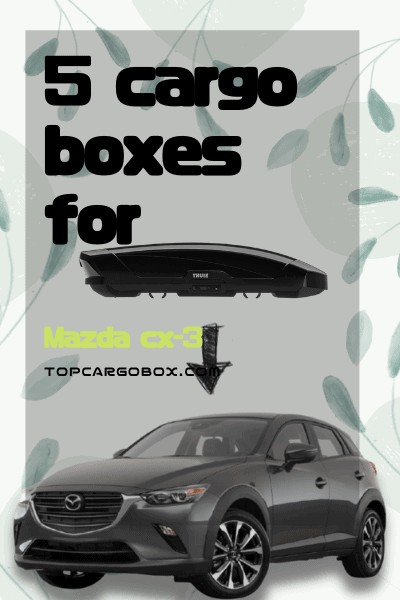 You cannot use a cargo box without car roof crossbars, so when you have no idea about it, you can refer to an article to learn more about Car Racks. After understanding the relationship between roof racks and cargo boxes, you can start to choose a compatible roof box for your future holiday events.
Roof Racks For Mazda CX-3
When you decide to use a cargo box for transporting your gear or stuff on the roads, you have to ensure that your car has a roof rack at the top. After double-checking, if you don't have one, we highly recommend you calling your local auto dealer to require one or get one online from Amazon or Ebay. Otherwise, we have a list of universal fitting roof racks for all vehicles that may help you out at this point.
A list of universal roof racks for all vehicles
---
Quick-Pick List Of 5 Cargo Boxes For Mazda CX-3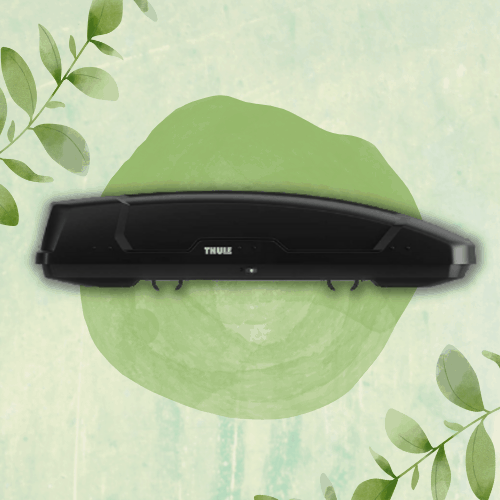 ---
---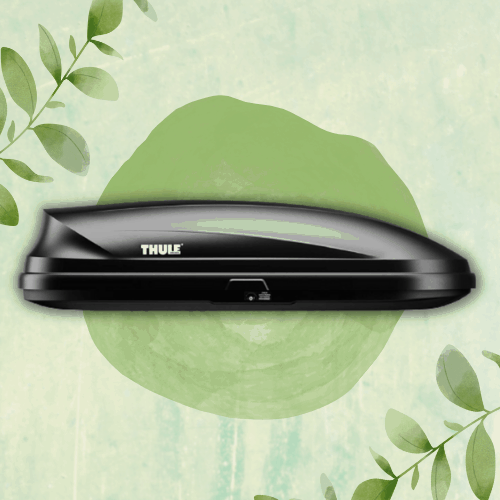 ---
---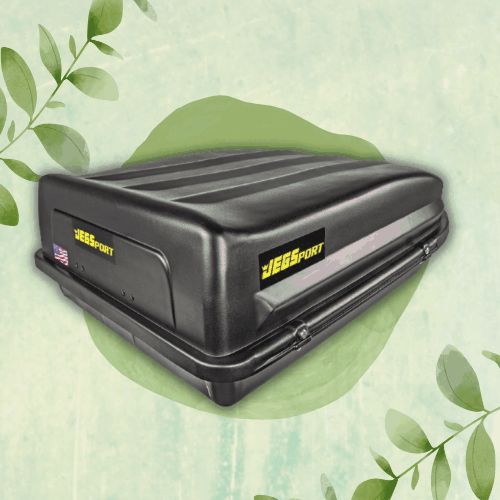 ---
A list of 5 Best Cargo Bags for All Cars
A list of 10 cargo baskets for all SUVs, Sedans, Vans, Trucks
---
Detail Of 5 Cargo Boxes For Mazda CX-3
Thule Force XT Rooftop Cargo Box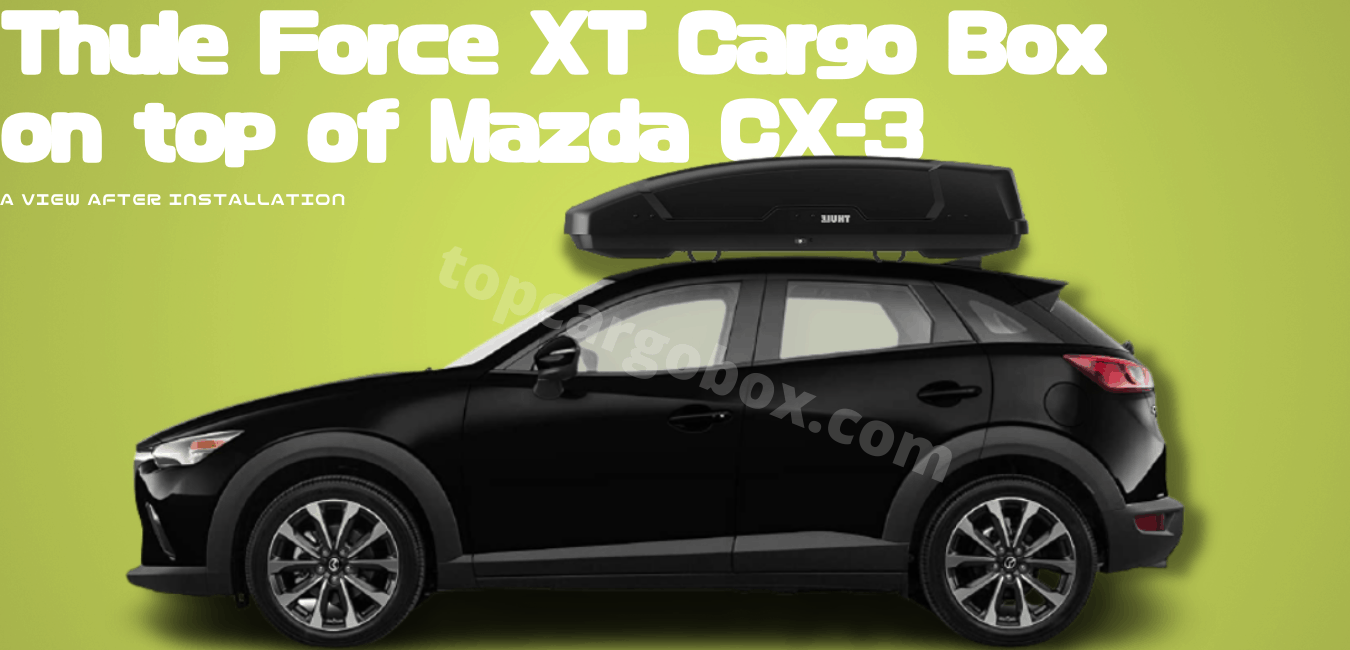 It is the first choice for your Mazda CX-3. In the Thule Force series, there are four size options for different vehicles and people's demands. For your Mazda CX-3, we highly suggest the Thule Force Sport(11 cubic feet) be the added storage space for your car.
Thule Force XT Car Rooftop Cargo Boxes Buyer Guide – Recommend Reading – Click the Learn More button below
If the Thule is a stranger to you, you can refer to a page to know a brief history of the Thule brand and its product lines.
As we have mentioned above, the Thule Force XT Sport (11 cubic feet) perfectly works on the roof of your Mazda CX-3 without a problem; otherwise, the roof box allows you to mount other gear beside it like bikes, kayaks, canoes, and snowboards. Its narrow design is unique in its family, so it is popular among outdoor lovers.
It provides 11 cubic feet of inner space for loading up to 165 lbs of stuff on your road journeys, so your Mazda will get a total of (44.5 + 11) 55.5 cubic feet of storage space for transporting items between locations. A 165 pounds loading capacity is fair enough for most people's demands, and manufacturers won't produce larger roof boxes that can load even more items over 180 pounds because of safety reasons.
The Thule Force XT Sport's dimensions are 74.75 x 24.75 x 16.75 inches, and you can take these numbers to figure out if you can drive through the garage gate or not. After having a cargo box on top of your vehicle, you must control your driving speed because of the raised gravity center of your Mazda CX 3. You can refer to a page to learn the maximum speed you can reach after using a cargo box.
If your Mazda CX 3 has a naked roof, you have to invest in a roof rack to create a stand for the cargo box. Thus, if you have no idea about what is a roof rack, you can read our "Tips of Choosing a Car Rack" for ideas; furthermore, you can also check our "8 Universal Fitting Roof Racks and Roof Rails" to get a rack system for your Mazda CX 3 in minutes.
---
Thule Motion XT Rooftop Cargo Box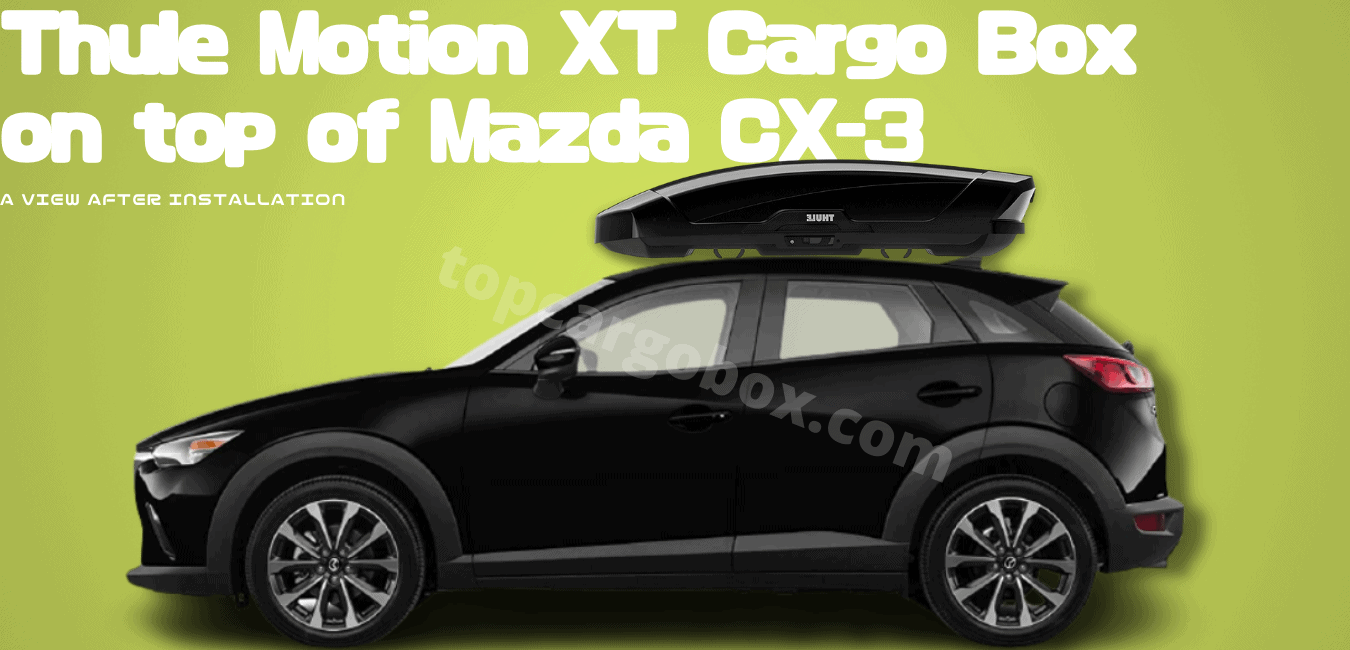 It is the second option for your Mazda CX 3, and it has 3 size options: L (16 cubic feet), XL (18 cubic feet), and XXL(22 cubic feet). We suggest you consider putting the XL option on top of your Mazda CX 3 to haul what you need on a road trip or other outdoor adventures. It is longer than the Thule Force Sport, so if you have gear that is no longer than 200 cm, you can load it into the Motion XT XL option.
Thule Motion XT Car Rooftop Cargo Boxes User Guide – Recommend Reading
When you have decided to bring your life to the next level, you have to learn how much weight your Mazda CX 3 can hold when it is in motion. You can find relevant info in your car manual, and the Motion XT XL carries a maximize of 165 lbs (75 kg) of stuff for your active life.
Consequently, packing a cargo box becomes a much important technic for people who use cargo boxes for outdoor events, and you can learn some tips on our page "HOW TO PACK A CARGO BOX LIKE A PRO" to get some ideas.
If you have concerns about the quality of Thule's products, you can relax and trust the reputation of the Thule Group. You also can refer to a page on our site to learn brief info about the Thule company.
---
Goplus Waterproof Rooftop Cargo Carrier
It is the third option for your Mazda CX 3. It is not as popular as the Thule products, but it is also a recommended item in our considerations. It does not have the invincible brand power as the Thule products have, but it comes with high-quality plastic constructions and convenient built-in features. In general, it has all that Thule products have, but it is more affordable. However, if you ask about Customer Service, the Thule Group must rank the No.1.
Goplus Car Rooftop Cargo Carriers Buying Guide
It offers 14 cubic feet of interior space to hold up to 165 lbs of items on the roads, and its dimensions are 63 x 31 x 15 inches that is much smaller than the above options. Consequently, if you want to use the cargo box to load long gear, the Goplus cargo box is not your choice, especially snowboards or skis. It is a good choice for road trips and other camping journeys. It is one of the best-selling roof boxes in recent years from 2019 to 2022.
---
Thule Pulse Car Rooftop Box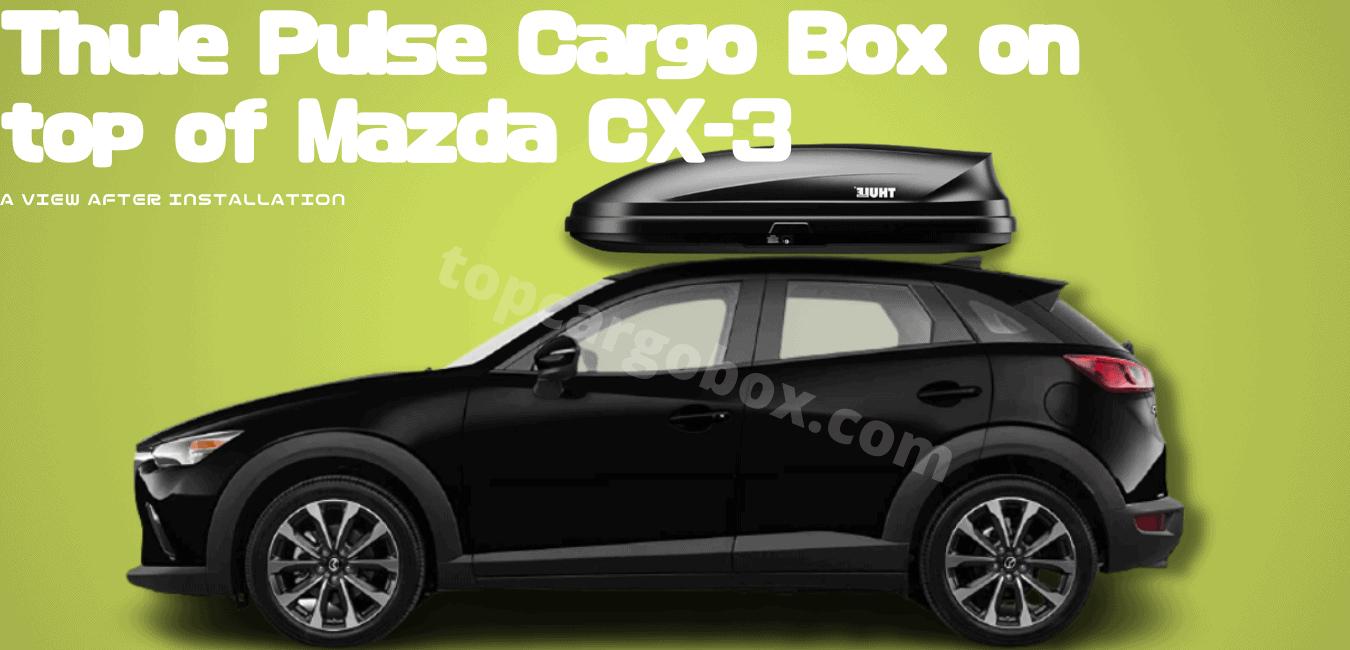 Thule Pulse Cargo Boxes Buyer Guide
It is the fourth choice for your vehicle, and it is the last one on our recommendation list. You can learn its specification statistics on "Thule Pulse Cargo Box Information" to see if it fits your vehicle and needs.
---
JEGS Rooftop Cargo Carrier
JEGS Car Rooftop Cargo Carriers Buying Guide
It is the fifth option for your Mazda CX 3, and it is not on our list but is a backup choice when the above options are not available. If you want to know more about the JEGS cargo boxes, you can find information on the "JEGS Cargo Boxes Info Table" to check out if it is compatible with your demands or not. It is the cheapest option on this list.
---
Conclusion
In this article, you can find 4 compatible cargo boxes for your Mazda CX 3 with their general introductions. When you want to dig deep to make buying decisions, you can use the links below each paragraph to jump to the seller's page for generating much detail about the products and many customer feedbacks.
Before getting a cargo box, you probably require some knowledge about choosing and using one. We have tips for you on our site, and you can discover more relevant topics about cargo boxes by using the menu in the header section.
Unfortunately, recently, some cargo boxes are not in stock, so if you are interested in having one, you can put it in your consideration list and wait for days or weeks to see if it is back in stock or not.
After mounting a roof box on top of your CX 3, you can consider adding a car bike rack to carry bikes between hiking places.
Other car rooftop or rear cargo carriers for bikes, kayaks, luggage, and more.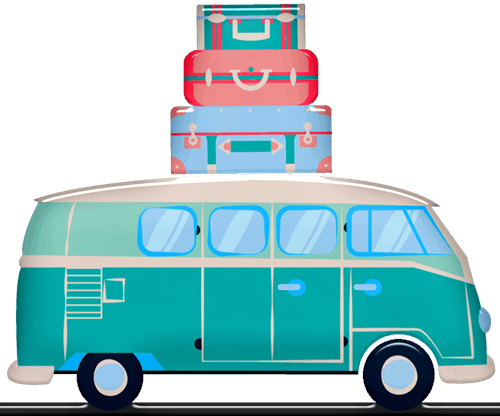 Our team is creating outdoor-gear relevant articles with passion. If our articles can help you to find the correct solutions for your questions, we will be happy about that. In the content creation process, we usually collect accurate and useful information online or offline to compile our content in an organized way. Consequently, we can guarantee that you can discover some expected answers to your questions. We appreciate your time on our site.
We are reader-supported. We get commissions for purchases made through links in this post, As an Amazon Associate we earn from qualifying purchases.