Last Updated on November 23, 2022
If you are looking for cargo Boxes For Nissan Kicks, you can discover some top-rated options in this complete buying guide. With the understanding of choosing and using a cargo carrier, you can get familiar with applying cargo carriers to a car and building additional loading space for hauling enough items for your future outdoor adventures like hiking, climbing, cycling, camping, fishing, golfing, training, road traveling, skiing, surfing, kayaking, and more.
On the market, we have many different cargo carriers like cargo boxes, bags, baskets. No worries, after reading this article, you can find the most correct and suitable cargo carriers for your Nissan Kicks.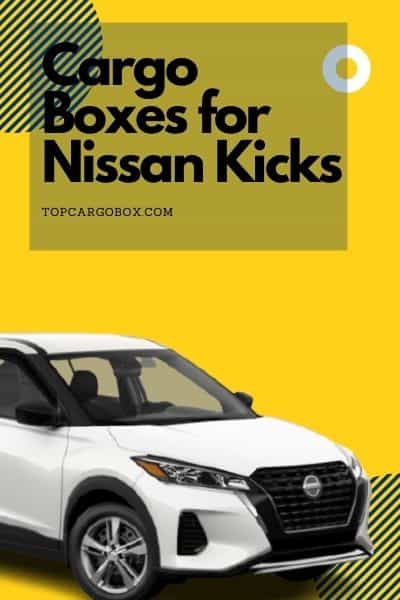 Your Nissan Kicks' trunk space is between 25.3 cubic feet and 32.3 cubic feet(with folded back seats), and the loading capacity is not sufficient for people who usually travel on roads. Especially when you have three more travel companions, you probably need to squeeze together to provide space for extra items. In a situation like this, you may feel disappointed all the time during a road trip. (Nissan Kicks' official manual brochare)
Before making a purchase decision, does your vehicle have roof racks for mounting a cargo carrier? A roof rack is a car accessory that stands on your car's roof rails, and we also call it crossbars. When your Nissan Kicks' roof is bare, you need roof racks to create a base for cargo carriers. Without roof racks, you can only use a cargo bag to haul stuff on the roads. Cargo bags are for people who don't use a cargo carrier in high frequency, so you don't use a cargo bag for weekly or monthly family camping holidays because of quality concerns. We have a list of the best cargo bags for your Nissan Kicks, and you can find the list below.
Roof Racks For Nissan Kicks
If you want to use a cargo box for your family's future road trips or other outdoor activities, you have to get a pair of crossbars for your Nissan Kicks before choosing a cargo box. If you have a chance to contact your local Nissan dealer, you can order roof racks from them without any potential compatibility problems. You also can find a pair of crossbars for Nissan Kicks on Amazon or Ebay.
A list of universal roof racks for your Nissan Kicks, and you can use one of them to build a base for the additional storage on top of your vehicle.
Cargo Bags For Consideration
Cargo boxes are the most secure cargo management products on the market because they have built-in locks, high-density materials, weather-resistant attributes, and long-lasting characteristics. Cargo bags are soft-shell bags that can fold for storage, and they have zipper systems that may leak water into the interior space. Cargo bags are easy to cut to open by using something sharp.
A list of best-selling soft cargo bags for all SUVs, Sedans, Trucks, Vans
Cargo Baskets For Nissan Models
Cargo baskets are like a framework on top of your car roof, and most outdoor enthusiasts use a cargo basket as roof racks for mounting multiple cargo carriers. If you use a cargo basket without a covering cargo net, it is risky. However, you can mount a narrow-designed cargo box on a car rooftop basket and then mount your bike or a kayak in the rest area. We also have a list of the top-rated cargo baskets below, and you can refer to the list to compare them and then pick one that fits your situation.
A list of 10 cargo baskets for all SUVs, Sedans, Vans, Trucks
Now, it is time to show you what are the best cargo boxes for your Nissan Kicks.
Quick-Pick list of 3 Cargo Boxes For Nissan Kicks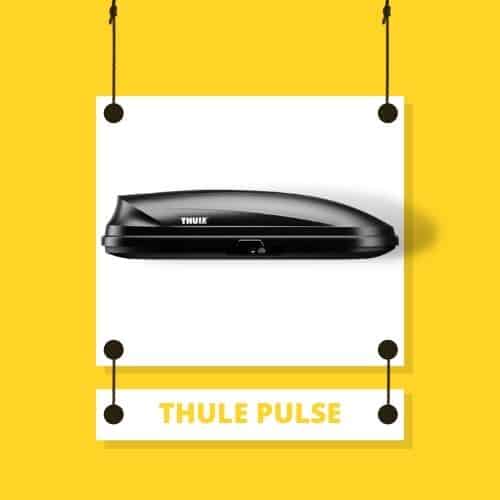 ---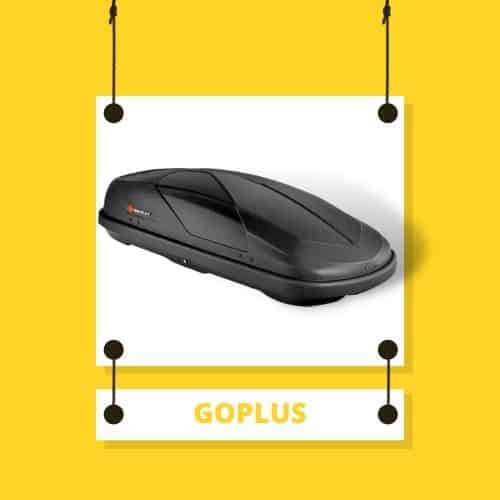 ---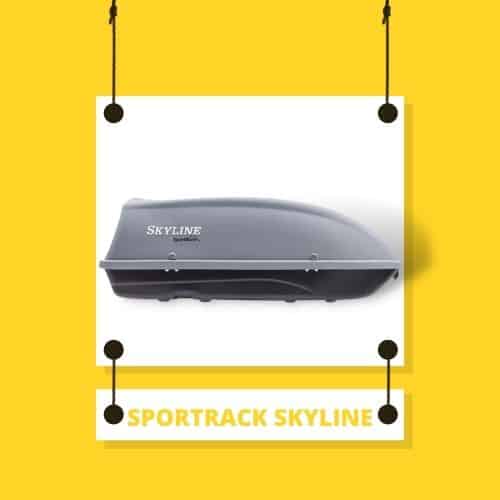 ---
Detail of 3 Cargo Boxes For Nissan Kicks
Thule Pulse Rooftop Cargo Box
It is the first and recommended choice for your Nissan Kicks. Thule Pulse cargo boxes are products from a global popular outdoor brand-Thule that manufactures a wide range of outdoor gear for people who like hiking, climbing, camping, road traveling, and other outdoor adventures. Consequently, the Thule Pulse cargo boxes won't disappoint you when they become a part of your active life.
The Thule Pulse Cargo boxes have three size options, so you can select one that fits your gear's measurement. You can use a Thule Pulse roof box to transport skis, golf clubs, fishing rods, backpacks, carry-on luggage bags, clothes, snowboards, and more, and you have to get the dimensions of your items then make the selection of a compatible roof box.
The three different models of the Thule Pulse cargo boxes have different dimensions, loading capacities, weights, and prices; consequently, you need to compare them before making a buying decision.
What to think when comparing these models?
Choosing one that fits your items' height and length is the first thing to consider when comparing. The Alpine model is for long stuff, and the Medium model is for luggage bags; besides, The Large model is for long gear and camping needs. If you are confused, you can use the large model to get prepared for all situations.
If you are new to cargo carriers and willing to know more, you can use a complete beginner guide to discover many frequently asked questions about cargo boxes. It is significant to learn before actions, and you don't ignore the learning steps.
If you are interested in knowing more about the Thule Pulse cargo boxes, we have a post that can satisfy your demand for knowledge from different angles. You can use the link below to learn more.
You can find the Thule Pulse cargo boxes' dimensions, features, photos, reviews, specifications, and more.
---
Goplus Cargo Boxes
It is the second option for your Nissan Kicks. The Goplus roof boxes have white color options, and you can find a white cargo box for your white(other light colors) Nissan Kicks.
The Goplus Cargo box is a high-quality product that won't disappoint you when you use it for heavy-duty jobs. It is waterproof, sturdy, and durable, so it is a popular choice among outdoor enthusiasts. Although the Goplus cargo box is a combination of ultra-rugged plastic materials, it has a weakness in its lock core; thus, you require to utilize the lubricate lube to make the lock core smooth after a while (a month) of using it.
The Goplus roof boxes have only one size for customers, and you can use a Goplus cargo box to carry almost everything. However, you have to follow some Donts to use a roof box.
If you want to get a Goplus cargo box for your Nissan Kicks, you can know more about it on another post with its dimensions, features, feedback, videos, photos, and more.
Goplus Car Rooftop Cargo Carriers Buying Guide
---
SportRack Skyline XL Cargo Box
It is another choice for your Nissan Kicks. We put it in the third position because it is not as good as the above options. However, it is also a product that you can use to carry things during a road trip.
It is not an option for people who want to transport skis or other long gear (longer than 54 inches), but it is perfect for hauling carry-on luggage bags for a camping event because of its 18 cubic feet of interior space.
The SportRack SKYLINE cargo box only has one size for users, so you choose it when you know how large is it and what you want to put in it.
It is made of high-quality plastic materials, and it is waterproof, durable, and rugged. However, some customers say that it has two flimsy lock cores, and you may require a replacement after using it for some time.
You can use the SKYLINE cargo box to carry up to 100 lbs of items. You can open the cargo box from the passenger side for loading or unloading, so you won't put yourself at risk while using it on the highways.
It works on most rack systems like factory racks, round, square, and aerodynamic racks. For security reasons, the Sportrack offers two latches at the front and rear of the Skyline roof box to make the product super safe and waterproof when it is in use.
If you want to make your cargo box even more secure, you can refer to a post to find ways to prevent your cargo box from theft.
---
Conclusion:
In this article, you can find cargo boxes, bags, baskets, and roof racks for Nissan Kicks. You can also use the header section to discover more relevant topics about cargo carriers.
Other car rooftop or rear cargo carriers for bikes, kayaks, luggage, and more.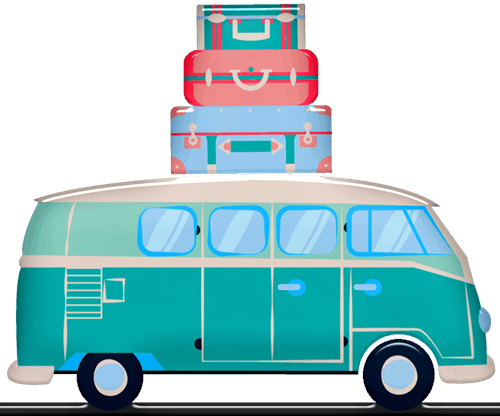 Our team is creating outdoor-gear relevant articles with passion. If our articles can help you to find the correct solutions for your questions, we will be happy about that. In the content creation process, we usually collect accurate and useful information online or offline to compile our content in an organized way. Consequently, we can guarantee that you can discover some expected answers to your questions. We appreciate your time on our site.
We are reader-supported. We get commissions for purchases made through links in this post, As an Amazon Associate we earn from qualifying purchases.