Last Updated on November 23, 2022
Do you need a cargo box for your Land Rover Discovery Sport? We believe that you may need one for your outdoor parties like camping, road journeys, sporting events, and more. Thus, we are here to provide some solutions to expand the insufficient internal loading space of your luxury Land Rover Discovery Sport SUV.
Roof Racks For Land Rover Discovery Sport
Before buying a car rooftop cargo box, you need to have roof racks for your Land Rover Discovery Sport. If you already have one on top of your car, you have to know the dimensions of the distance between two bars; then, you can use the measurement to check if you can use the roof boxes or not. If you don't have a pair of crossbars, you can follow a guide on our site to find 8 universal fitting roof racks or roof rails for using a roof box. Otherwise, you can contact your local auto dealer to get roof racks or find one on Amazon or Ebay.
---
Quick-Pick List of Best Roof Boxe For Land Rover Discovery Sport
For your convenience, we create this quick pick list to save you time.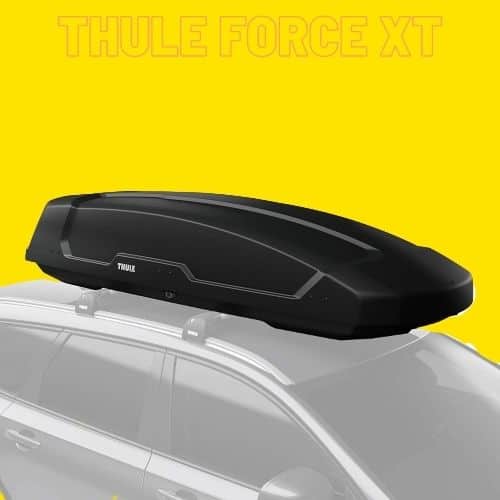 ---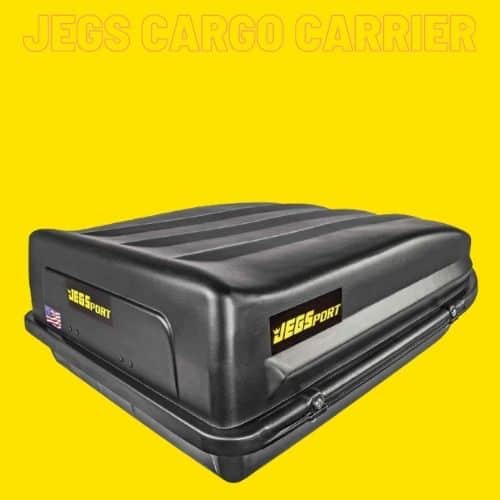 ---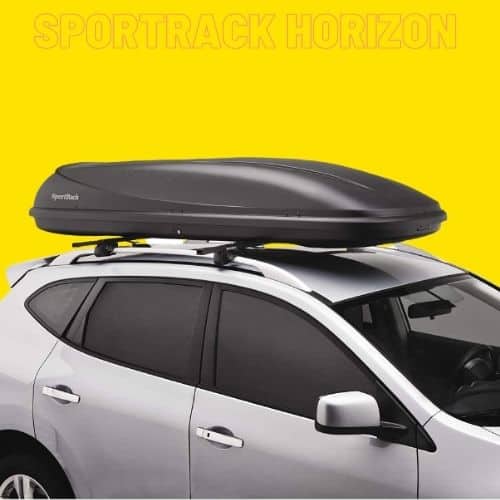 ---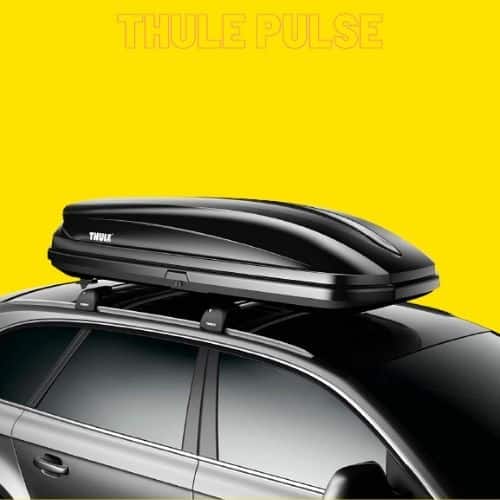 ---
5 Alternatives as Added Rooftop Storage For Your Land Rover SUV
Do you know cargo bags? Cargo bags are soft bags that you can tighten on the roof of your car for transporting items between locations, and they work independently without roof racks or roof rails. When you feel that it is complicated to use a roof box, you can consider having a roof bag as the added storage space for your vehicle. Furthermore, cargo bags have disadvantages, so you have to be aware of the differences between roof boxes and cargo bags. We have a list of 5 best-selling roof bags for your consideration.
Detail of The Best Cargo Boxes For Land Rover Discovery Sport
Thule Force XT Roof Boxes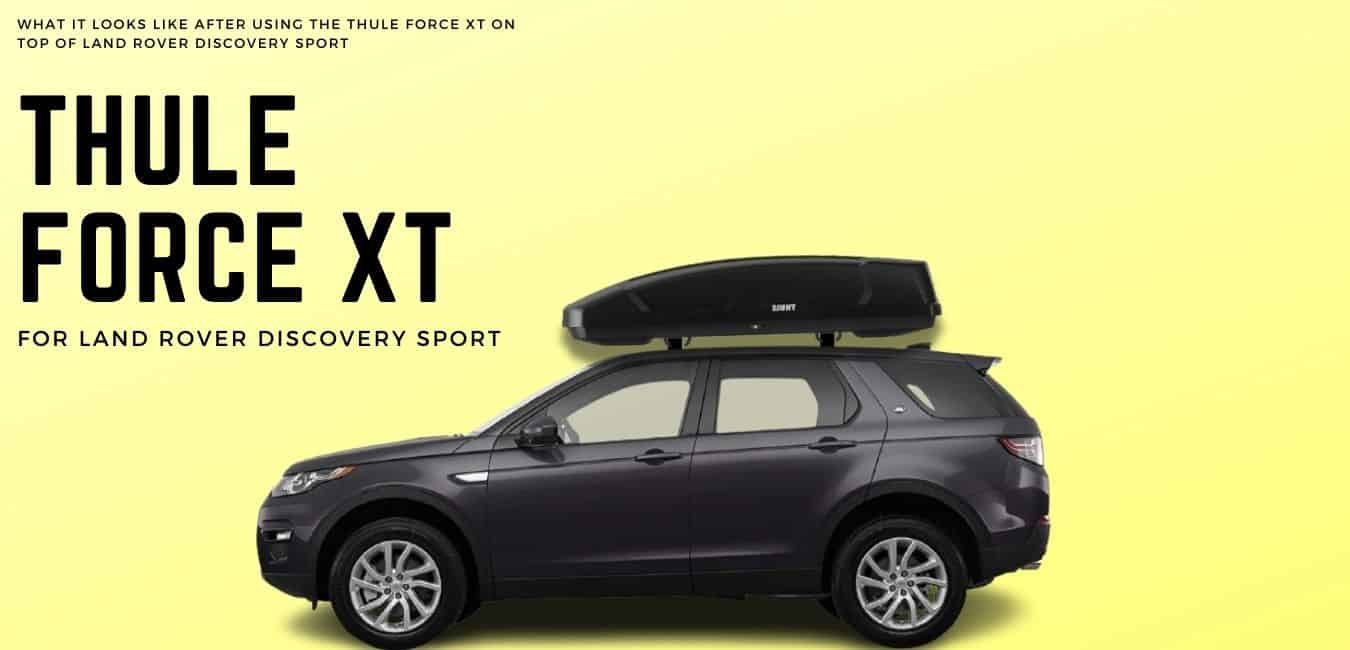 It is the first option for your car, and it is the biggest one on this list. If you want bigger ones, you can find one here. It is not a guy for heavy-duty but for some regular outdoor events. Its fancy style completely fits your luxury Land Rover SUV, and it even makes your car more attractive. The Force XT cargo boxes are compatible with most factory, round, square, and aero crossbars, so you don't need to worry if you already have a roof rack system on top of your vehicle. If you are new to roof racks, you can start here – roof racks, roof rails, and crossbars.
It is super-easy to mount a Force XT roof box to the roof bars with four mounting clamps, and you can hear a click sound when they are as tight as they should be. We like this feature because it eliminates the possibility of over-twisting the clamps.
Thule Force Car Rooftop Cargo Boxes Buyer Guide
The Thule Force XT series has 4 size options, and we recommend the XL size to be your consideration. However, you can use all four size options on your Land Rover Discovery Sport; thus, when you want to get information about the other three sizes, you can refer to a page for information. On the page, you can find more specifications about Thule Force XT models.
The Thule Force XT XL roof box offers 18 cubic feet of storage space for cramming belongings on your road trips or other outdoor events, and it allows a maximum of 165 lbs of items to be loaded. Overloading a roof box is super dangerous, so you never do it for any reason. Force XT XL's dimensions are 82.75 L x 33.75 W x 17.25 H inches, and you can use these statistics to estimate if you can go through the garage door and put the long gear in the roof box or not. People often use cargo boxes to carry skis, luggage bags, tents, snowboards, golf clubs, fishing rods, hunting gear, and more. In opposite, people, animals, explosive materials, chemical elements, bricks, and large pieces of metal are strictly prohibited stuff that you can not use a roof box to transport between spots.
The Thule Force XT roof boxes are compatible with most roof racks, so they are for most cars, not only Land Rover Discovery Sport. You better use high-quality crossbars for the job. Today, the most frequently asked question about cargo boxes is the compatibility between their vehicles and their wanted roof boxes. It is not a problem at all, don't worry. The issue is not between cars and cargo boxes but between clamps and roof racks, so you check and ensure that the clamps can or cannot clip on the bars. Usually, manufacturers tell the maximum wide of roof bars that their clamps can stand and clip on, and the information is on the seller's page or in the user manual brochure (PDF version).
There is much more statistical information that you may be interested in about the Thule Force XT roof boxes, and we have all that info on a page. The page describes four size options of Force XT cargo boxes from different perspectives and contains customer videos.
---
JEGS Rooftop Cargo Carrier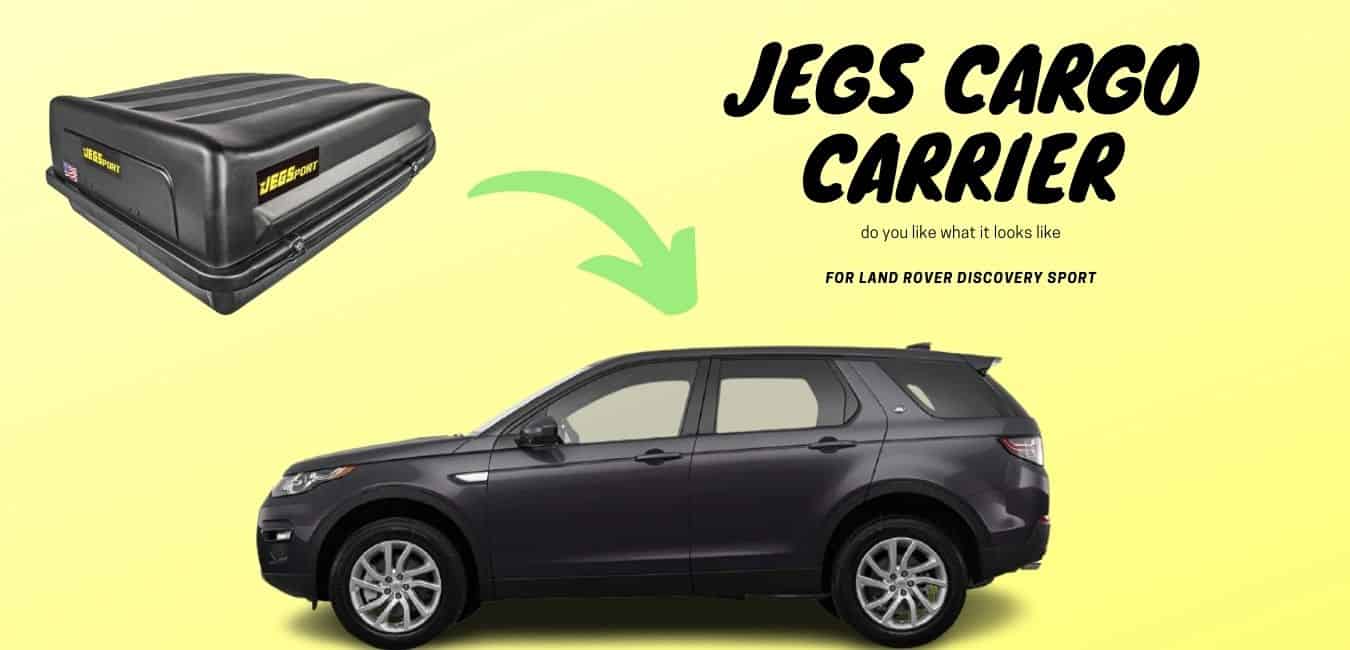 It is the second option for your Land Rover, and it is the cheapest one on this list. You can check the price by using the button below.
It gives you 18 cubic feet of internal space for stowing items on your go, and the weight limit is up to 110 lbs. It is not sturdy as the Thule Force XT, but its price is much more attractive.
The JEGS cargo boxes also have three size options, and you can find information about it on a page.
JEGS Car Rooftop Cargo Carriers Buyer Guide
It universally fits most roof racks: factory, round, square, and aerodynamic. More than 1780 people have tested it in real-life situations, and you can read their feedback on Amazon. If you already have a pair of roof racks, you have to ensure that the distance between the two bars is 24 inches; otherwise, you may need to drill new holes on the bottom of the roof box for a reliable installation.
The quality of the car rooftop box seems flimsy because it weighs only 35 pounds. However, it got a score of 4.5 out of 5 on Amazon; thus, there is no need to grow unnecessary concerns about its quality and features.
We don't like the JEGS roof boxes' lock system, and it seems super flimsy. You may need a lock replacement after weeks of use of the lock system.
It is made of 4-season HDPE plastic materials that make it rugged, waterproof, UV-resistant, and durable; thus, you can use it in extreme weather conditions. It has four corner locks on both sides, and you can open it from either side for convenience.
How fast can you drive with it?
We don't have a regular answer for this question, and you must put safety as the priority above everything else. We have a page that tells you the recommended maximum driving speed with a roof box on top and other tips for having a cargo box during your road trips.
How to repair a roof box?
When you have damaged your roof box after an unexpected incident, you can follow a guide to fix it. This guide shows you solutions to repair scratches or holes on a roof box, and you also learn how to print the broken part to match the original printing.
The JEGS cargo box's dimensions are 61.25 x 39 x 12 inches, and you can load items no longer than 154 cm into it for transportation. If you are an outdoor enthusiast who likes skiing, fishing, golfing, and hunting, the JEGS roof box is not the best one for you because of its length. You can consider using the Thule Force XT XXL option, which is 215 cm long, for your outdoor sports.
---
SportRack Horizon Cargo Box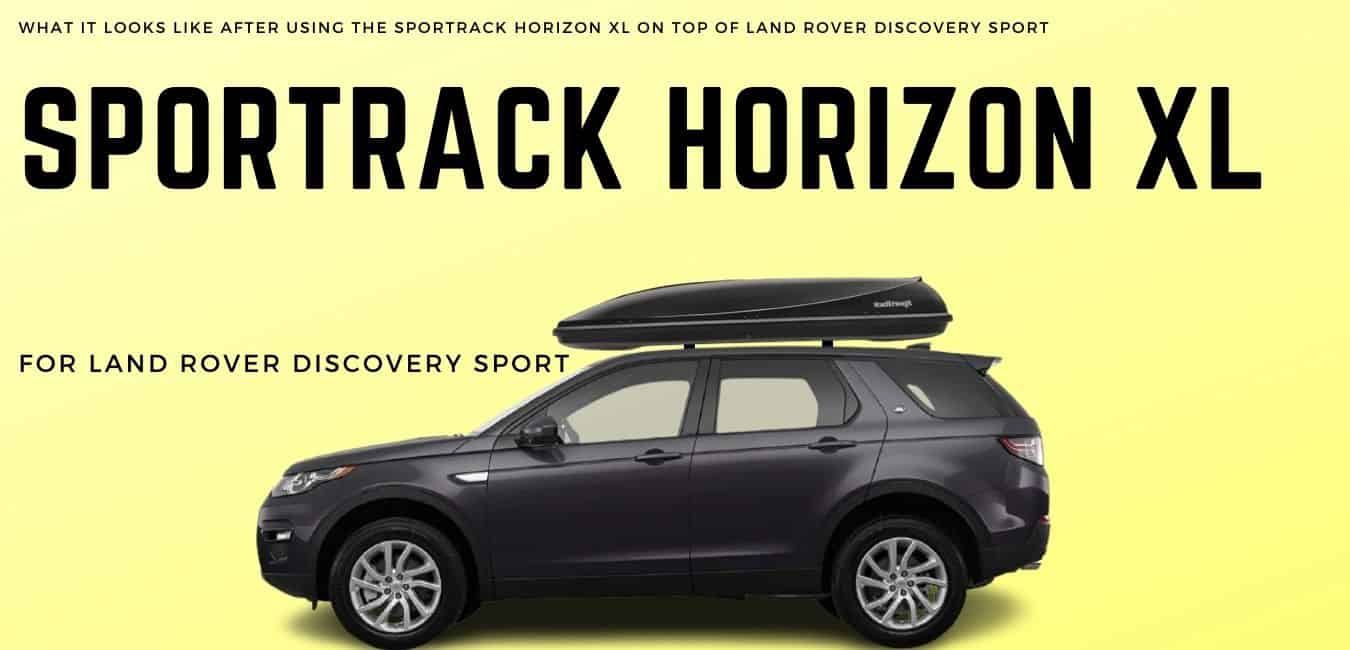 It is the third option for your Land Rover Discovery Sport, and it is our favorite one. Like other options in this article, the SportRack Horizon has three size options: Alpine(11 cubic feet), Large(16 cubic feet), and Extra Large(17 cubic feet). We suggest the Extra Large option for your vehicle because of its loading capacity.
We assume that you have roof racks on your SUV, and you have to ensure that your crossbars are adjustable between 23 5/8″ and 35 3/4″ for mounting the Horizon XL. Otherwise, you must create zero interference between a fully open hatchback gate and the roof box by sliding the cargo box forward or backward. If your roof racks are non-adjustable, you may need to drill new holes on the bottom of the Horizon XL to allow the connection between clamps and bars.
The Horizon XL is 217 cm long, and it is perfect for long gear like skis, snowboards, hunting equipment, fishing rods, golf clubs, and other stuff. We like the Horizon XL's aerodynamic design because it reduces wind noise and decreases the waste on gas mileage.
SportRack Horizon Car Rooftop Cargo Carriers Buyer Guide
How to eliminate the roof rack or cargo box wind noise?
We have found some solutions to deal with the unexpected whistling sound when you drive with a roof box or roof racks on the highways.
We don't like Horizon XL's lock mechanism, and it may need a replacement after weeks of use like the JEGS roof boxes.
SportRack Horizon roof boxes are trustable in quality, but they are not as popular as JEGS cargo boxes. Horizon cargo boxes only have 297 global customer opinions on Amazon, and it has a score of 4.5 out of 5.
How to install a cargo box?
It is a frequently asked question among users, so we have done some research on this topic. Roof boxes have almost the same installation process, and the differences exist in detail. You can read an article to learn how to mount a roof box from start to finish in general.
How to store a roof box?
After buying a roof box, you may require space to store it. If you have a garage, you can use a multi-liter to hang it up to the ceiling in your garage and release the floor to daily use.
How to clean a roof box?
After a road trip, you may need to offer a shower to your roof box. However, how to do it like a pro? Follow a guide on our site to clean your cargo box from dirty to neat.
---
Thule Pulse Roof Boxes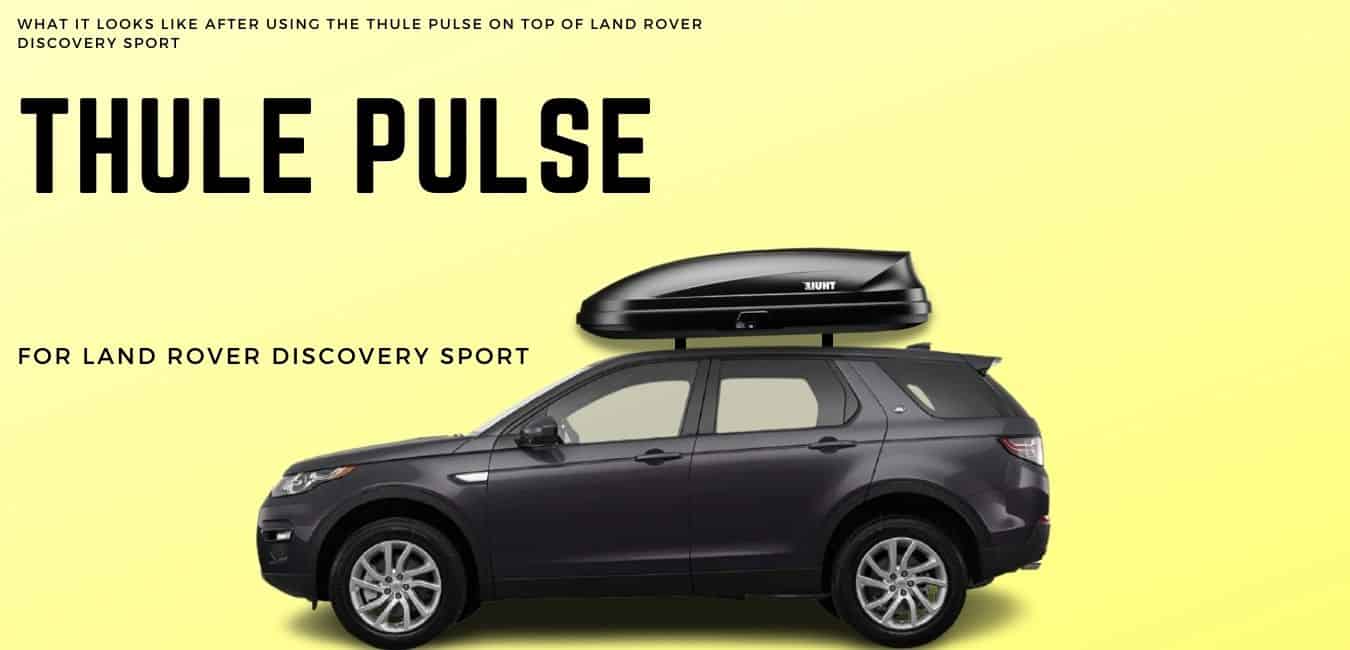 It is the fourth option for your Land Rover Discovery Sport, and it is the last one here. Like the other options here, the Thule Pulse series has three options: Large, Medium, and Alpine. We highly recommend the Large model for compers, the Medium model for smaller families, and the Alpine model for long gear owners.
It is another product from the famous Thule brand, and it has top-class quality. The perfect aero design makes it look modern and fashionable; otherwise, it fits your Land Rover's luxury style.
Thule Pulse Cargo Boxes Buying Guide
It fits on most roof racks: round, square, factory, and aero. If your rack bars are non-adjustable, you have to make sure the distance between the front bar and the back bar is at least 23 5/8″; otherwise, you cannot mount the roof box except for drilling holes to fit. When installing a roof box, you can adjust its position forward or backward until there is no interference between the cargo box and a fully open hatchback door. 
What is the best position of a cargo box?
Front towards the front.
The back faces the back.
It should be straight to the car's head without angles.
No interference with the hatchback door and antenna.
No block to the driver's visibility.
If possible, mount the cargo box on the middle of the crossbars.
Tips for using a roof box – be prepared before getting a roof box.
If you want to know more about the Thule Pulse cargo box's specifications, dimensions, features, and more, you can refer to a page to generate more detail about it. The page has enough information to let you know what you need to know for making a decision.
---
More Options For Your Consideration
After checking out the above cargo boxes, you don't find your favorite; then, you can take a look at the below choices. They may fit your tastes and fulfill your outdoor dreams. You can also check cargo carriers for other Land Rover Models: Range Rover Evoque, Land Rover Discovery 4/LR 4. After having a rooftop cargo box, you may still need more storage for more luggage or gear. You can haul more things with a hitch-mounted cargo carrier because of your Land Rover car's outstanding towing capacity. First, does your Land Rover has a hitch receiver head at the back? If it does, continue to the next step; otherwise, contacting the local Land Rover dealer to order trailer hitch components and install them on your car. Second, do you know the size of the receiver head? You can check it with a ruler. Third, you can go to the market to find a compatible hitch cargo carrier that you can use to create extra trunk space behind your Land Rover. We find some high-quality hitch cargo carriers that you can use to load more things on the roads. You can use some hitch cargo carriers with ramps for delivering large devices like scooters, furniture, lawnmower, or wheelchair.
SportRack Vista XL
---
Thule Vector Rooftop Cargo Box
---
Rhino-Rack Masterfit Cargo Box
---
Cargo Boxes On Lander Rover Gallery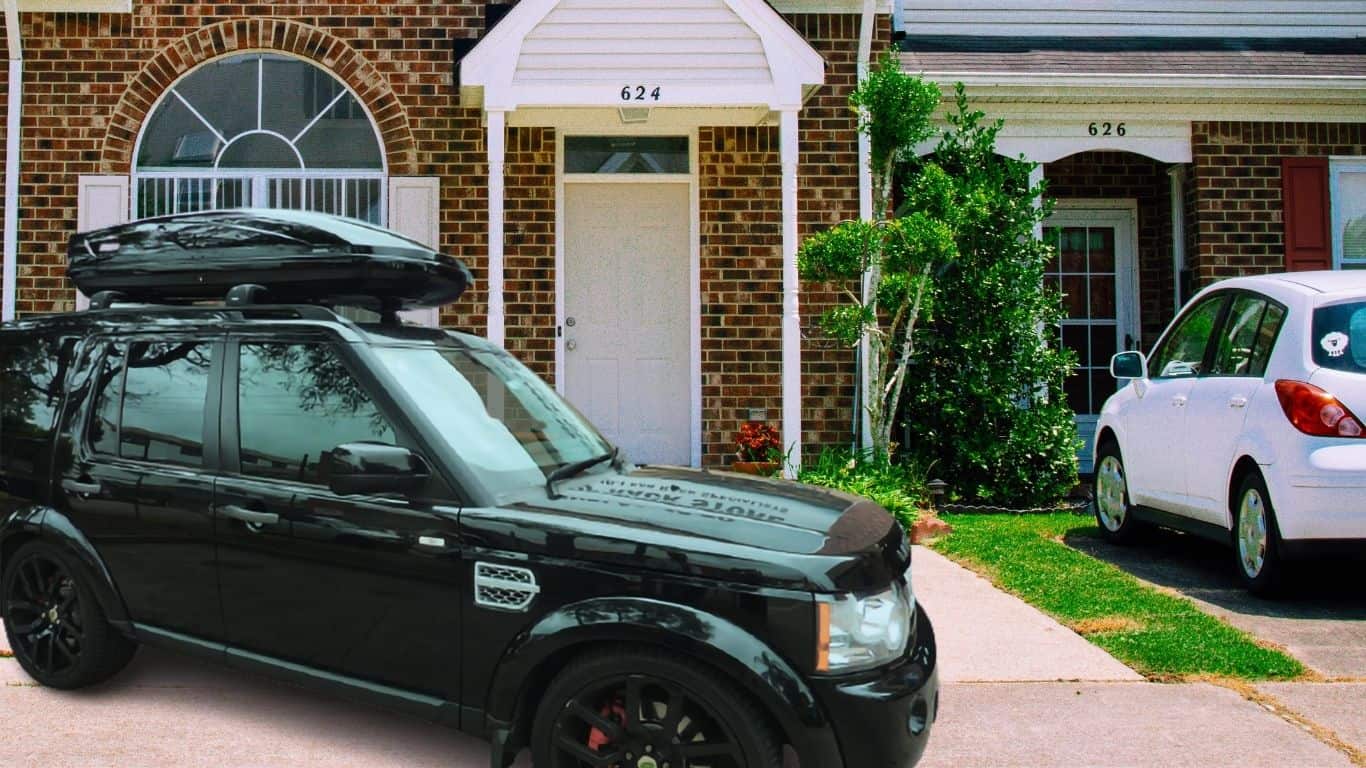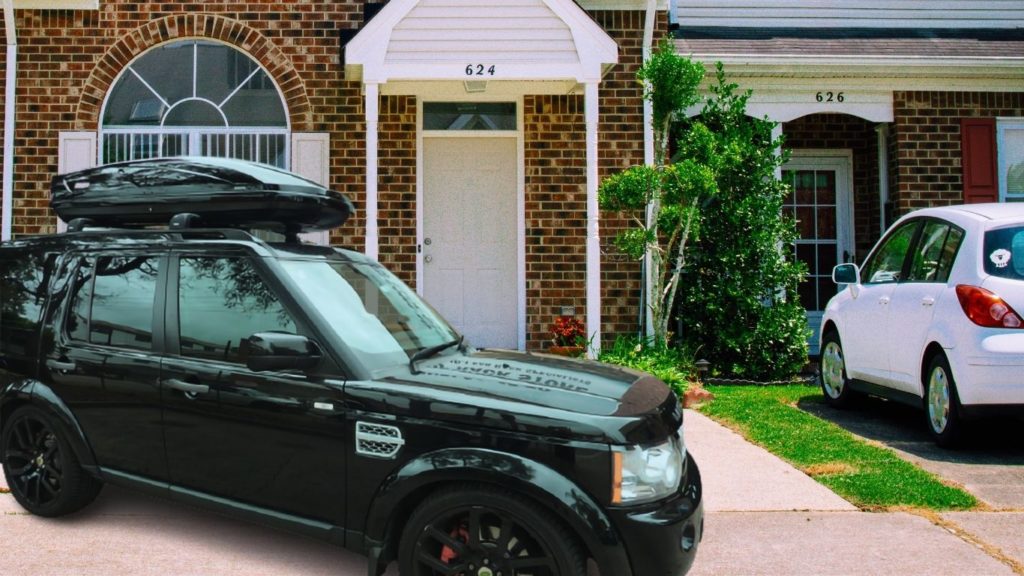 In Conclusion:
In this article, you can find many compatible cargo boxes for Land Rover Discovery Sport; then, you can compare them to find the best one that fits your needs. At the beginning of the content, you can learn the first step before buying a roof box; besides, you can use those links to find a suitable roof rack system for your car in minutes.
We highly recommend some articles in the User Guide category for building knowledge on choosing and using a cargo box.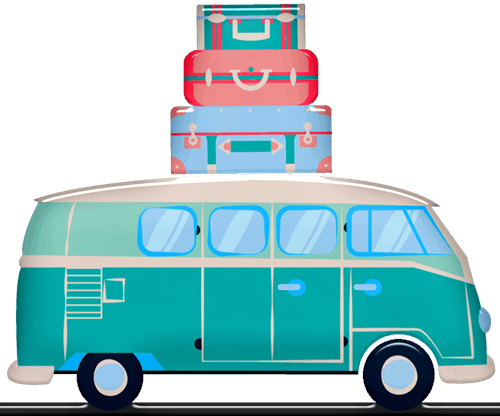 Our team is creating outdoor-gear relevant articles with passion. If our articles can help you to find the correct solutions for your questions, we will be happy about that. In the content creation process, we usually collect accurate and useful information online or offline to compile our content in an organized way. Consequently, we can guarantee that you can discover some expected answers to your questions. We appreciate your time on our site.
We are reader-supported. We get commissions for purchases made through links in this post, As an Amazon Associate we earn from qualifying purchases.