Last Updated on November 27, 2022
Today, we want to share must-know information about the TACTIK rooftop cargo carriers. Why do you need to read this article before getting one for your car? After reading through this content, you can better understand using, installing, and maintaining a rooftop cargo box, whatever the brand is.
You are here because you want to find a roof box for your car and carry enough luggage and gear for outdoor journeys. You know these cargo boxes can create additional space above your vehicles and keep your belongings safe and dry during the trips. As a result, you can free up the trunk space for other essentials.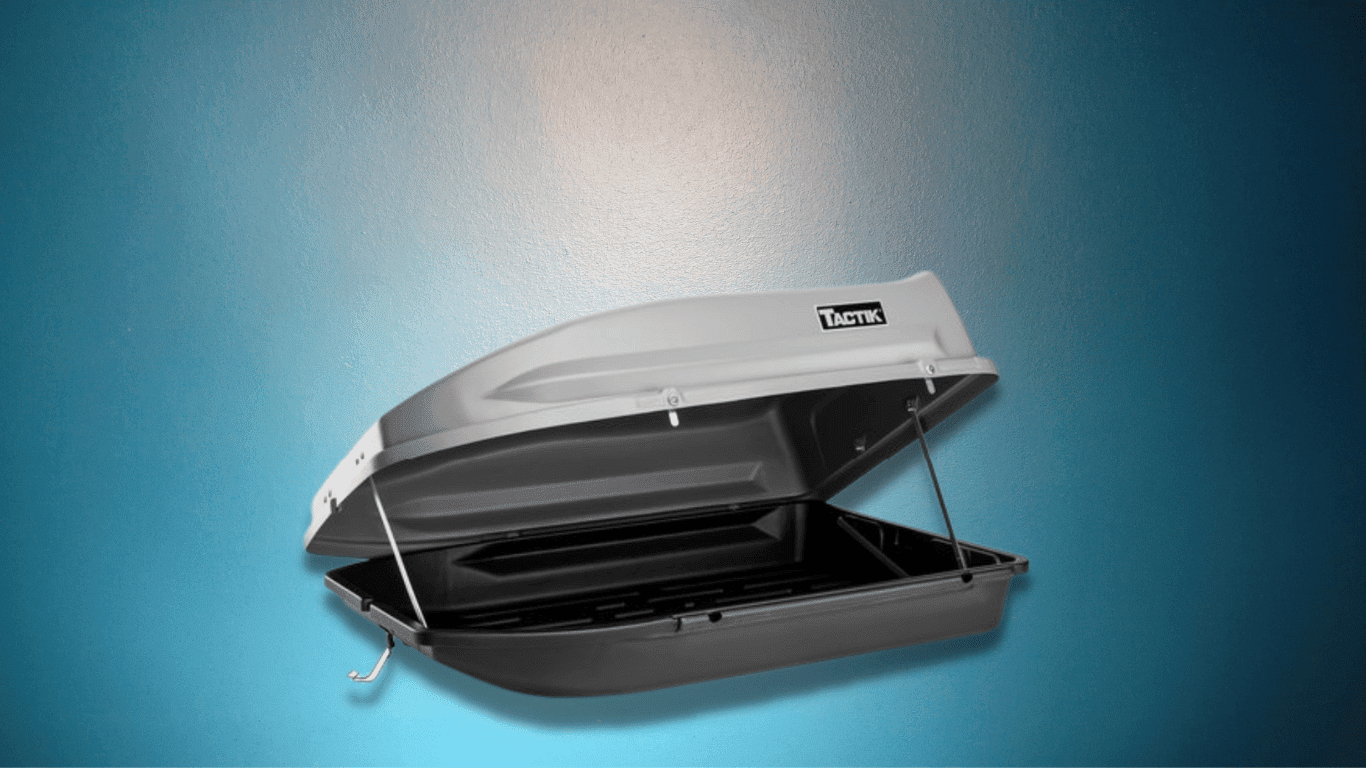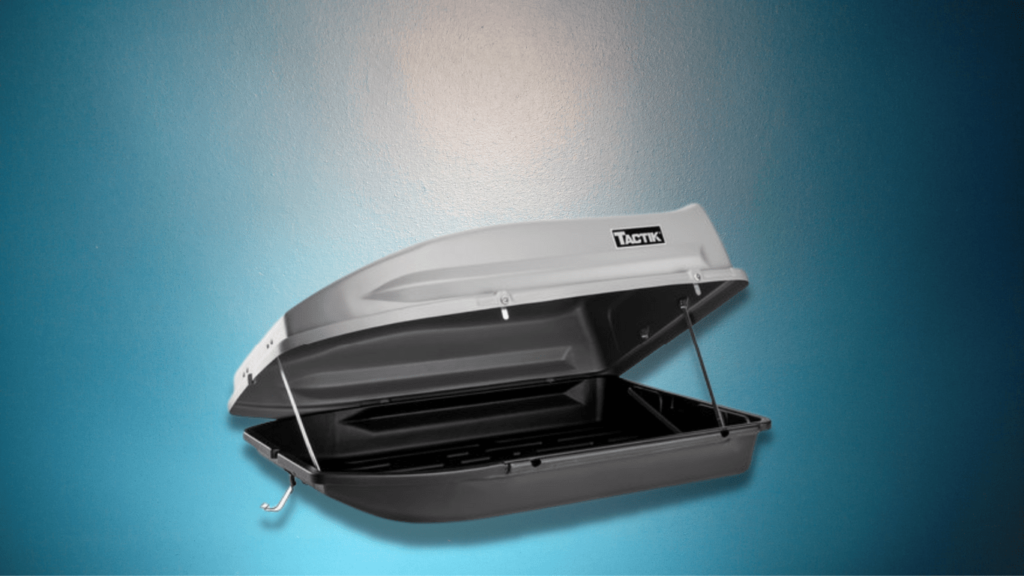 Background Information:
What are the differences between TACTIK roof boxes and other roof boxes on the market? You can find details later in this content. When comparing hardshell car roof boxes, you should remember these elements like loading capacity, materials, installation hardware, bar space(the distance between front holes to the back holds at the bottom of the box), dimensions, and compatibility with your vehicle. After checking on these elements, you can decide whether the TACTIK cargo boxes are right for you.
We use this article to provide information that helps you to get a clear understanding of the TACTIK roof boxes.
Before we dive into the content, you should know something before thinking about adding a cargo box or other rooftop cargo carriers to your car. Can you see two crossbars on top of your vehicle? What are crossbars for cars? Crossbars are two horizontal bars that go from the left to the right above your car roof, and these bars usually lock on car roof rails; however, you can find crossbars that work without car roof rails.
Related Topic: what are roof rails, crossbars, and roof racks?
After you find a pair of compatible roof crossbars, you can choose a rooftop cargo box for your vehicle to load more stuff on the roads for different outdoor activities. Cargo boxes, baskets, and soft roof bags are three common choices for outdoor enthusiasts, and hardshell roof boxes are the most secure options. Rooftop cargo baskets are the least safe choice, but these baskets are the most versatile products.
Recommend Reading:
Detail of the TACTIK rooftop cargo carrier
Name
TACTIK Rooftop Cargo Carrier
Brand
TACTIK is a US-based manufacturer that produces automotive products like wheels, roof boxes, and car decorations.
Size
Large (46.5 inches Length x 30.5 inches Width x 17.75 inches)
X-Large (57″ L x 38.5″ W x 17.75″ H)
Color
Gray and Black
Opening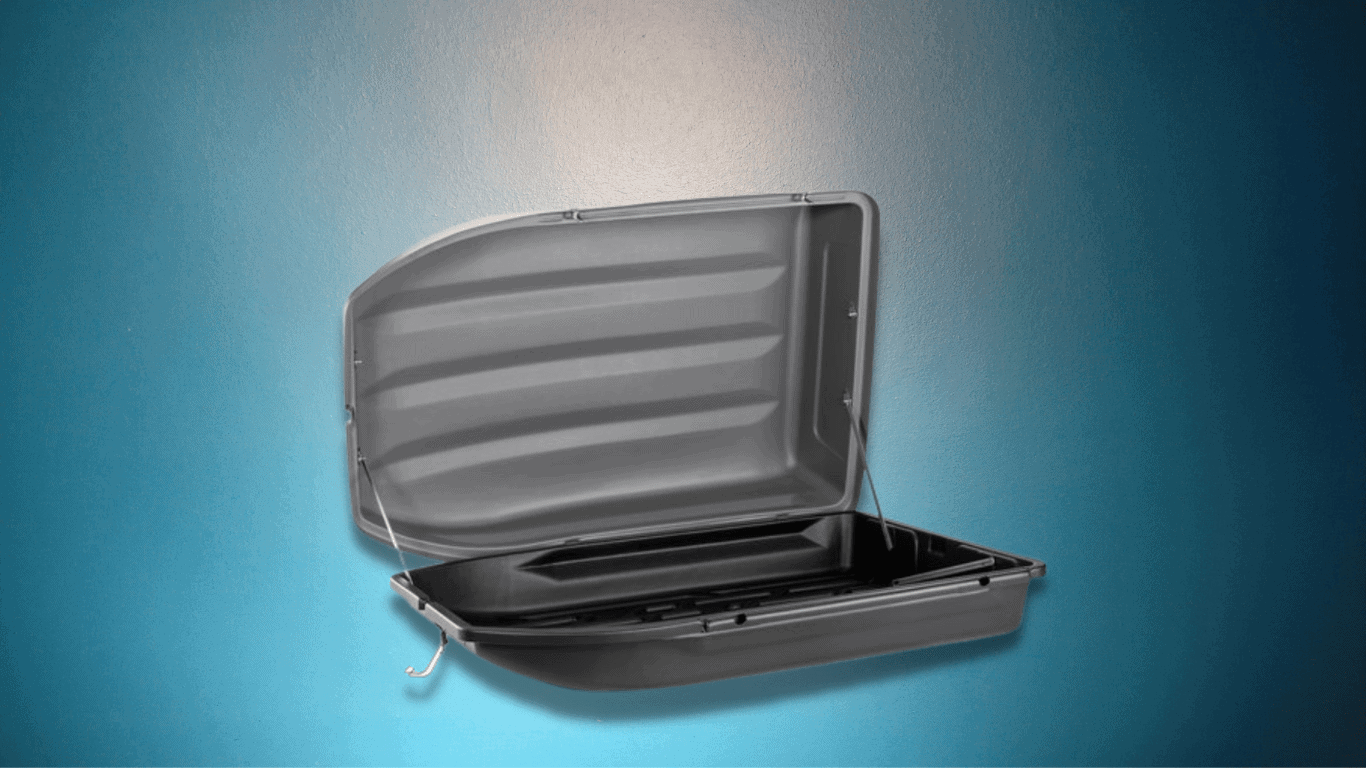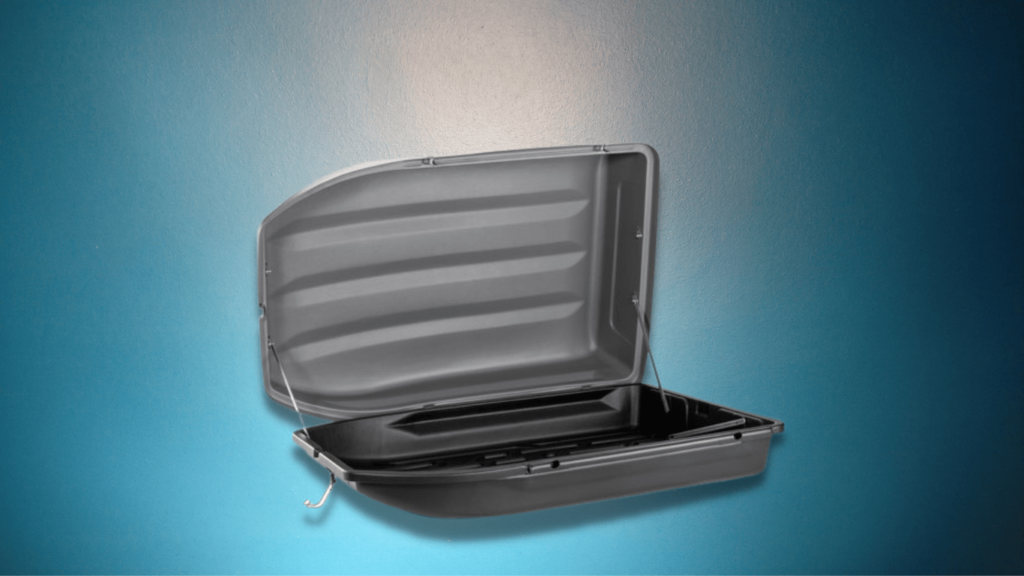 The dual-side opening feature allows you to open and lock the cargo carrier from either left or right. This feature offers a big help when loading or unloading a roof box, so we prefer to use a roof box with a premium both-side opening feature.
Although hardshell roof boxes are the most secure option among many other rooftop cargo carriers, you can add security tactics to a roof box to prevent theft. When you enjoy vacation time far away from your vehicles, these strategies can protect your cargo box from bad people.
The TACTIK roof box has 4 corner locks that protect your belongings from water and other natural elements, but you better apply lubrication powder to all the lock cores to make them work smoothly. If you encounter incidents that damage the lock system, you can contact the seller to purchase a replacement.
When you don't have a key for the lock system, you can refer to a post to find methods to open a locked roof box without keys.
Waterproof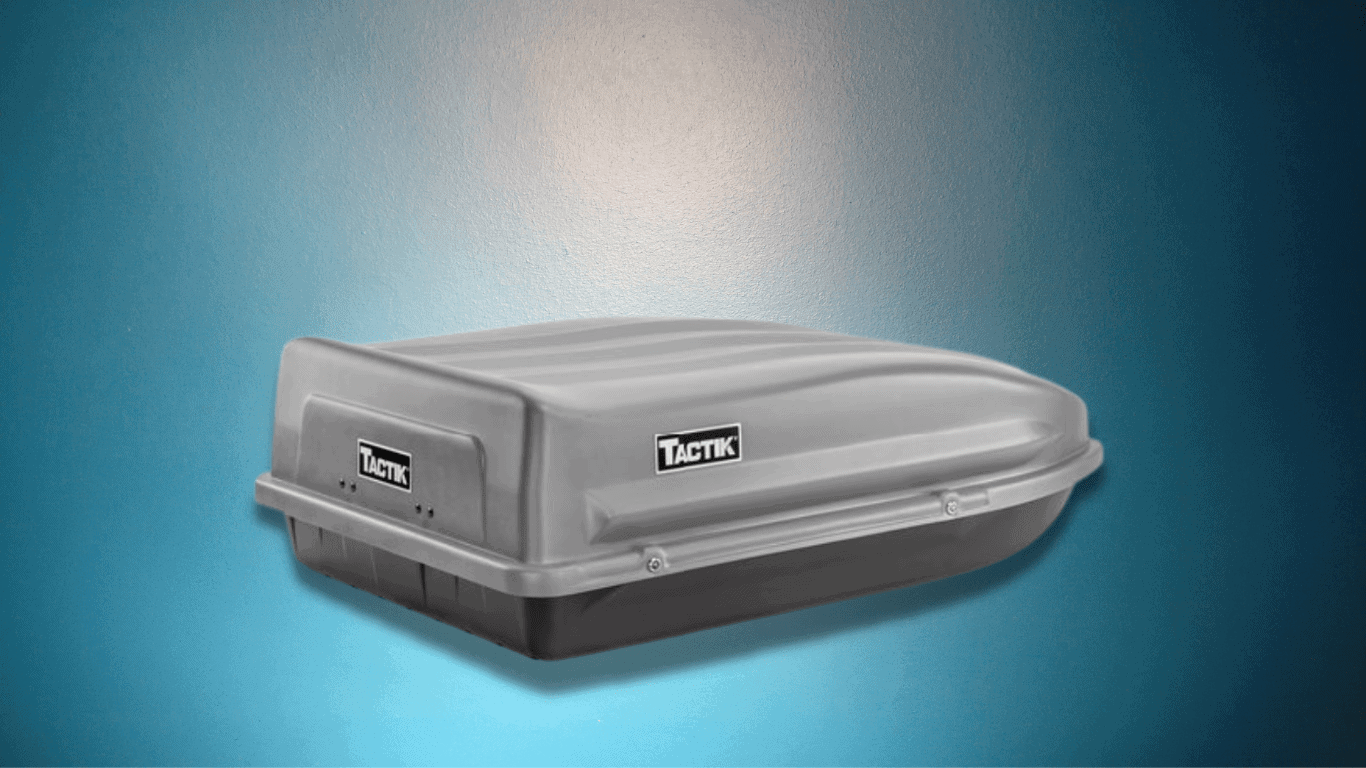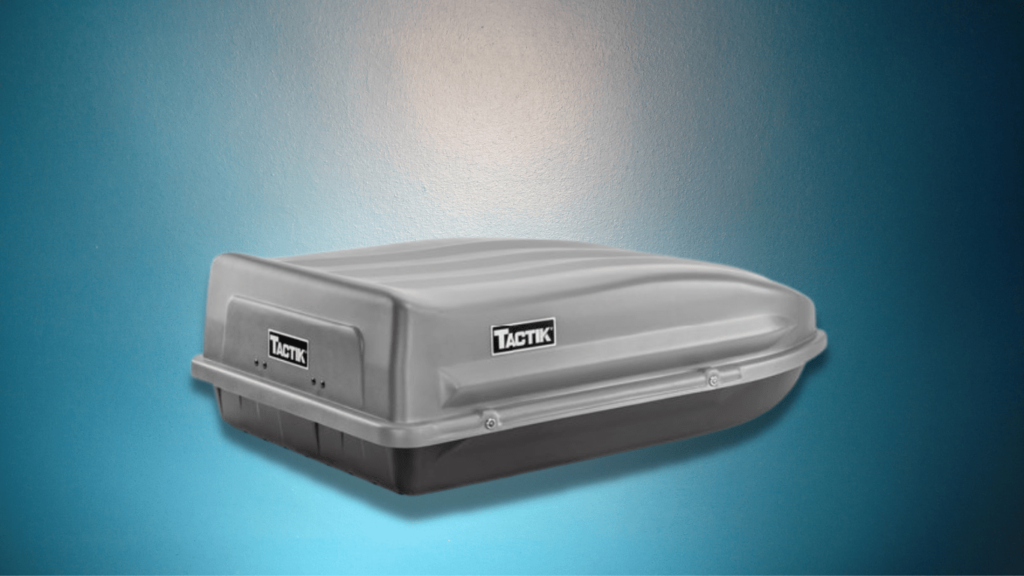 Most hardshell roof boxes are waterproof because of their materials. The TACTIK roof boxes are combinations of polyethylene plastic materials, so these boxes keep your stuff dry on rainy days, even in storms.
If you accidentally damage the surface of the roof box, you can go to any auto shop to hire professionals for the fix; otherwise, you can purchase some items to DIY the repair process.
Load Capacity
Large: 10 cubic feet
X-Large 18 cubic feet
Both size options allow you to load up to 110 lbs of items, and you must not overload a roof box because of safety concerns. Most manufacturers seriously prohibit users from exceeding the loading limit of their rooftop cargo boxes. Otherwise, we recommend you read through an article that tells you what you cannot do with a roof box.
When packing items in a roof box, you should use extra straps to tighten things down to the bottom for better stability. We find 10 accessories that you can use to make a roof box more convenient to operate and store.
Compatibility
TACTIK hardshell roof boxes are compatible with most factory, round, square, and aerodynamic crossbars. If you don't have roof bars for your car, you should contact the local dealer to order one for fewer compatibility issues.
You should check and ensure that the crossbar spread is between 24 inches; otherwise, you also need to check if your existing bars are within the allowed dimensions: height(1-3/16″) and width(1-3/4″). If your installed roof bars are out of the range in measurement, you cannot fully lock the mounting brackets on the crossbars.
Aerodynamic
The TACTIk roof boxes have aerodynamic designs that reduce the wind drug and minimize the waste of energy; otherwise, aerodynamic designs also level down the wind noise effect. If you have concerns about wasting extra gas while using a rooftop cargo box, you can refer to this article to find the theory of the issue.
Installation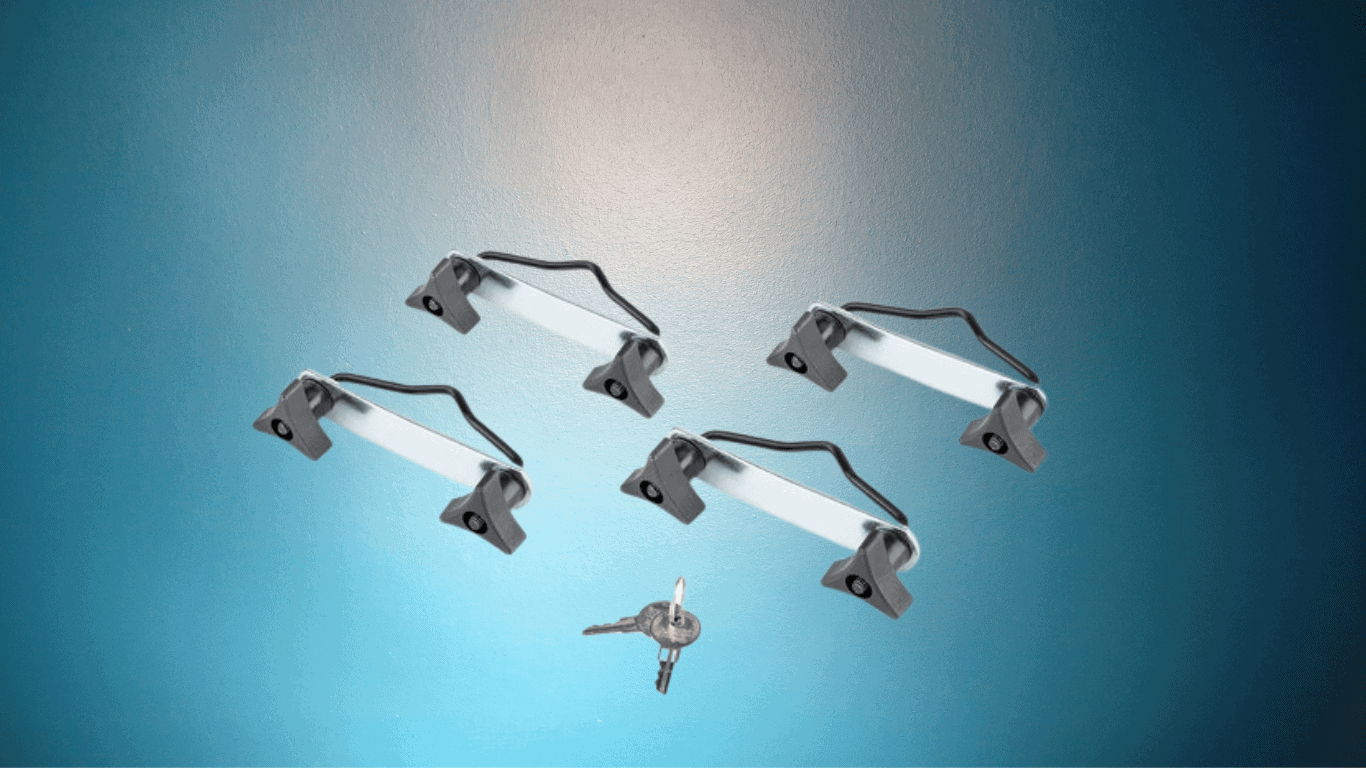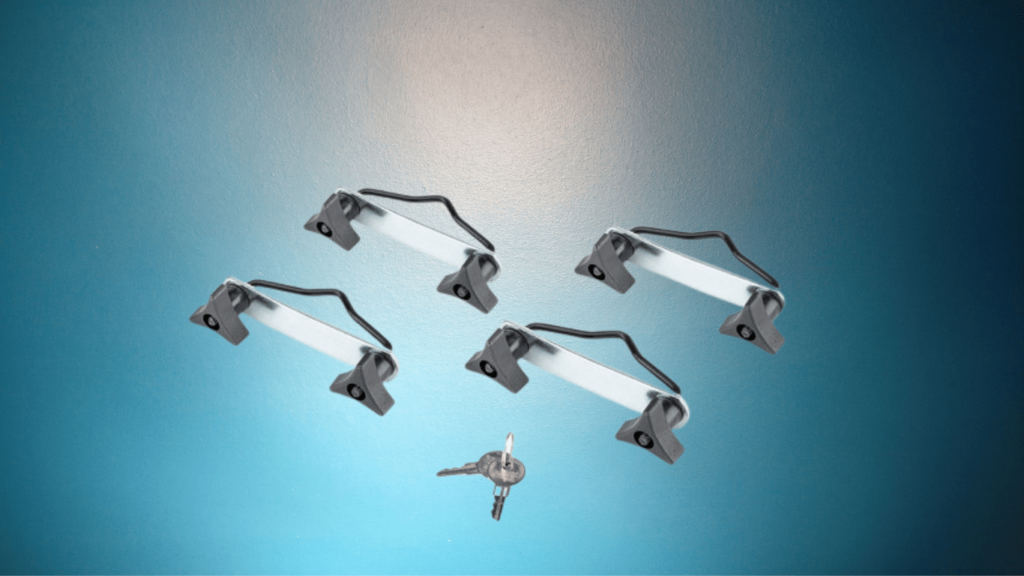 You can find 4 mounting pieces of hardware in the package for installing the cargo carrier on top of the roof bars. It is a straightforward process that you can do alone without any tools or assistance. However, we recommend you lift the roof box with someone else because of the potential risks of falling it down to scratch your car printing.
When rotating the knobs, you should control the force to not over-twisting those triangle knobs. Over-twisting can cause serious safety problems, and multiple loose brackets cannot hold the roof box in position when it is in motion.
You can follow this guide to find a general installation process for most car roof boxes.
What is inside the package?
You can find 5 things in a package.
Mounting hardware: 4 brackets + 8 knobs
Mounting Plates: 4 pieces of plates
Instructions: Manual book
Lock: 4 keys
Roof box: TACTIK rooftop cargo carrier (in two pieces)
You need a simple assembly process before attaching the cargo carrier to your car for installation. When you get the package in hand, you find two pieces of plastic surfaces (bottom and top). You combine these two parts together to get a whole roof box, and when assembling these two surfaces, you should keep the locks in unlock position. While putting the top surface to the bottom one, you should ensure the lock latches go through the bottom surface. Then, you can lock the key to get a whole piece of TACTIK roof box.
During the installation process, if your car's existing bar spread is out of the required range for the TACTIK cargo carrier, you can drill new holes at the bottom surface of the box with a 9/32″ drill bit.
Conclusion
In this article, you can find must-know information about the TACTIK rooftop cargo carriers. You can compare this cargo box with other rooftop roof boxes to judge if the TACTIK is the right decision for your future outdoor activities like hiking, hunting, road trips, camping, training, and more.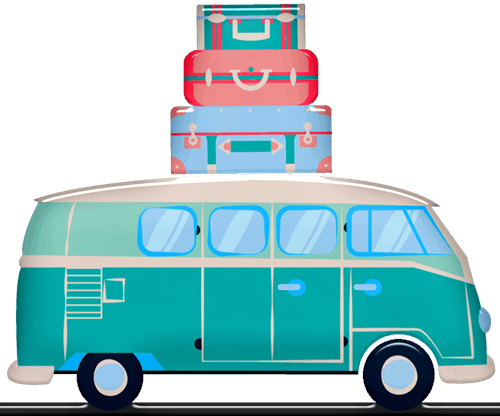 Our team is creating outdoor-gear relevant articles with passion. If our articles can help you to find the correct solutions for your questions, we will be happy about that. In the content creation process, we usually collect accurate and useful information online or offline to compile our content in an organized way. Consequently, we can guarantee that you can discover some expected answers to your questions. We appreciate your time on our site.
We are reader-supported. We get commissions for purchases made through links in this post, As an Amazon Associate we earn from qualifying purchases.