Last Updated on February 1, 2023
This article is for Camry owners who want to boost their sedans' roof-loading capacity and safely carry more luggage or gear with a rooftop cargo box for different outdoor journeys. Most people use cargo carriers to load camping equipment, hiking gear, skis, snowboards, kayaks, and road trip luggage. If you are still confused about why people need a cargo carrier, you can refer to an article to find some common reasons and guidance about what you can do with a rooftop cargo box.
Cargo boxes are not things you can directly install on your Toyota Camry, and you must have roof racks (crossbars) to make it properly work on the car roof. We are here to help.
Before adding cargo carriers (cargo boxes, bags, baskets) to your Camry, you should prepare some knowledge about the relationship between these terms; as a result, we have an article for people who want to get the points and understand how these things work together.
Every car has a roof loading limit, and so does your Camry; thus, you should follow the dynamic roof loading limit to put luggage on the roof racks. You can find the car roof loading limit in the manual or by contacting the manufacturer. After searching relevant information on the Internet, we find Toyota Camry's roof loading limit is between 100 – 165 lbs. If your Camry has a panoramic sunroof, you must obey the rule in the article "How Much Weight You Can Load On Top of Your Vehicle " and reduce the overall weight by about 10 to 20 percent for safety concerns.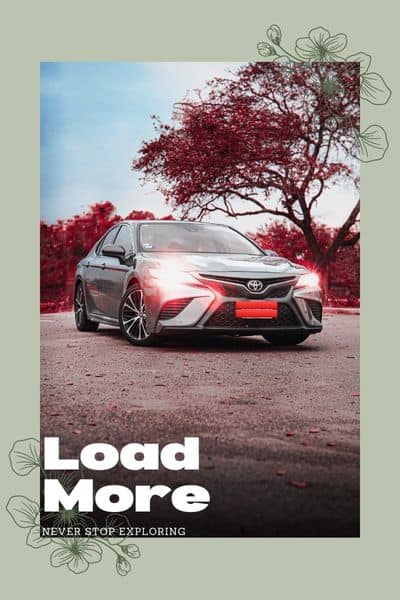 When choosing roof racks for cars with panoramic moonroofs, you can follow the guidance in the article "Can You Use A Cargo Box on Panoramic Sunroof?" to discover some sturdy options.
Toyota Camry has 15.1 cubic feet of trunk space for hauling stuff, but it is far from enough when planning a family road trip. Consequently, some Camry owners decide to build their cargo management system above (on the car roof) or behind (behind the hitch receiver) the sedan to transport enough luggage for better enjoyment of their families' outdoor adventures.
Notice: Roof Racks (crossbars) For Toyota Camry
You can contact the local Toyota dealer to order one or find a pair on Ebay or Amazon. (Compatibility check required)
Quick-Pick List Of 5 Cargo Boxes For Toyota Camry
---
---
---
---
---
Detail of 5 Cargo Boxes For Toyota Camry
Thule Pulse Rooftop Cargo Box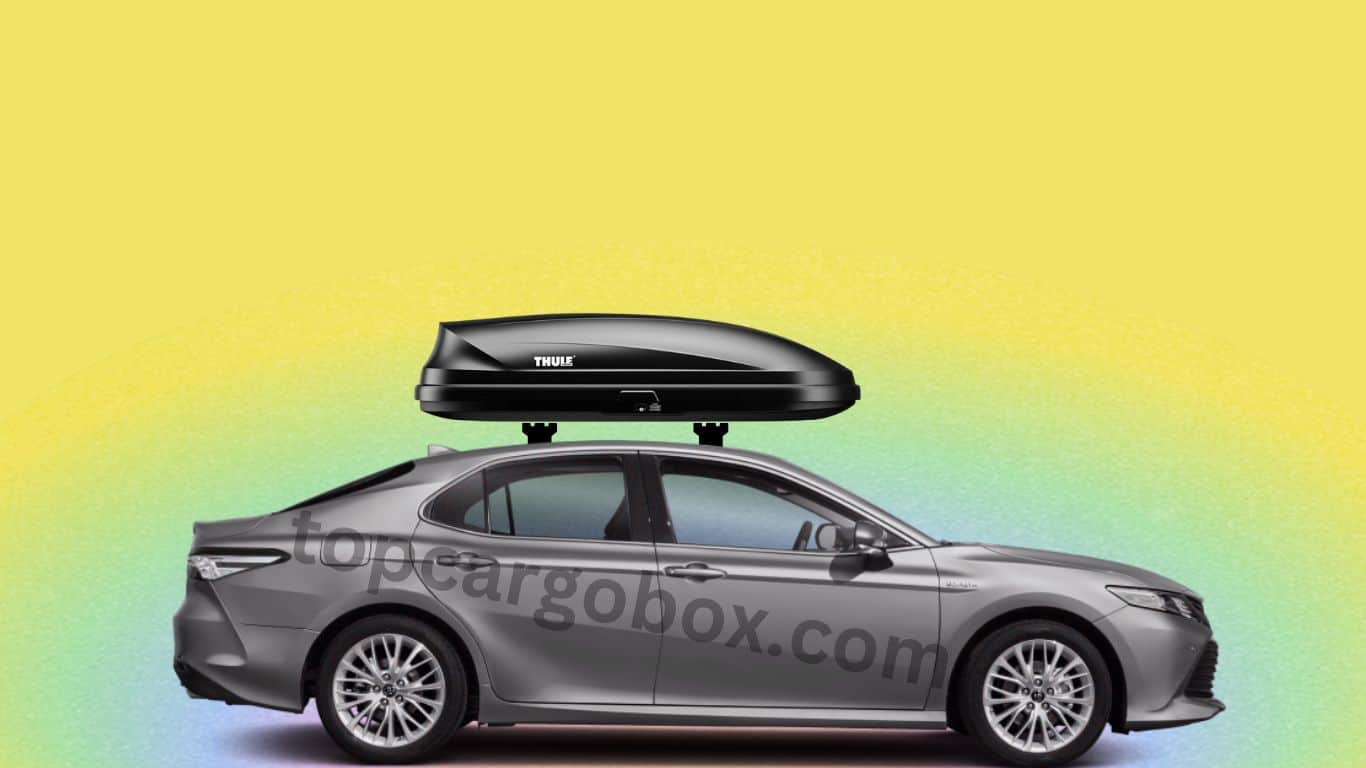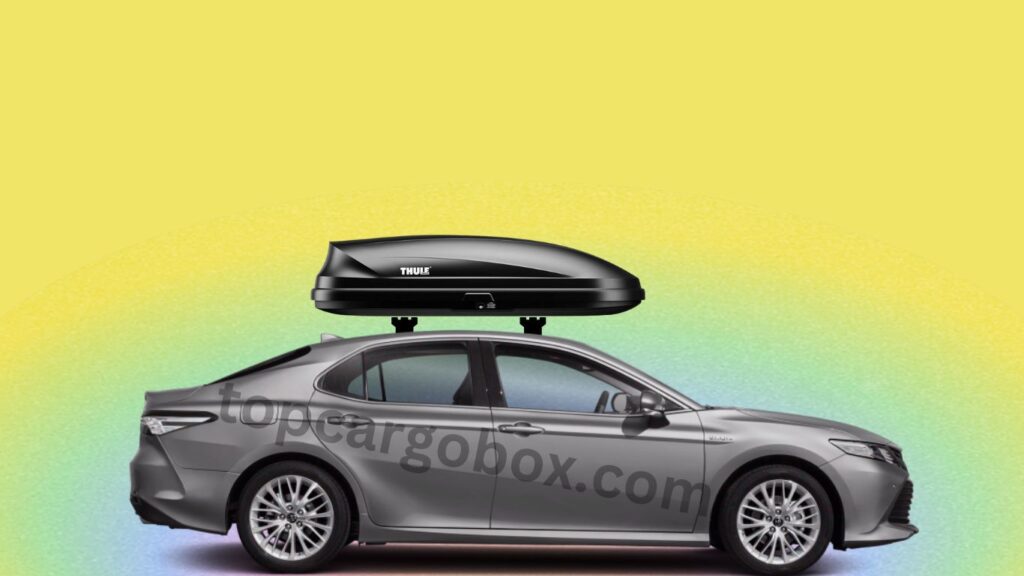 Thule Pulse series has three size options that you can choose for different loading demands. We pick the Medium size for your Toyota Camry because it perfectly fits on Camry and suits most outdoor scenarios. We assume that you have already installed a pair of crossbars above the car roof, then you can start to put a Thule Pulse Medium on top of the roof bars.
Thule Pulse Medium cargo box gives you extra 14 cubic feet of storage room for stowing up to 110 lbs of items, and its dimensions are 67 x 35 x 16 inches or 170.18 x 88.9 x 40.64 cm (L x W x H). You can use these numbers to know if the Thule Pulse Medium fits your items and estimate the height of your Camry after adding a cargo box. If you are looking for a compatible skinny or low-profile cargo box, you can choose one on the list and fit it on your Camry without a hassle.
The Thule Pulse is one of the best-selling boxes in 2021 and 2022, so we believe the Thule Pulse series will stay in the top three in 2023. According to the manufacturers, the maximum length of items you can load into the Thule Pulse Medium is 155 cm. If your gear is longer than 155 cm, you can try the Thule Pulse Alpine model, which allows you to put a 210 cm long item in the box.
We have a list of questions about cargo boxes, and you may find what you want to know; consequently, you can visit the page for knowledge building. If you wonder if a rooftop cargo box can damage your car, here is an article where you can find the most accurate answers.
---
Asinking Car Rooftop Cargo Carrier
If you do not want to purchase crossbars for mounting a hardshell cargo box, you can choose to use a soft roof-mounted cargo bag with or without roof racks. Asinking roof bag is a good option because of its sturdy materials: high-quality 840 PVC fabric. It is a waterproof and durable roof bag that you can use to transport almost everything you need for outdoor living. It offers 21 cubic feet of inner space for storing things, and its dimensions are 52 x 40 x 18 inches or 138.02 x 101.6 x 45.72 cm.
The Asinking roof bag has a zipper system, which provides security to your belongings; otherwise, the integrated lock system prevents the opening of the zipper system and keeps your stuff in a safe condition when you are away from the vehicle. If you require more tactics to make a cargo carrier more secure, you can follow a guide to learn the most effective ways to protect and secure cargo carriers from thefts.
The Asinking roof bag utilizes 2 lashing straps and 6 hooks to mount on your Camry's roof. You can use an anti-slip mat to prevent damage to the car roof when the car is in motion.
Related Topics:
Can you use a pressure washer to clean a soft cargo bag?
What are the differences between hardshell cargo boxes and soft roof bags?
What are the most popular soft cargo bags available?
Do you need crossbars for using roof bags?
---
SportRack Vista Rear Opening Cargo Box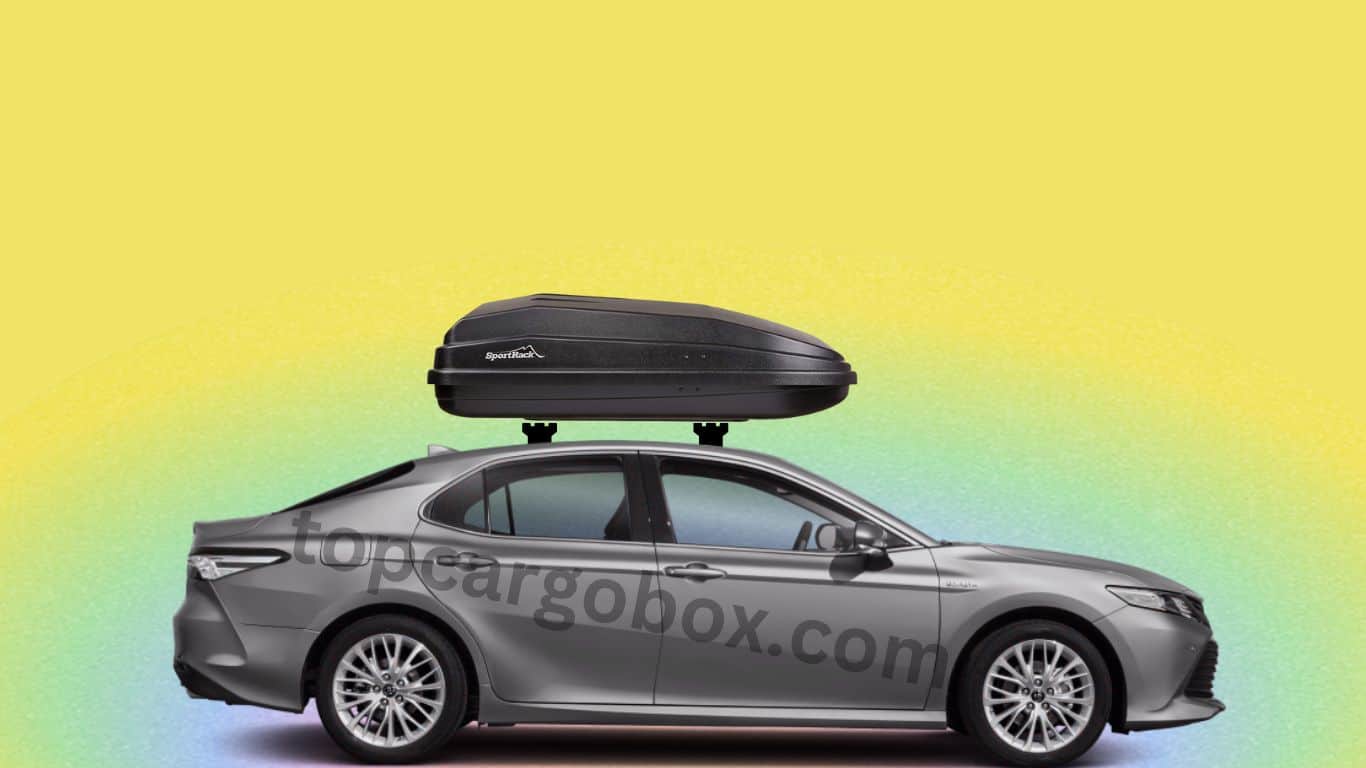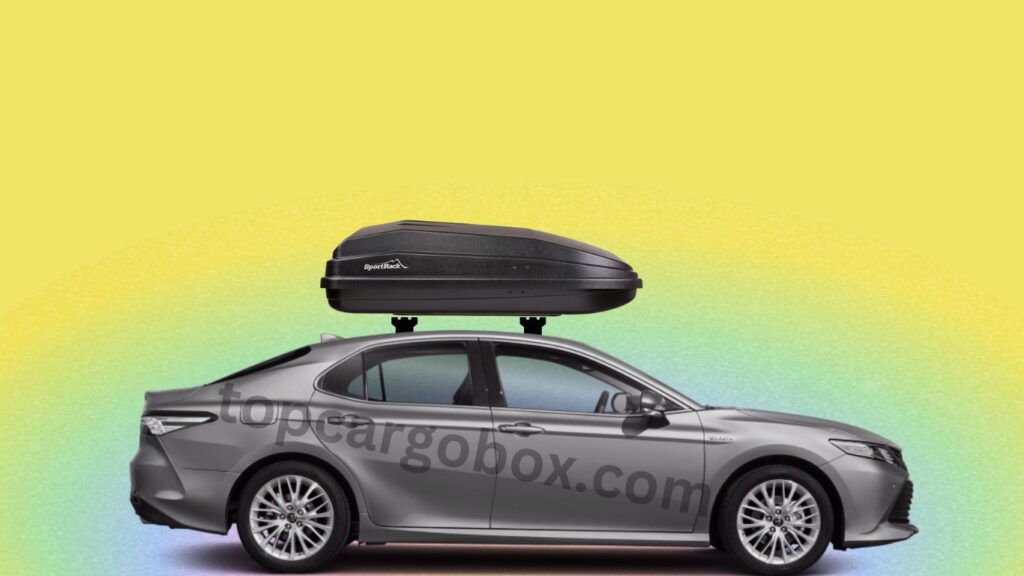 It is the third option that we pick for your Toyota Camry. The SportRack Vista XL cargo box gives you 18 cubic feet of interior space to load up to 100 lbs of stuff. It is made of durable ABS plastic, which makes the cargo box ultra-light, waterproof, long-lasting, and UV-resistant.
You can use four U-shape bolts to lock the cargo box on the roof racks, and the mounting components are compatible with most factory, round, square, and aerodynamic racks. SportRack Vista XL cargo box opens from the rear direction, which makes it easy to load from both sides of the vehicle. However, when you want to close an open one, it is hard to reach the top lid; therefore, you can attach a rope inside the upper cap for convenience.
SportRack Vista XL has an integrated lock system on the box, but the lock core is not rugged enough to last as long as the cargo carrier does; as a result, you can find a replacement from the manufacturer after the lock core is damaged someday. It is possible to make the lock system live longer with proper maintenance, so you can apply lubrication powder to the lock components regularly before and after using the SportRack Vista XL.
---
Yakima Skybox Aerodynamic Rooftop Cargo Box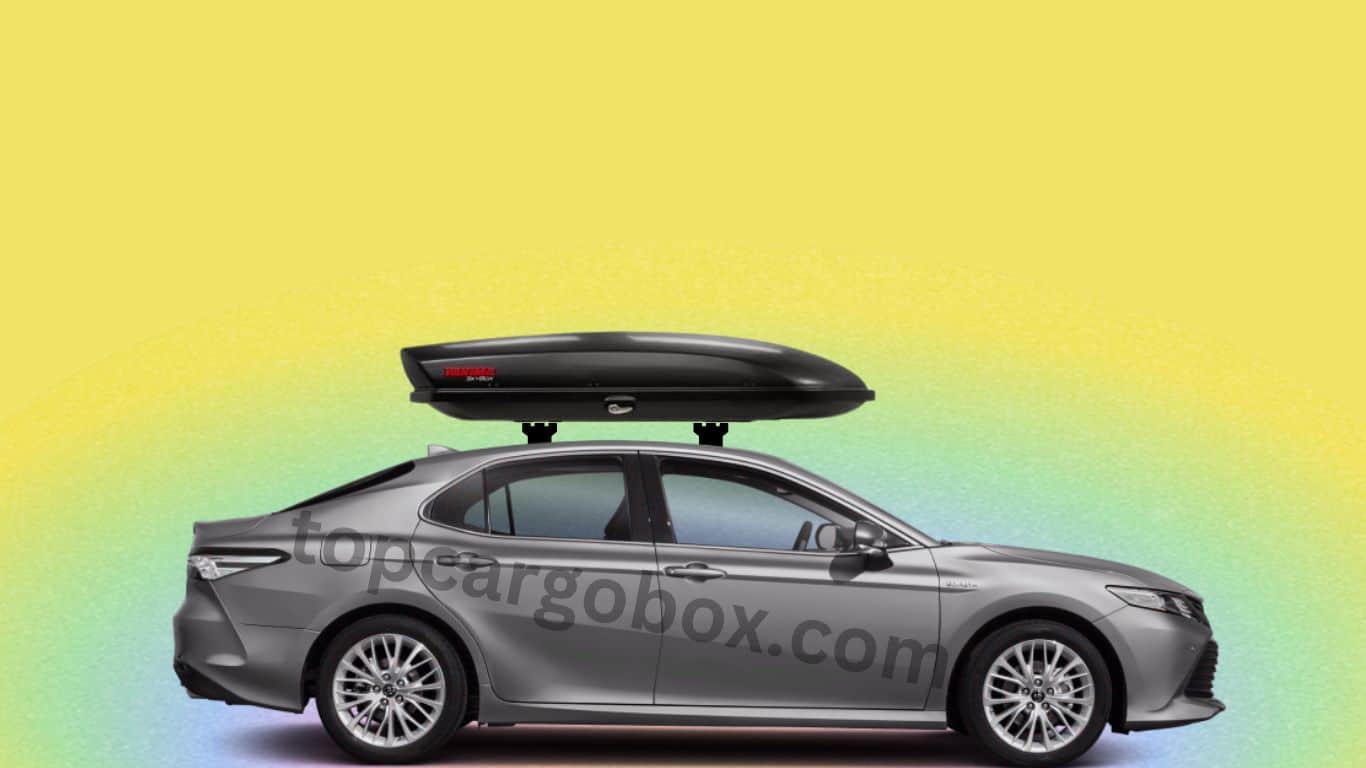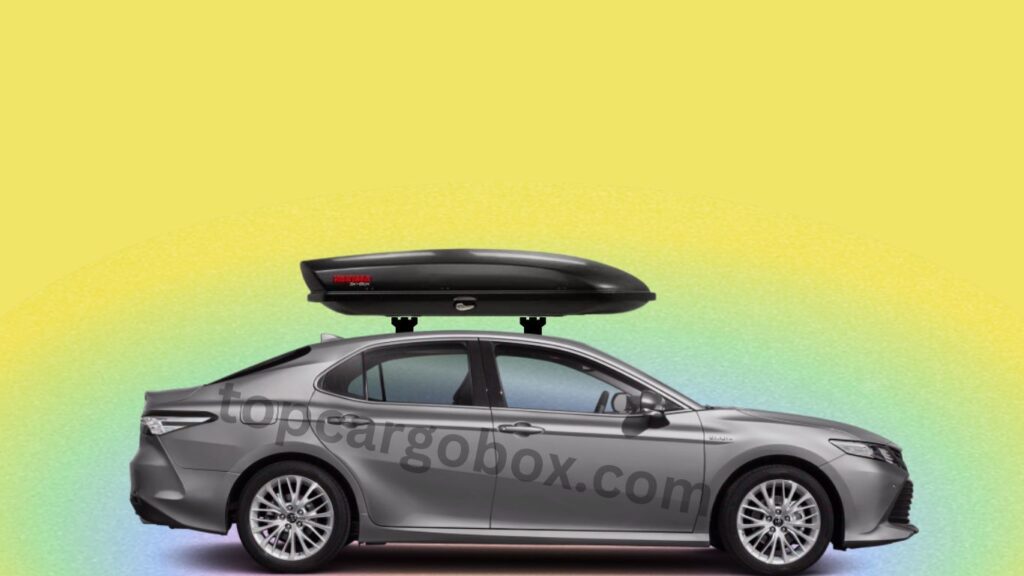 It is the fourth option that we choose to mount on top of your Toyota Camry. Yakima Skybox is not the only aerodynamic cargo box you can find on the market, but you have other better aero-boxes for consideration.
Yakima and Thule are the best brands of cargo boxes, but what are the differences between the cargo boxes of these two popular brands? We have an article to share our opinions on these big names and their rooftop cargo carriers.
Yakima Skybox series has three size options for different outdoor needs, but we choose the 16 cubic feet option for your Camry.
Yakima uses natural carbonite materials to build Skybox boxes, so the Skybox carriers are light enough as 60 pounds or 27.21 kg; moreover, you can lift one alone for installation. The installation process is easy to understand and handle without tools, and you will spend half an hour for the first installation; however, later, you can finish the set-up in minutes.
Skybox cargo carriers have internal stiffeners that hold the box when it is open, so the feature free-up your hand for loading or unloading. Yakima Skybox cargo carriers have a dual-side opening feature, which brings convenience for users when packing the cargo box.
When packing a cargo box, you better know these rules and maximize the effectiveness.
You should measure the distance between two roof bars and ensure the length is between 24 and 42 inches or 60.96 and 106.68 cm. If you get a number within the given range, you can use a Yakima Skybox roof box; otherwise, you may need to drill new holes at the bottom of a cargo box to make it work on the existing crossbars. Most round, square, aero, and factory racks will work with Yakima Skybox cargo boxes, so you are free from worry.
Yakima Skybox 16 cubic's dimensions are 81 x 36 x 15 inches or 205.74 x 91.44 x 38.1 cm (L x W x H). How to use these numbers? You can use the length to test if you can put a specific gear into the box and get a feeling about how long the cargo box will be on top of your Camry. You can use the wide to know if the Skybox 16 is wide enough for your luggage boxes.
Finally, you can use the height number to know how high your Camry can be after adding a Skybox 16. You should beware that the roof racks are approximately 15 inches away from the car roof, so the extra height above the car roof equals the tall of the cargo box + the distance between the roof racks and the car roof. You should drive carefully and pay attention to the extra height after adding a cargo box, especially entering somewhere with height limitations as a garage or underground parking.
---
INNO BRM660WH Wedge Cargo Box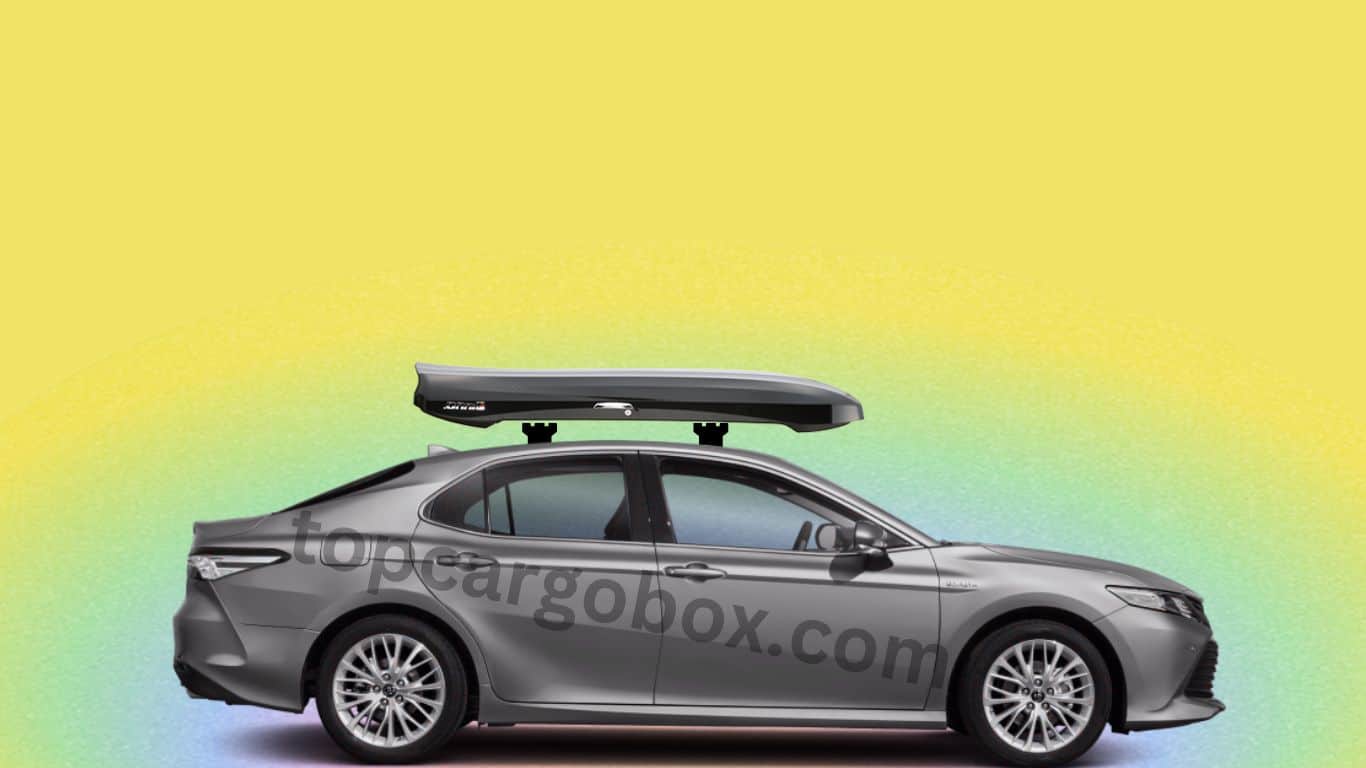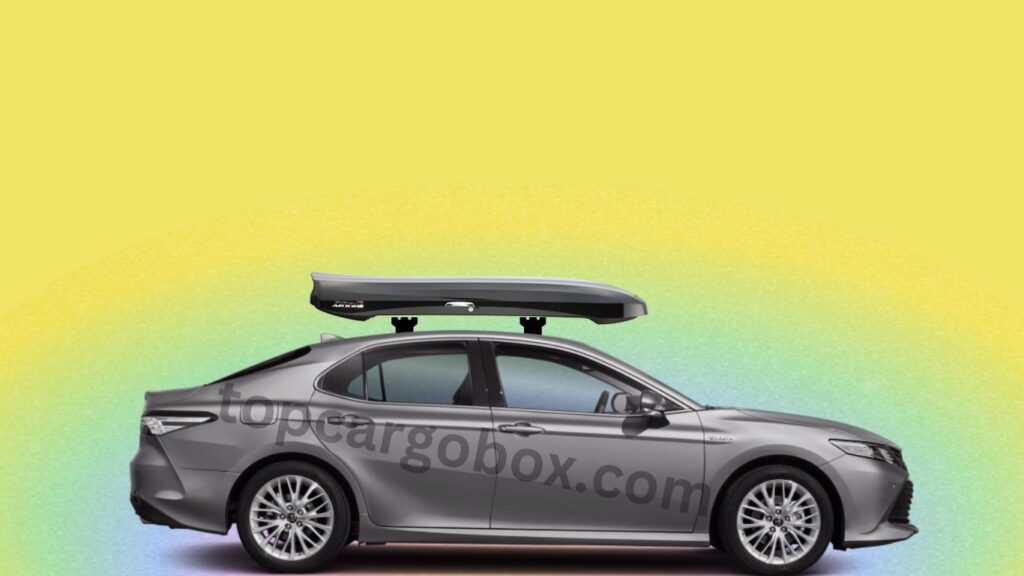 We choose the INNO Wedge cargo box as the fifth option for your Toyota Camry. INNO is another big name in the industry, so you must compare it with other choices. INNO offers two colors for the Wedge series: white and black. If you require a black color model, you can tell the seller on Amazon to ship a black model to your address.
White cargo boxes are rare, but we find some for people who drive white cars. INNO Wedge box provides 11 cubic feet of storage space for carrying what you need on a road trip, and its measurement is 80 x 33 x 11 inches or 203 x 83.82 x 27.94 cm. You can use these numbers to do what we have discussed above.
This box opens from both sides as other options above, and it is a plastic-made cargo carrier that weighs 42 pounds/19.05 kg. It is better aerodynamic than most options in this article, and it won't waste too much gas mileage and cause too much wind noise. The soft cargo bag brings more concerns on these two issues. INNO Wedge boxes are fitting on most factory, round, square, and aero crossbars, so it is not a question. You can find more detail about INNO boxes in this article.
---
Final Words
In this post, we shared our opinions on 5 roof-mounted cargo boxes that Toyota Camry Owners can use on their sedans. You can compare these options to find the most compatible selection and bring your outdoor living to the next level with enough necessary items.
When choosing a cargo box, you should follow some tips and focus on crucial factors to avoid mistakes. You can use a cargo box for years with proper maintenance, so you should accurately store it in the garage when it is not on duty.
You can use our site to know more before getting a cargo box for your Toyota Camry. You can use the TOP MENU to navigate the home page and scroll down to find the INFORMATION ARTICLES section; moreover, you can use the page numbers to find topics that help you throughout the process of buying a cargo box.
Thanks for your time. If you find any errors in this post, please report them to us in the comment box below.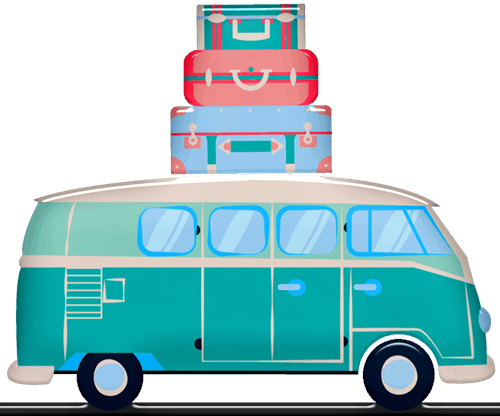 Our team is creating outdoor-gear relevant articles with passion. If our articles can help you to find the correct solutions for your questions, we will be happy about that. In the content creation process, we usually collect accurate and useful information online or offline to compile our content in an organized way. Consequently, we can guarantee that you can discover some expected answers to your questions. We appreciate your time on our site.
We are reader-supported. We get commissions for purchases made through links in this post, As an Amazon Associate we earn from qualifying purchases.