Last Updated on March 16, 2023
Can you drive with empty bike racks? It is a frequently asked question that most bikers want to know within their cycling life. In short, every coin has two sides, and you can leave your bike carriers attached to a car, even if they are not in use; however, most experts don't recommend that because of potential risks and problems. We will discuss these concerns and make you understand the consequences and causes.
If you leave bike racks on a car all time:
These bike racks call for cycling when you see them, and you can keep exercising more often than before.
You can use bike racks to transport dirty bikes and to keep your car clean.
A successfully installed hitch-mounted bike carrier can protect the back of your vehicle as a shield. Some hitch-mounted bike carriers have a tilt feature that allows you to fold up the bike carrier to save space at the rear of a car; as a result, you can safely and conveniently drive your car without taking it off.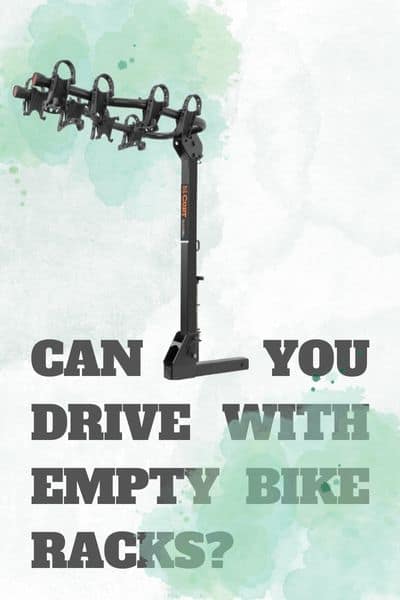 Disadvantages of leaving bike racks on a car all time:
Bike Racks add extra weight to a vehicle and cause more gas consumption and wind noise.
Installed bike carriers may cause damage to your car when you are driving on unpaved territory, so we suggest you not go with bike racks in off-road areas.
If you do not accurately tighten the bike carriers, they may fall or swing when your car is in motion. Sometimes, fallen bike carriers can cause deadly accidents for you and the car behind you. Consequently, you must ensure a solid and correct installation of your bike carriers when you start your trip with them.
Most bike carriers can cause swaying problems, so you can read an article to find tactics to deal with the swinging issue with some working tips and tricks.
How to remove bike racks? Is it necessary?
Before learning how quickly to remove bike racks, you must understand there are different types of bike carriers with particular installation steps. For example, roof-mounted bike carriers require standing and locking roof racks with four mounting hardware. Thus, most users can disassemble roof-mounted bike carriers in 5 minutes and put them in the trunk. On the other side, hitch-mounted bike racks must connect and lock on the hitch receiver head with a safety pin, so hitch-mounted bike carriers require more time to take off them roof-mounted bike carriers.
You better remove the bike carriers before entering an automatic carwash unless it is touchless. Most carwash companies don't allow bike racks or other cargo carriers to use the carwash service because these cargo carriers can damage the washing machine. When the giant brushes hook on bike carriers while they are spinning, the entire washing machine can be stuck and may pull off the bike racks before continuing running. Thus, finally, the carwash company will ask for a fee to repair the damage you brought in, and the company won't be responsible for your loss. You better not use a carwash service when driving with cargo carriers.
Can you leave your bike racks on a car in the rain?
It is ok to leave your bike racks on the car when the outside is raining. However, you should know better maintenance and regular cleaning can keep your bike carriers in good condition.
If you don't maintain bike carriers regularly, the natural elements can accumulate on the bike carriers and affect their performance and durability.
You should follow this guide to learn the most accurate methods to clean and maintain bike racks for better enjoyment.
What to do when you don't need bike racks?
You don't ride bikes 365 days a year, so you must know the perfect solution to store bike racks in the garage.
You can store bike carriers in the garage. There are two basic options for people who want to do so. You can roll up the bike carriers with plastic covers and leave them on the floor or a desk. You also can purchase wall-mounted bike carrier holders to hold bike racks in position. Most wall-mounting holds can hold up to 100 pounds of weight.
Opinions on the specific types of bike racks:
Roof-mounted bike racks:
After securely attaching a roof-mounted bike carrier to your vehicle, you can leave it on the car roof without worrying too much. Most roof-mounted bike carriers are ultra-light, so they won't significantly affect gas mileage or produce too much wind noise.
Hitch-mounted Bike Racks:
A hitch-mounted bike carrier usually hooks on a trailer receiver to carry more than 4 bikes, so it is large and heavy, even without bikes. You can use a wall-mounted storage system to hold a hitch bike rack with protective covers. When driving with an empty hitch-mounted bike carrier, you better fold it up to save space at the back of your car. You will have to change your driving habits after having a hitch-mounted bike carrier because of the added length behind your vehicle, especially reversing and turning your car.
Trunk-mounted bike racks:
Trunk-mounted bike carriers are small and light with folding features. You can remove a trunk-mounted bike carrier and store it in the trunk. They are easy to install with straps and hooks, so you don't leave a trunk bike carrier on a car when it is not on duty.
In Conclusion
You can leave bike carriers on a car all the time, but it depends on the different situations and types of bike carriers you have. If you are ok with some tiny waste of gas and a little noisy sound, you can leave roof-mounted bike carriers 365 days a year. However, if your bike rack is hitch-mounted without a folding feature, it is better to disconnect it from your car for better driving experiences.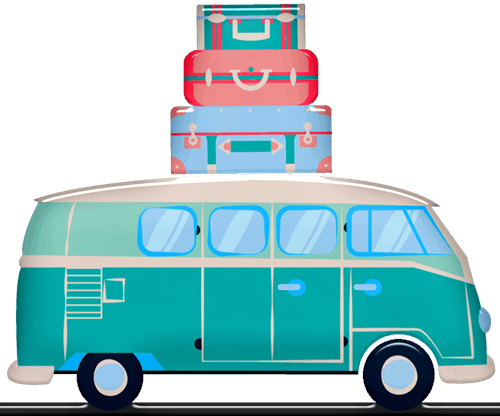 Our team is creating outdoor-gear relevant articles with passion. If our articles can help you to find the correct solutions for your questions, we will be happy about that. In the content creation process, we usually collect accurate and useful information online or offline to compile our content in an organized way. Consequently, we can guarantee that you can discover some expected answers to your questions. We appreciate your time on our site.
We are reader-supported. We get commissions for purchases made through links in this post, As an Amazon Associate we earn from qualifying purchases.